The Packers' extraordinary win Thursday night over the Lions on a game-ending Hail Mary was a singular, implausible, once-in-a-lifetime occurrence.
The question now is, will it change the downward trajectory of their heretofore disappointing season?
Afterward, often-sarcastic Aaron Rodgers called it "miraculous" and "amazing." Twice in his postgame press conference, typically understated Mike McCarthy incredulously used the expression "my goodness." Soft-spoken Richard Rodgers said he "couldn't breathe" amid the "crazy" celebration on the field after catching the 61-yard touchdown with no time on the clock.
Smiles abounded in the usually staid and businesslike Packers' locker room, and many players said they'd never been a part of such a wild game. Some stated the 27-23 divisional win at Detroit would set the tone for the campaign's remaining quarter and perhaps spark a run of success, suggesting the dramatic ending could galvanize the squad to more glory.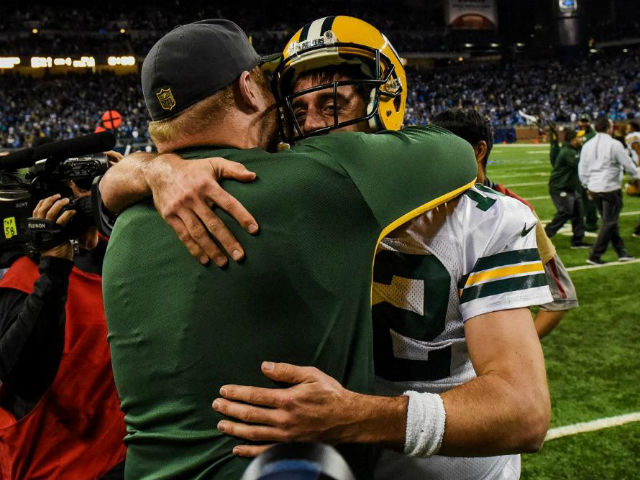 Momentum, in sports, is an easy trope that is impossible to quantify or truly understand. The vast majority of players and coaches, almost all of the time, are trying their best to play well and win every game. As in everything, of course, there are exceptions – baseball and basketball, being more individualistic, have use for momentum. And sometimes football teams actually do take a page out of the screenwriter's script and come together as one to give it all they've got and overcome adversity to succeed, etc.
More often, though, they are professionals who play and coach as they've practiced and prepared, and each competitive performance is unique to itself with little bearing on previous or future ones.
Especially in football, where the games are a week apart, the teams have a vast legion of players and coaches and staffers all doing their own things, and so much emphasis is placed on discipline, being consistent and doing your job, I reject that this nebulous notion of teamwide momentum really matters.
It's common to talk about teams getting hot at the right time in the NFL, or to hear fans say a team should lose early in the season to get it out of their system. Balderdash! Each game is its own individual, independent event. The players and coaches on both teams try their best to win every game, and oftentimes luck enacts a major role. Yes, I said balderdash.
Take 2010, for instance, the year the Packers supposedly got hot late in the year and made a momentous run to the Super Bowl. They finished the last six games of the regular season 3-3, including an ugly-but-playoff-clinching 10-3 win in Week 17 over a Bears team openly admitting it had nothing to play for. In the postseason, they beat Philadelphia by five points, crushed Atlanta, and then knocked off Chicago in the NFC Conference Championship by a touchdown after Jay Cutler got injured. Momentum, or playing slightly better than your opponent for a month, mixed with some good luck?
Why, just a couple weeks ago, the Packers had ended their three-game losing streak and apparently gotten back on track after an impressive win at Minnesota. That game was supposed to signify regained mojo, the start of some positive momentum. Alas, Green Bay fell four days later to Chicago at home, back to square one.
But I'm ranting. Point is: Team-wide momentum is mostly a fabricated concept that, especially in football, means nothing. McCarthy likes to talk about "stacking success," which is a more measured and meaningful way to say it. Each success is stacked on top of the others, the most recent game building on and confirming the ones that came before it, rather than the other way around – as though past performances somehow inform and predict future results.
But, still, I'm ranting. Point is, this time, that even though momentum is malarkey, the most important and valuable thing to come out of the way Thursday night's game ended is that, simply, it made everyone feel good. Rodgers, who looked disenchanted and glum through three quarters, was sprinting down the field with a huge grin and then conducting a buoyantly happy – rather than smugly satisfied – postgame interview. Yes, I said malarkey.
McCarthy, whose patience had been waning and demeanor grumpying publicly in recent weeks, was bright-faced and delighted. Players that, after the home loss to the Bears, skulked out of the locker room without comment, stuck around to shake their heads in astonishment and answer questions with smiles in Detroit's facility. A team that, earlier this week, had circles the wagons and generally disdained the media was suddenly open, optimistic and garrulous.
Maybe joy, too, means nothing in football. This is, after all, Roger Goodell's No Fun League, a profit-swelling and propagandizing corporate colossus sustained on uniform-violation fines, personality-neutering and the puffed-up belief that it's a game that's more than just a game.
But, longwinded and cynical blogs aside, I believe joy matters. Rodgers seems to think so, too. He used the word multiple times after the Lions game, and, coupled with the smile on his face, that at least seemed to indicate something was new, different, felt better.
There's no crying in baseball, of course, and there may well be no smiling in football. But something about the Packers' culture seemed to change immediately after that game, the entire team's spirit was lifted. That might not matter, but it probably does, since winning is more fun than losing and the easiest way to more fun is by winning.
The Packers didn't deserve to win that game, but they did, and had the good sense to laugh about their great fortune rather than nod solemnly, as though it was an expected outcome. Green Bay, the football team and fan base, has been severely self-serious for too long. Perhaps a miraculous and amazing play, to win a crazy game, will make everyone smile a little bit more.
It's a hell of a lot more fun to watch; gotta be more fun to play that way, too.
Born in Milwaukee but a product of Shorewood High School (go 'Hounds!) and Northwestern University (go 'Cats!), Jimmy never knew the schoolboy bliss of cheering for a winning football, basketball or baseball team. So he ditched being a fan in order to cover sports professionally - occasionally objectively, always passionately. He's lived in Chicago, New York and Dallas, but now resides again in his beloved Brew City and is an ardent attacker of the notorious Milwaukee Inferiority Complex.
After interning at print publications like Birds and Blooms (official motto: "America's #1 backyard birding and gardening magazine!"), Sports Illustrated (unofficial motto: "Subscribe and save up to 90% off the cover price!") and The Dallas Morning News (a newspaper!), Jimmy worked for web outlets like CBSSports.com, where he was a Packers beat reporter, and FOX Sports Wisconsin, where he managed digital content. He's a proponent and frequent user of em dashes, parenthetical asides, descriptive appositives and, really, anything that makes his sentences longer and more needlessly complex.
Jimmy appreciates references to late '90s Brewers and Bucks players and is the curator of the unofficial John Jaha Hall of Fame. He also enjoys running, biking and soccer, but isn't too annoying about them. He writes about sports - both mainstream and unconventional - and non-sports, including history, music, food, art and even golf (just kidding!), and welcomes reader suggestions for off-the-beaten-path story ideas.