Fauntleroy, the modern French restaurant from the owners of Dandan and Batches bakery, is slated to open at 316 N. Milwaukee St. on Thursday, July 26 at 5 p.m.
And based on our recent sneak peek at the restaurant's decor, diners can look forward to a restaurant unlike any other in Milwaukee.
The interior – which offers both the luxury of a French-inspired fine dining restaurant and a casual, trendy vibe – owes its chic look to the folks at 360 Degrees and Rev Pop, both of whom contributed to the venue's unique look and feel.
While the relative footprint of the restaurant has remained the same, it takes little more than a step through the interior doors to recognize that the former Coquette Cafe has undergone an utter visual transformation. It's a look that Chef Daniel Jacobs has described as "The Great Gatsby" meets "Wizard of Oz." And, having now taken a look, we can't help but agree.
It all begins with the eastern wall just inside the entrance, which has been augmented with a pop culture-infused mural showcasing the classic image of a couple smooching in front of the Eiffel Tower. It's a modern design element juxtaposed against the wall's deeply hued wainscoting.
The entryway is flanked by a luxe dining area featuring plush banquette seating complemented by high topped green marble tables.
Repurposed copper rails from the former Coquette bar serve as foot rails for the banquette, which is topped off with original decorative ironwork.
The bar has retained its original shape and stature; however, its top has been replaced with green marble, and its base with a mixture of white subway and pearly gray tile.
The back bar, meanwhile, displays a mixture of wood and metalwork along with a cleanly scripted sign that says "Nineteen Seventy One." It's a reference to the year that many credit with being the "greatest year of rock 'n roll." It also happens to be the year that Chef Dan Van Rite was born. Coincidence? We think not.
In fact, there's a good deal of rock 'n roll imbued in the look and feel of Fauntleroy, right down to the art displayed on the bathroom doors, which feature whimsical depictions of Mick and Bianca Jagger. The details I'll leave to your astute imaginations (but be sure to check them out when you visit).
And Jagger would have felt right at home in the raised lounge area adjacent to the bar. It's the sort of place where casual visitors can relax with a drink or enjoy a few nibbles with friends.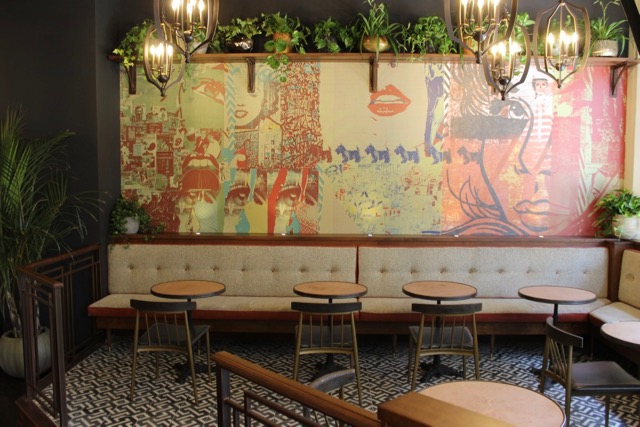 Decor details include art deco tile flooring, chairs with a mid-century modern feel and a pop art inspired mural. Among its imagery – which includes the likeness of Marilyn Monroe, Beatles' album covers and retro cartoons – you'll also find a neat little line of adorably scruffy dogs. That's a not-so-subtle nod to Chef Daniel Jacobs' beloved Jack Russell Terrier, Baxter. But it's also a subtle reference to Dandan and the Chinese calendar in which 2018 is the year of the dog.
The personal touches don't end there. Take a look down at the multi-colored upholstery of the lounge banquettes; the funfetti-like pattern is an intentional nod to Fauntleroy's sister bakery, Batches.
That fun, casual feel somehow blends seamlessly with the look and feel of Fauntleroy's dining room, an area oozing with flourishes and formality, from its white cloth covered tables and emerald green velveteen banquettes to it's smoky mirrors, opulent chandeliers and heavily curtained walls.
And yet, it's somehow modern and sleek. Take, for instance, the cozy wooden booths which comfortably seat four guests beneath a flurry of plants (staged by the folks at Bay View's URSA Boutique) and warm light. We can envision they'll serve as the perfect locale for leisurely evenings filled with delicious food and engaging conversation.
And while the menu for Fauntleroy is still securely under wraps (watch for a preview next week), it's fairly easy to predict that the restaurant will be a distinctly unstuffy, whimsical place to escape the daily grind.
Once open, Fauntleroy's hours will be Tuesday through Saturday from 5 to 10 p.m.
Lori Fredrich (Lo) is an eater, writer, wonderer, bon vivante, traveler, cook, gardener and girlwonder. Born and raised in the Milwaukee area, she has tried to leave many times, but seems to be drawn to this quirky city that smells of beer and alewives.
Some might say that she is a little obsessed with food. Lo would say she is A LOT obsessed with food. After all, she has been cooking, eating and enjoying food for decades and has no plans to retire anytime soon.
Lo's recipes and writing have been featured in a variety of publications including GO: Airtran Inflight Magazine, Cheese Connoisseur, Cooking Light, Edible Milwaukee, Milwaukee Magazine and the Milwaukee Journal Sentinel, as well as on the blog Go Bold with Butter, the web site Wisconsin Cheese Talk, and in the quarterly online magazine Grate. Pair. Share.