After months of anticipation, Snifters joined the burgeoning South 5th Street scene tonight with a soft opening in the remodeled space that was formerly home to Cafe La Paloma.
Snifters, 606 S. 5th St., is a cocktail lounge, tapas restaurant and cigar bar owned by Julio Maldonado, Gabriel Lemus and Terrell Morgan. Chef Luis Garcia runs the kitchen.
Snifters opens to the public at 6 p.m. on Saturday, July 29.
The food menu features Latin/soul food fusion tapas, rice bowls and a few "staple" entrees. During tonight's soft opening, we sampled The Manchester ($5), an empanada made with house-made macaroni and cheese and topped with a spicy ahi cheese sauce; Lucy's classic cornbread (named after Morgan's grandmother); Los camerones, lemon-peppered fried jumbo shrimp ($13); and the Spanish shrimp and grits ($14).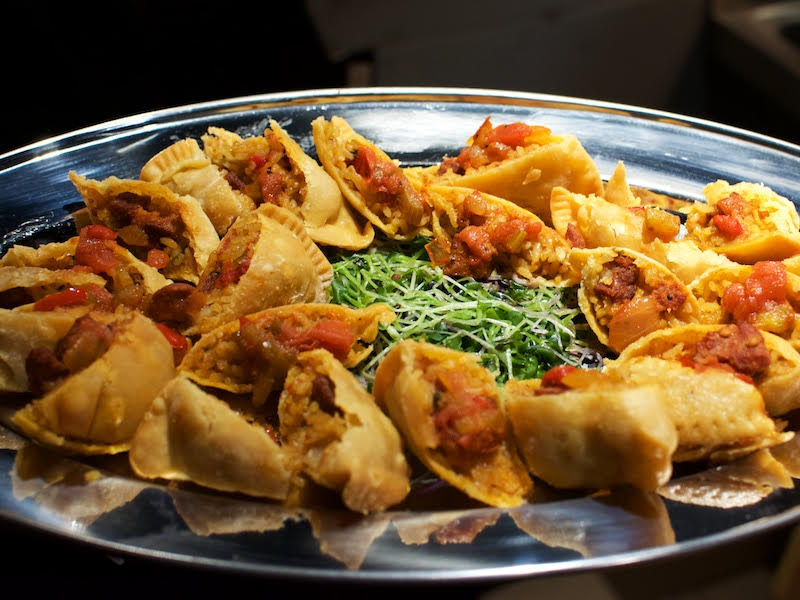 The grits, cheesy and rich, were some of the best we've had in the city.
Southern-fried chicken and waffles ($12), three fusion rice bowls ($10-$13) and seasonal desserts are also on the menu. Snifters is a member of Braise RSA and offers locally-sourced meat, produce and dairy.
"This is the only Latin/soul food restaurant in Wisconsin," says Garcia.
The drink menu features a variety of high-end cocktails, including the stand-out "These Boots Were Made For Walking" ($16) made from Johnny Walker Black, Disaronno amaretto, maple syrup and Trinity Bitters. The bar menu also includes a large wine and beer selection.
The space was slightly reconfigured since the last inception. The decor is warm and ambient, with a dozen "swag" lights, exposed brick, repurposed wood palettes and rich paint tones. Mirrors and cigar boxes artistically adorn the walls.
The outdoor patio includes a bar and plenty of attractive, cushioned seats.
A variety of cigars will soon be available along with a private bottle club and organized tastings of food, spirits and cigars.
"This is the perfect place for a date night, a destination after a long day or to chill with friends at any time," says Maldonado.
Snifters is open Wednesday from 4 p.m. to midnight, Thursday and Friday from 4 p.m. to bar time, and Saturdays from 1 p.m. to bar time. The kitchen is open every night until 11 p.m.
Molly Snyder grew up on Milwaukee's East Side and today, she lives in the Walker's Point neighborhood with her partner and two sons.
As a full time senior writer, editorial manager and self-described experience junkie, Molly has written thousands of articles about Milwaukee (and a few about New Orleans, Detroit, Indianapolis, Boston and various vacation spots in Wisconsin) that range in subject from where to get the best cup of coffee to an in-depth profile on the survivors of the iconic Norman apartment building that burned down in the '90s.
She also once got a colonic just to report on it, but that's enough on that.
Always told she had a "radio voice," Molly found herself as a regular contributor on FM102, 97WMYX and 1130WISN with her childhood radio favorite, Gene Mueller.
Molly's poetry, essays and articles appeared in many publications including USA Today, The Writer, The Sun Magazine and more. She has a collection of poetry, "Topless," and is slowly writing a memoir.
In 2009, Molly won a Milwaukee Press Club Award. She served as the Narrator / writer-in-residence at the Pfister Hotel from 2013-2014. She is also a story slam-winning storyteller who has performed with The Moth, Ex Fabula and Risk!
When she's not writing, interviewing or mom-ing, Molly teaches tarot card classes, gardens, sits in bars drinking Miller products and dreams of being in a punk band again.