Solow Bouldering Club is now open at the corner of Center and Holton Streets in the Riverwest neighborhood at 2678 N. Holton St., occupying a property that was long ago home to a bakery. The newly redesigned space offers a way for climbers to tackle physical challenges in shorter spaces, as well as approach a well-rounded fitness routine.
Bouldering is different than top rope climbing. In bouldering, climbers traverse shorter distances, but with challenges that tend to be more physically strenuous. It's an opportunity to work out complex problems without having to blow all your energy climbing back up to the spot you fell from. It is also an opportunity to get in a dynamic workout without reckoning with your fear of heights.
Business owners Devin Greer and his brother Kreg own the building and the one next to it. They traveled from Marquette, Michigan two years ago with plans to open the bouldering gym, as well as the strength and conditioning gym next door.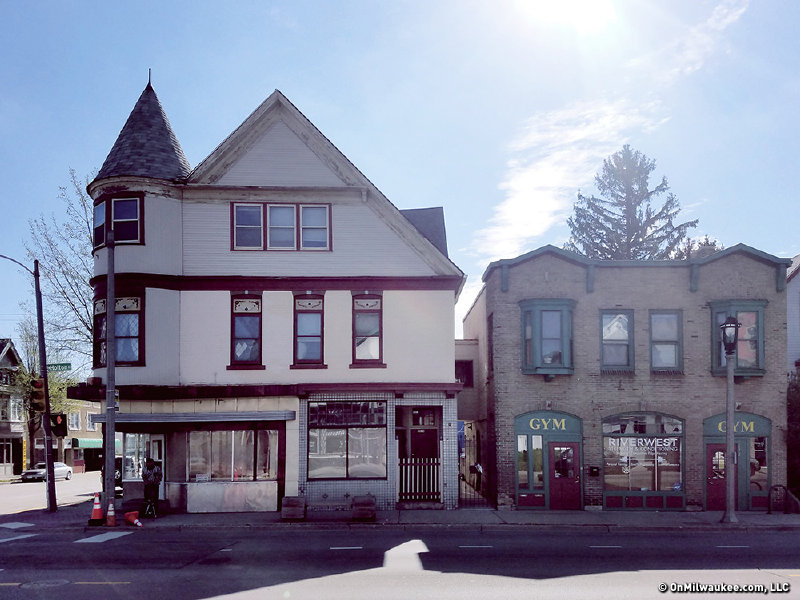 "After searching the city for good space to house both projects, we found this awesome spot in Riverwest. The neighborhood was a great fit AND we could live right above the gyms, so it was perfect," Greer said via email.
It also presented a unique challenge: redesigning the interior for something totally different from its past. Before Solow opened, a bakery occupied the space, but operations ceased nearly three decades ago.
"I was immediately interested in the prospect of converting a forgotten space into something so completely different and unexpected."
Between outside jobs and demolition, it took some time before Greer could open the doors to Solow. "It was about a year and half before the gym was ready," he said. "The bulk of the work was demolition. I was working a part-time job to cover the bills and swinging a sledge hammer when I could."
Then they waited for approval from city officials. "I wanted to be 100 percent sure that we were welcome to open a climbing gym before I started ordering plywood and t-nuts," Greer said. "Once all the permits were attained, the walls went up in a couple months and we were ready to start climbing!"
Though both businesses are now open, the brothers are planning to bring them together.
"The next step for us is further uniting the two gyms to become more of a cohesive fitness center," Greer said. "We've just begun to offer yoga and spin classes and will soon have a dedicated studio space for classes.
"Our mission at both gyms is to provide a high-quality, affordable fitness experience for the community. At Solow, I want to show people the raw, gritty roots of the sport with this home-grown, woody and smaller, more-accessible community atmosphere. We aim to be climbers' home away from home."
Jason McDowell grew up in central Iowa and moved to Milwaukee in 2000 to attend the Milwaukee Institute of Art and Design.
In 2006 he began working with OnMilwaukee as an advertising designer, but has since taken on a variety of rolls as the Creative Director, tackling all kinds of design problems, from digital to print, advertising to branding, icons to programming.
In 2016 he picked up the 414 Digital Star of the Year award.
Most other times he can be found racing bicycles, playing board games, or petting dogs.