Founded in 2004, Great Lakes Distillery has had time to age its spirits, but on my recent visit there, owner Guy Rehorst and I weren't there to taste GLD whiskey.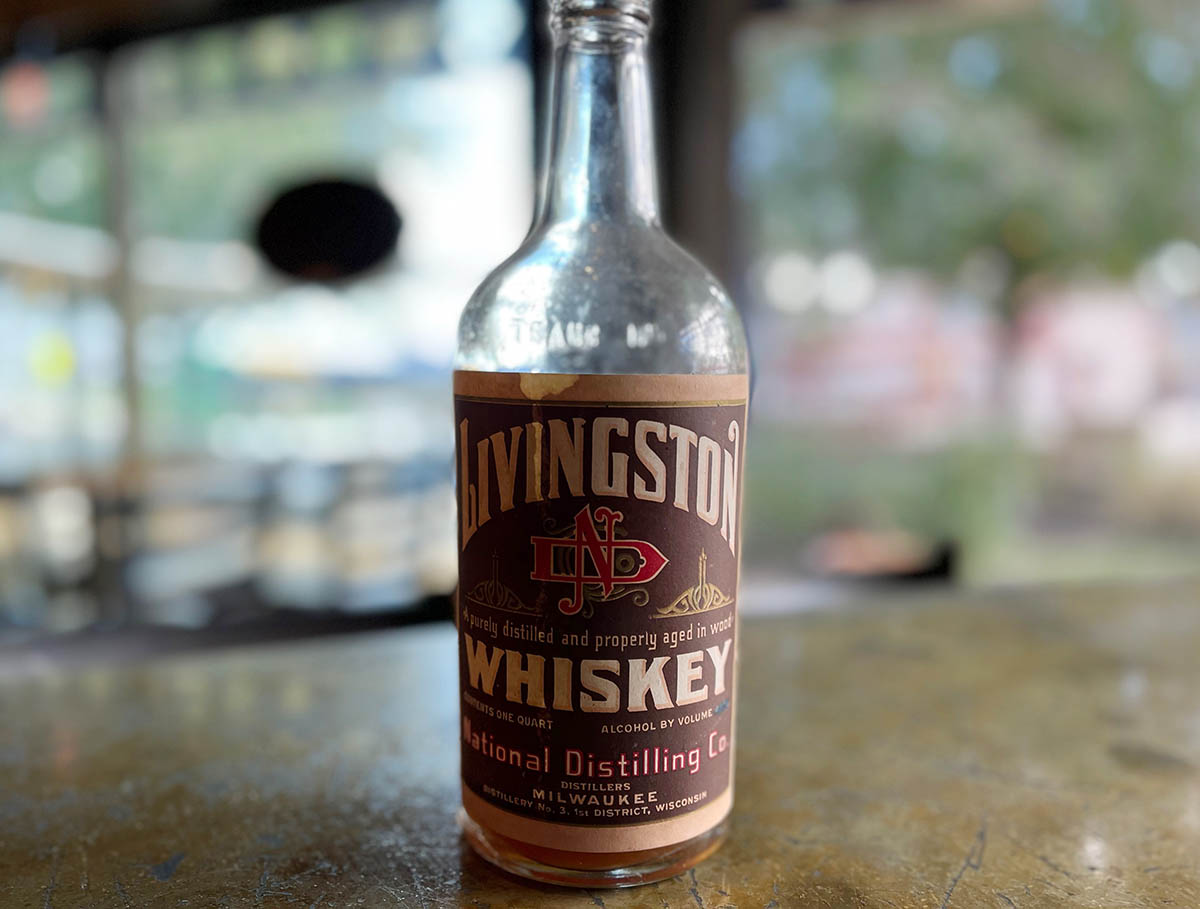 No, I was at the first Wisconsin distillery to open after Prohibition to taste some whiskey made by one of the Wisconsin whiskey distillers that fell victim to the 19th Amendment.
Rehorst has a small but impressive collection of old whiskeys, some of which you can see on display in the distillery's tasting room, 616 W. Virginia St. We sampled a couple, but the one I was really there to see was an undated bottle of Livingstone Whiskey.
The quart bottle of the "purely distilled and properly aged in wood" dram was perhaps 1/8 full, and it is a remnant of the National Distilling Company, which was located in the Menomonee Valley, and in its final iteration here in Milwaukee, manufactured Red Star Yeast until 2010.
What was National Distilling Co.?
National Distilling has its roots in the first distillery launched in 1868 by recent German immigrant William Bergenthal, who arrived in Milwaukee with his family two years earlier.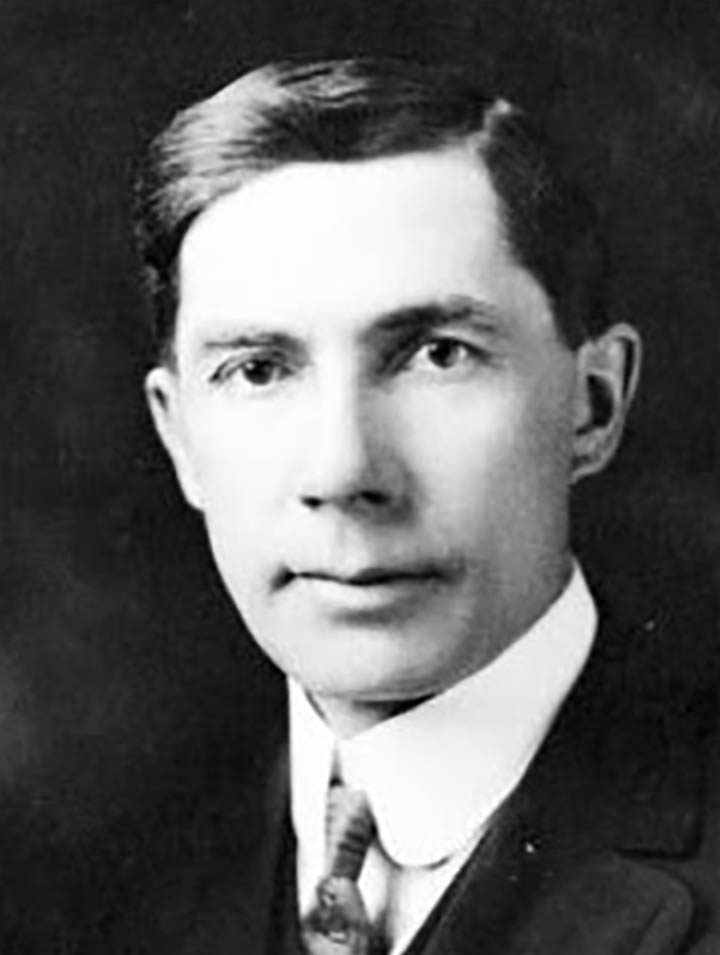 He opened a distillery roughly five miles north of Downtown on the Milwaukee River, distilling Shamrock Rye and Shamrock Bourbon, along with cordials, gin and rum, and bottled them. Even at this early date, Bergenthal was manufacturing yeast for customers around the Midwest.
He also had a retail store and offices at 4th and Cherry.
According to this great in-depth history, Bergenthal – after being implicated in the Great Whiskey Ring tax controversy – was tapped by a trio of entrepreneurs to run their new Meadow Springs Distillery at 29th and Greves in the Valley.
"They made up for their lack of knowledge of distilling by hiring William as their expert manager. Thereafter Bergenthal not only ran his own company but was closely associated with theirs, called the Meadow Springs Distillery," wrote Jack Sullivan in his post.
"In fact, the first barrel of whiskey sold under that name in 1883 was distilled at Bergenthal's distillery. He also supervised the construction of Meadow Springs plant in Milwaukee's industrial Menomonee Valley."
In 1882, Bergenthal lost his distillery to fire, but his Haymarket retail store continued to operate and he was still at Meadow Springs as an employee.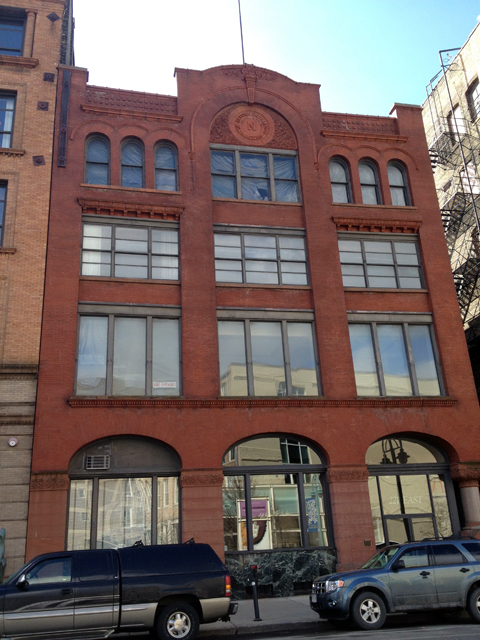 Five years later, August Bergenthal (brother of William, for whom he'd worked and for whom he'd taken the fall in the tax case) and A. M. Grau reorganized Meadow Springs into the National Distilling Co. and had a retail store and offices on Erie Street in the Third Ward. A decade later, the company would build the beautiful Crane & Barkhausen-designed Romanesque Revival headquarters building that still stands at 221 E. Buffalo St.
"Within months, they had purchased a small parcel of land on the northern edge of the Menomonee Valley and put up a two-story building, using stone quarried from the adjacent bluff," wrote the Milwaukee Journal Sentinel when Red Star closed in 2010. "The location was comfortably remote but still close enough to attract workers. By the end of 1883, Meadow Springs had sent 180,000 gallons of whiskey out into a thirsty world."
Among its brands were now Mistletoe Old Tom Gin, National Rye Malt Gin and Livingston Bourbon, and yeast production continued.
"Useful byproducts were created as well, particularly yeast," wrote the Journal Sentinel. "During the fermentation process, this magical microbe digests the sugars in grain, for instance, and converts them to alcohol and carbon dioxide. It continues to eat – and continues to multiply – until there's nothing left to consume, and a surplus of live yeast always remained in National Distilling's vats after the liquor was drawn off."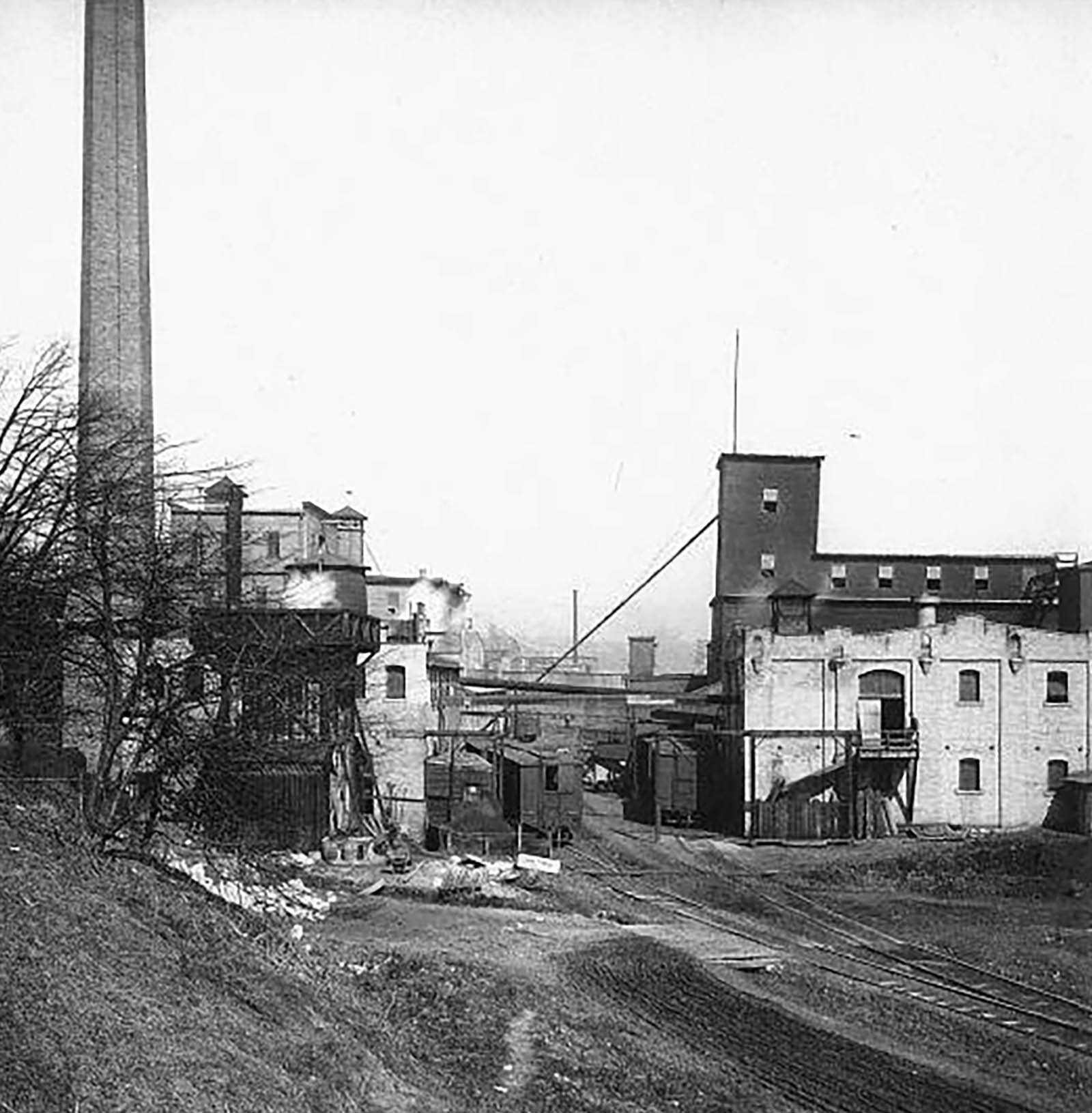 In 1894, the distillery was an impressive one and was in continuous operation, using city water to create its sweet mash.
There was a mill house with two roller miller and two attrition mills; a mash house with numerous fermenting tanks, yeasting tanks, mash tuns and an entire floor for malt storage; and a still house with a beer still that could churn out 320 gallons per hour and an alcohol still with a 250-gallon hourly output. There were also four dedicated gin stills.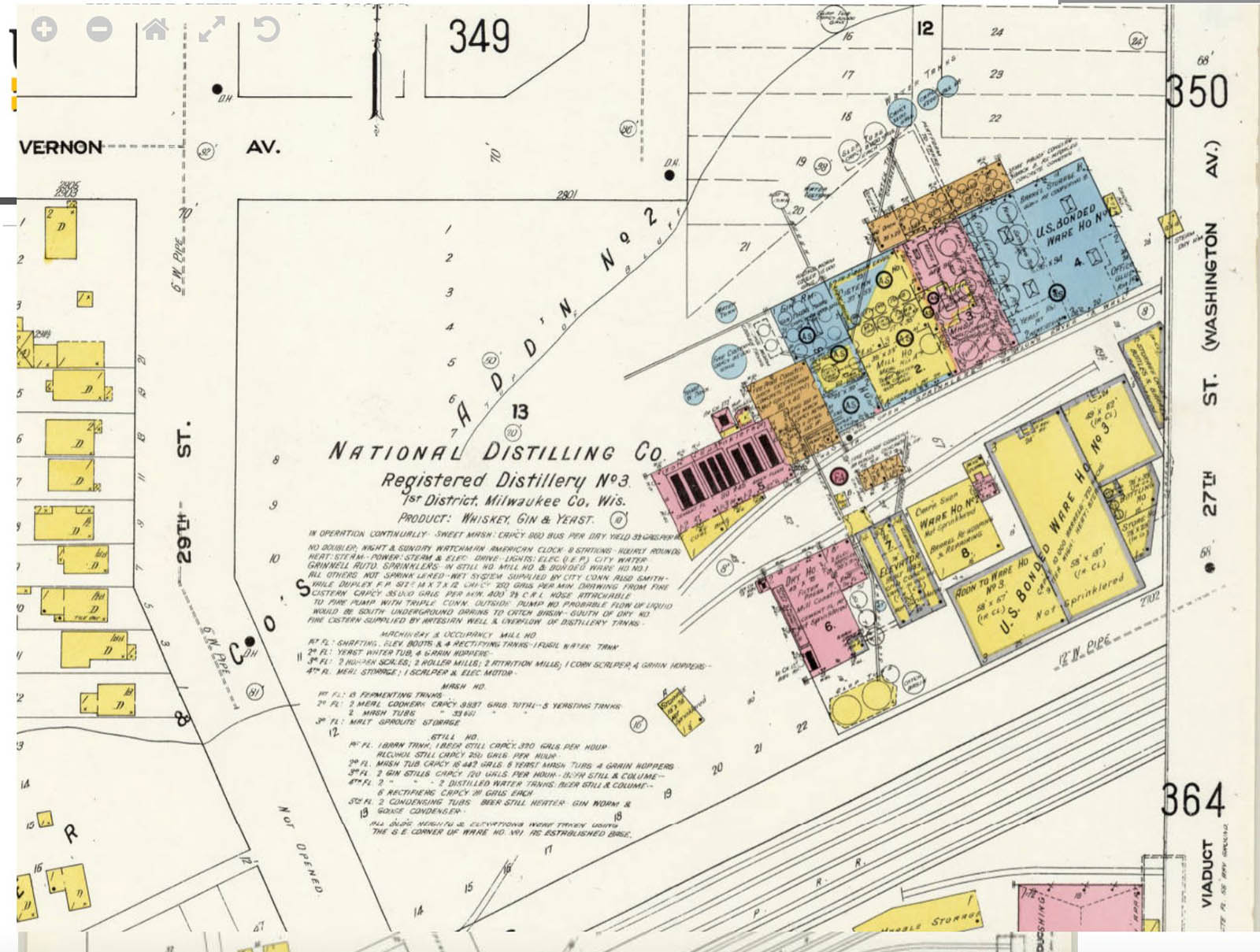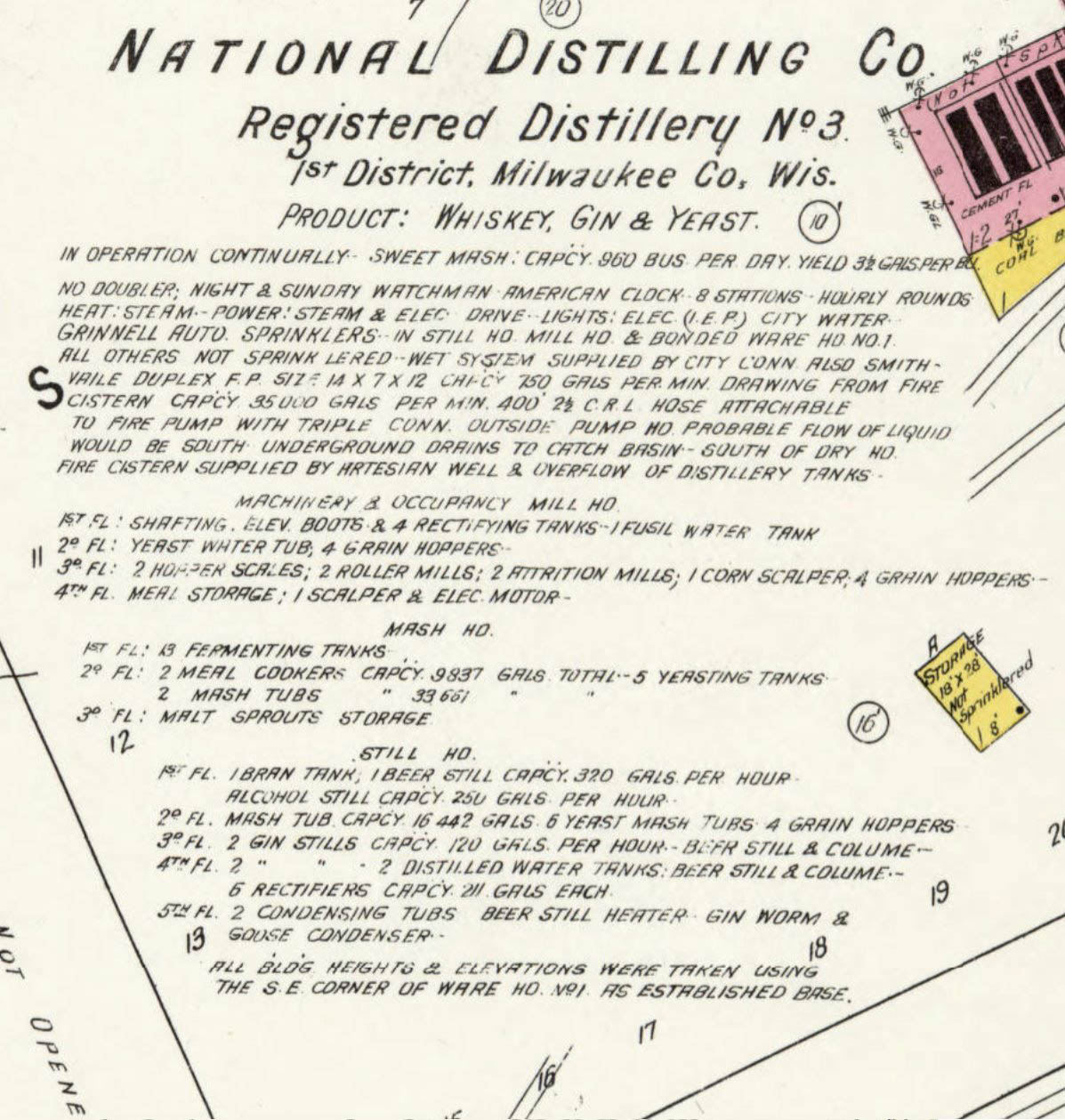 Bergenthal died in 1909 and a decade later Prohibition put an end to spirit distillation, leading the company to focus on yeast and to change its name to Red Star Yeast.
A 1930 fire destroyed a warehouse at the site, according to Rehorst.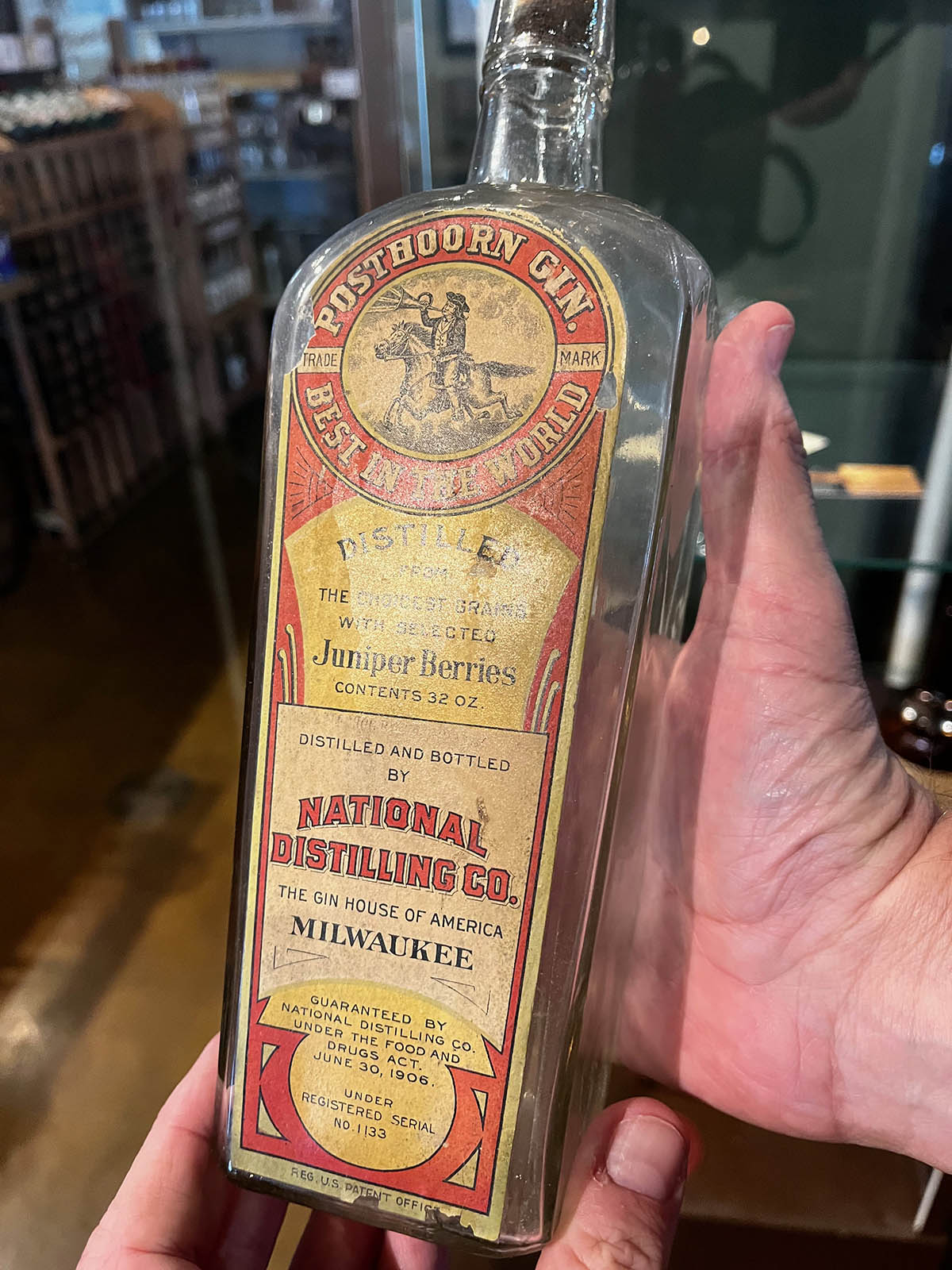 Although it briefly returned to distilling gin after Repeal in 1933, that was soon abandoned because the yeast business was more lucrative.
During World War II, the less-perishable dry yeast became more popular and Red Star sold five million pounds of it to the military.
The company had been diversifying and picking up other businesses, leading it to change its name to Universal Foods in 1962. The following year, the beautiful Third Ward headquarters was sold and Universal revamped a turn of the century building by adding a contemporary cladding and made the corner of Jefferson and Michigan Streets its new home. (That building was torn down in recent years for the construction of a hotel.)
In 2000, the name was changed to Sensient Technologies and that same year sold off Red Star Yeast to French yeast manufacturer Le Saffre.
Five years later, Le Saffre closed the Milwaukee factory and built a new one in Cedar Rapids. And five years after that, what was left of the old Meadow Springs buildings was erased from the landscape.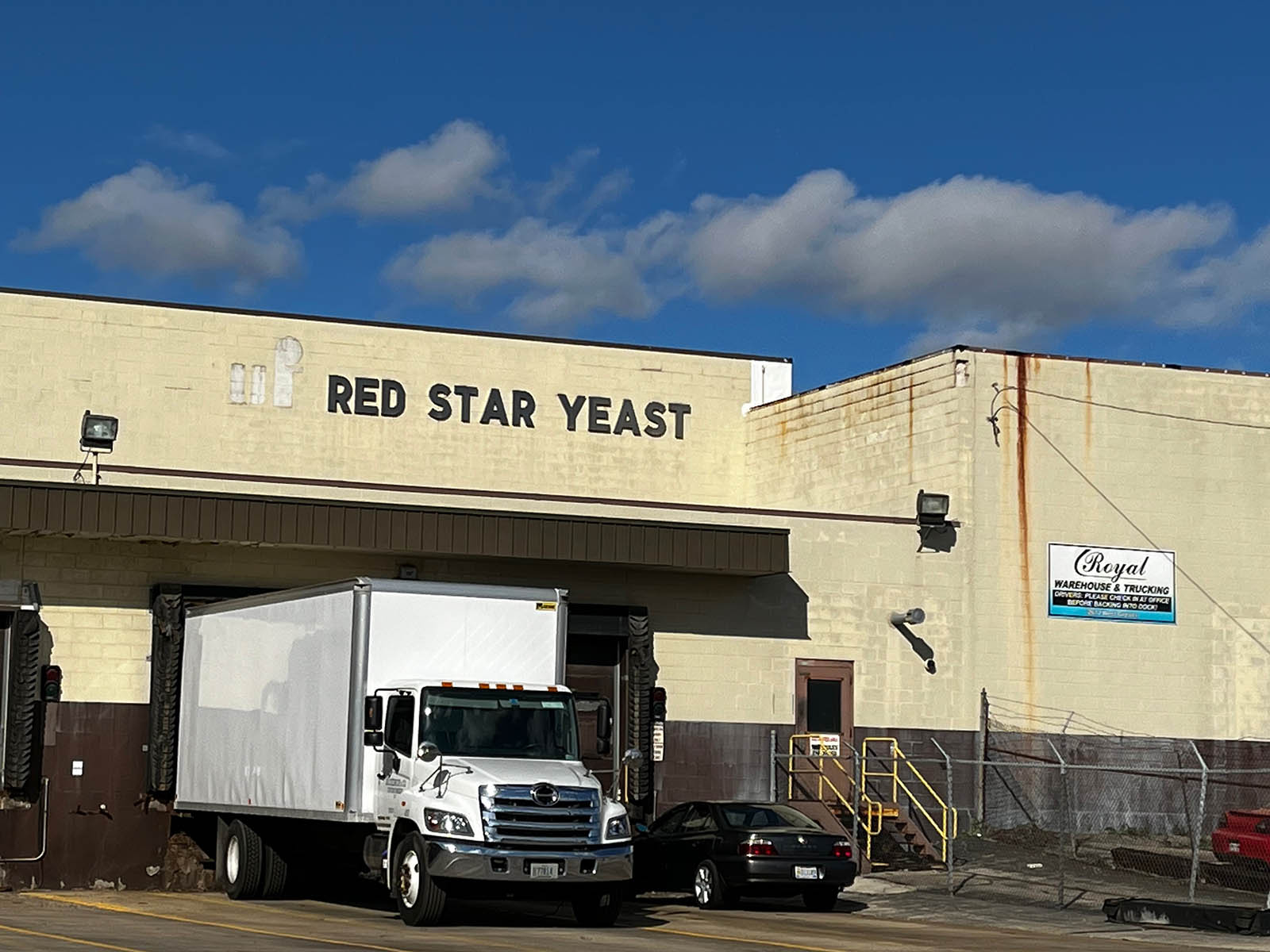 If you head to 29th and Greves now, you'll find only trees and grass and a couple buildings that survive from the Red Star era, though not likely from the Meadow Springs days.
Drinking 100-year-old whiskey
While the label on the bottle looks strikingly pristine, the whiskey inside the bottle of Livingston that Rehorst owns appears anything but.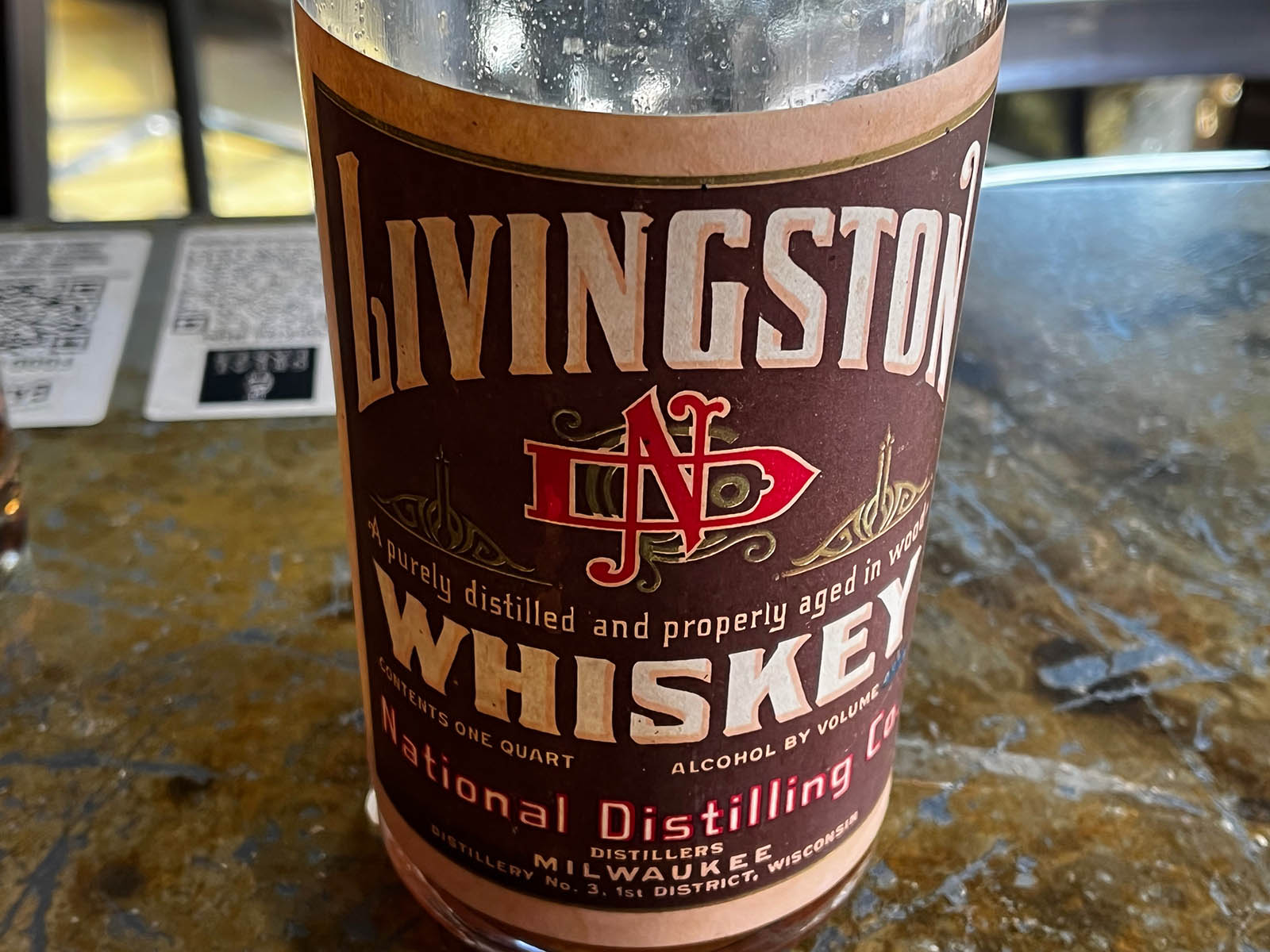 "It had sediments, and I stirred it up when I picked up the bottle," says Rehorst. "You can see it's actual little chunks. It would settle back down if we left it."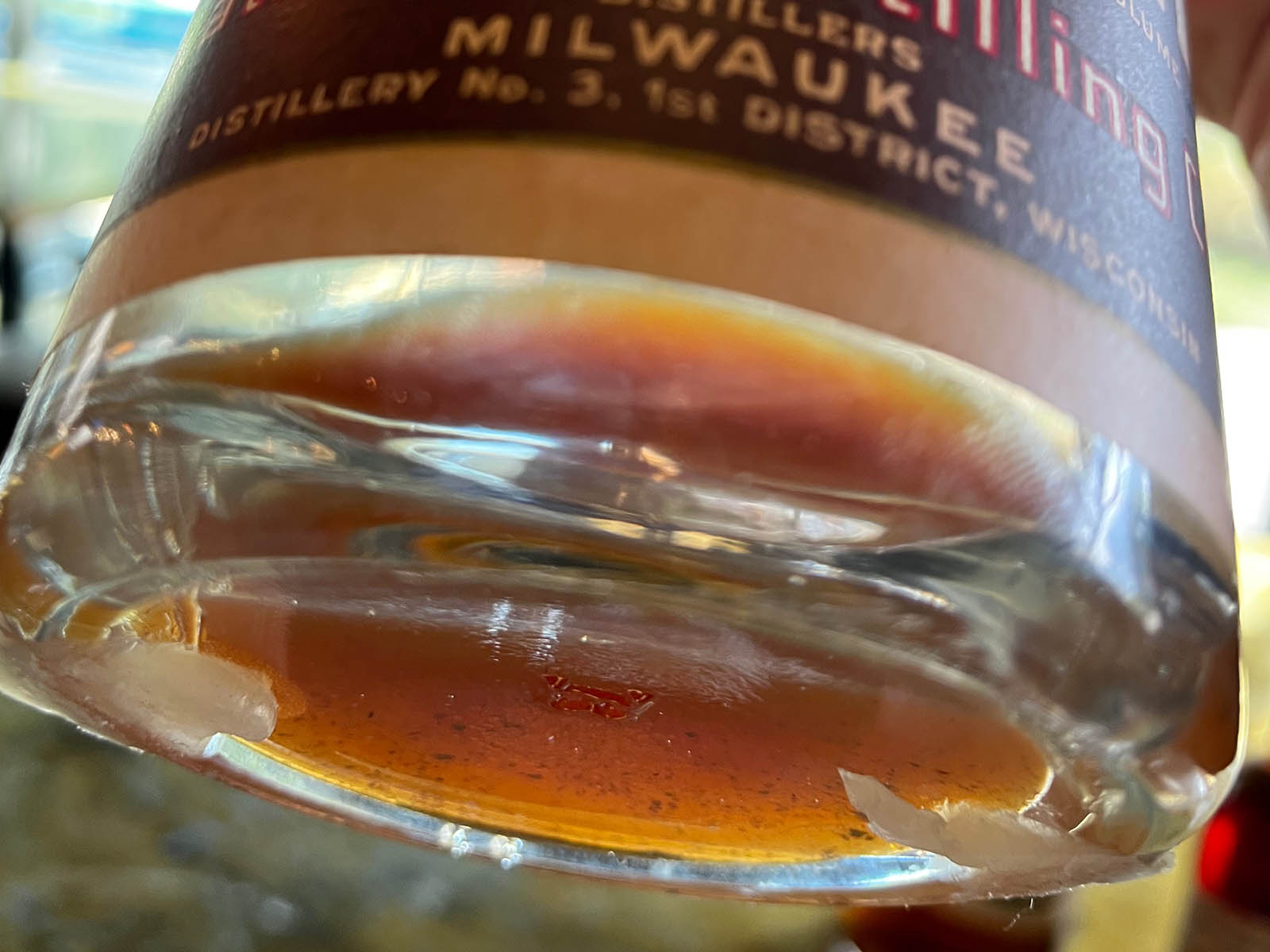 The bottle, says Rehorst, came from a customer.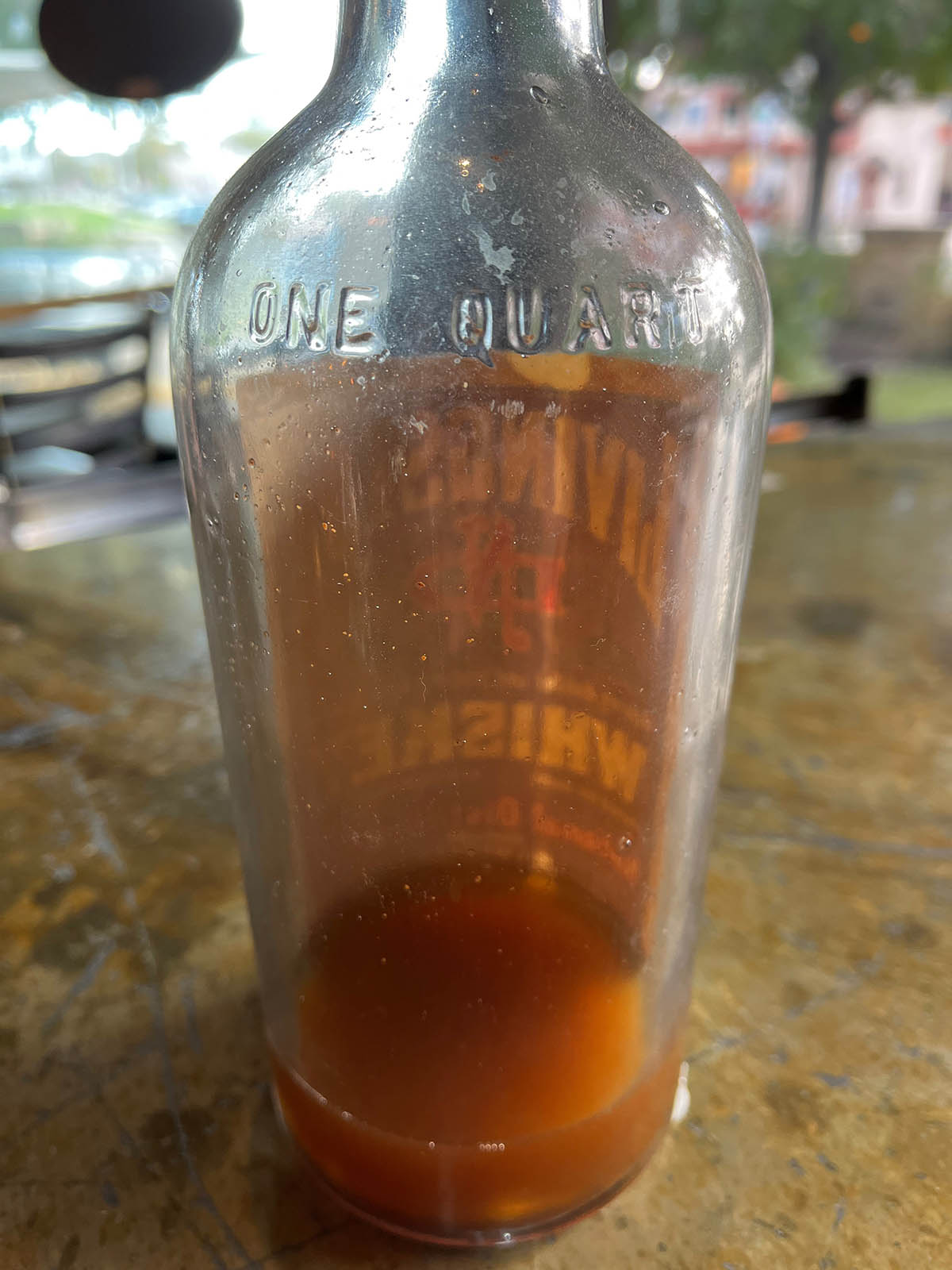 "Every once in a while I'll get a customer who's found something old like that," he says. "They think I'll be interested, which I always am."
There's not much left in the bottle and all that oxygen in there isn't doing the liquid any favors. Rehorst recalls that there was a bit more there when he got it, but not much.
"I did have a little taste of it early on when I first got it," he recalls. "It was sitting in one of my customers' basement, in his grandfather's basement bar. And he said, oh, 'you might be interested'."
Rehorst grabs a couple Glencairns and removes the makeshift seal he's put around the cap to try and keep out the air and prevent evaporation. Then he pours.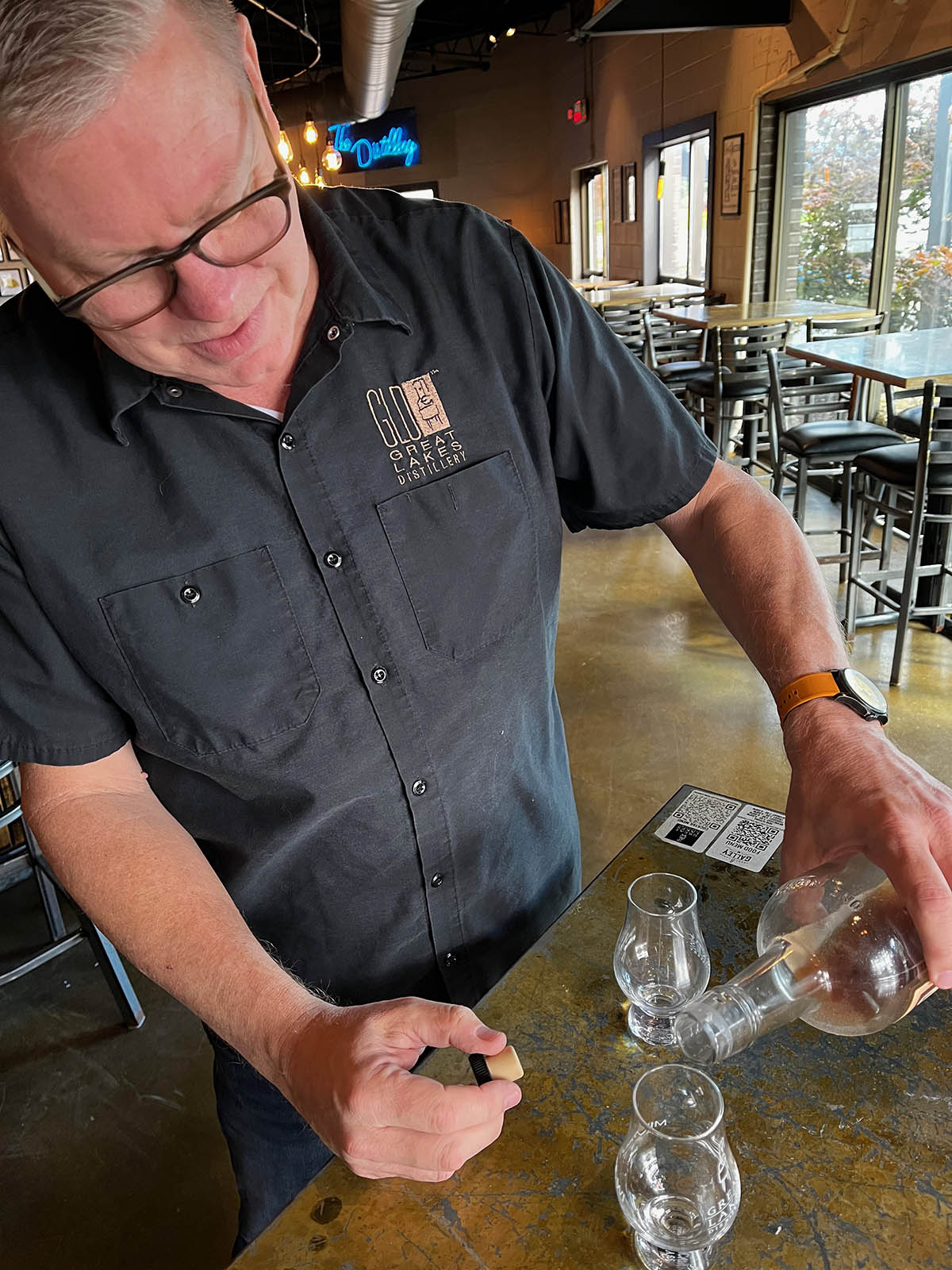 There's color – and sediment in suspension – but it only smells vaguely like whiskey. There's no alcohol on the nose, only some off scents of mustiness.
Rehorst looks skeptical.
"I don't know with the sediment," he warns. "I'm not sure it's going to be the tastiest thing. Look at the sediment in the glass. It's kind of cloudy."
We take tentative sips and on the palate it's much like the nose.
"It's tasting pretty light," Rehorst says. "We may have lost a lot of alcohol out of it. When I tasted it before, I thought it was actually pretty good. As I recall, it had the cork in it, but it disintegrated when we pulled it out. So we've had to put this (new cap) in."
This whiskey could not be labeled 100-year-old because time spent in the bottle doesn't count. Only barrel-aging enhances and creates the familiar flavors and colors of whiskey; bottles don't confer any of that.
In this case, however, the bottle did add off flavors, due either to the low level of whiskey or a poor closure – which allows oxygen to work its mojo – or, more likely, both.
The whiskey wasn't good, that's true, but it didn't make us sick or anything. And if it didn't taste like whiskey, that bottle of Livingstone, made right in the Menomonee Valley, sometime since the arrival of molded bottles in the late 19th century and the onset of Prohibition in January 1920, sure tasted like Milwaukee history.
"Do you think that's the oldest whiskey made in Wisconsin that's around," I ask Rehorst.
"Could be," he says. "I don't know of anybody having any older bottles."
Rehorst says he went for a look around inside the old Red Star buildings before they were razed. He was invited in to see if he wanted any of the metal tanks for GLD.
"A friend of a friend's uncle bought the old plant to scrap it," he recalls. "There was obviously a lot of stainless tanks in it. It was February as I recall, and it was ridiculously cold, and you're in a metal building filled with metal equipment. And there was no power. So we had flashlights.
"We went into the original distilling room. It wasn't very big. It was maybe 20 by 30 feet and the stone walls were three, four feet thick. They basically ended up expanding around it, yet the original distillery room when it was Meadow Springs was still there. I don't think there was any distillation equipment in there at that point. It was just all tanks from yeast production.
"But it was kind of a neat thing to see a little piece of history."
I wish I'd gotten a chance to see it, too, but I'll have to settle for tasting instead of seeing this chapter in Milwaukee history.
Born in Brooklyn, N.Y., where he lived until he was 17, Bobby received his BA-Mass Communications from UWM in 1989 and has lived in Walker's Point, Bay View, Enderis Park, South Milwaukee and on the East Side.
He has published three non-fiction books in Italy – including one about an event in Milwaukee history, which was published in the U.S. in autumn 2010. Four more books, all about Milwaukee, have been published by The History Press.
With his most recent band, The Yell Leaders, Bobby released four LPs and had a songs featured in episodes of TV's "Party of Five" and "Dawson's Creek," and films in Japan, South America and the U.S. The Yell Leaders were named the best unsigned band in their region by VH-1 as part of its Rock Across America 1998 Tour. Most recently, the band contributed tracks to a UK vinyl/CD tribute to the Redskins and collaborated on a track with Italian novelist Enrico Remmert.
He's produced three installments of the "OMCD" series of local music compilations for OnMilwaukee.com and in 2007 produced a CD of Italian music and poetry.
In 2005, he was awarded the City of Asti's (Italy) Journalism Prize for his work focusing on that area. He has also won awards from the Milwaukee Press Club.
He can be heard weekly on 88Nine Radio Milwaukee talking about his "Urban Spelunking" series of stories.