It's a long way from the rag and bone men scouring urban alleys to the high-tech scrap and recycling operations of today ... or is it?
For centuries enterprising folks have collected the cast-off refuse of society – everything from paper and cardboard to metals to animal bones and hides to rags and beyond – and for many years those folks themselves were viewed as outcasts, immigrant Jews, Italians and others.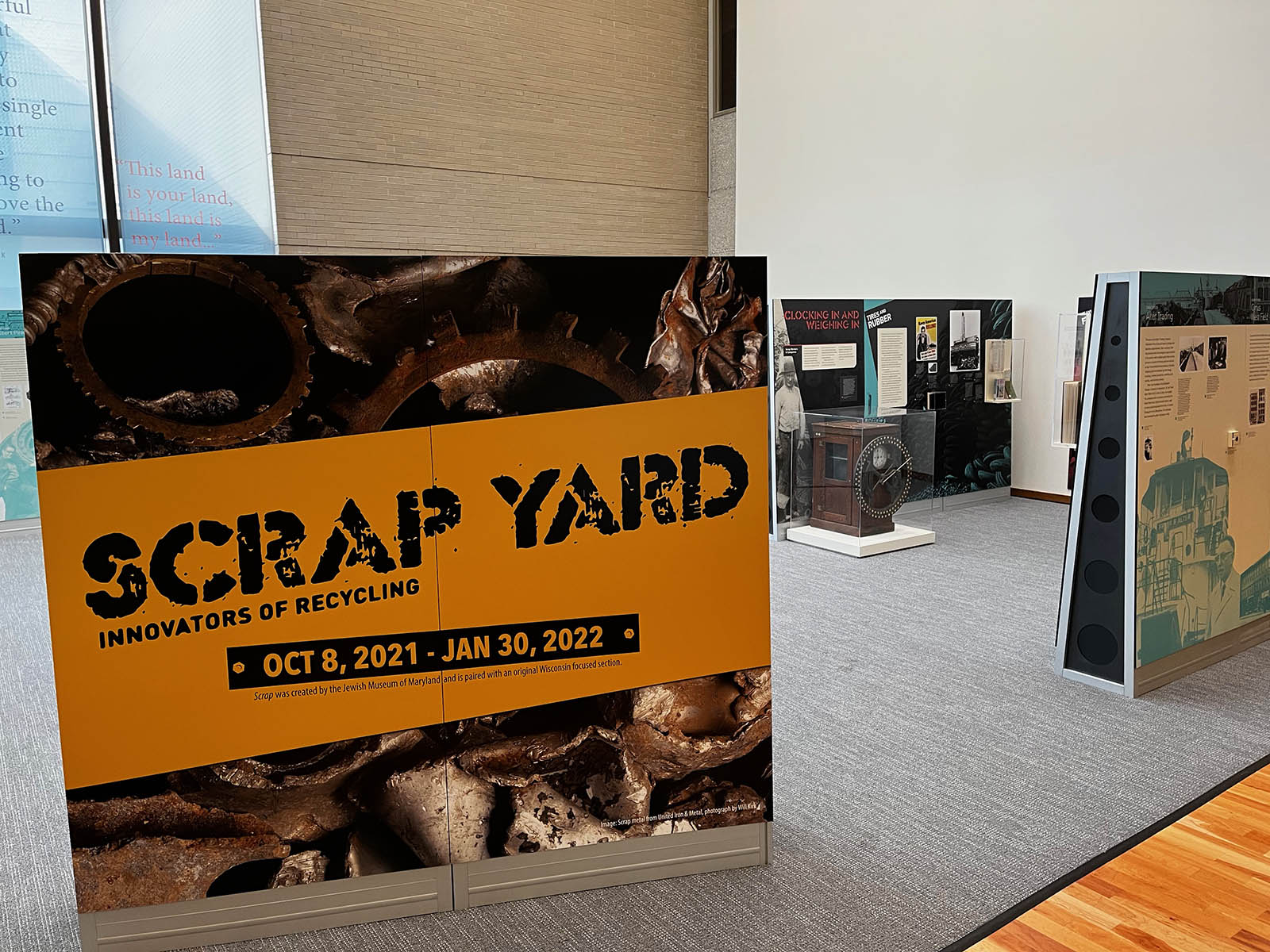 But, often, those immigrant rag and bone men were nascent entrepreneurs, whose grass roots material collecting grew into much larger scrap businesses that were recycling before we ever called it that.
A new exhibit at the Jewish Museum Milwaukee – "Scrap Yard: Innovators of Recycling" – tells the story of the evolution of the scrap industry, via a series of panels, photographs, objects, videos and interactive displays and, combined with a visit to Alter Trading – formerly Miller Compressing – in the Menomonee Valley, I got to see how the business has changed over the years.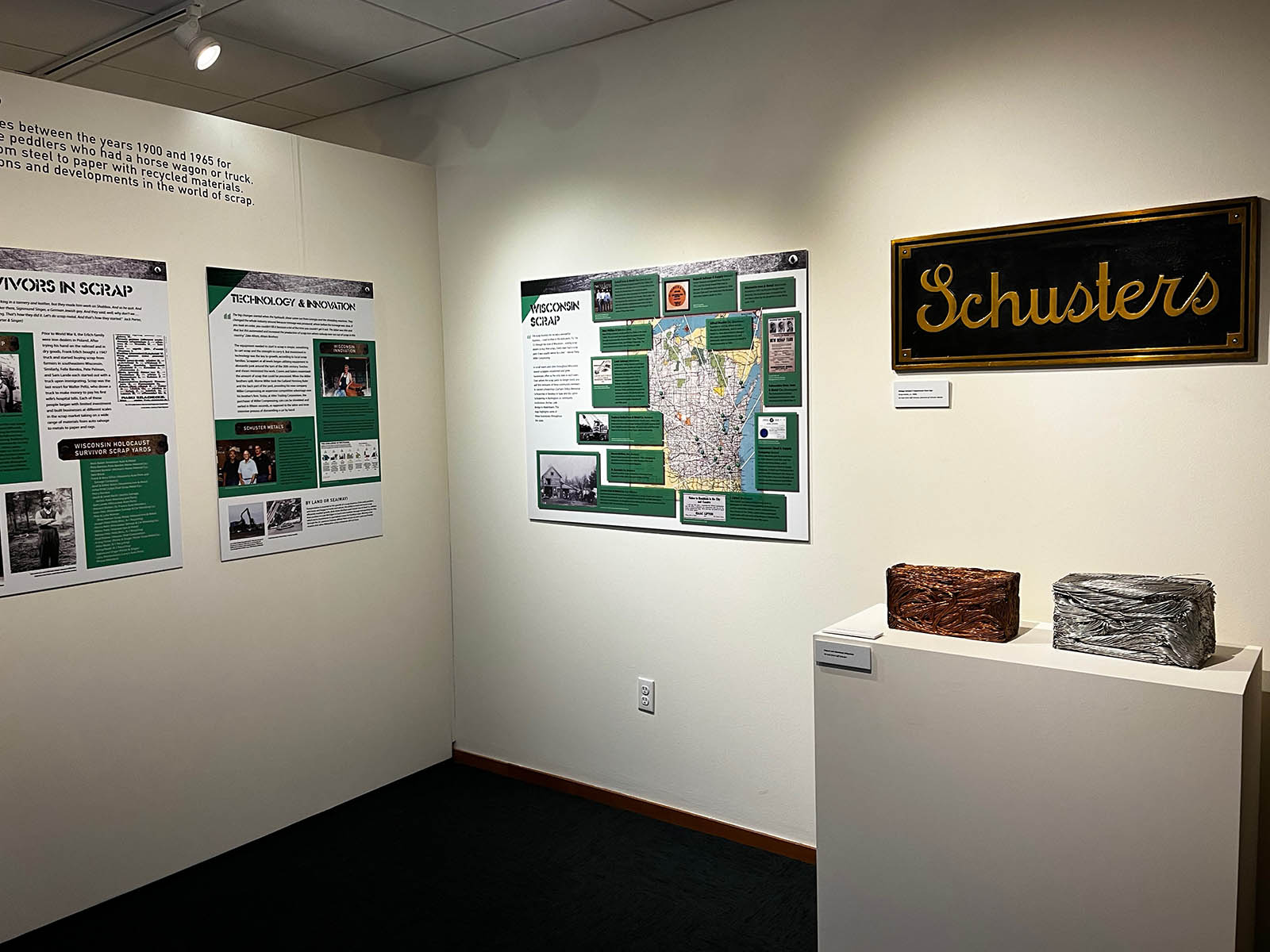 And I learned that for at least half of the 20th century, Jewish scrappers comprised as much as 70 to 90 percent of the industry.
"The exhibit is developed out of the Jewish Museum of Maryland and we saw it and were immediately like, 'oh, we have to have that show," says Jewish Museum Milwaukee Education Director Ellie Gettinger. "And we added pieces related to Wisconsin. We knew we had a great history that we wanted to be able to share.
"We have some opportunity to explore local stories."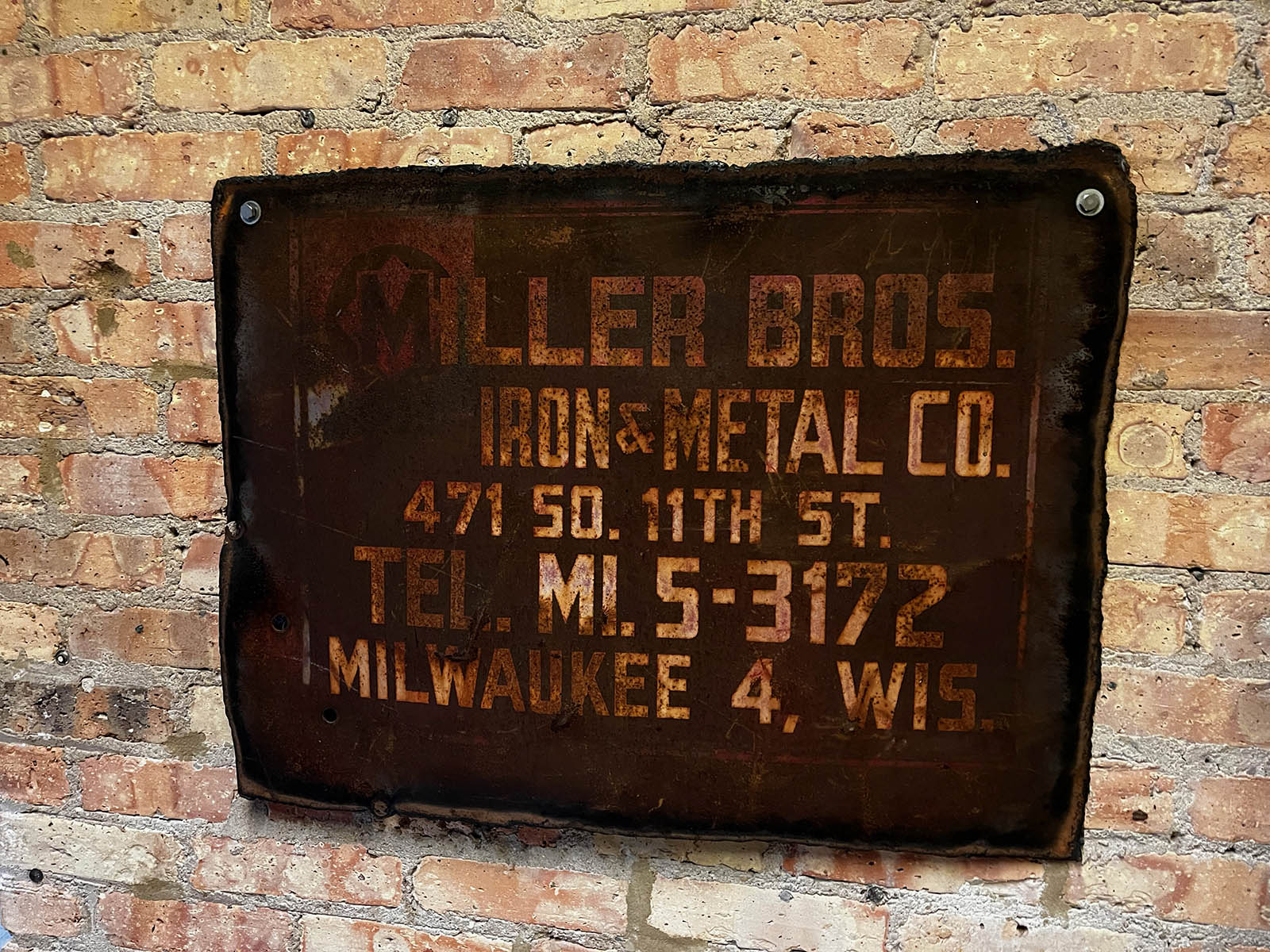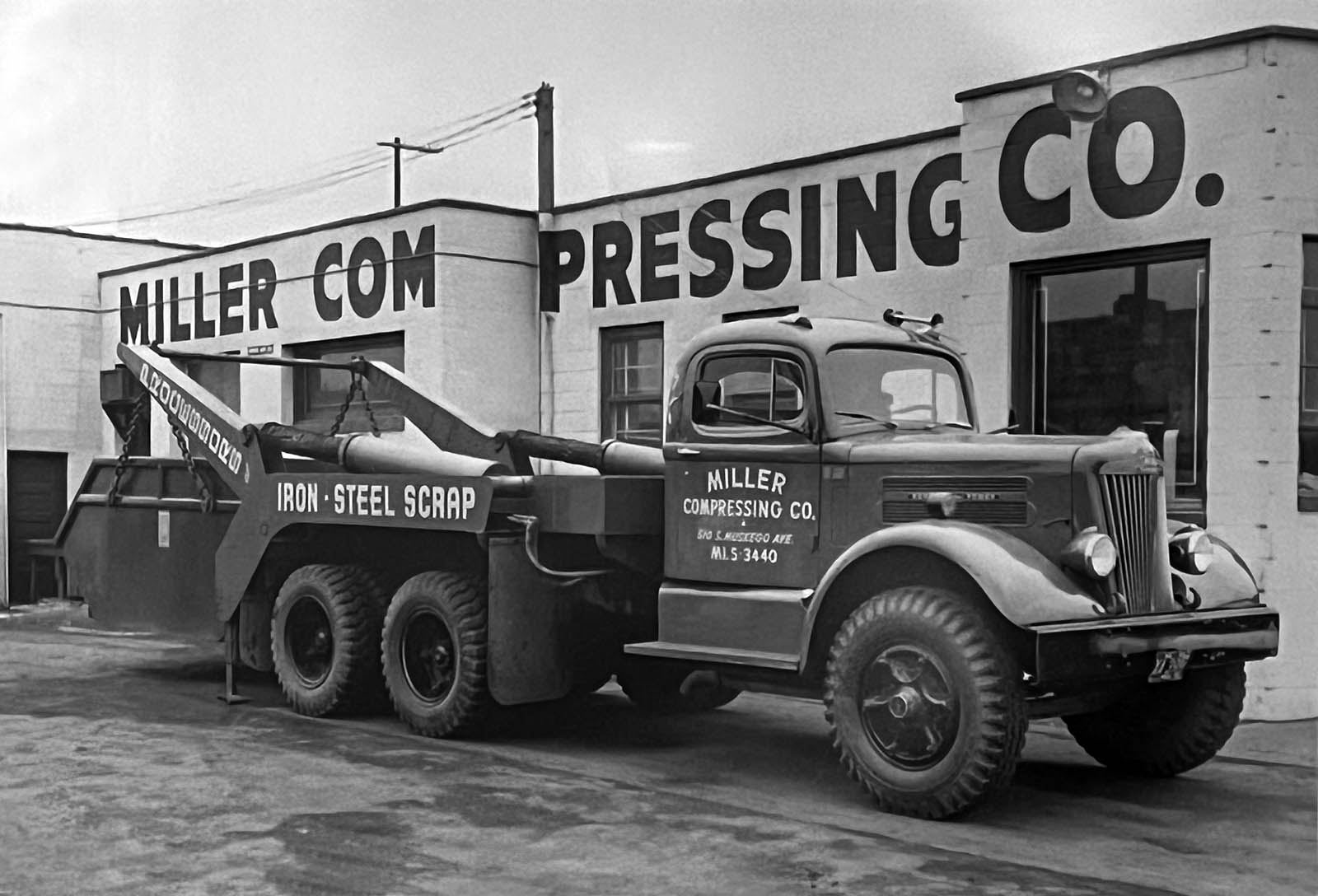 There is, in fact, an entire section of the exhibit dedicated to Wisconsin's scrap industry and in combination with checking out the exhibit, which runs through Jan. 30, 2022, Gettinger invited me to visit Alter Trading, 1640 W. Bruce St., in the Menomonee Valley, to see how a scrap operation looks today.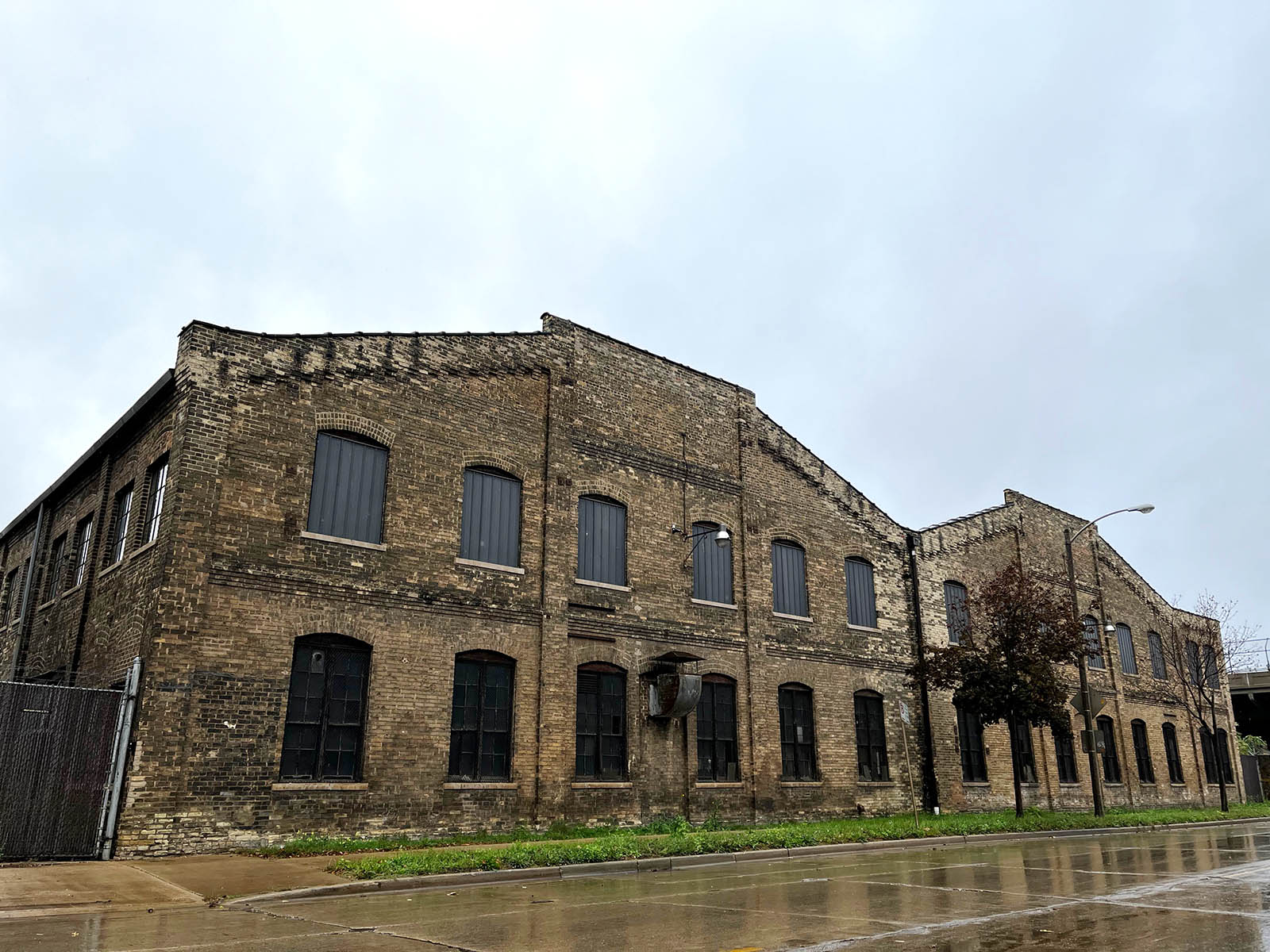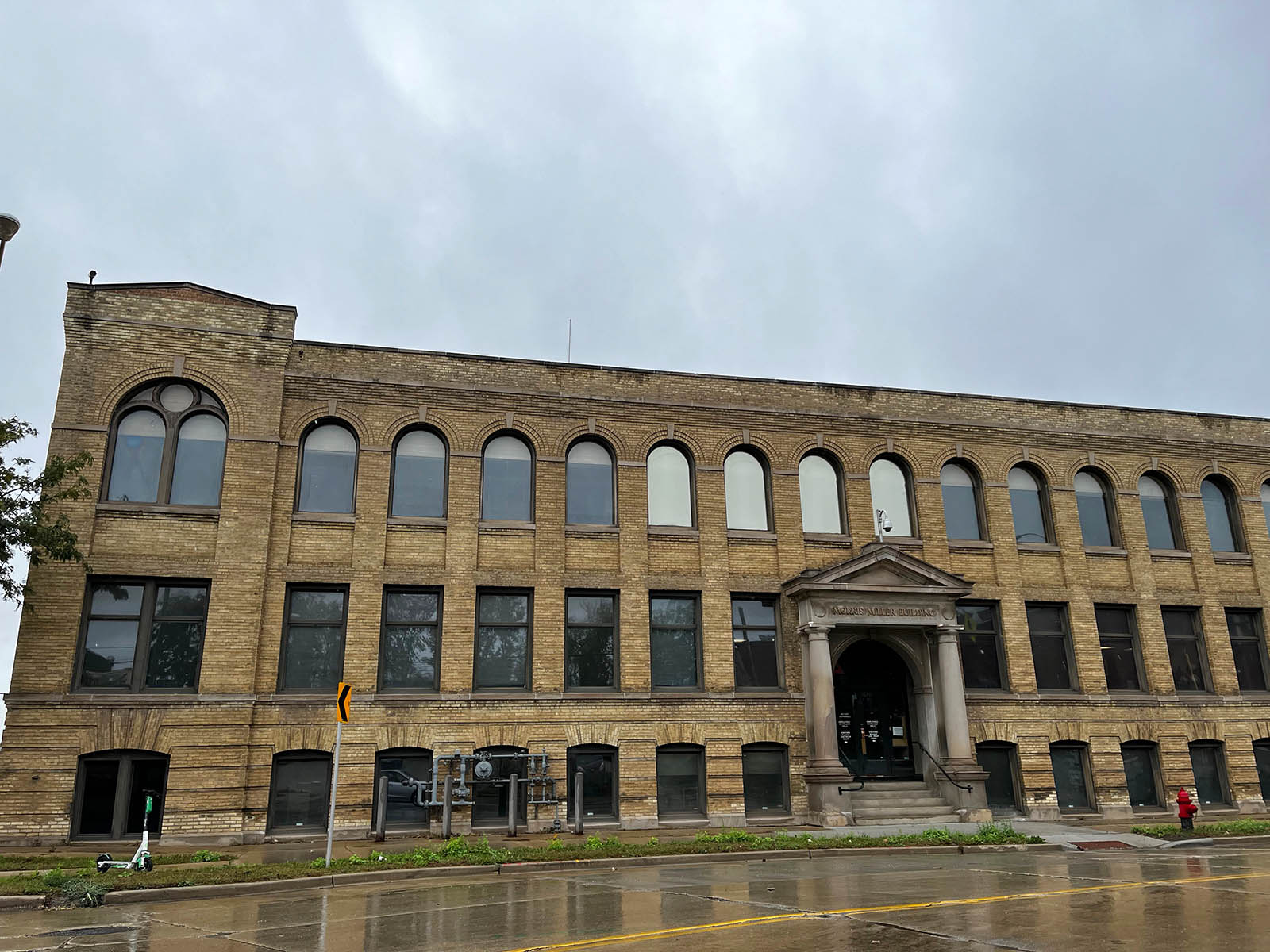 Owned by a Jewish family, Alter was founded in Iowa in 1920. It purchased the Milwaukee site and business from Miller Compressing in 2012.
It is a massive operation that employs about 115 people and processes upwards of 250 million pounds (that's 125,000 tons) of nonferrous material and 600,000 tons of ferrous metals each year.
It is one about a dozen Alter facilities in Wisconsin and it is the largest.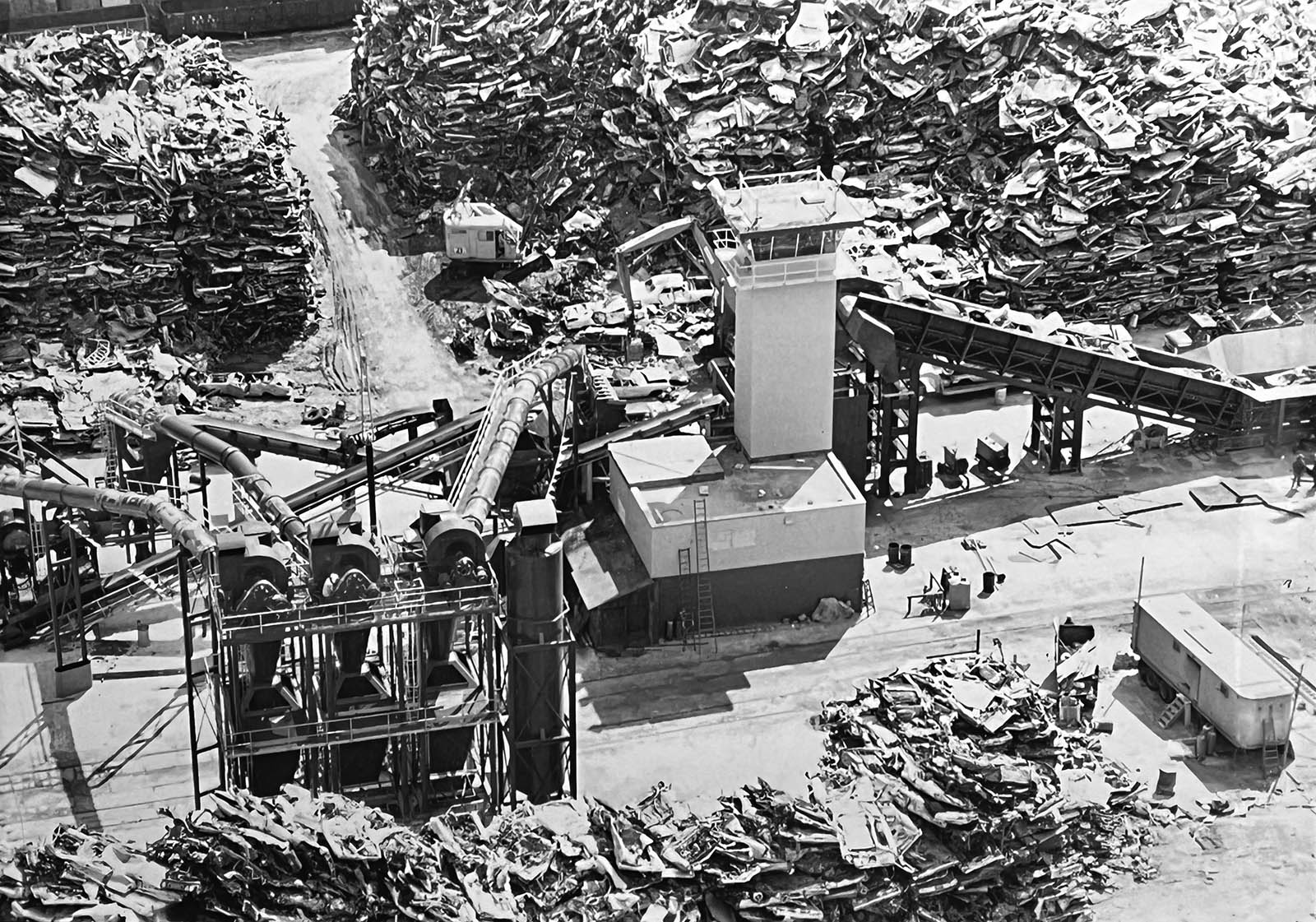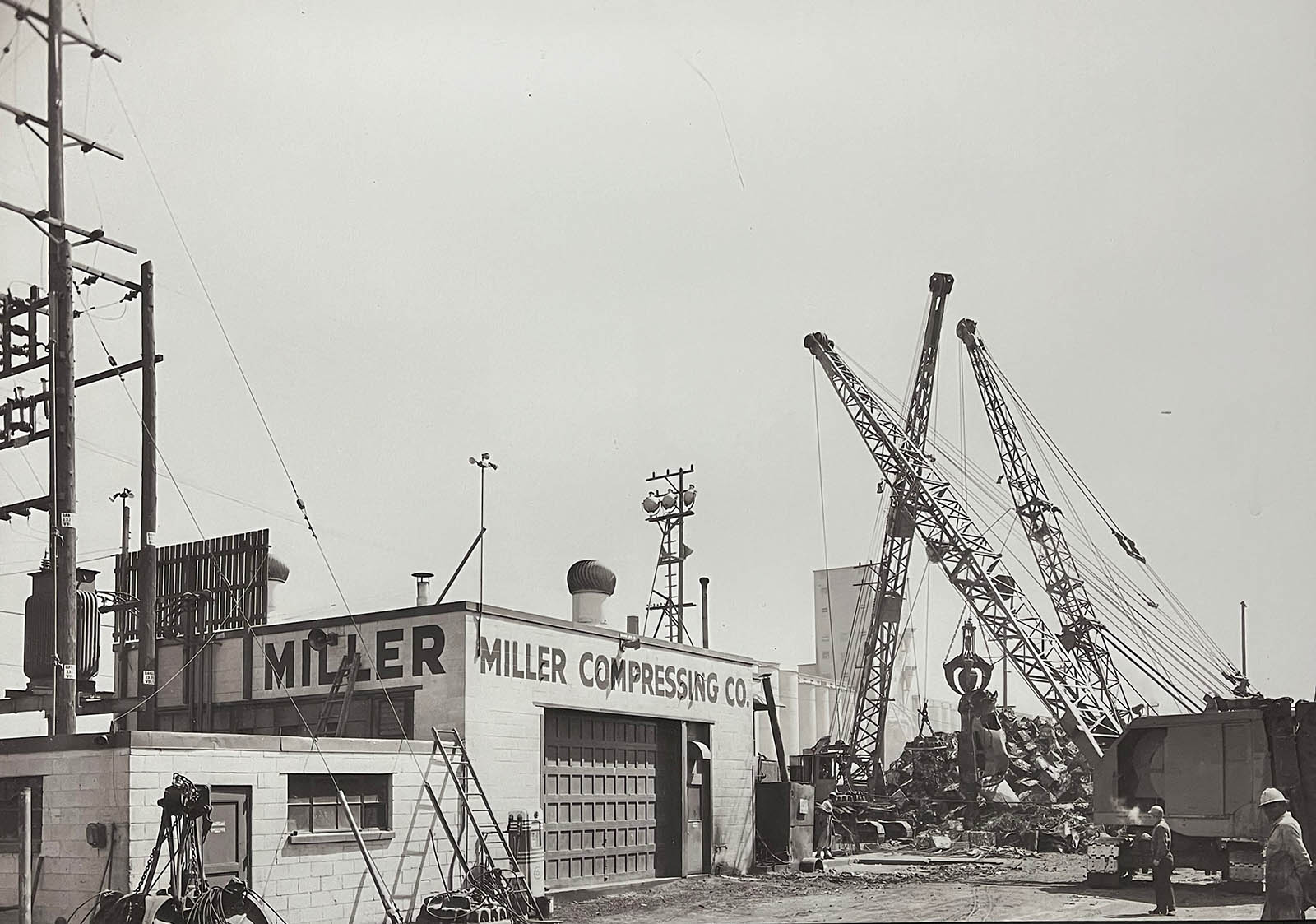 Miller, another Jewish-owned company, was founded in 1887 by Kalman Miller at his house at 612 W. Vliet St. and as you can see from the photo below, the business quickly outgrew that residential site. Three generations of the family ran the business and Kalman's grandson Bob Miller was the driving force in the years before the company was sold to Alter.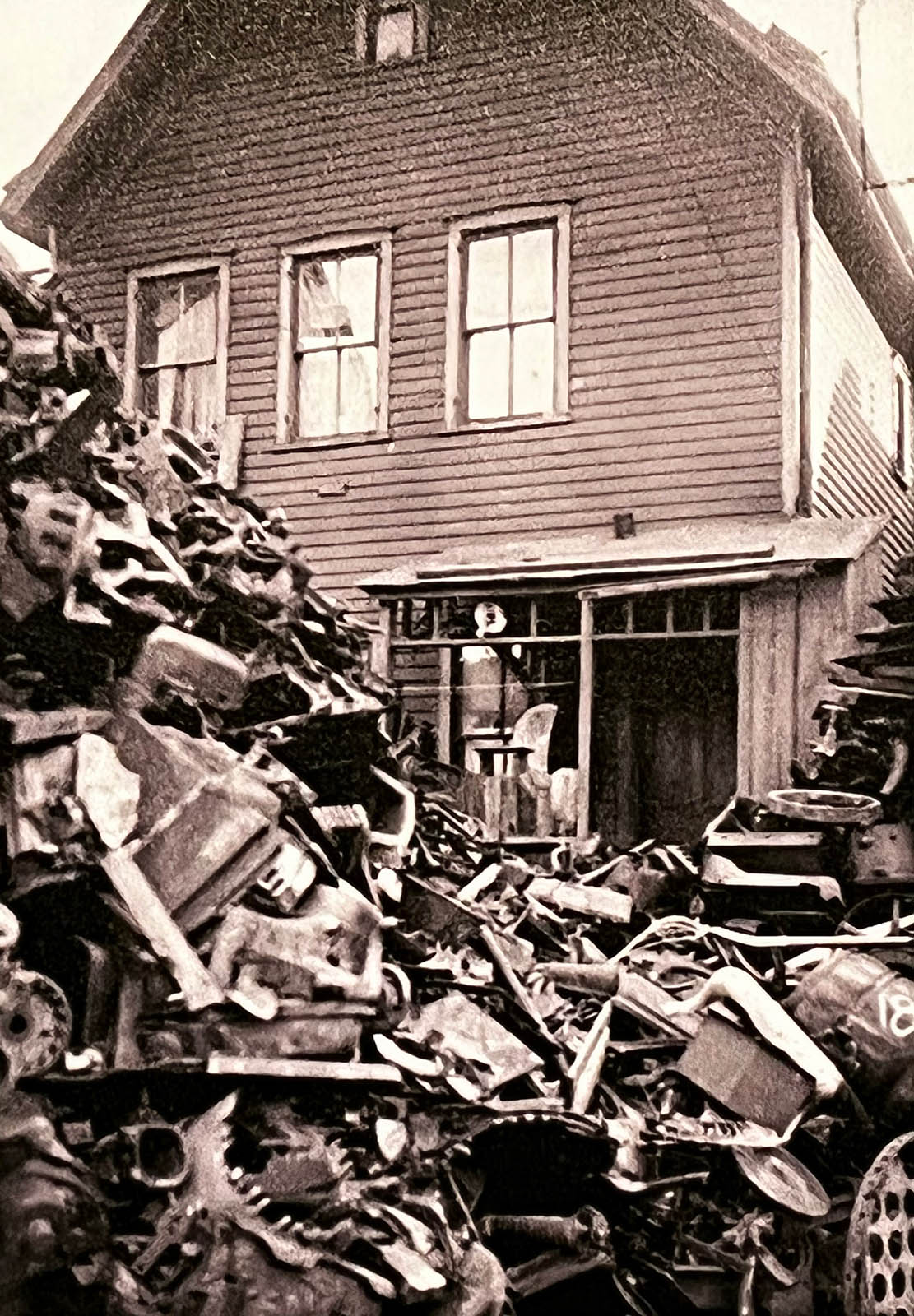 "Miller's plan here was that he kept buying every single square block around (Miller) that came up for sale," says Gettinger. "He was the first one there was a checkbook."
Much of the site was home to Milwaukee Harvester, which later became part of International Harvester, and Northwestern Malleable Iron.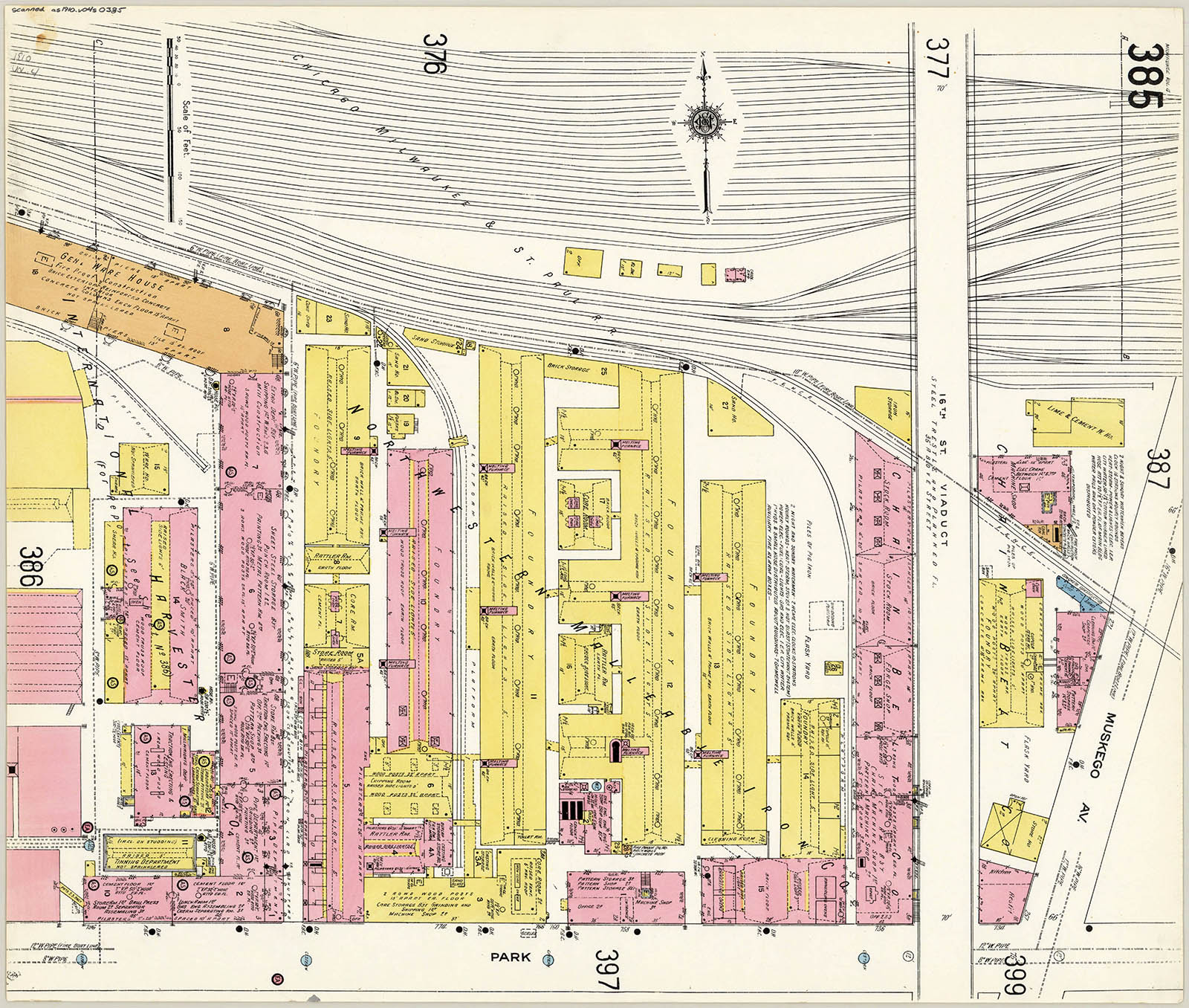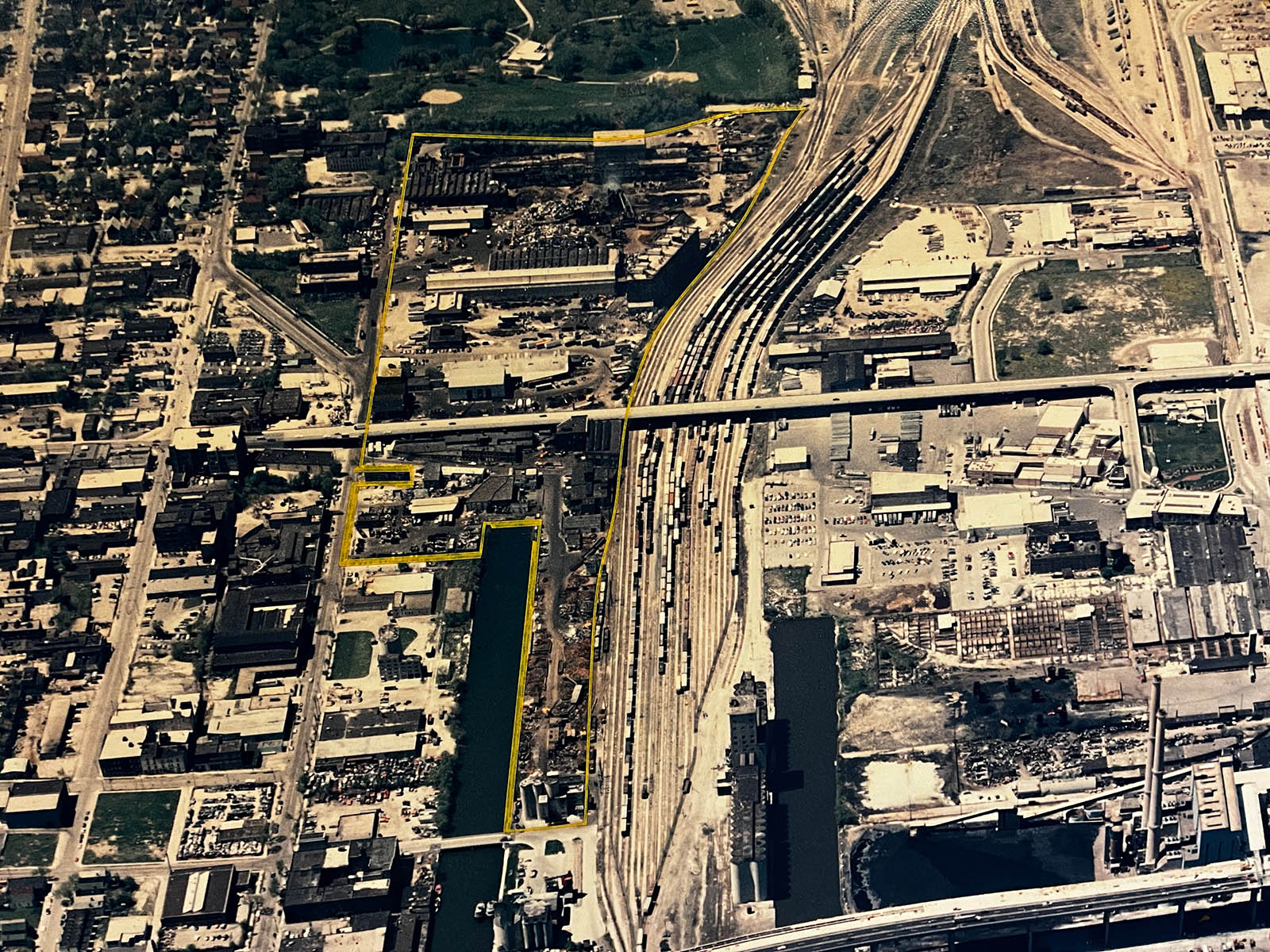 Before its days as a scrap yard, the site was packed tight full of factory buildings and while many of them are gone, some still survive, and the Alter property is packed full of history. There's a long, now unused and perilous Milwaukee Harvester building on the north end, along the rail tracks.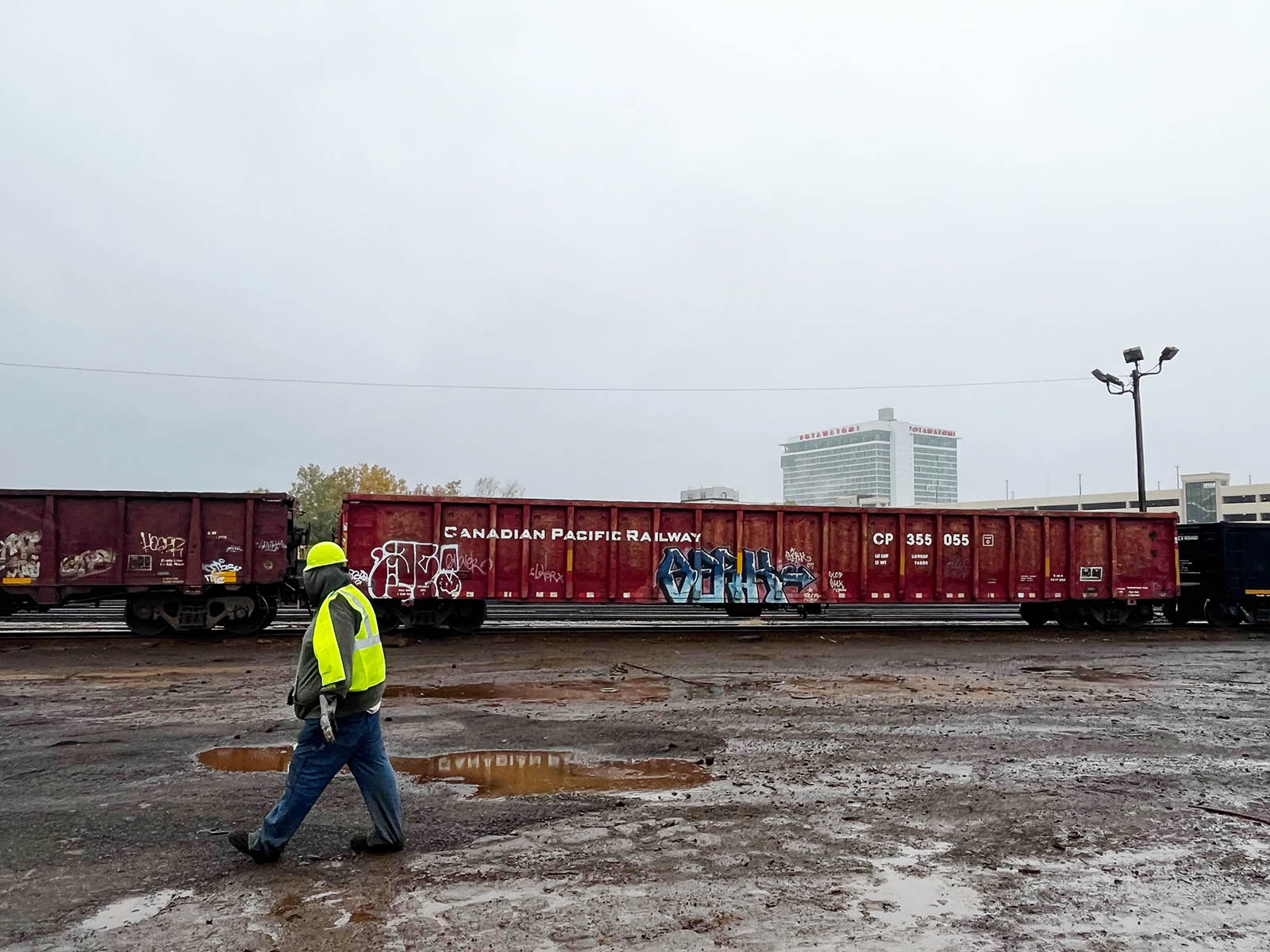 On the south end, along Bruce Street is the old firehouse, with large X's etched into the window to prevent shattering – a precaution taken during World War II in case the site was bombed. Next to it is the beautiful old International Harvester heating plant (which is not owned by Alter).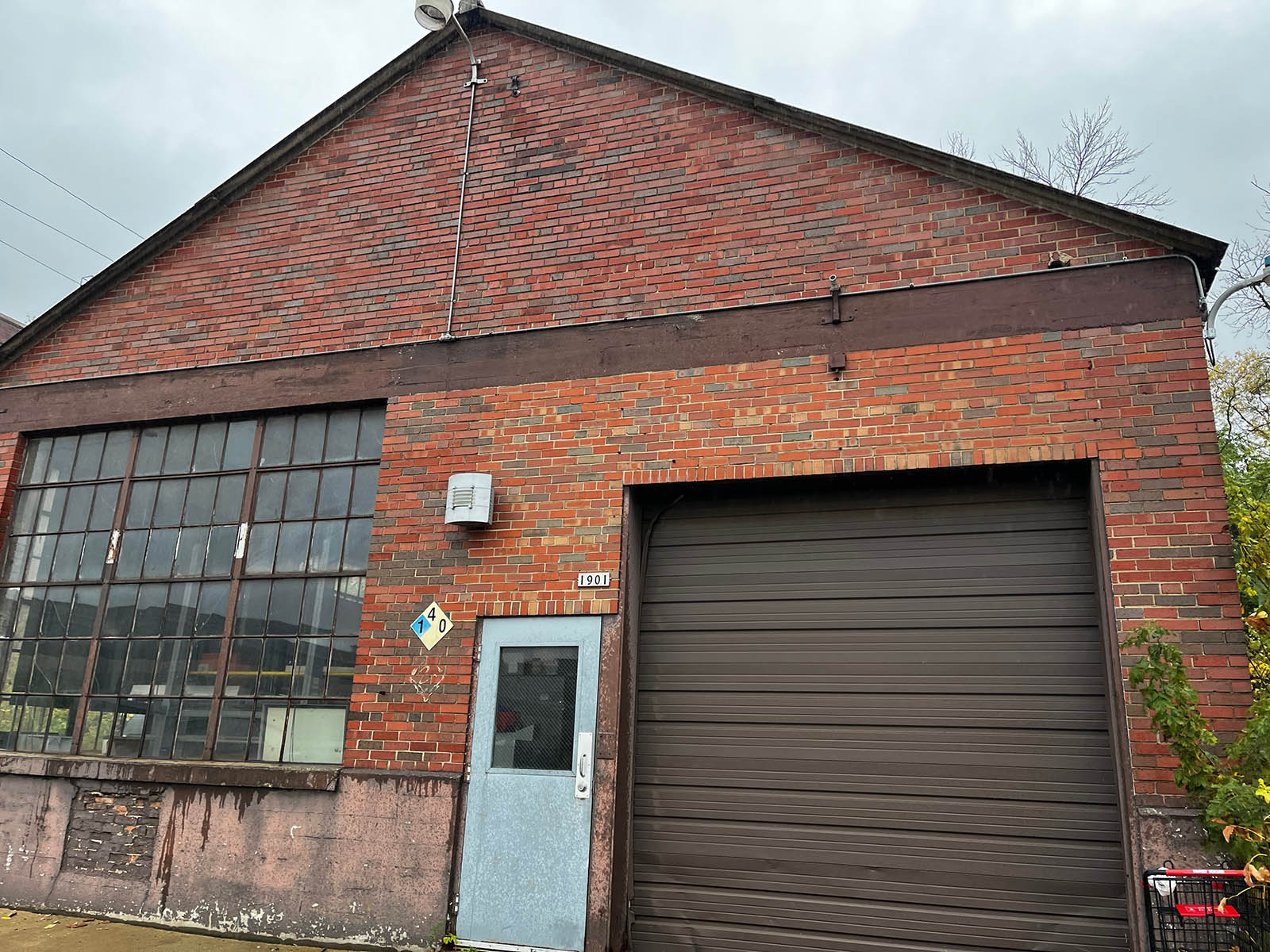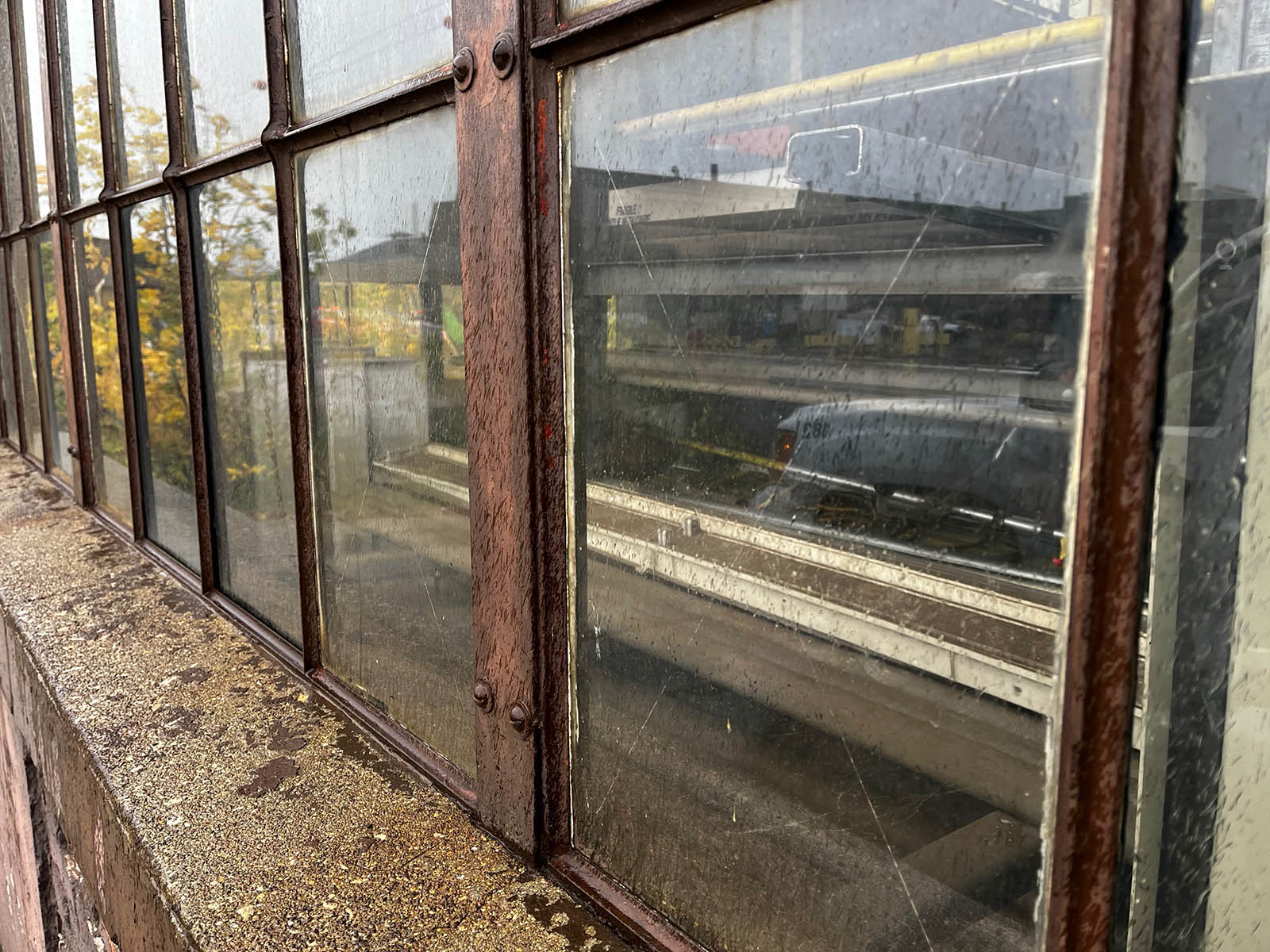 Thankfully, there are folks who are still alive that have held on to that history, says Gettinger.
"One of the things that I found about scrappers is that it's multi-generational and it's long time deals and this crew of people had the world's longest memory," she says.
"I've talked to 95-year-old guys who've worked here and they'll tell me about like, 'Well, in 1955, we got this machine and that was the difference of producing X amount versus this. They just hold onto these things."
On a chilly and rainy autumn day recently, Gettinger and I met in the office of Alter's Regional Director of Operations, Mark Joyner, in his office on the second floor of the Morris Miller Building.
Constructed by Northwestern Malleable Iron in 1900 as its office and pattern storage facility and machine shop, the Neoclassical building underwent an interior transformation to create an open feel with a multi-story atrium.
The best part is that is exposed the stunning and sturdy old growth posts that support the building.
Joyner – an amiable Texan in jeans and a cowboy hat – has been in the business for years and knows it intimately, having worked at pretty much every level.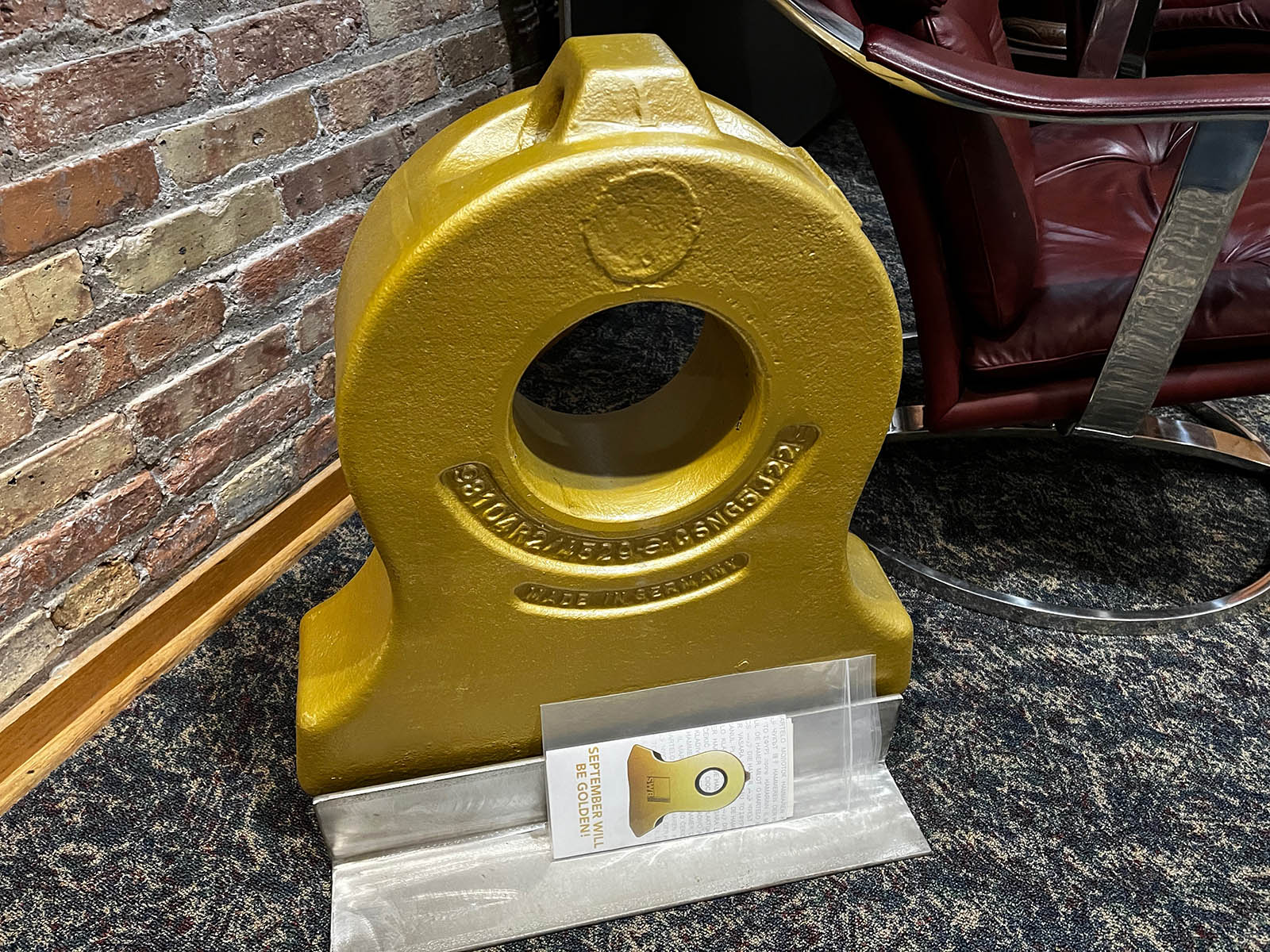 He shows me some vintage photos that line the walls and a large piece of steel nearby. It's a hammer used in the shredding process out in the yard and this one is painted bright gold in commemoration of a special occasion.
"It's attached to an 80,000-pound rotor in our big shredder," he says. "It's turning at 600 RPMs and we have 15 hammers on that. So that means when a whole car is coming down the slide this rotor's grinding and impacting that car over 120 times per second, with those 15 hammers, at 100 miles an hour ... you're you're ripping it apart, versus crushing it."
Alter shreds a car every 15 seconds.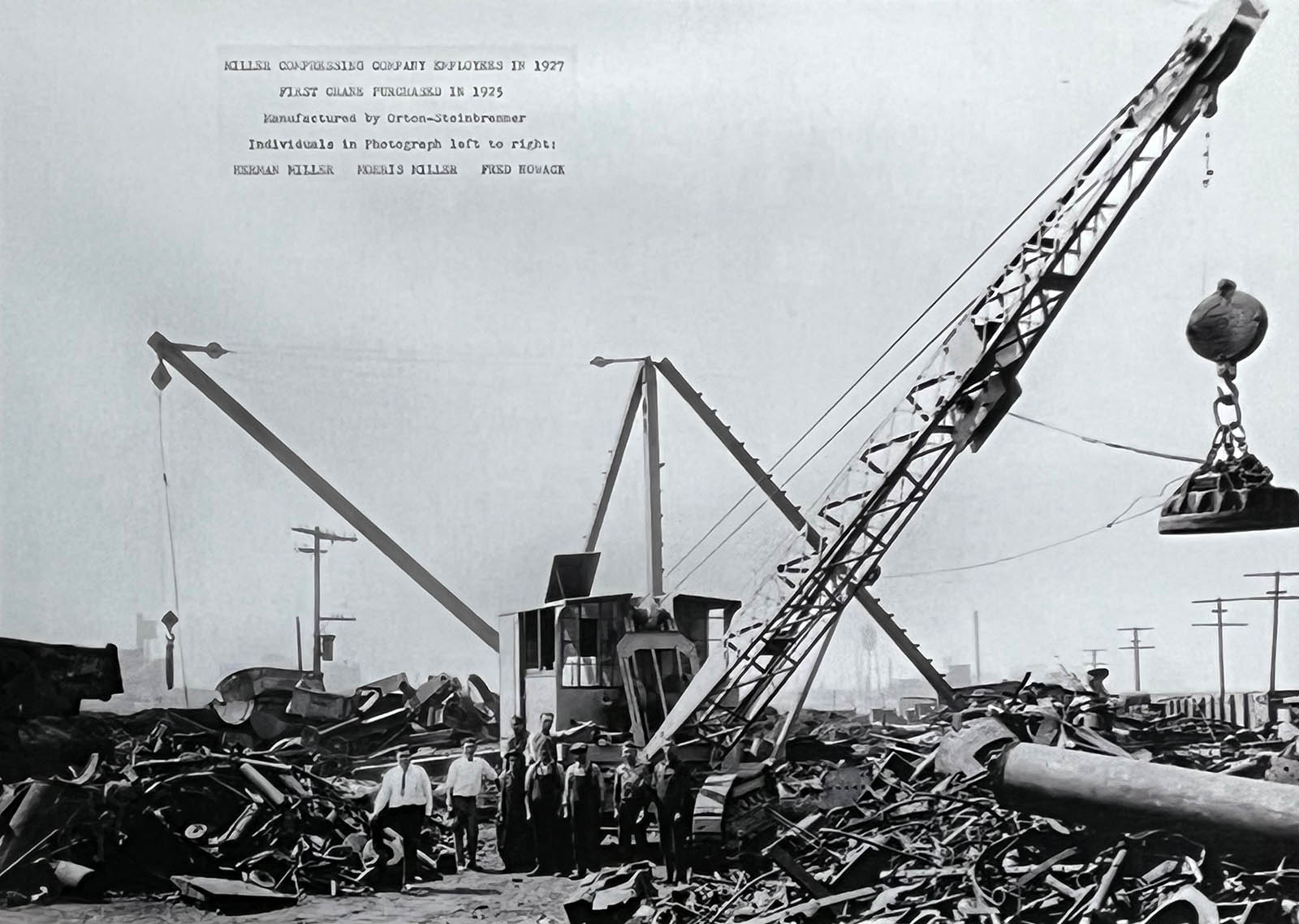 Because there's a lot of traffic on the grounds, which are muddy today as it's raining, we hop into a pickup truck to take a tour of the sprawling 60-acre property.
Everywhere there are piles of stuff.
"The predominant amount of metal available in the market is going to be shreddable," says Joyner, as we pass the heavy equipment loading material onto the conveyor belt headed to the shredder.
"Cars and appliances, metal desks ... the shredder is trying to grind everything up into small pieces. Then there's your I-beams and structural kinds of things."
Those big pieces that have no other plastic or rubber parts, etc., just get cut to a manageable size.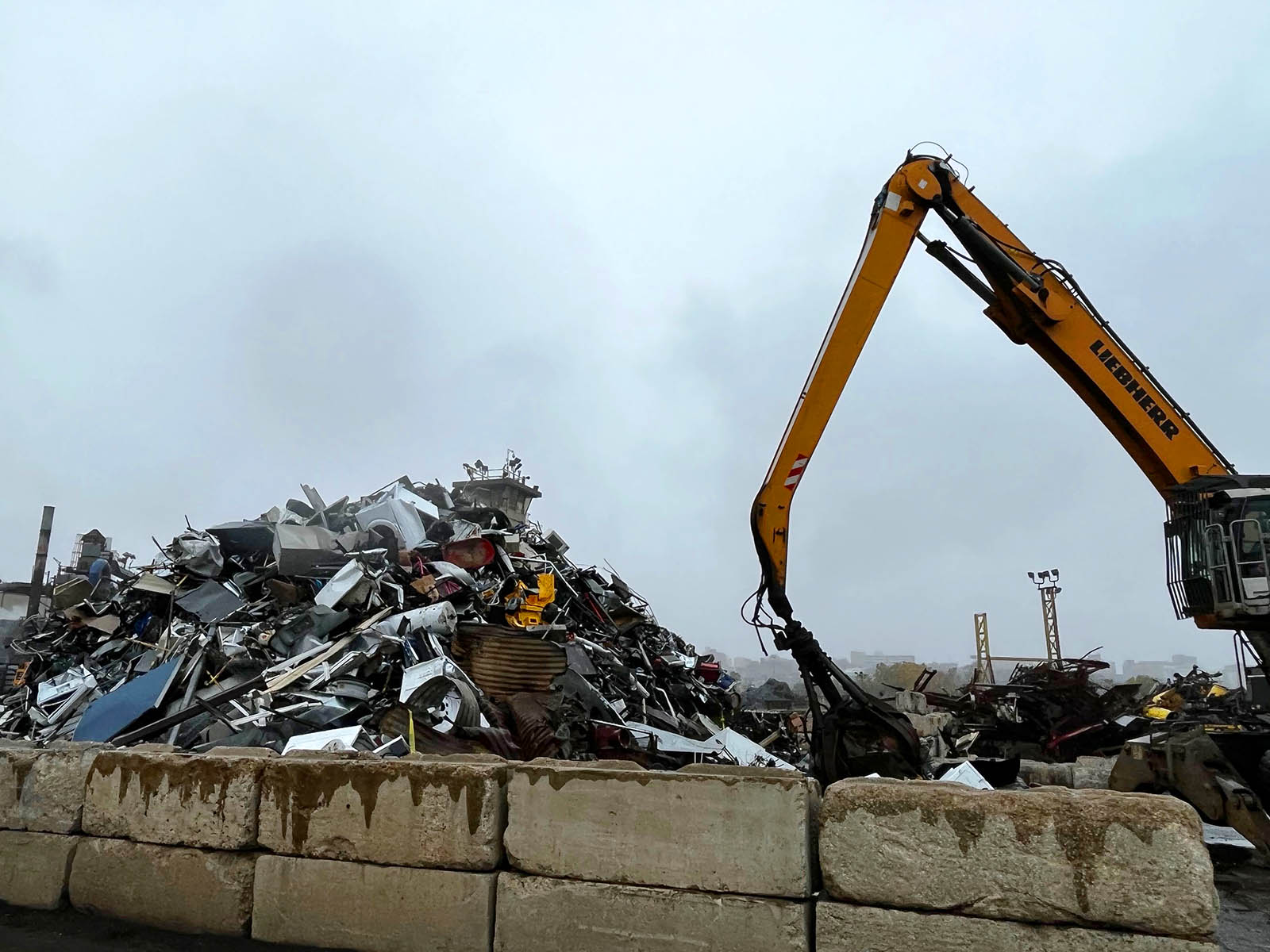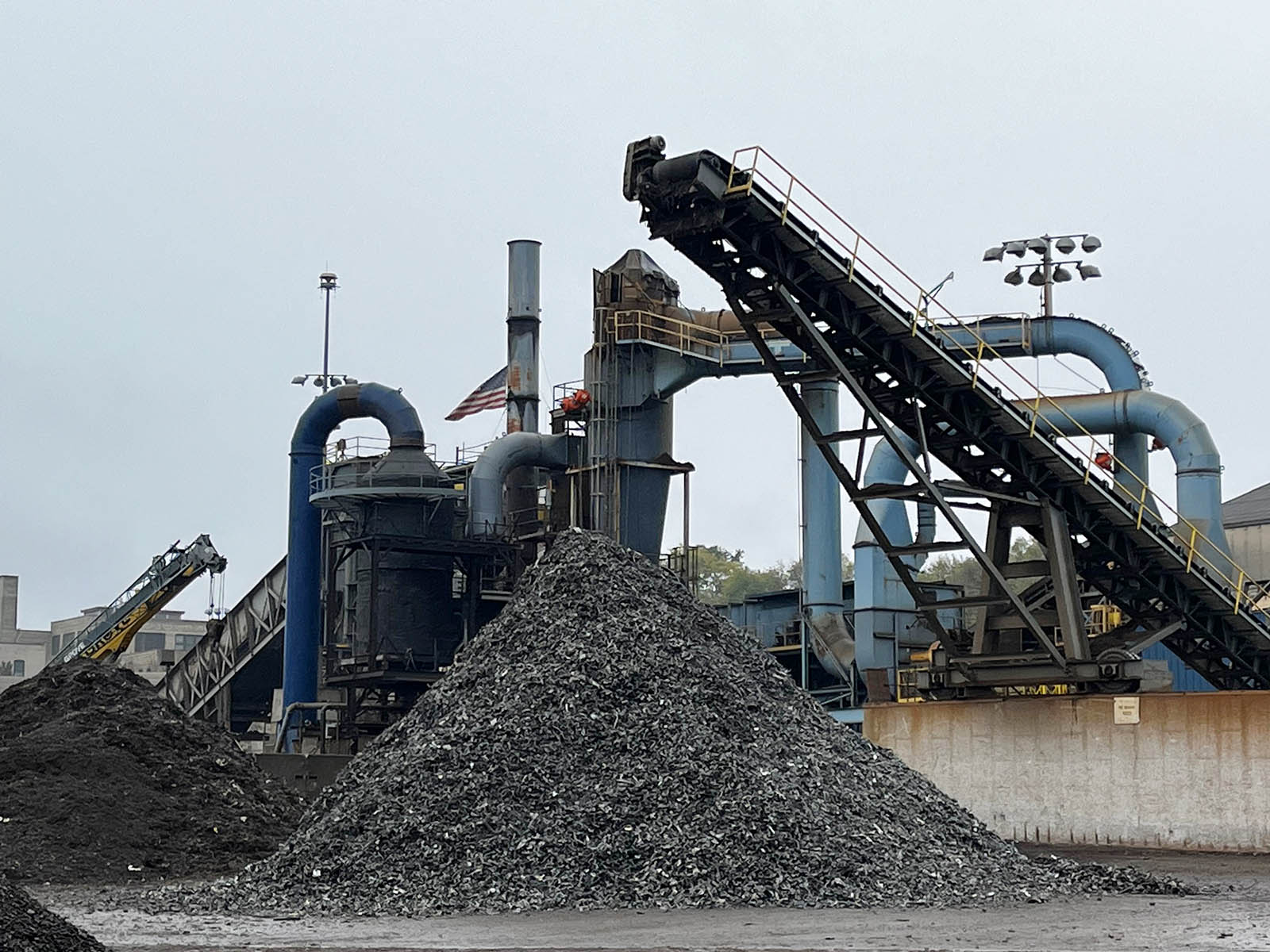 We pass the Joe Peterman Scale (named, like the Rosie Greenwood Yard, in honor of a longtime employee) that's used to weigh junk coming in and find a vehicle cemetery in an area where a team works to drain all the gas, oil and other fluids before the autos end up in the shredder.
In the distance there's what appears to be a pile of aluminum: ladders, etc.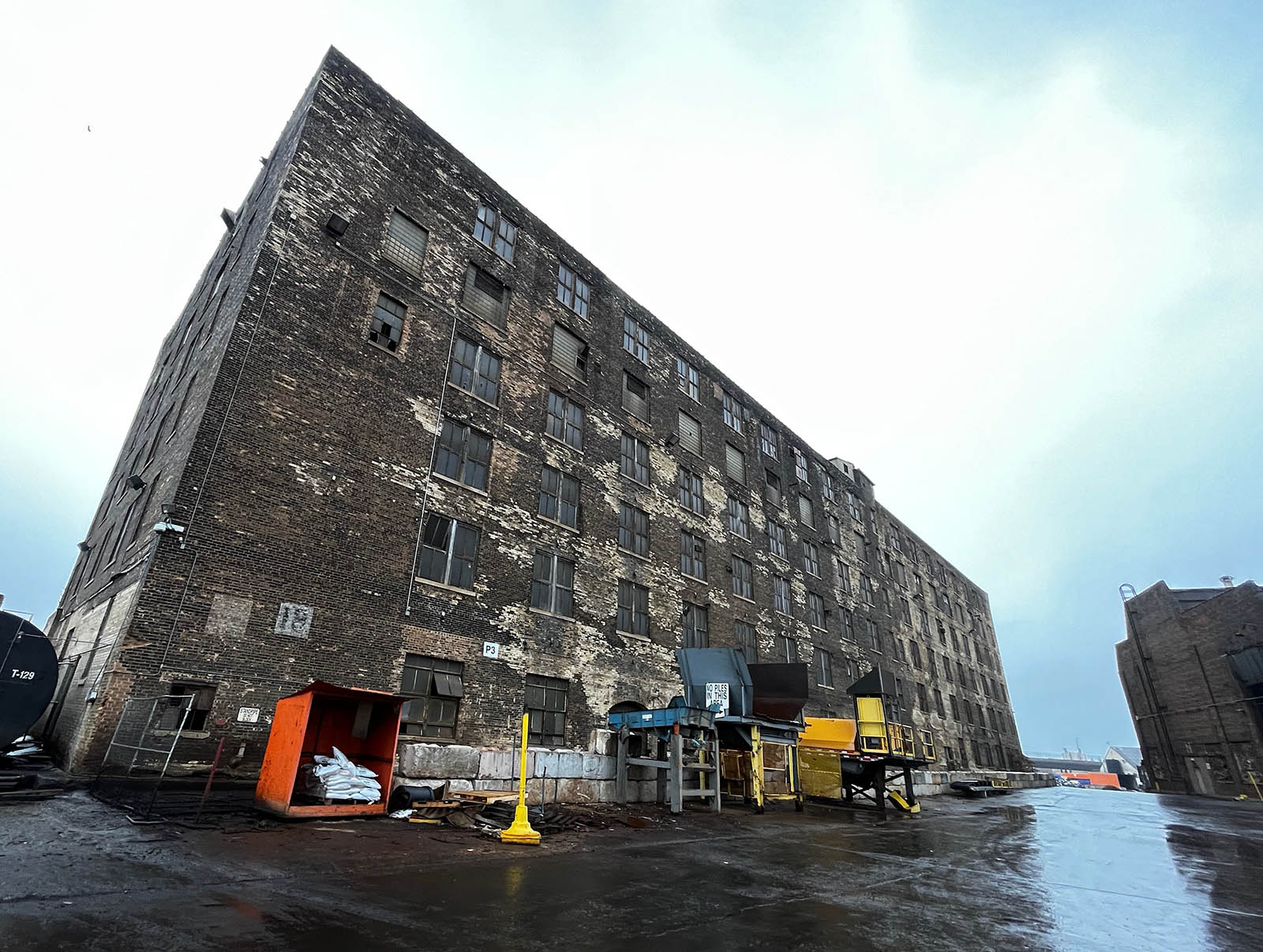 Next to the old cream city brick Milwaukee Harvester warehouse (pictured above), which is along the tracks, are piles that are draining their residual liquid into tanks below ground. At least one of them is steaming eerily.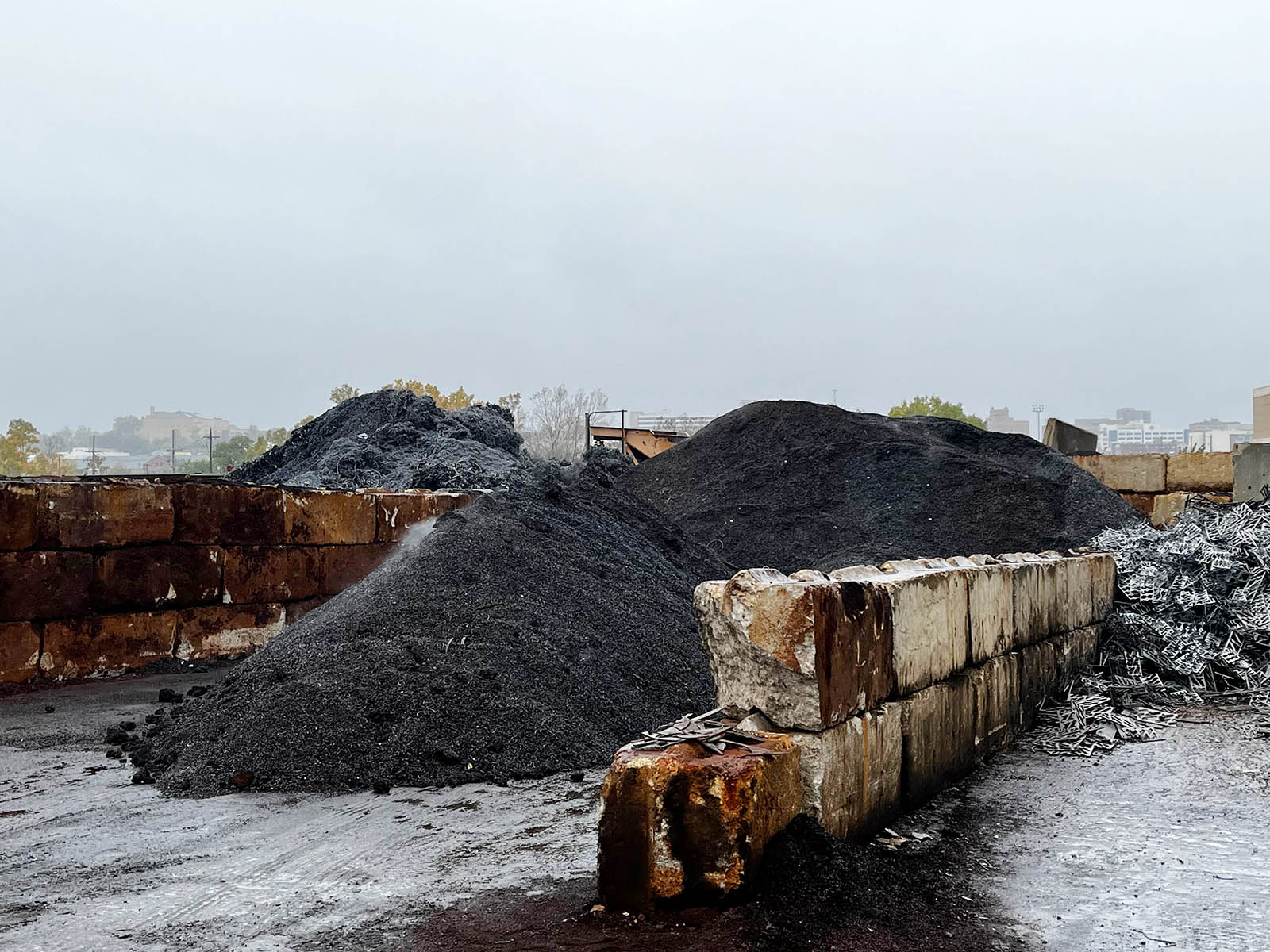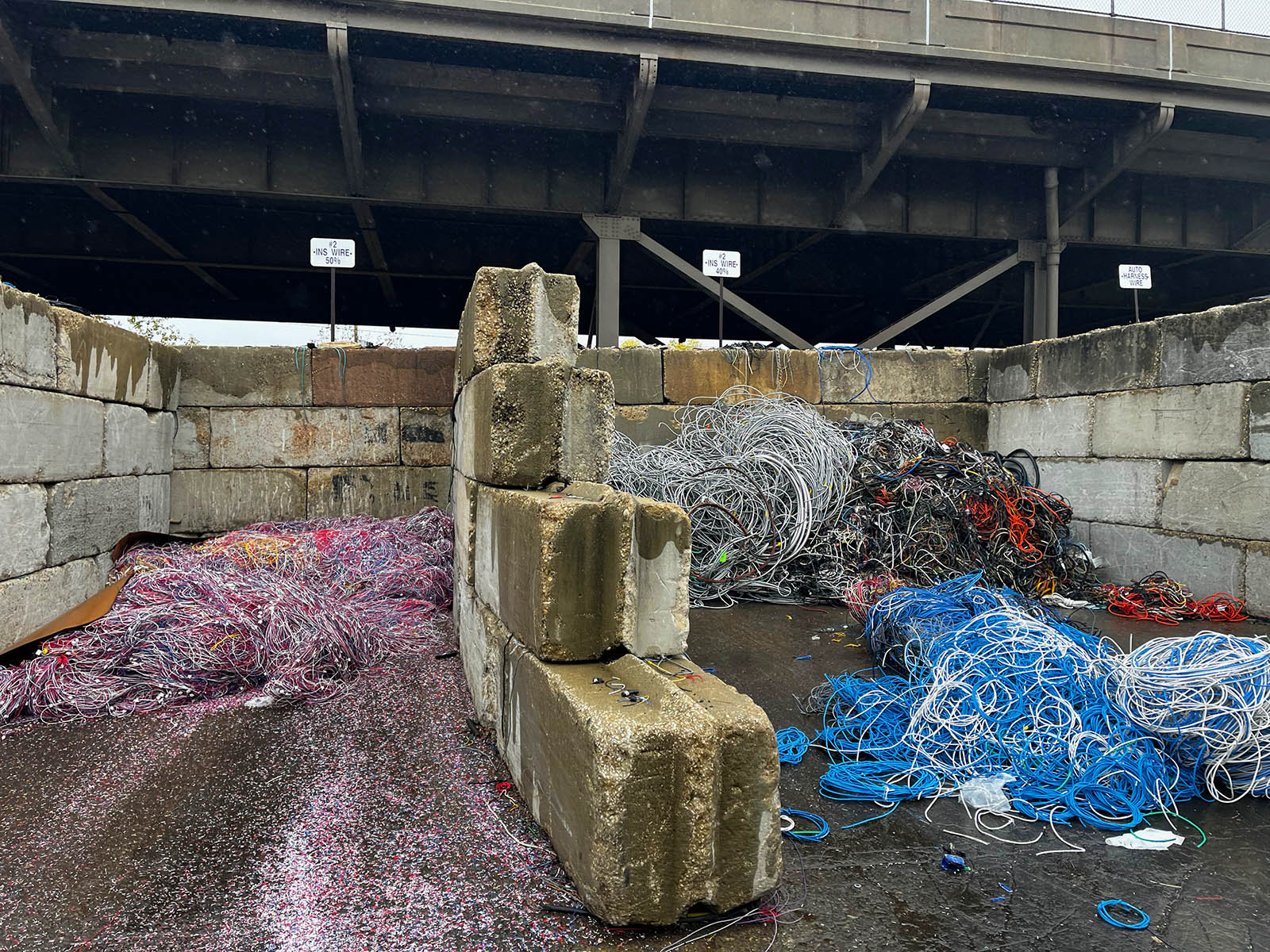 There are stacks of wire, encased in insulation of all colors, creating what looks almost like an art installation.
We see stacks of mixed material headed to various sorters and then the post-sorting piles: ferrous metals, nonferrous material, the stuff that can't be recycled and is headed for the landfill, etc.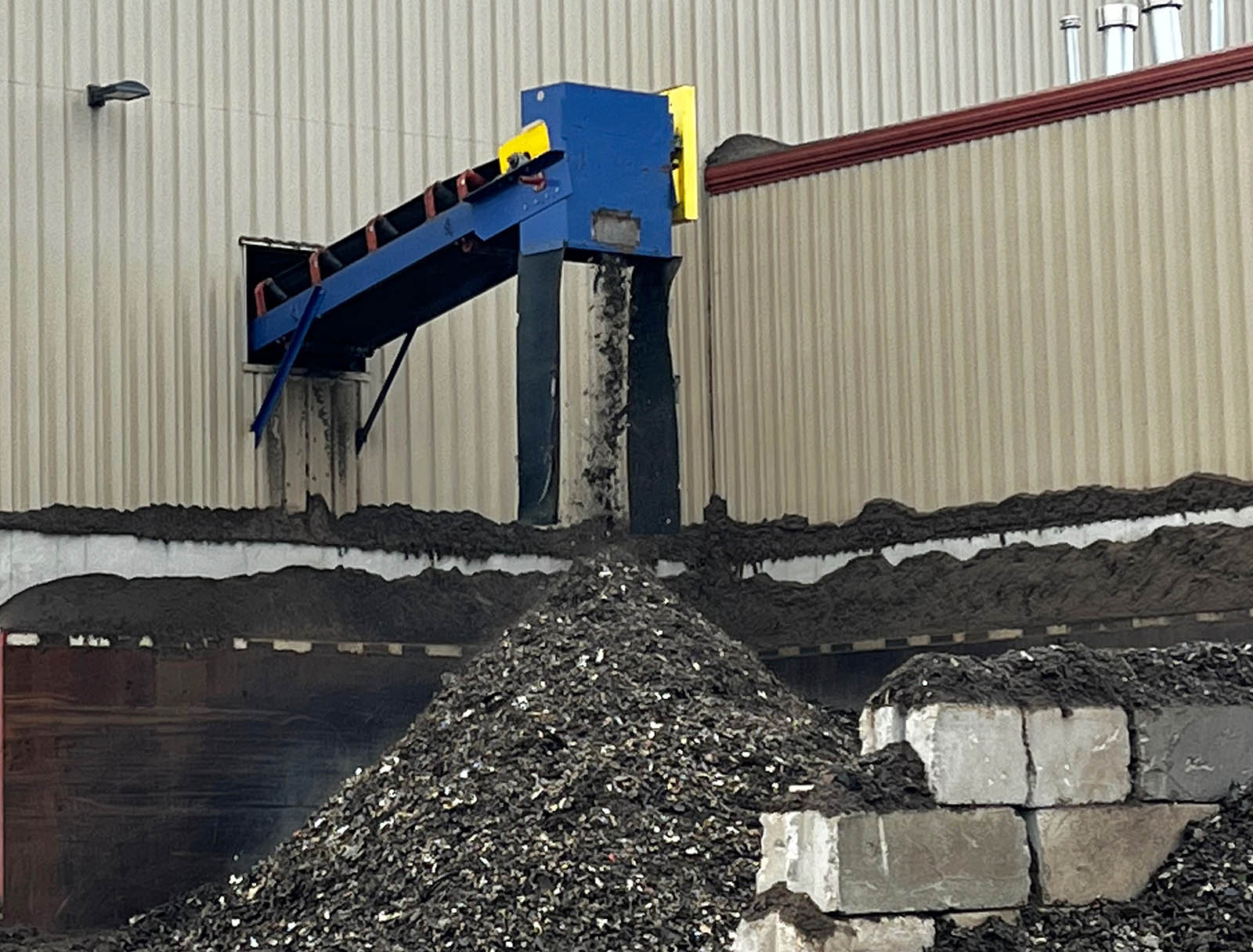 "While what we do is extremely good for the environment, a lot of people don't want us doing it," says Joyner. "They don't understand that this is a necessity. You have to remember, if we're not doing this (work), those tons of materials are just ending up in landfills."
Joyner adds that less than 25 percent of what comes into the yard ends up in landfills. That means more than three-quarters of it is recycled.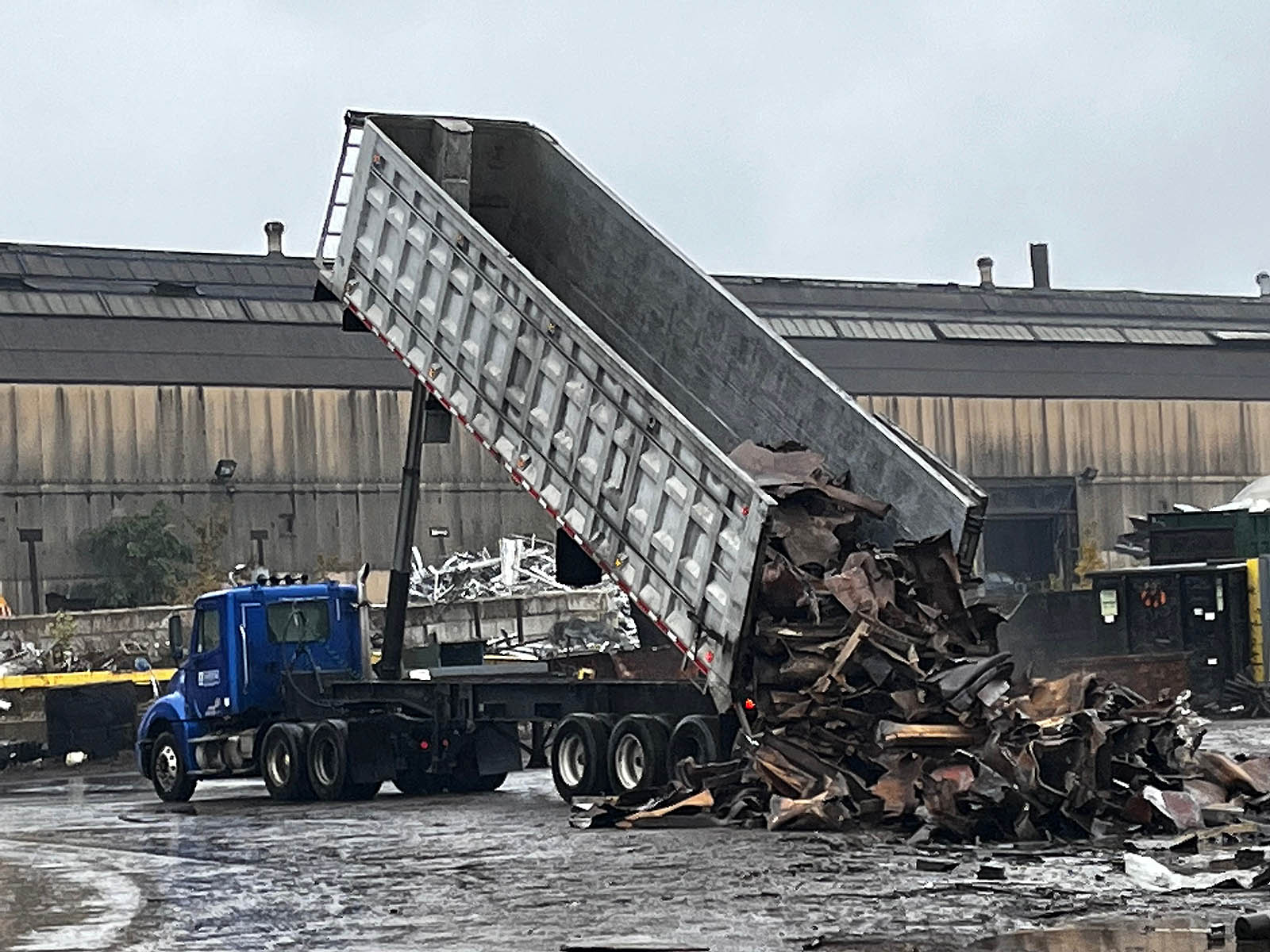 Alter gets its materials from a number of sources. First there are corporate clients – like Harley-Davidson, Milwaukee Tool and Snap-On – that have production waste, like metal trimmings from metal stamping presses (see photo below). There are also demolition companies that deconstruct and pull down buildings and seek to recoup some of their costs by recycling materials.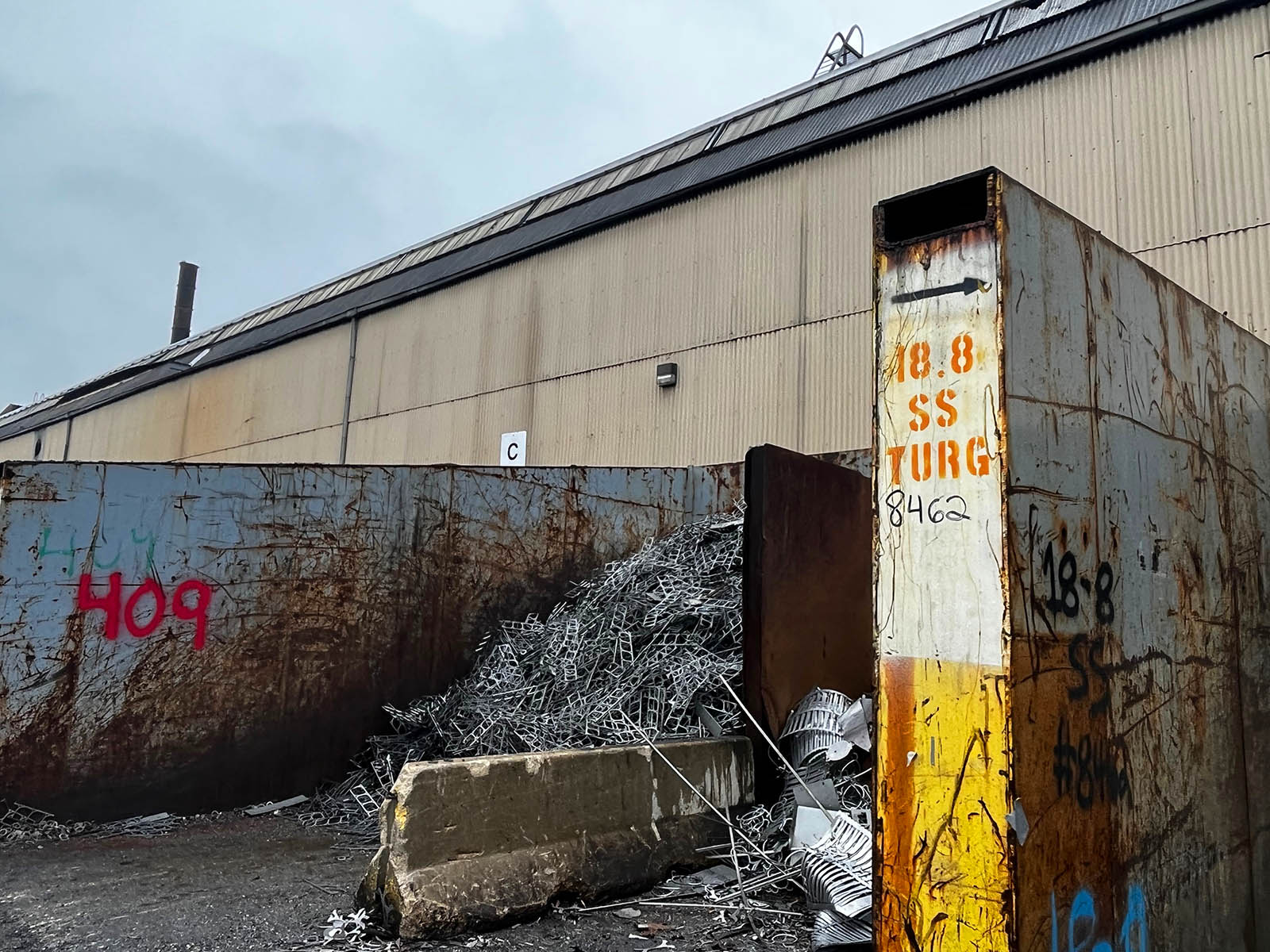 Next there are dealers, who are smaller neighborhood junk yards that buy from peddlers. And then sometimes those peddlers arrive at Alter to sell directly.
Peddlers are those guys in the pickup trucks – often seemingly held together by wire and duct tape – that drive down your alley each week picking up old appliances, lawnmowers and other junk.
He understands that the work is unpleasant to some: noisy, potentially smelly and prone to fires.
"To some extent, the risk of fire is always there," he admits. "You mitigate the risk, you have better practices. I've been doing this for 25 years, and every year we get better and better and better. There's public pressure, which is good."
Because of a time, ahem, crunch, we don't get a chance to see the automatic sorting machinery at work – though Joyner explains a whole series of ingenious methods concocted to separate unlike material – but I hope to get back and see that sometime, so maybe there will be another story.
Born in Brooklyn, N.Y., where he lived until he was 17, Bobby received his BA-Mass Communications from UWM in 1989 and has lived in Walker's Point, Bay View, Enderis Park, South Milwaukee and on the East Side.
He has published three non-fiction books in Italy – including one about an event in Milwaukee history, which was published in the U.S. in autumn 2010. Four more books, all about Milwaukee, have been published by The History Press.
With his most recent band, The Yell Leaders, Bobby released four LPs and had a songs featured in episodes of TV's "Party of Five" and "Dawson's Creek," and films in Japan, South America and the U.S. The Yell Leaders were named the best unsigned band in their region by VH-1 as part of its Rock Across America 1998 Tour. Most recently, the band contributed tracks to a UK vinyl/CD tribute to the Redskins and collaborated on a track with Italian novelist Enrico Remmert.
He's produced three installments of the "OMCD" series of local music compilations for OnMilwaukee.com and in 2007 produced a CD of Italian music and poetry.
In 2005, he was awarded the City of Asti's (Italy) Journalism Prize for his work focusing on that area. He has also won awards from the Milwaukee Press Club.
He can be heard weekly on 88Nine Radio Milwaukee talking about his "Urban Spelunking" series of stories.