There are few things more satisfying to me than seeing a beautiful old – and vacant – building get an overhaul and a new life with a new owner.
When that new owner is a Milwaukee nonprofit that works every day to improve the lives of MPS students? Double bonus.
Arts @ Large – which has 10 partner schools in MPS and works with 30 more – is headquartered in a leased small former tavern at 908 S. 5th St. and its current home has to serve myriad purposes: office space, gallery space, teacher professional development space, student-run coffee shop out of the gorgeous old bar and more.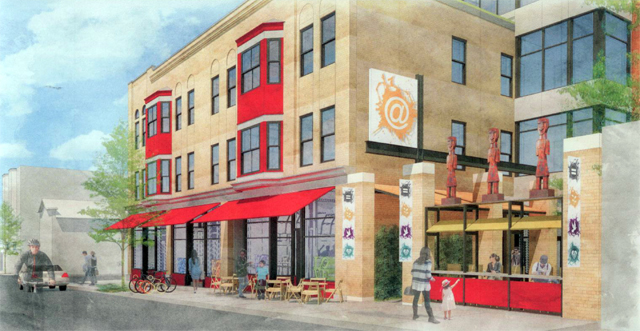 It's a challenge.
But soon, the group – which has just six employees to service all those schools – will move into new digs a block and a half south in a three-story retail and office building dating to 1890.
"We purchased the new building because we're definitely outgrowing the space that we have and as you can see, it operates in multiple functions right now," says Arts & Large Director of Programs Sean Kiebzak.
"There's a lot of conflict of interest in terms of what's going on here."
The new building, at 1100 S. 5th St., will have no shortage of space.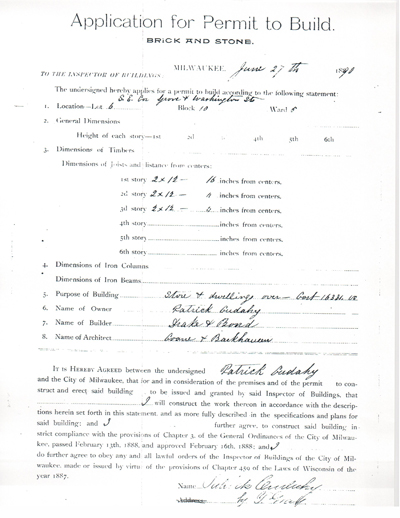 On June 27, 1890, meat magnate Patrick Cudahy signed an application for a permit to build a three-story brick retail and apartment building on a lot on the southeast corner of Washington and Grove (now South 5th) Streets that he'd purchased from a Mr. and Mrs. E. Manger for $8,000.
He'd tapped respected local architects Crane & Barkhausen to design the Queen Anne-style building with its window bays, iron facade elements and elegant lunettes above the third-story windows, and Drake & Bond to erect the $16,331 building.
This Walker's Point building was one of three Cudahy sought to build – along with one on North 3rd Street and another on an unidentified location on the South Side – to house markets that would help sell his meat.
The Grove Street market was operated by Reinhold Mueller, who suffered some woes in the early-going.
In 1891, a trio of safe-crackers hit a number of businesses and were arrested in Chicago charged with stealing more than $300 in cash and checks from Mueller/Miller's meat market.
Two years later, according to a Milwaukee Journal article, "Jan. 20, a stranger entered the meat market ... and tendered a check for $22 drawn on the South Side Saving banks by P. Schroeder, in payment for goods. The check was accepted."
But it was a dud and the police investigated, following one major lead. "The check was made out, judging from the writing by a German, German letters being used. It bears a resemblance to the writing of similar forgeries some time ago and is evidently the work of the same person."
Later the same year, a fire broke out in the building, causing $25 damage. There is fire damage to be found in first floor joists that can be seen in the basement, but it's unclear whether or not that's the result of the same blaze.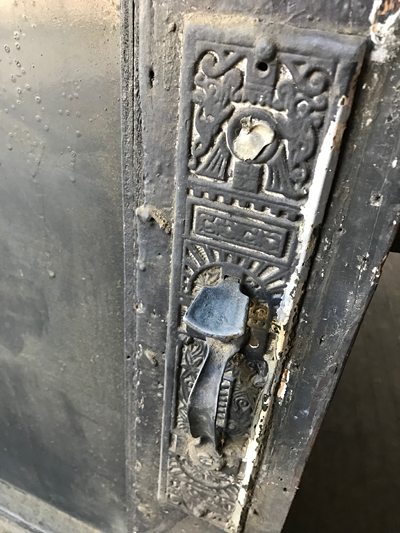 "Mueller (born in Berlin in 1855) had a butcher shop directly across the street at what would now be 1101 S. 5th St.," says researcher Huggh Wynne, who did some historical digging for Arts @ Large.
"Circumstantial evidence points to Patrick Cudahy asking him to move into his new brick building because he was the R.H. Mueller who opened the shop and remained there until about 1907. He and his family occupied apartment No. 1 until he moved out about that time. But he ran a butcher shop there for a little longer. Evidence points to his retiring because his occupation in 1910 was 'has own income'."
From there the trail goes a little cold until 1922, when Frank Schipper opened a butcher shop there. Two years later, Carl B. Hoffman Meats was there.
Then a host of tenants followed: St. Vincent de Paul Society (1926-29), Anton Jakobowski and Alphonse Grabowski, tailers (1929-30), Mark Horvath's tavern (1933-38), Frank Wirtz's tavern (1940-42), William Nicholas' tavern (1947-56), Witt L. Company Gifts (1957-59) and the So-Lite Neon Sign Co. (1960-2012).
One of the most interesting tenants was The Polish House, a social center organized in 1938 by a quartet of fellows who aimed to "develop leadership among the youth of Polish descent and to encourage the arts," according to the book, "Milwaukee in the 1930s: A Federal Writers Project City Guide," edited by John D. Buenker.
"The Polish Association of America, owner of the building, gave the group the use of two stores, one of which has been transformed into a Little Theater and the other into a hobby center, used by the Catholic Youth Organization. One-act plays and skits written by two of the organizers are produced here from time to time. A prized item of stage equipment is the red velvet curtain given The Police House by the Archdiocesan Holy Name Union, which had used the curtain in several productions of the Passion Play. The hobby center is in use almost every night."
As the neighborhood's ethnic makeup changed, The Polish House also served another population, according to "Latinos in Milwaukee," by Joseph A. Rodriguez and Walter Sava.

(PHOTO: "Latinos in Milwaukee," by Joseph A. Rodriguez and Walter Sava, courtesy of Arcadia Publishing)
"By 1937, thousands of Latinos lived on Milwaukee's near south side, and many Latino children attended the summer program at the Polish House, near South Fifth and Washington Streets," the authors write. "Emery Cardenas relates that it was 'filled with kids of all nationalities ... Polish, German, Greek, Norwegians and Mexicans.' Approximately half the children pictured here are Latinos, along with Padre Fidel de la Fuente from the Guadalupe Mission."
That's a great little bit of Milwaukee arts heritage for Arts @ Large to inherit and continue.
"We were really lucky and it was very serendipitous in us finding that building," says Kiebzak. We reached out to one of our friends in the Walker's Point community, Lori Gench, and she had that building at one point and she knew the current owner and was like, 'You need to check this out. He's looking to sell.' You know, we walked in there and went, 'This is absolutely perfect'."
These days the building is a little rough inside, but it's mostly cosmetic – crumbled plaster and shattered lath and the like. And much of that doesn't matter because the building will be renovated and a lot of that would've have to be demolished anyway.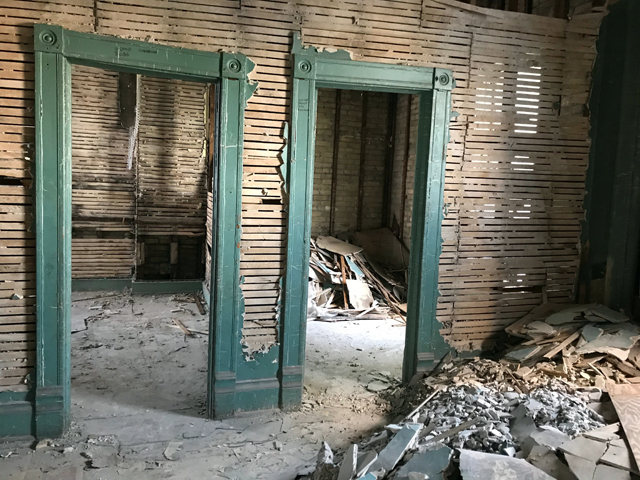 The first floor is mostly open, with one wall dividing the space. From the inside you can see more of the old retail entrances and display windows, and the ceilings are really high. In one room there's a collection of old brewery neon signs that survive from the long tenure here of So-Lite Neon Sign Co.
The upper floors have a corridor running down the middle, north to south and there are skylights that illuminate a few spaces. Apartments ran along the front and back. In the third-floor ones, those open lunettes in the northernmost apartments have been exposed inside and will remain that way.
The roof is especially cool. Up here there are fine views of Downtown and of the new water tower atop the nearby Coakley Brothers building, as well as the Allen-Bradley clocktower and the Hoan Bridge. But the real gems are the graffiti carved into the top of the parapet that runs along the 5th Street side.
Examples I found date to 1898, 1903, 1911 and forward into the 1940s, '50s and more recent years.
Arts @ Large has grand plans for what is really a grand neighborhood building on a street that was once a bustling hub of retail and social activity on the city's near South Side.
An overgrown lot adjacent to the south wall will become a new entry area with a garden and, to the rear, an elevator shaft that must be installed to make the building ADA compliant.
Inside the first floor will be a gallery for displaying student work, a multigenerational art studio, a public event space and a culinary arts training center and a greatly expanded cafe, which, if renderings are to be believed – and why wouldn't they be? – will be beautiful. It will be branded as "The Palate."
"I think one of the really important things about the café is creating a space the youth can really take ownership of," says Kiebzak. "I think it's really important, at least for me – a lot of the cafes in the city now are serving beer. For me, it doesn't really seem like a very conducive environment for a lot of youth in the city. So really placing an emphasis on drawing in the youth (is key)."
On the second floor, there will be a teacher and artist educator professional development space, nonprofit incubator studios, a classroom/study space, a "messy art studio" and another event space.
The third floor will house offices for Arts @ Large staff, a board conference room, a music studio and more incubator space.
A green roof and a deck will be installed on the roof, and the basement will have a wood shop.
Some of the work – including the entire renovation of one room – will be done as part of the Senior Foreman Career Development Program in conjunction with Bradley Tech High School students, who will shadow the architects (The Kubala Washatko Architects Urban Lab) and builders (Catalyst Construction).
This will allow them not only to participate in the work but also to learn the ins and outs of renovation, real estate, investing, building inspection, bidding and proposals, green infrastructure, architectural drawings, conceptual planning and other procedures.
Arts @ Large has already been approved for federal and historic tax credits to help fund the project, which has a number of committed gifts from Educators Credit Union, Herb Kohl Philanthropies, Northwestern Mutual, Brico Foundation, Greater Milwaukee Foundation and Catalyst Construction.
The group also has some equity in the building and has committed 6 percent of the renovation cost from cash reserves.
A groundbreaking is planned Monday, Nov. 13.
"There's a lot of cool history around the building," says Kiebzak. "And the separation of spaces from the first floor and then the second and third really makes sense for us into terms of how we're going to use it. Taking that space and creating more opportunities here, I think will be really special."
Born in Brooklyn, N.Y., where he lived until he was 17, Bobby received his BA-Mass Communications from UWM in 1989 and has lived in Walker's Point, Bay View, Enderis Park, South Milwaukee and on the East Side.
He has published three non-fiction books in Italy – including one about an event in Milwaukee history, which was published in the U.S. in autumn 2010. Four more books, all about Milwaukee, have been published by The History Press.
With his most recent band, The Yell Leaders, Bobby released four LPs and had a songs featured in episodes of TV's "Party of Five" and "Dawson's Creek," and films in Japan, South America and the U.S. The Yell Leaders were named the best unsigned band in their region by VH-1 as part of its Rock Across America 1998 Tour. Most recently, the band contributed tracks to a UK vinyl/CD tribute to the Redskins and collaborated on a track with Italian novelist Enrico Remmert.
He's produced three installments of the "OMCD" series of local music compilations for OnMilwaukee.com and in 2007 produced a CD of Italian music and poetry.
In 2005, he was awarded the City of Asti's (Italy) Journalism Prize for his work focusing on that area. He has also won awards from the Milwaukee Press Club.
He can be heard weekly on 88Nine Radio Milwaukee talking about his "Urban Spelunking" series of stories.