Check in early and stay late during OnMilwaukee's "Hotel Week" sponsored by VISIT Milwaukee. These seven days will be packed with stories about historic area hotels, reviews, history, food and drink, staycations and more. Find out what it's like to be a tourist in this town. (Chocolate on your pillow not included.)
Of course, I've seen it, proudly anchoring the intersection of Broadway and Wells for decades. But I admit the Milwaukee Athletic Club, 758 N. Broadway, was one of those Milwaukee places I took for granted, not thinking about it too much.
Until I couldn't seem to stop seeing little reminders of it.
First, there was one of its old homes in the Wells Building, where I saw the former gym just under the roof and where I stood in a long-lost but recently re-discovered MAC swimming pool in the basement.
Then I heard about its rooftop concert series this past summer, and I went on a tour, where I saw some wondrous things.
Next, reading a book about a local artist, I again saw one of those wondrous things and learned more about it.
Finally, I visited this year's Frank Lloyd Wright show at Milwaukee Art Museum, where I spied another reminder of the Milwaukee Athletic Club.
The result is that I'm reminded just how ingrained in the city's history this place is.
According to an MAC publication, the Milwaukee Athletic Club was founded as the Milwaukee Athletic Society in 1879 and incorporated in 1882 by eight fellas who, like the Turners, were focused on "developing the bodily powers through gymnastic and other exercises."
Before it moved into its current home – designed by Armand Koch, son of noted Milwaukee architect Henry C. Koch – in 1916, the MAC had occupied seven previous homes, the last of which was the Wells Building (also a Koch commission).
The first meeting place was the "Boynton lower hall," and the others were, according to MAC's "The New Building of the Milwaukee Athletic Club":
Plankinton Hall (Old Library Building), May 1, 1882-Sept. 1, 1884
Weber's Block, 420 E. Water St., Sept. 1, 1884-May 1, 1885
388-390 Broadway, third and fourth floors, May 1, 1885-Aug. 1, 1889
458 E. Water St., two upper floors, Aug. 1, 1889-May 15, 1893
Light Horse Squadron Armory, Broadway, May 15, 1893-May 1, 1902
"The building to be erected on the Hathaway corner will be 12 stories high and modern in every detail," boasted "The New Building of the Milwaukee Athletic Club."
"It will be of steel and fire-proof construction throughout. The entire building will be thoroughly ventilated by a modern and elaborate automatic ventilating system. The plans arrange for all the departments needed by the Milwaukee Athletic Club, and make full provision as well for the many activities of the Merchants and Manufacturers Association. ... The Milwaukee Athletic Club is to raise the $250,000 within 90 days. The lessors will then sign the lease and will possession of the property May 1, 1916."
According to the Wisconsin Historical Society's Architectural Inventory for the 12-story building on Broadway, "The club featured an exclusive clientele of Milwaukee's most prominent businessmen and professionals and, according the City of Milwaukee's Central Business Survey, was the location where many major business deals were made."
While it still has the vibe of a place where deals get done today, my visit made it pretty clear that the club is really open to everyone. There's a little coffee shop and library on the first floor, where, just off the lobby, there's also a pub.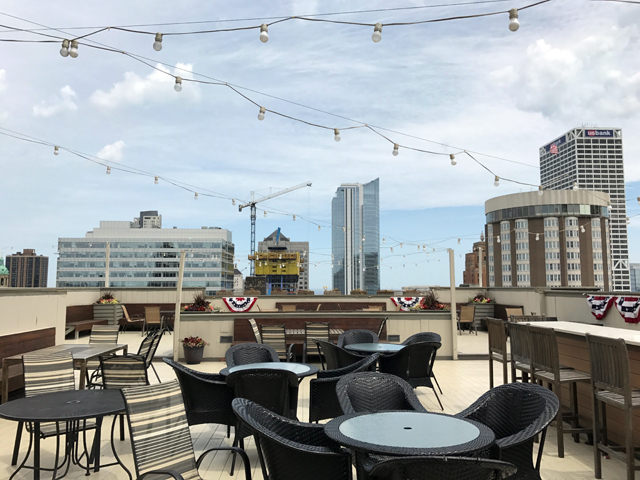 The rooftop – home to a nice open-air bar – has great Downtown views and there are indoor racquetball courts up there ...
... though the shuffleboard and the outdoor racquetball and handball courts are gone.
Back in the day, there were some legendary parties up there ...
... and men sunbathed naked (naked swimming in the pools was allowed until about 2003).
Inside, there are men's (top photo) and women's pool (lower photo) areas, workout areas, fitness classrooms and gyms, of course.
A number of floors are occupied by guest rooms that are rented just like hotel rooms, and there are even some offices in the building, not just for MAC staffers, but available for rent.
Guest rooms – then and now.
There was also a barbershop on site, bowling lanes in the basement and an amazing lower level Art Deco bar area accessed from the corner of the lobby dubbed The Snake Pit (pictured below), which is now long gone, sadly.
The Snake Pit.
The stunning original George Mann Niedecken-designed lobby has been made over, but you can see how it originally appeared in this rendering by the artist, which was included in that Wright show at MAM:
A surviving Art Deco beauty of a space in the MAC, however, is The Elephant Room, with its undulating bar and great elephant-populated murals.
"It's, to me, the coolest room in the entire building," says MAC's Member Services Director Brad Schendel, who has a deep institutional knowledge of the club, where he's worked for 40 years. "You can kind of see how, back in the day, when you're talking about the '50s and '60s, this is where business was done.
"I can absolutely guarantee you, this place would be busy from lunch all the way through dinner, typically not a lot of women up here. Handshake deals. It was the power brokers of the city were right in this room here."
It's always been a popular space – which is adjacent to the former billiards room – says Schendel, adding, "The only ones that ever complained about it is when we had a Democratic Party event in here, they didn't like it to be called the Elephant Room."
Another adorned space is the Bali Grill on the third floor – pictured above – which serves breakfast, lunch and dinner. Here, the walls are covered in murals depicting tropical scenes, including some once-controversial topless figures.
Perhaps my favorite thing in the entire place is the gargantuan black walnut bas relief above the fireplace in The Lounge on the third floor. Created by Milwaukee artist Dick Wiken, the panel, which is 15-by-8-feet, is intricately carved with a wide variety of figures.
"In 1948 the Milwaukee Athletic Club was searching for a sculptor to design and execute a wood-carved bas-relief panel for the area above the fireplace in the Club's third-floor men's lounge," wrote Anna Passante in her fine survey of the artist's work, "Dick Wiken, Milwaukee Architectural Sculptor."
"'They decided, with splendid results, to put their chips on a local product, Dick Wiken,' said Dan Cooper, architectural and interior design consultant and a writer for Craft Horizons. 'I have never seen finer carving anywhere,' said Cooper in an August 1948 issue of Craft Horizons. 'I say "bravo" to anyone who gives local boys a chance to show what they can do...'"
The main portion of the panel shows a variety of athletes engaged in sports, from Native Americans playing lacrosse to boxers going at it, a baseball batter, an archer pulling back his bow, a weightlifter raising his bar, a fisherman hauling in his catch and others. Running along the bottom is a border of relief representations of Milwaukee history, from Pere Marquette to Solomon Juneau trading with the Native Americans to workers building the city and even a tiny City Hall.
It's quite astonishing, really.
"The carving of the panel is not only a piece of artistry," Passante quotes from a 1948 issue of the Milwaukee Journal, "but is also an almost Herculean labor, with the full force of the sculptor back of every blow of the hammer. The work should be one that will reflect credit not only on the artist and the club, but also on Milwaukee, where Wiken received his training."
Wiken had also designed a frieze depicting the Roman goddess Diana fishing among the cattails, with a variety of fish in the foreground and a unicorn – a symbol of good luck – behind her.
Wiken tapped stonecutter Adolph Roegner to execute the 44x38-inch panel in Bedford limestone and it was installed above the MAC's Mason Street entrance as part of a 1954 remodeling project. Alas, another such project – this one in 1993 – led to the panel's removal. It was then sold to a private collector.
The ballroom is a heavily ornamented room that hosts banquets and other events. As you can see from the photos above, its decor has undergone changes over the years, and at one time the space was also a venue for musical performances.
The Milwaukee Athletic Club home has a little something for everyone it seems, but it has never lost sight of its original purpose, to encourage physical well-being and fitness. Racquetball, anyone?
Born in Brooklyn, N.Y., where he lived until he was 17, Bobby received his BA-Mass Communications from UWM in 1989 and has lived in Walker's Point, Bay View, Enderis Park, South Milwaukee and on the East Side.
He has published three non-fiction books in Italy – including one about an event in Milwaukee history, which was published in the U.S. in autumn 2010. Four more books, all about Milwaukee, have been published by The History Press.
With his most recent band, The Yell Leaders, Bobby released four LPs and had a songs featured in episodes of TV's "Party of Five" and "Dawson's Creek," and films in Japan, South America and the U.S. The Yell Leaders were named the best unsigned band in their region by VH-1 as part of its Rock Across America 1998 Tour. Most recently, the band contributed tracks to a UK vinyl/CD tribute to the Redskins and collaborated on a track with Italian novelist Enrico Remmert.
He's produced three installments of the "OMCD" series of local music compilations for OnMilwaukee.com and in 2007 produced a CD of Italian music and poetry.
In 2005, he was awarded the City of Asti's (Italy) Journalism Prize for his work focusing on that area.
He can be heard weekly on 88Nine Radio Milwaukee talking about his "Urban Spelunking" series of stories.