MUSKEGON, Mich. – Anyone who has had the pleasure of riding the Lake Express Ferry between Milwaukee and Muskegon has had a chance to glimpse, that vessel's predecessor, the Milwaukee Clipper, anchored at the southern shore of Muskegon Lake, just west of the Lake Express terminal.
You can find it at 2098 Lakeshore Dr.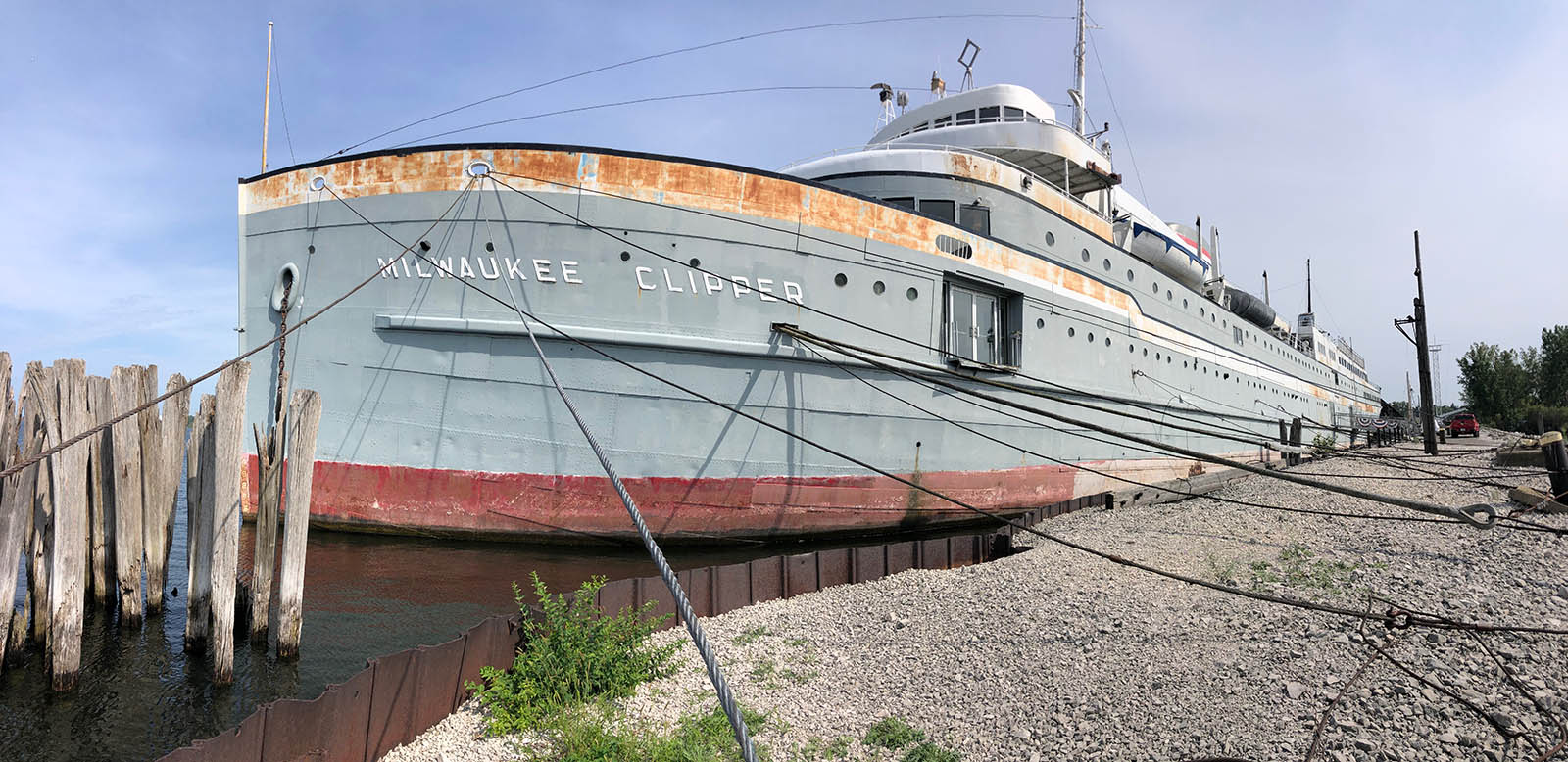 Plying the route between the cities in Michigan and Wisconsin from June 3, 1941 until Sept. 10, 1970, the Clipper resonates with a few generations living on either side of Lake Michigan: those who rode it and those who heard stories.
I'm in the latter group, having heard my mom talk of riding it across to Michigan as a young girl with her grandmother. She recalls the children's playroom, the movie theater and the ballroom, all of which – and more – I was lucky enough to see on a recent tour.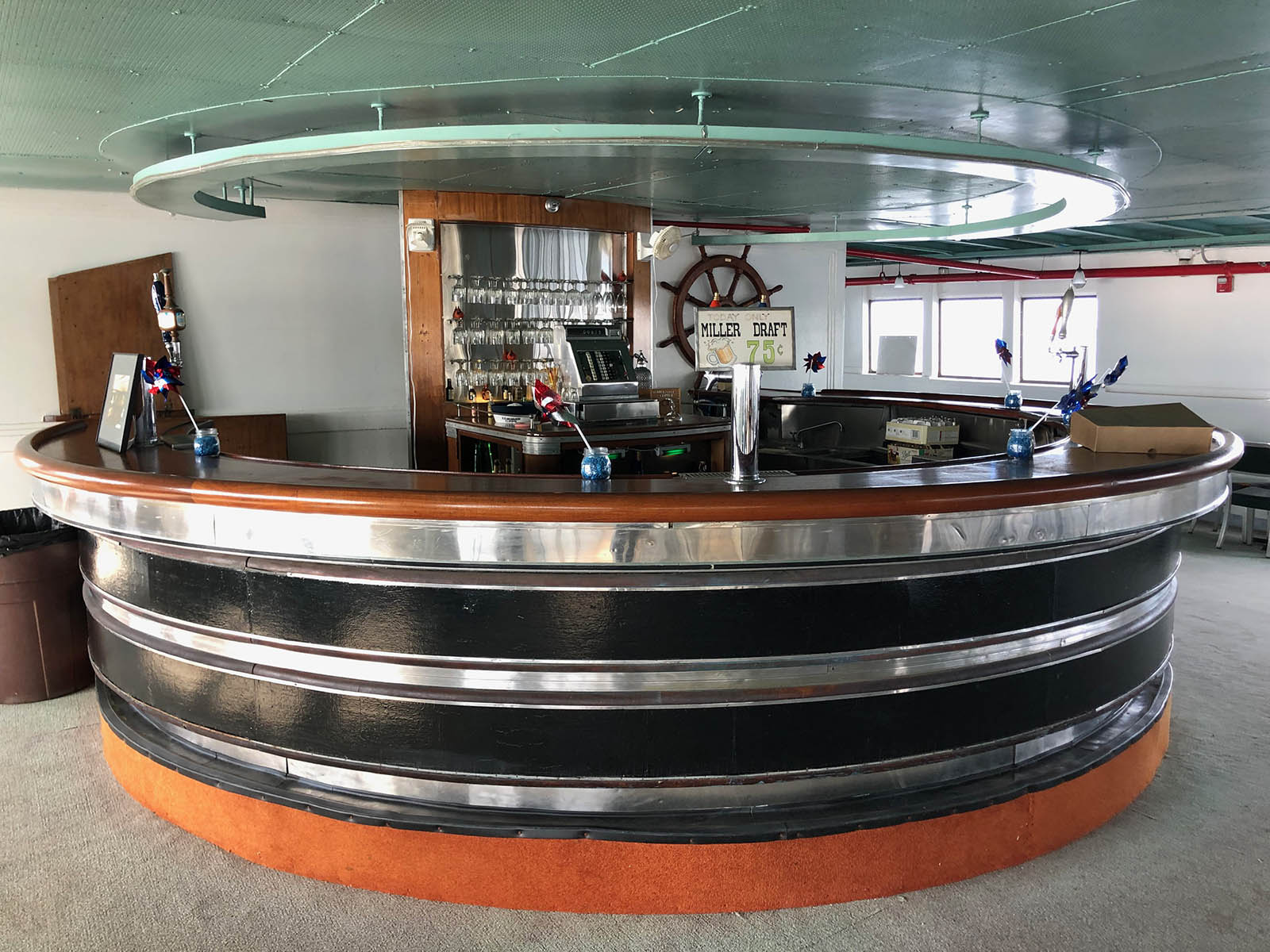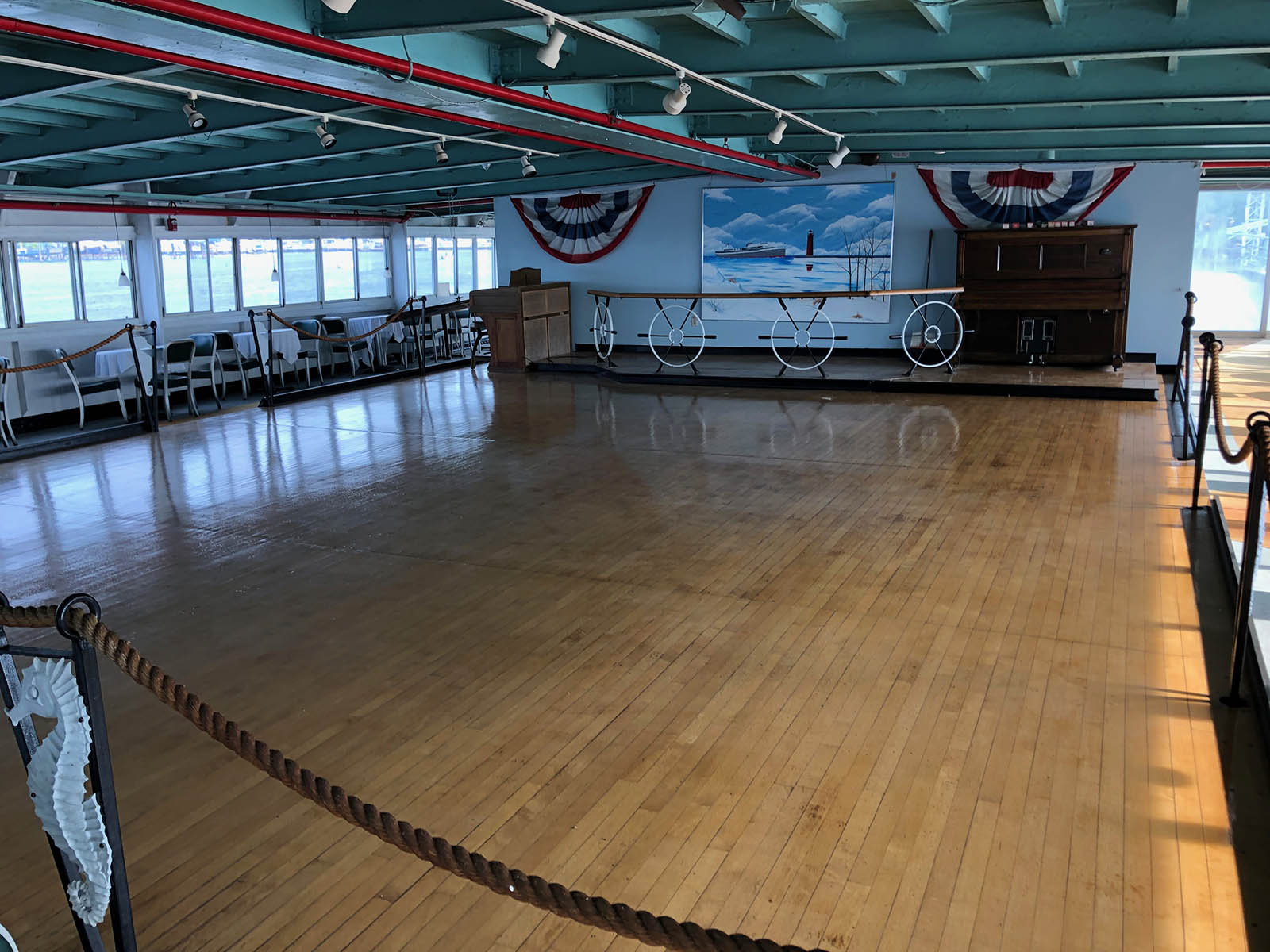 The six-story ship – a National Historic Landmark – currently operates as a museum and offers tours on a daily basis. It is maintained and operated by a nonprofit group and relies heavily on donations and volunteers.
The history of the vessel long predates its first voyage as the Milwaukee Clipper, says volunteer coordinator Brock Johnson.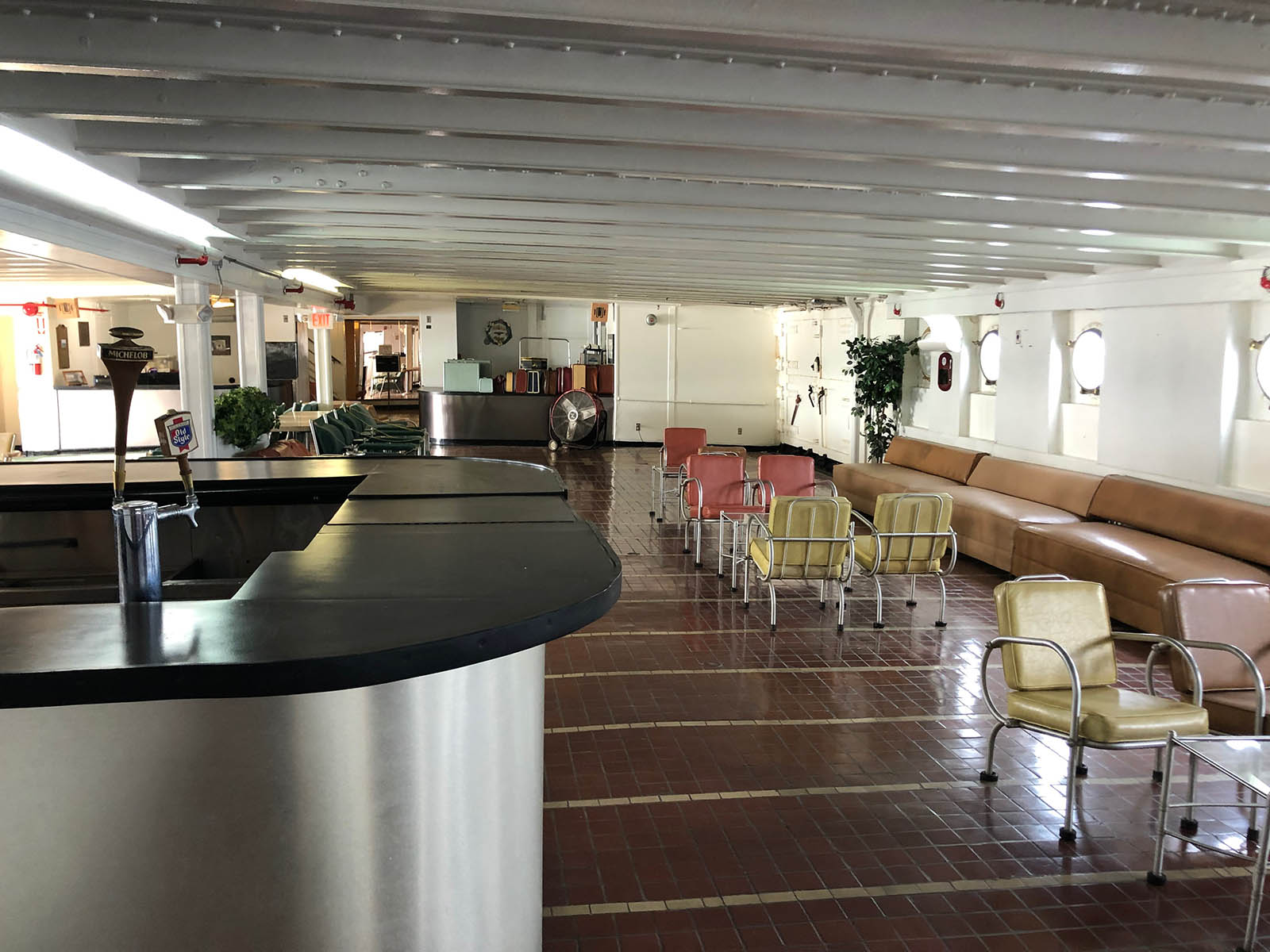 "Before that, it was known as The Juniata," he says. "She had a wooden superstructure and she was very ornate. This hull is almost 118 years old."
The Juniata – designed by naval architect George Sharp – was built by the American Shipbuilding Company and launched at the company's Cleveland shipyard on Dec. 17, 1904.
It was a sister ship to the 1902 SS Tionesta and the 1910 SS Octorara, which were all owned by the Anchor Line, a subsidiary of the Pennsylvania Railroad.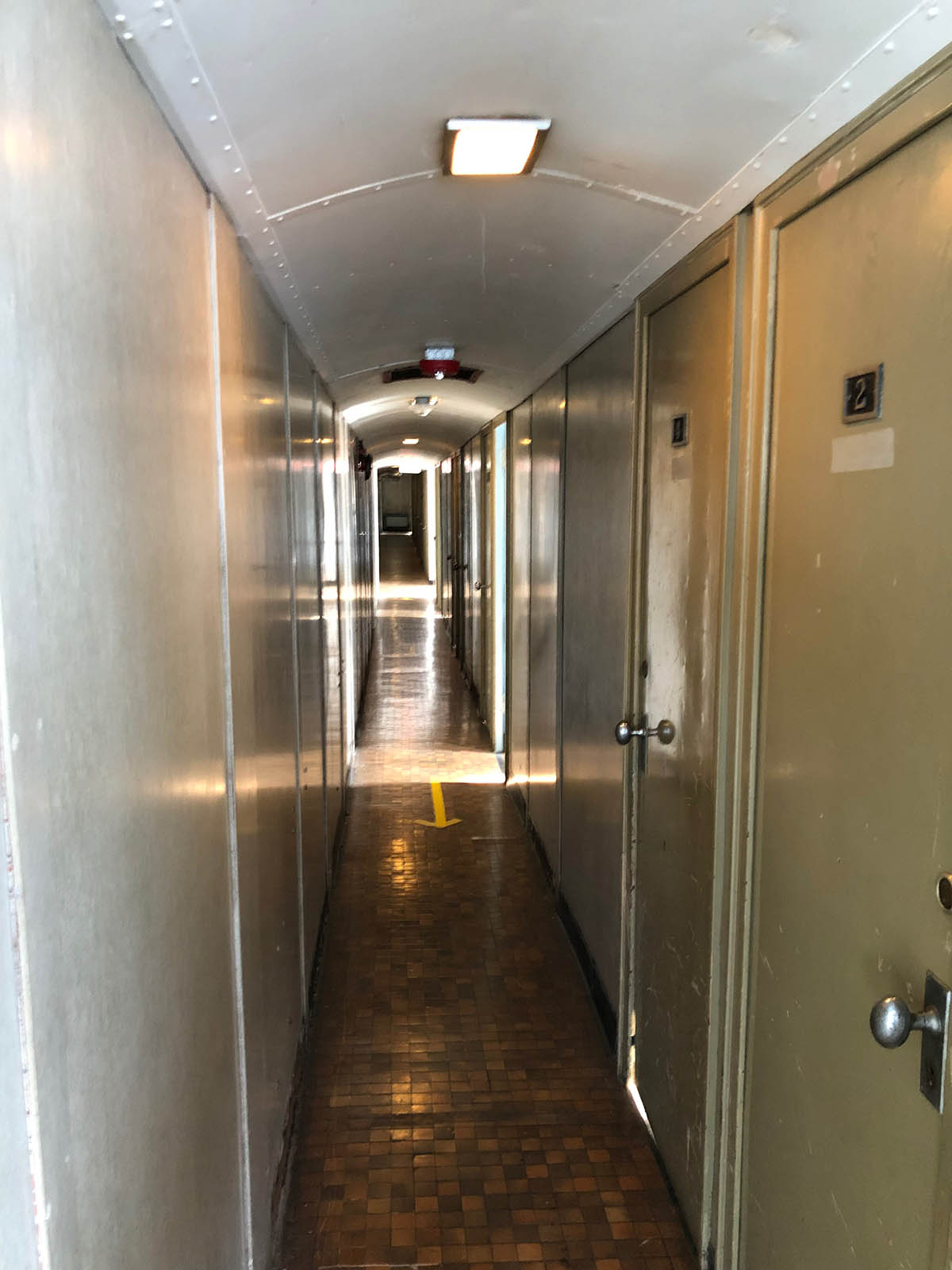 In those days, the 361-foot-long Juniata ferried both passengers and freight between Duluth and Buffalo, where it was moored, until 1915, when anti-trust laws forced the railroads to sell their shipping interests.
The Juniata transfered to the Great Lakes Transit Corporation which kept it running until 1935, including dedicating the entire 1933 season to getting visitors to the 1933 Century of Progress World's Fair in Chicago.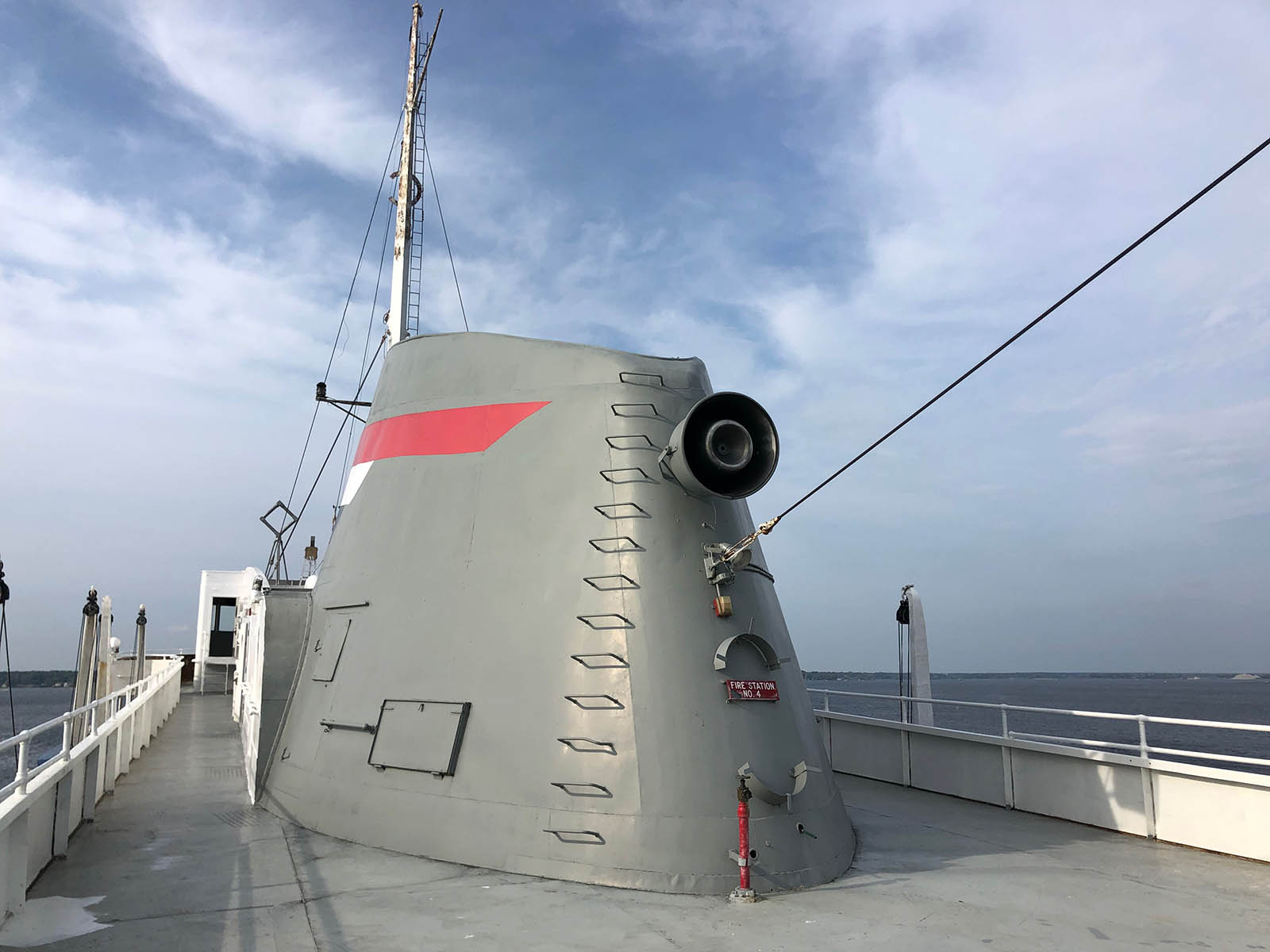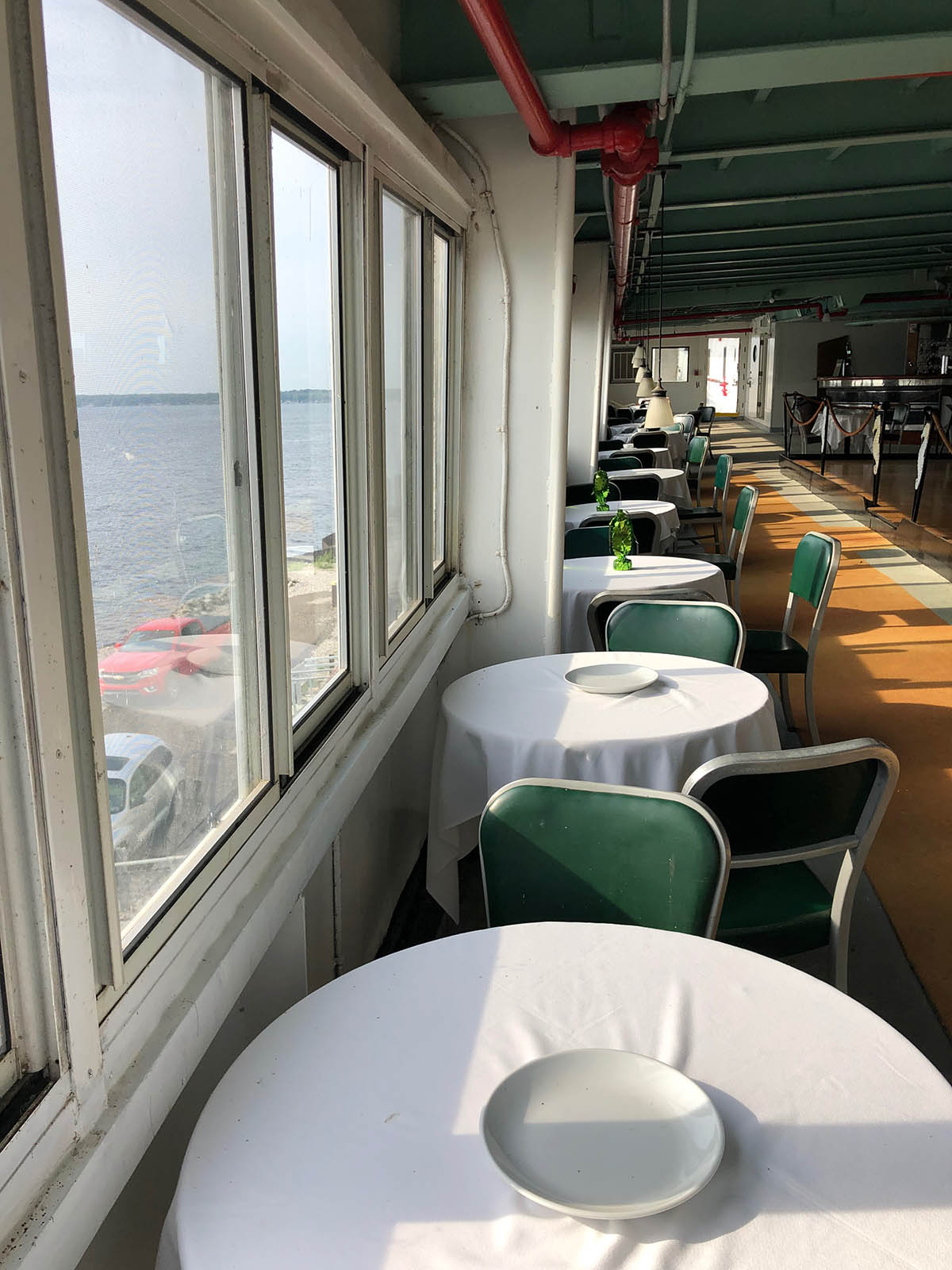 In 1936, the Juniata was laid up due sagging demand during the Depression and in the wake of the 1934 fire on the SS Morro Castle that led to the loss of 137 lives and, later, stricter regulation of wooden passenger vessels.
After sitting (well, floating) idle for four years, the Juniata was sold to the Wisconsin & Michigan Steamship Co., which underwent modernization at the Manitowoc Shipbuilding Company yards, including changes that, Johnson says, made it the first all-fireproof vessel in the world.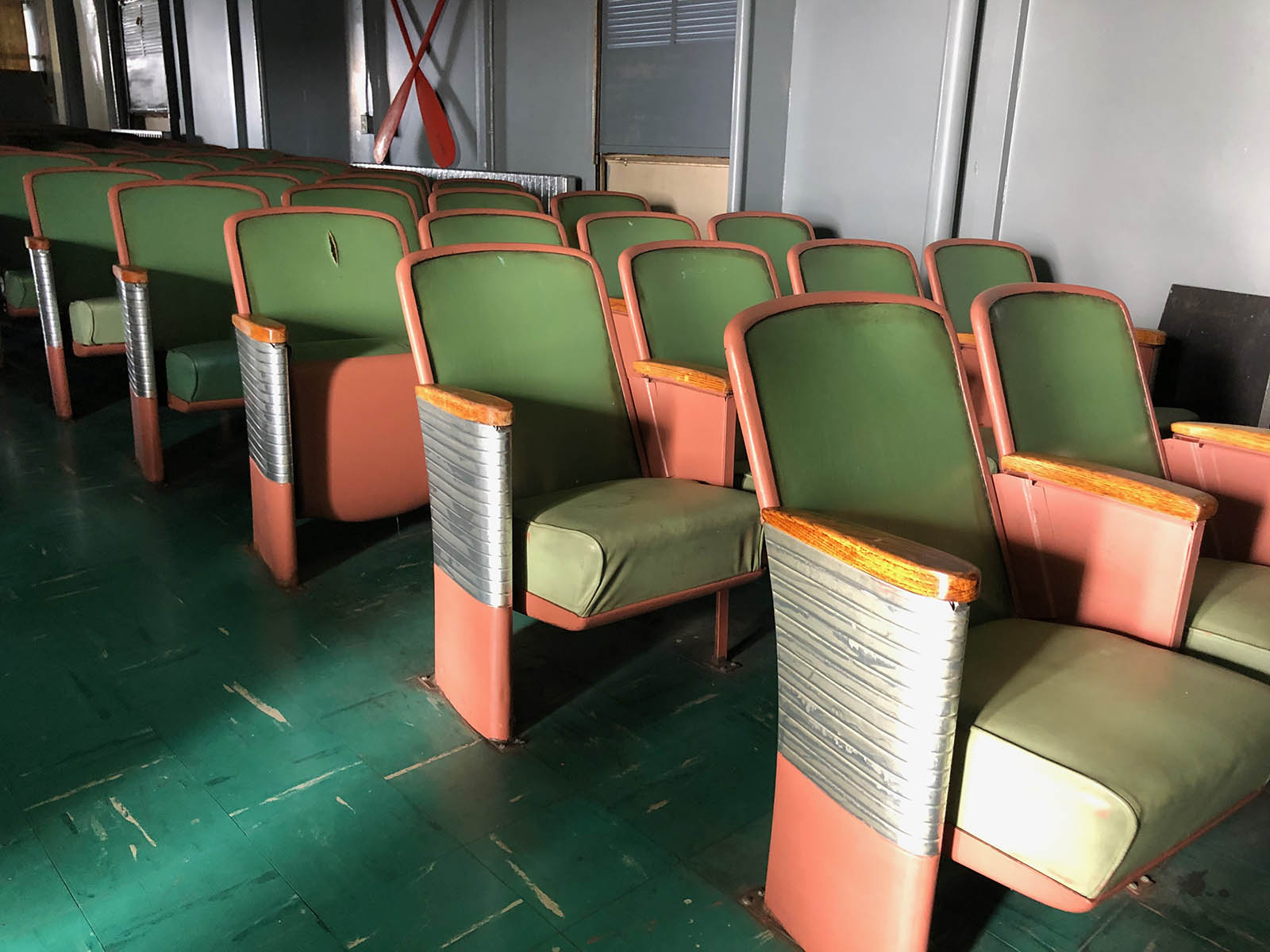 The coal-fired boilers were converted to oil and beautiful Art Deco elements were added inside the passenger areas. The staterooms were updated and air conditioned, the movie theater (with seats designed by Warren McArthur, who designed most of the ship's furniture) was added, along with a full soda fountain with vintage candy machines (in a room that had briefly served as a casino), a sports area on the deck, a cafeteria, that ballroom and bar that hosted live music, the children's playroom and the lounge.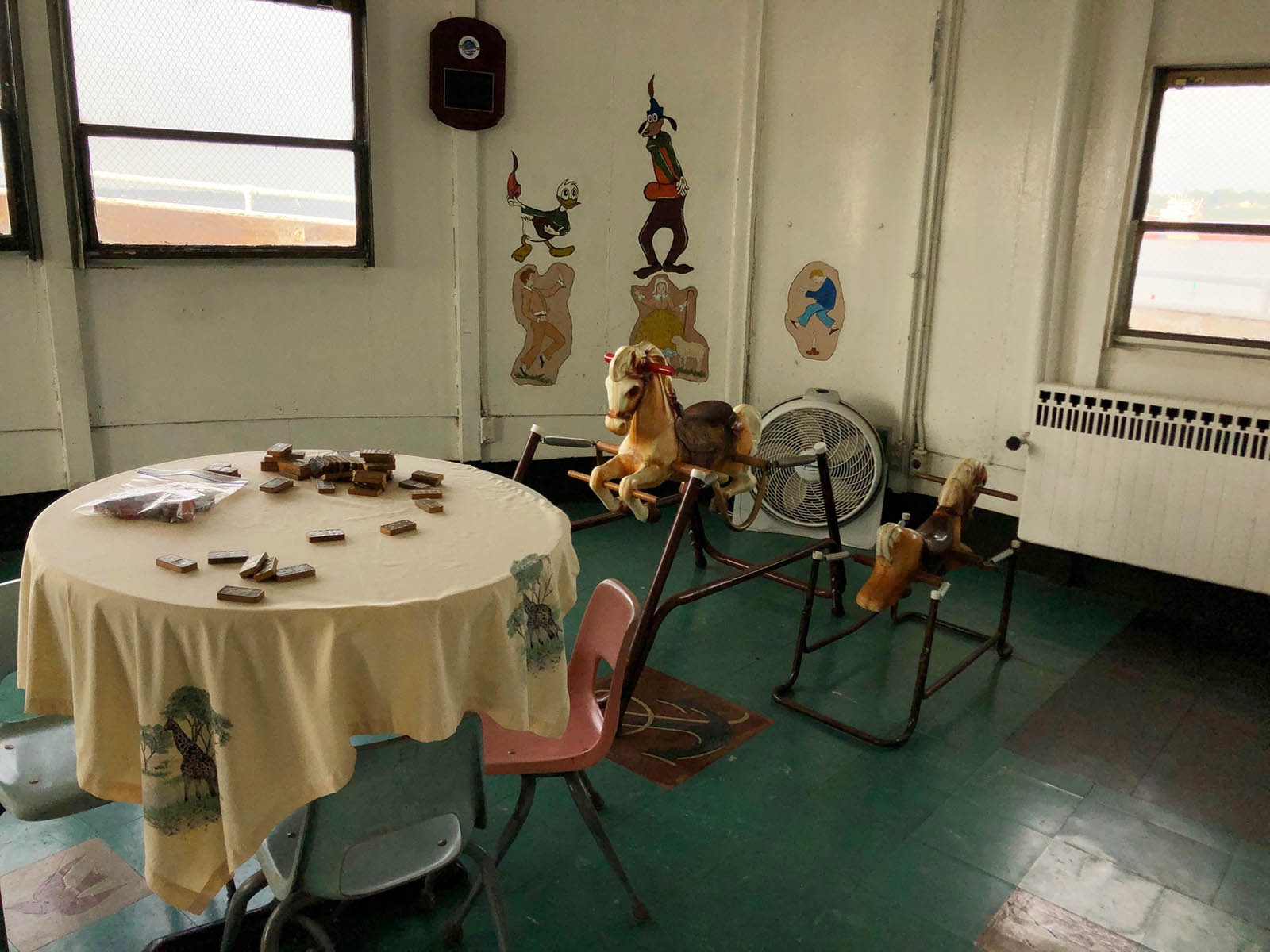 "There are 36 staterooms, numbered one through 37, with no number 13," says Johnson as we walk past and I see that a few of them have been restored to show how they'd look during the Clipper days.
They're small, with bunk beds, but pleasant.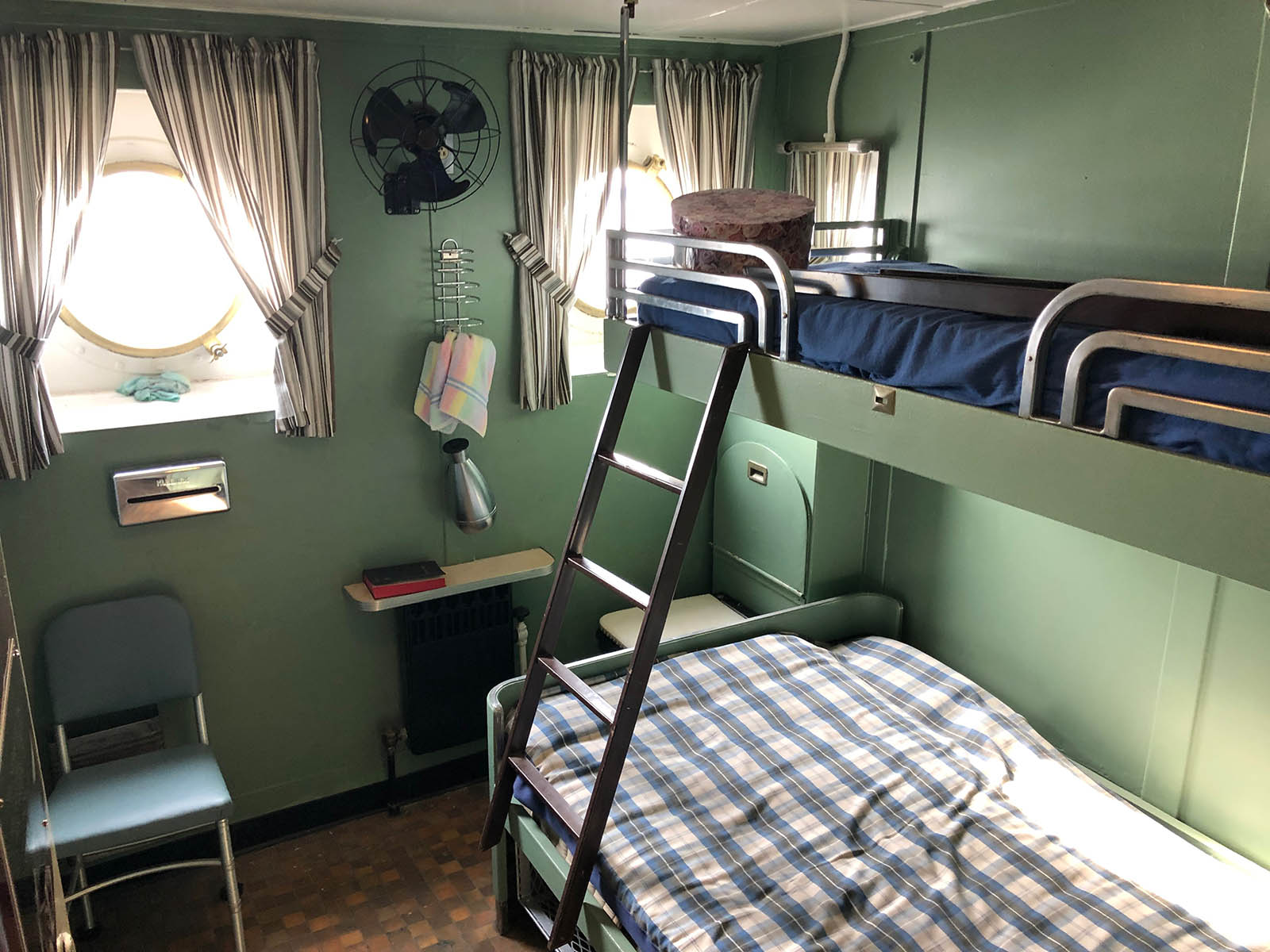 The captain's and engineer's quarters have also been restored.
"The club lounge is my favorite room on the ship," Johnson says as we check out the seafoom green room near the bow. It's filled with beautiful period furniture and, again, is dolled up in Art Deco.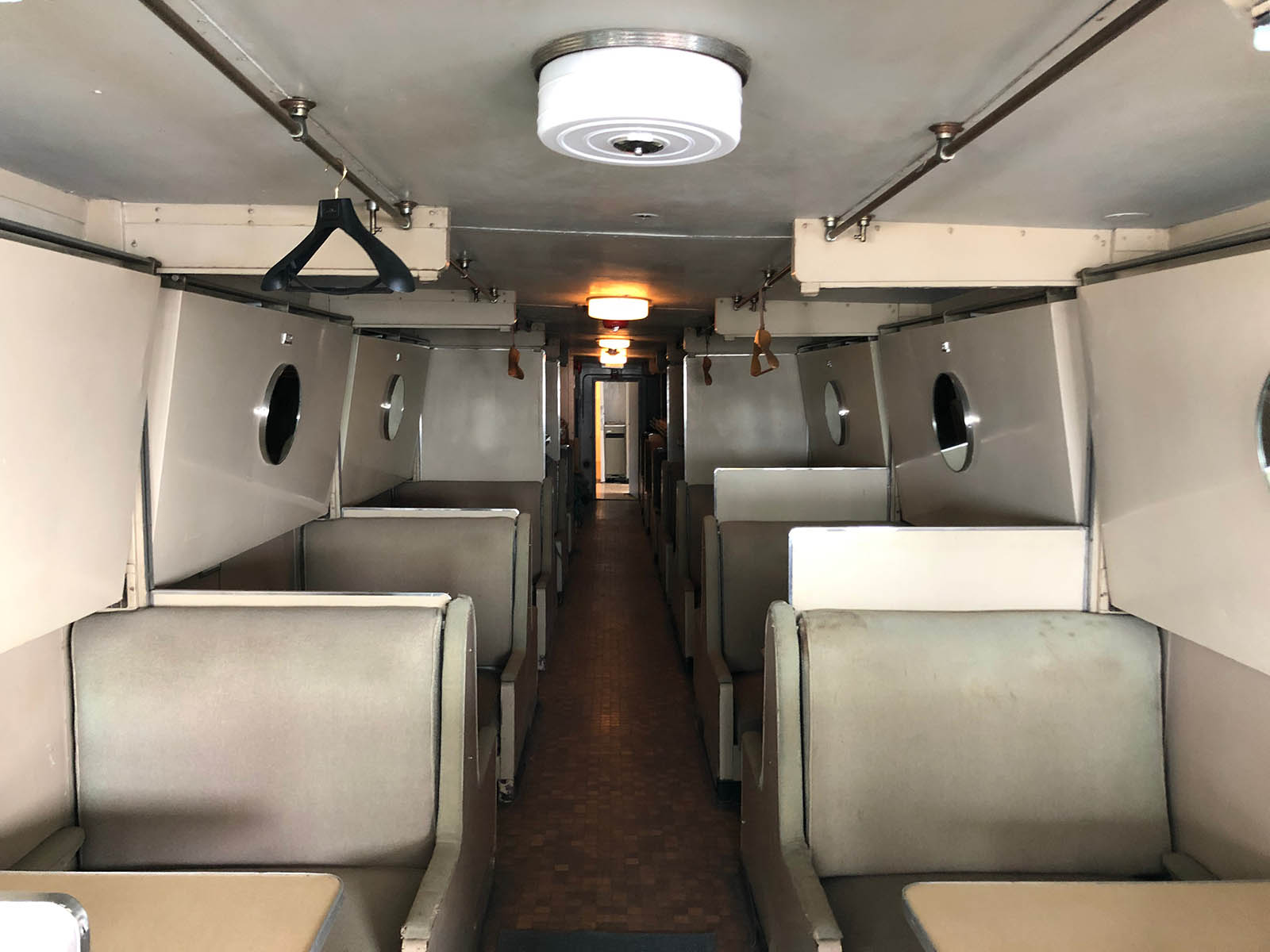 In the main staircase is a Great Lakes mural, sleek Art Deco railings and lovely floor tile, including a mosaic depicting the ship with its prominent stack (which is just for show; it is not an exhaust).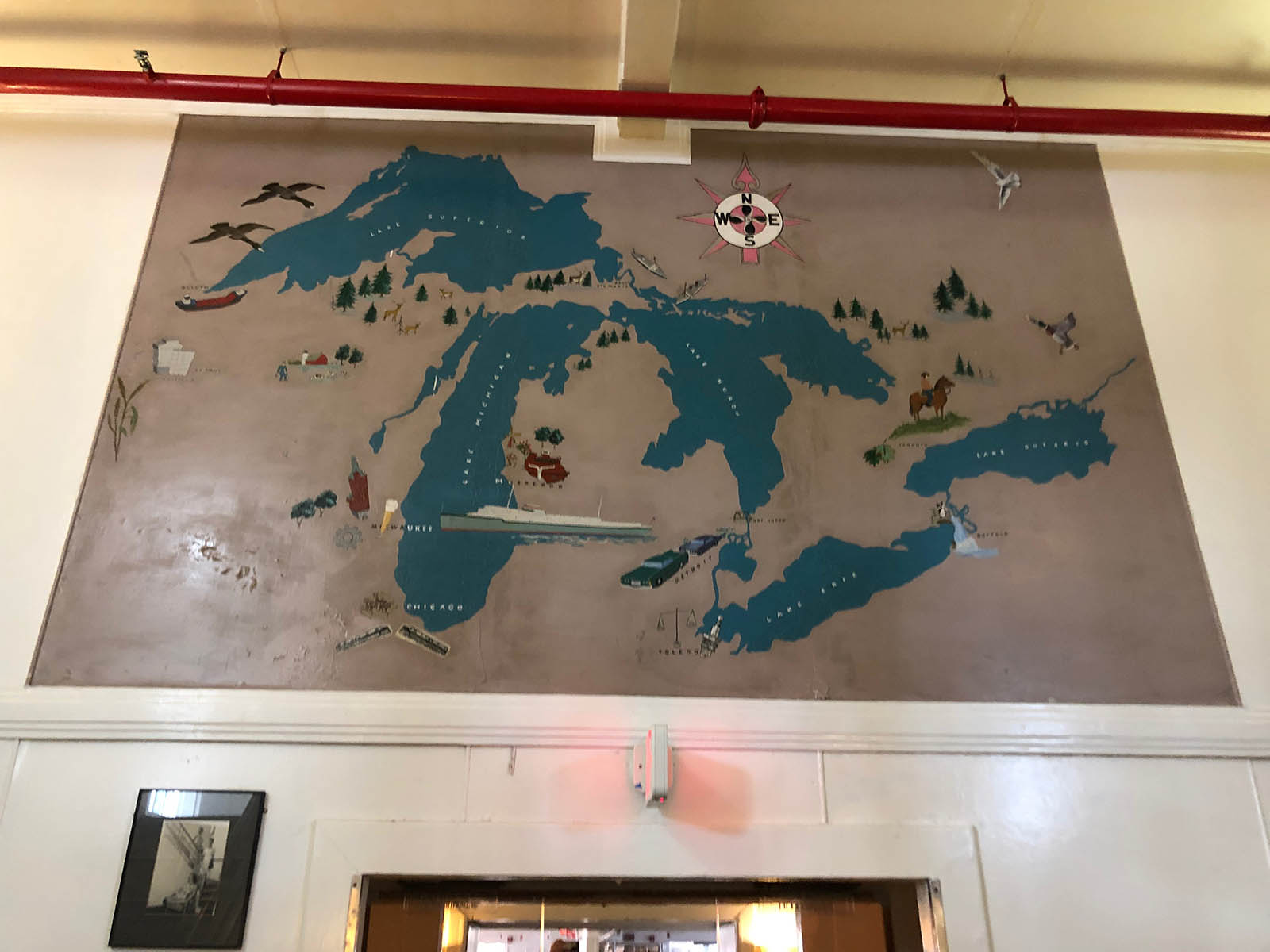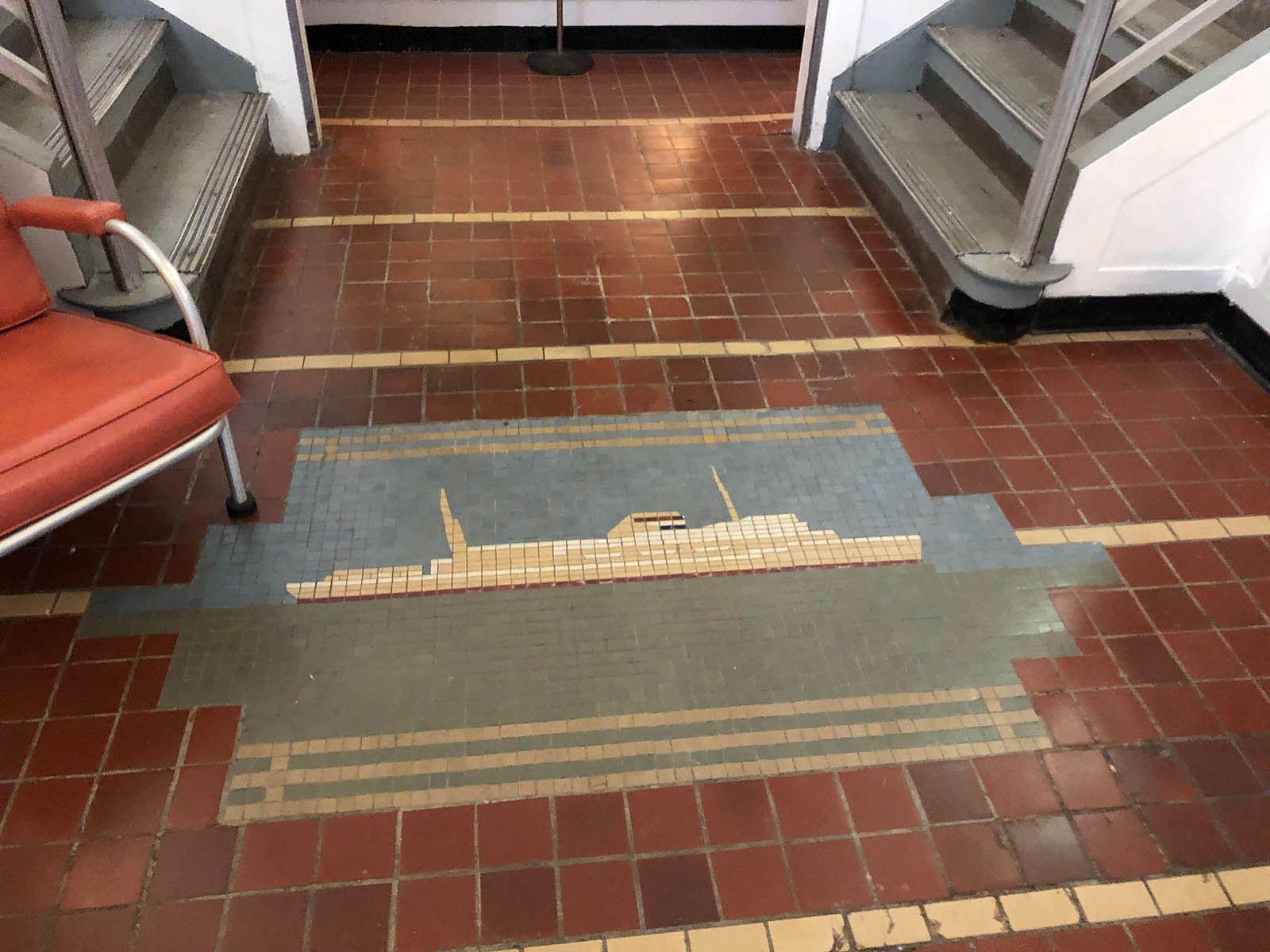 The cafeteria, with its booths tucked snugly in, survives, as do the crew bunks and much more.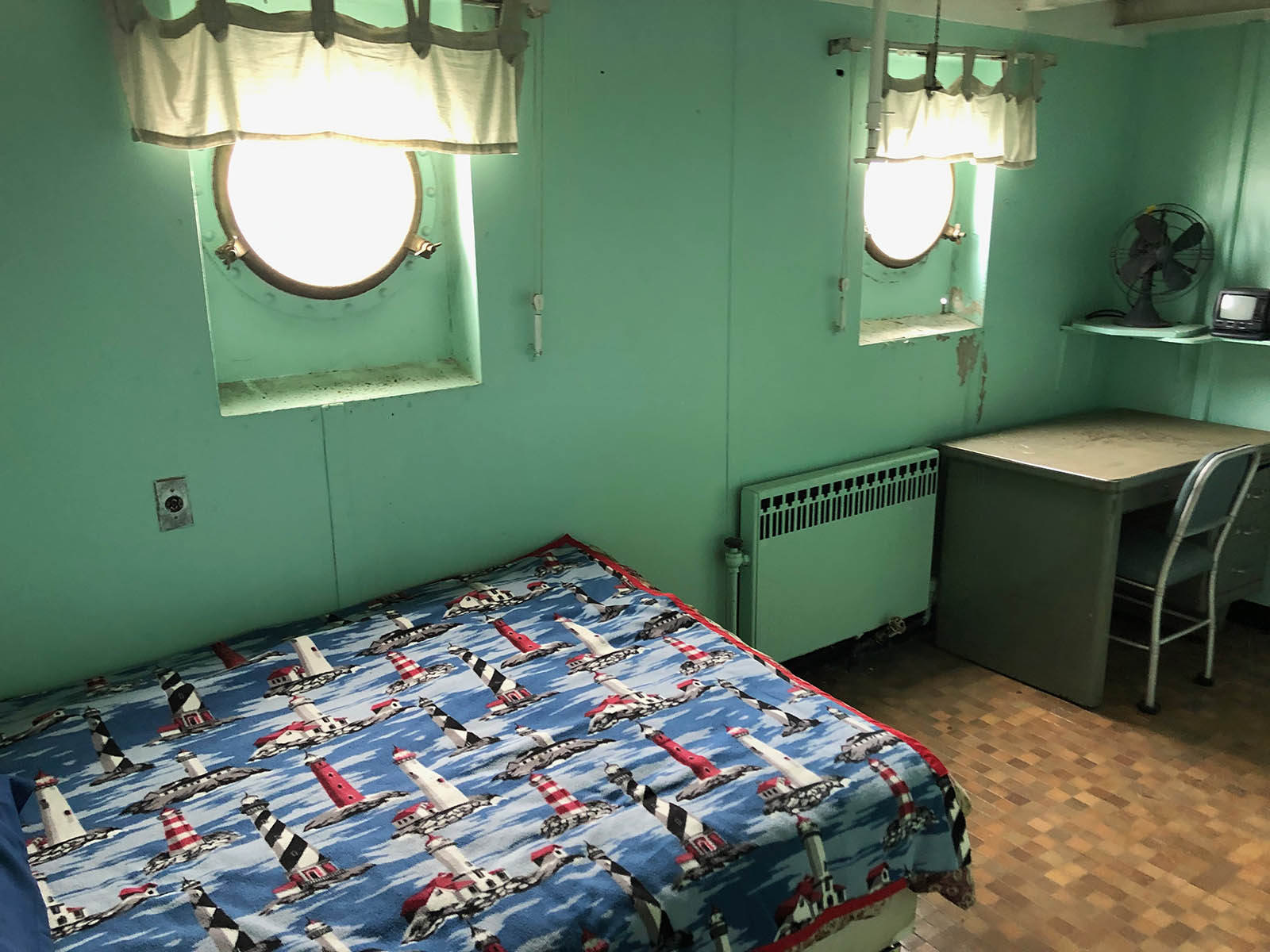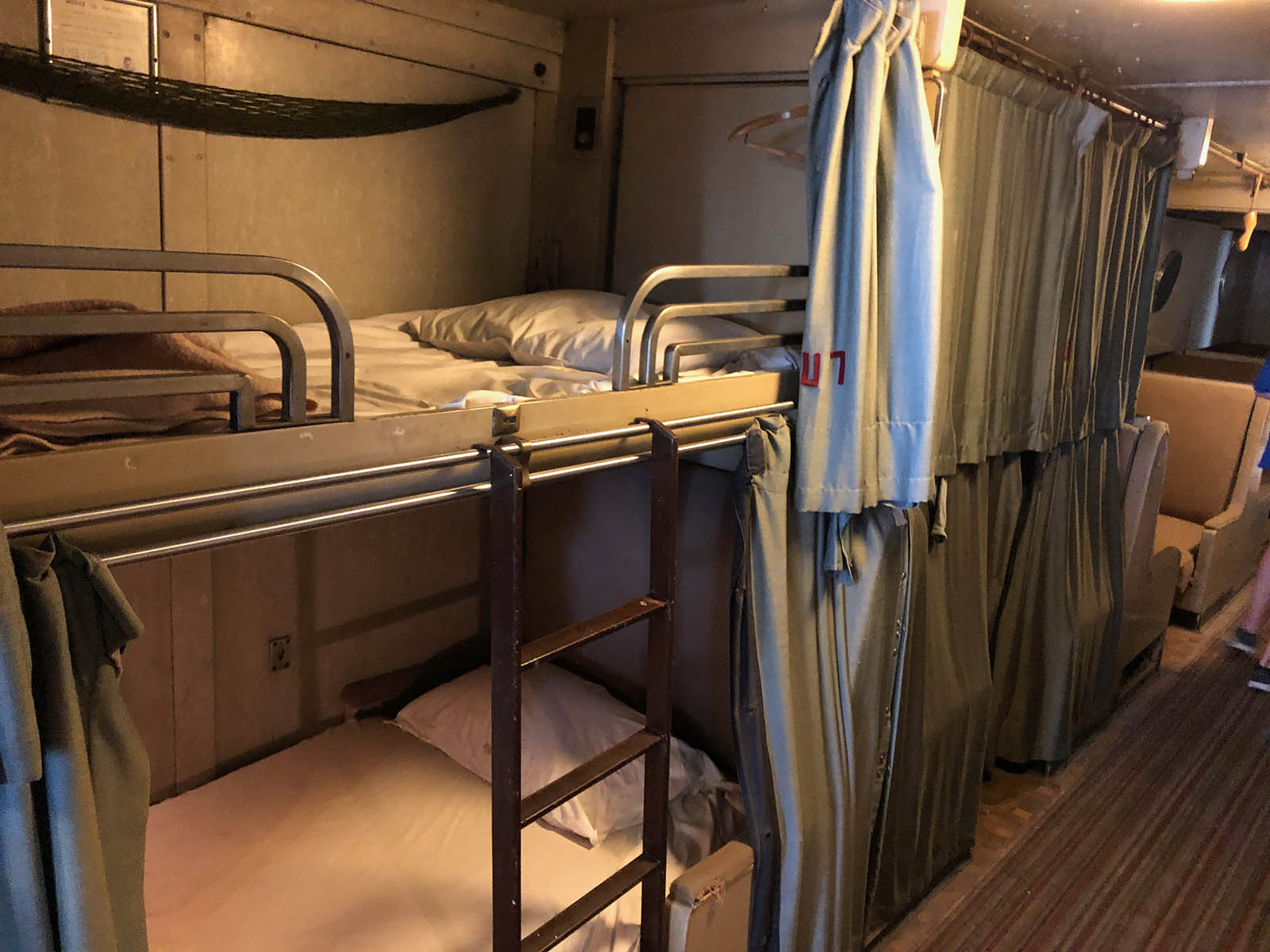 The ship has a lot of space, but feels narrow and that's because it is, says Johnson.
"It's 361 feet long, 45 feet wide," he says. "The reason it's so narrow is because it needed to go through the Soo Locks (in Sault Ste. Marie) when it was The Juniata. But when it was rebuilt as a clipper, they didn't need the Soo Locks, because it was only going from here to Milwaukee."
Up on the Texas Deck we see the crew's quarters and get to visit the pilot house.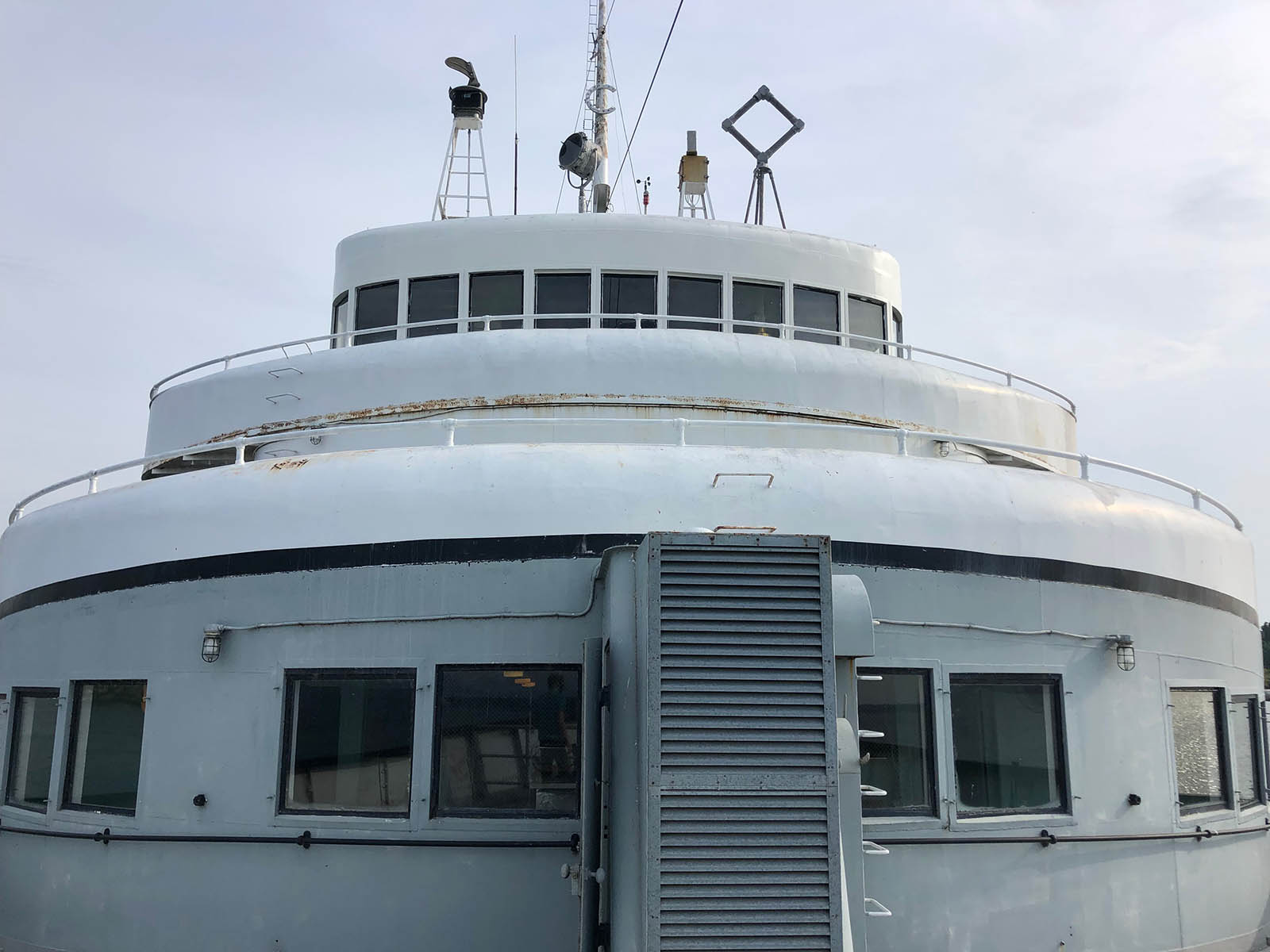 In its heyday, the ship had a crew of roughly 100-110. About half were stewards whose job was to keep the passengers happy.
The Clipper could carry about 900 passengers and, in its two car decks below, about 120 vehicles. An elevator was used to move them between decks.
It was, according to the Milwaukee Journal, the first time a passenger ship went into service on the Great Lakes since 1924.
Sailing from Manitowoc and arriving at 3 p.m. in Milwaukee to thousands waiting to see it, on Monday, June 2, 1941, the Clipper – sounding her horn in celebration – was guided to its dock by Fireboat No. 15 – its four hoses spraying water high, siren blaring – and two red tugboats.
At about 4 p.m., it was christened – with a bottle of Wisconsin cream rather than the customary Champagne – by Patricia Suzanne McKee, the 16-year-old daughter of steamship line director Max B. McKee. On hand were Milwaukee's Mayor Carl Zeidler, Wisconsin Gov. Julius Heil and orchestra leader Paul Whiteman, among others.
The christening was broadcast live on WTMJ-AM radio.
Next, according to the Milwaukee Journal, "The ship christened, she was guided up the river by two tugs. At each bridge there were hundreds of spectators who had waited for a glimpse of the Clipper. At the Wisconsin Avenue bridge, Miss McKee smashed another bottle of cream on the prow, making certain that this was indeed the Milwaukee Clipper and no other. The ship was taken as far as the State Street bridge and then the tugs backed her down the river to her docks."
After a three-hour cruise with about 900 on board at 7:30 p.m., the Clipper began service at midnight Tuesday, June 3, 1941 from its dock at 601 E. Erie St., headed for Muskegon, with 30-year Great Lakes veteran Capt. Allan K. Hoxie at the helm. Its first return from Michigan arrived in Milwaukee at 3:30 p.m. the same day.
The crossing took about five hours, according to Johnson. The Lake Express Ferry, which began running in 2004, takes half that time. The SS Badger takes four hours to cross between Manitowoc and Ludington, which is a narrower part of the lake than Milwaukee-Muskegon.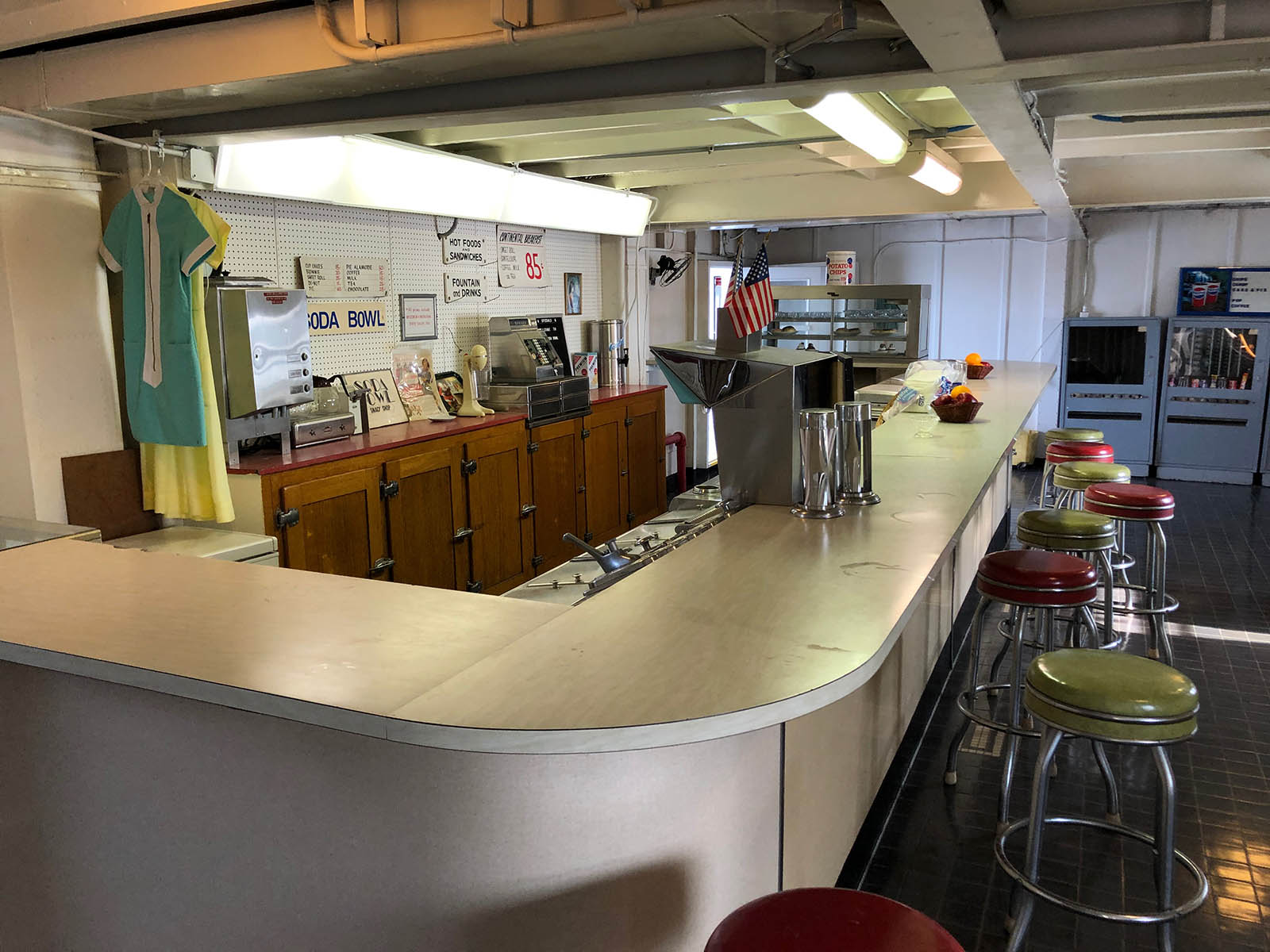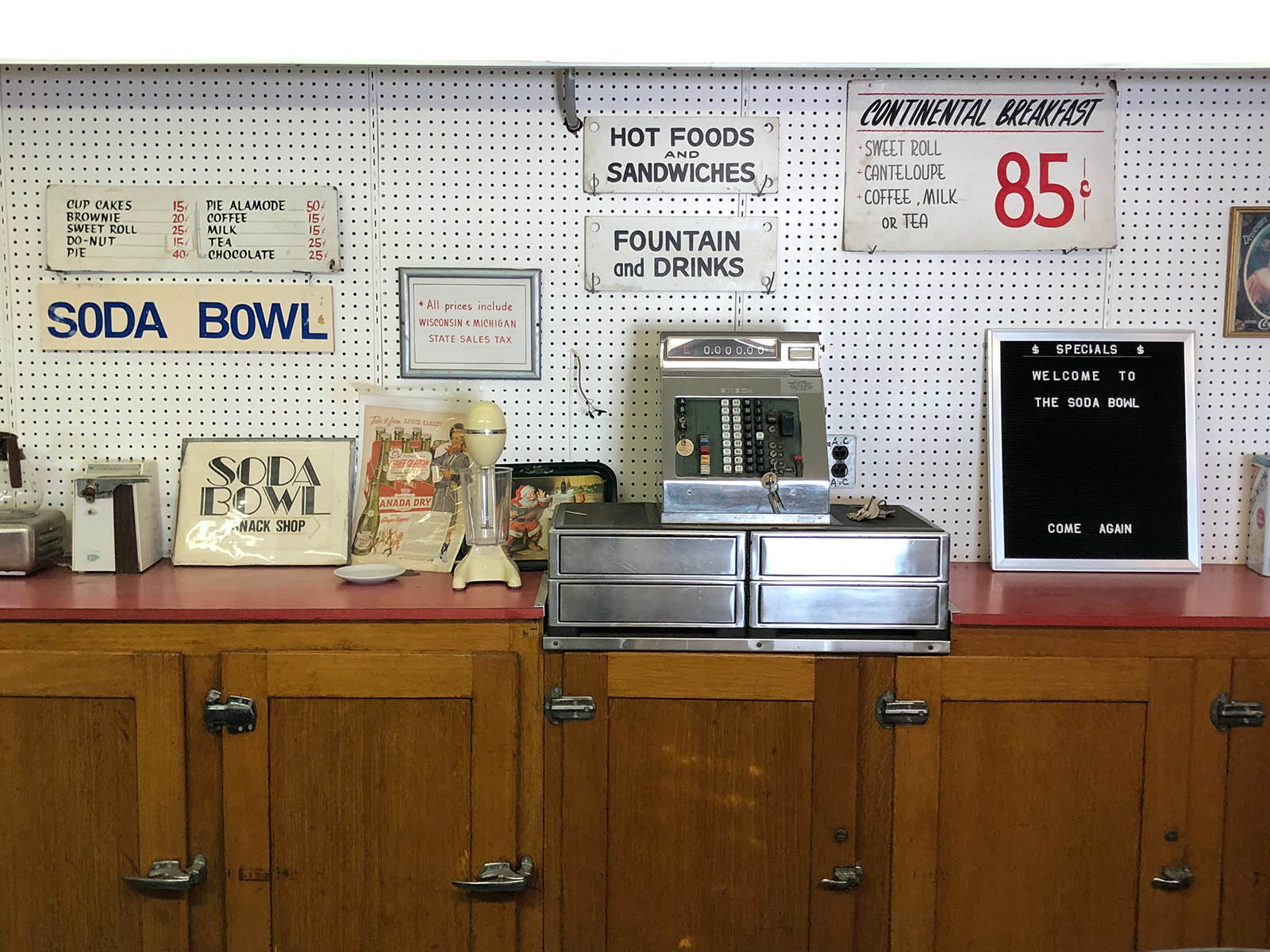 When World War II was raging, the Clipper was pressed into service moving key defense materials across Lake Michigan.
Otherwise, the annual Clipper high season was May-September, though it was able to operate with fewer passengers and more cars in other months.
During the 1950s, passengers paid just over $3 to ride and cars were $8. If a passenger preferred to ride in that swanky lounge, they paid an extra 75 cents.
By 1970, Johnson says the ride was about $6.
I asked if a lack of demand spelled the end of the route and Johnson says no.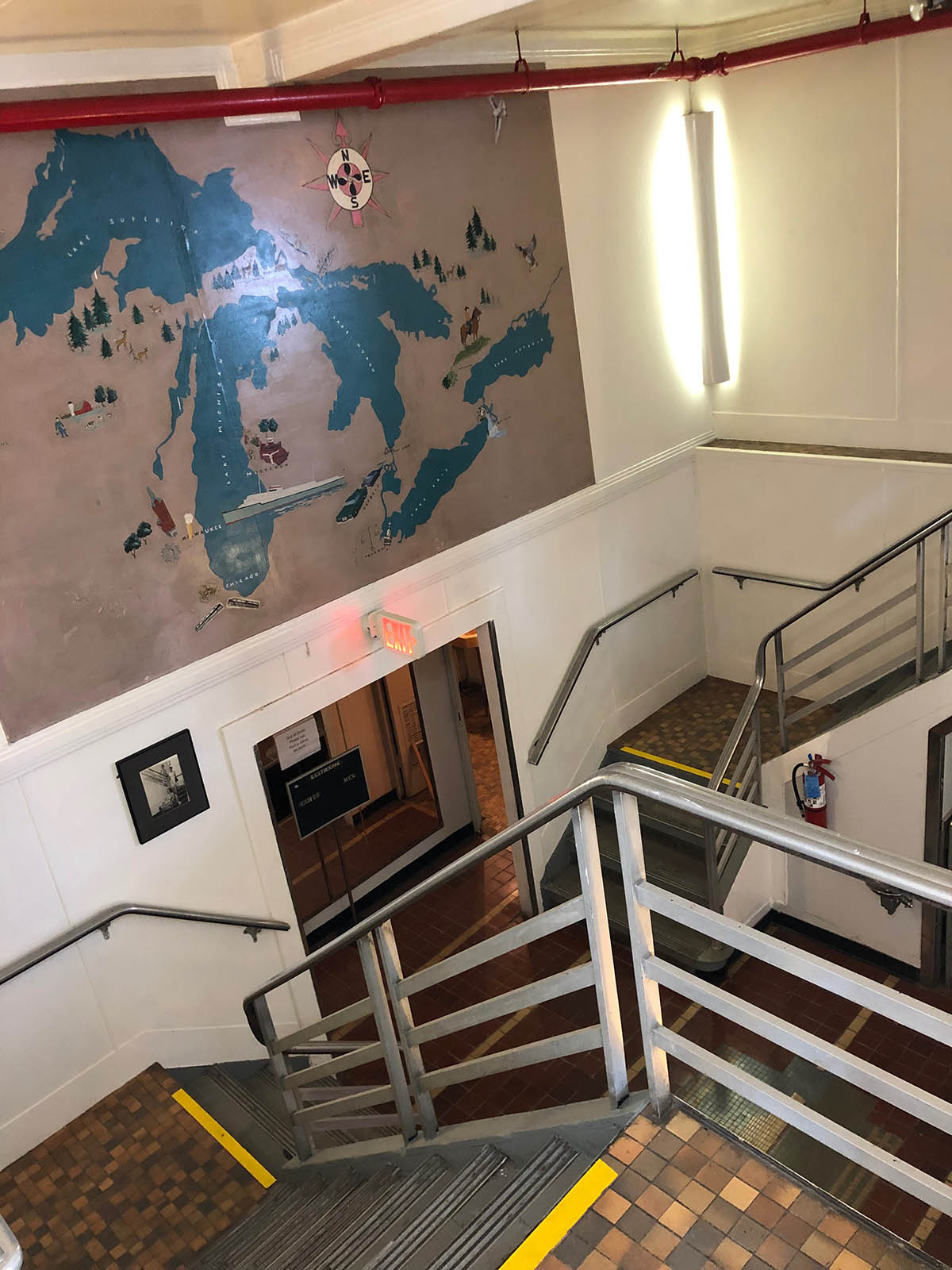 "No, '70 was actually the best year for the ship," he says. "But they just had a shutdown due to structural issues. All those issues were fixed."
When the company planned to replace the Clipper with the larger Aquarama, which required Milwaukee to dredge its harbor to accommodate the bigger vessel – something that did not happen – the route was halted.
In 1977, the Clipper was sold to a group of Chicago investors with plans to use it as a cruise ship between the Cream and Windy Cities, with a terminal at Navy Pier. The Clipper was sent to what is now Fincantieri's Bay Shipbuilding in Sturgeon Bay for an inspection.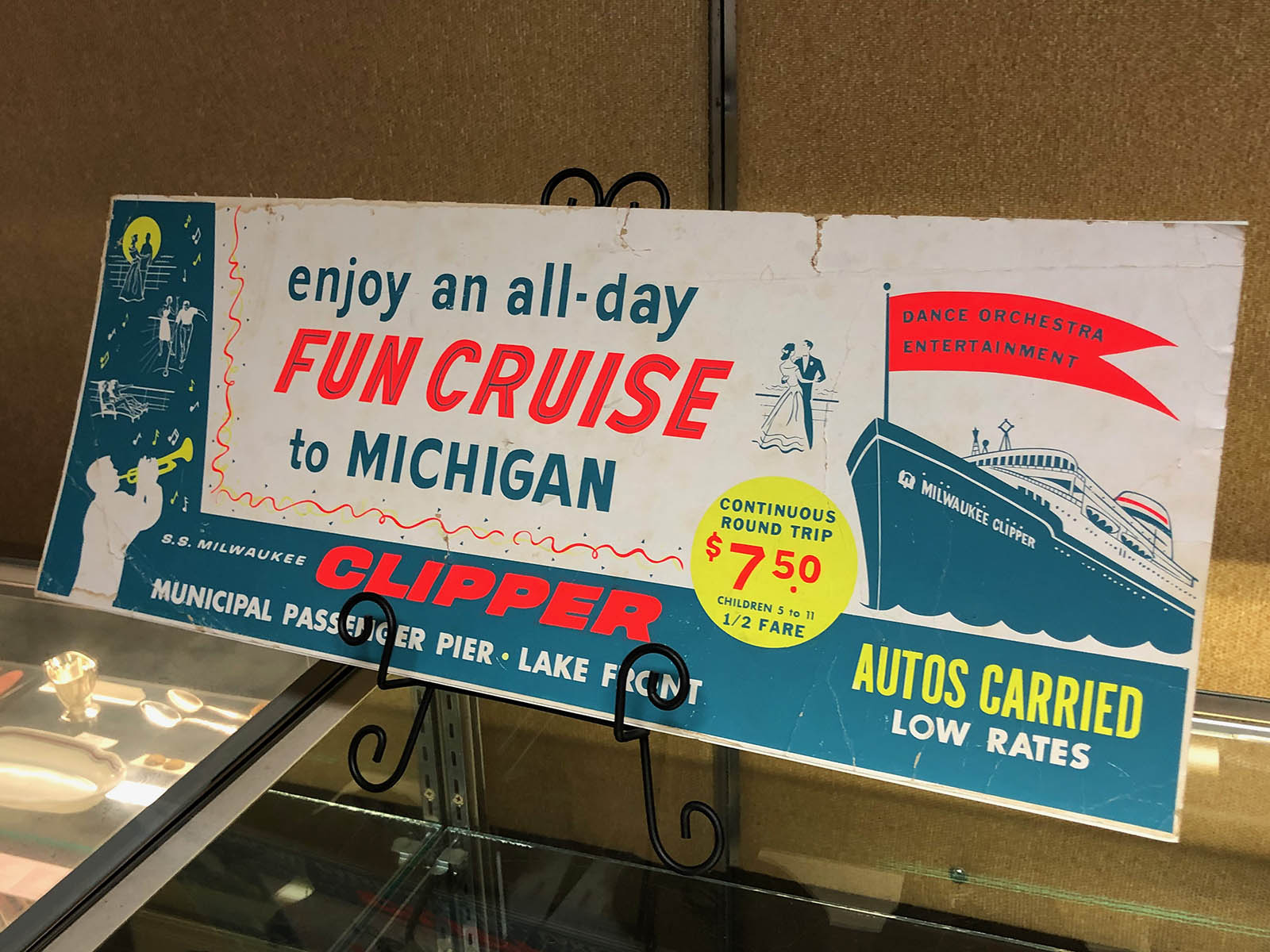 In the meantime, the business side of the deal collpapsed and U.S. Marshals took the vessel until a round of lawsuits did ultimately send it to Navy Pier, where in 1983 it was added to the National Register of Historic Place and, six years later was declared a National Historic Landmark.
But that didn't ensure its future in Chicago. Instead it was sold in 1990 to Hammond, Indiana for a new marina, but that didn't last long either and soon the Clipper sat bobbing in South Chicago's Calumet River.
That's when the nonprofit was launched and brought the Milwaukee Clipper back to Muskegon.
"We bought it for $1 and moved it back here," says Johnson. "We've had periods of it being open, not open, open, closed."
As we walk, we meet Ray Hilt, the ship's historian and museum curator, and I compliment him on the amazing work that's been done here.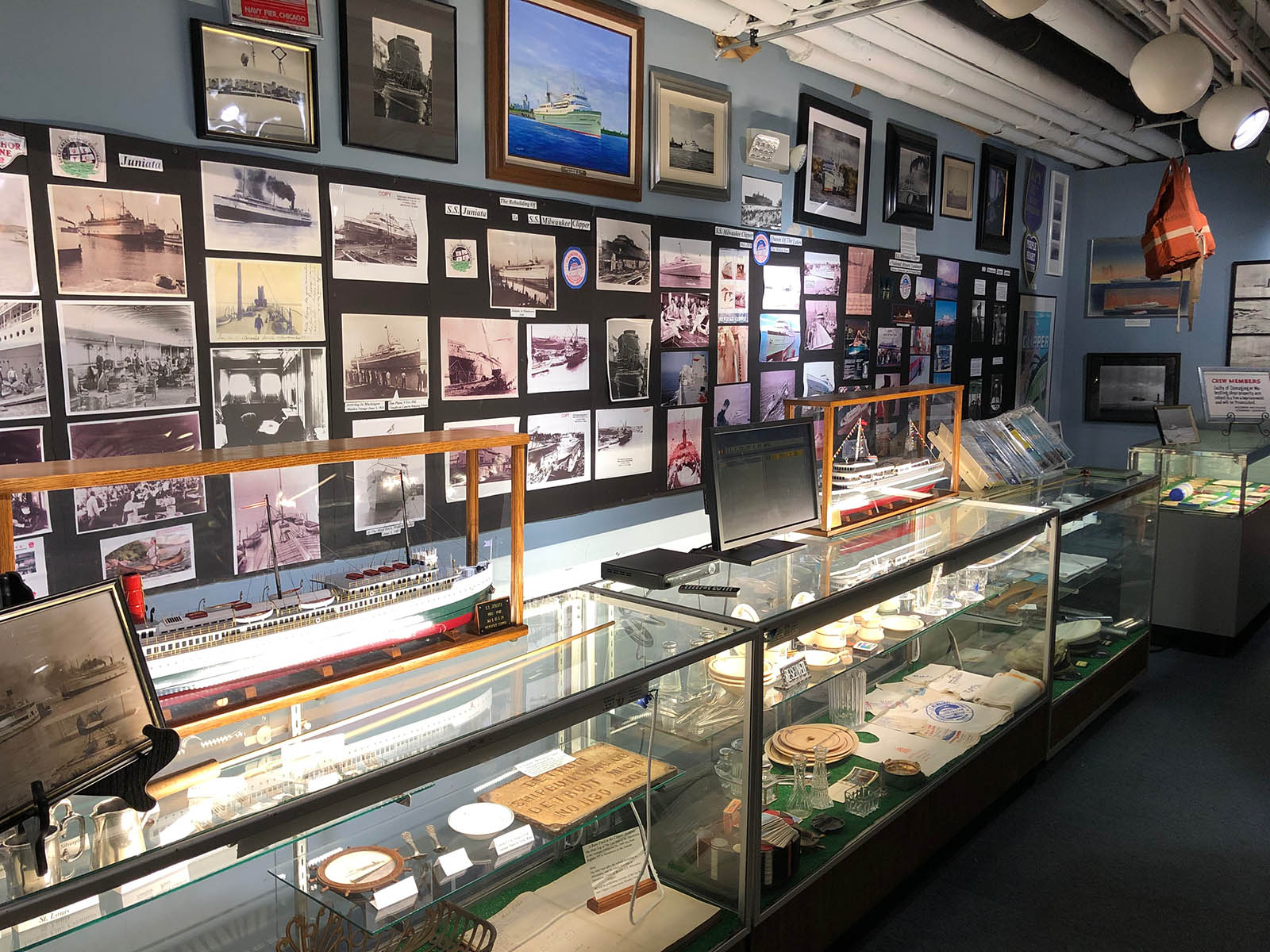 "Yeah," he says, "we did a lot of work on the old girl. But it's worth it."
Now, the upper car deck is a museum that Hilt has packed full of memorabilia, including a restored washing machine.
"This is a washing machine from the '30s that they used on board," says Johnson. "This is the only spot where the men and women on the crew could meet up, and the captain called this the love machine, because this where lots of marriages happened."
There are other important features, too, says Johnson.
"We're the last engine of its type, the quadruple expansion steam engine," he says. "No other engine of its type exists. So it's pretty amazing."
Tours are offered every half hour, Thursday-Sunday, 1-5 p.m. Tickets are $10 for adults, $7 for kids ages 6-17 and kids 5 and under are free.
Brock says tours vary. Some days they get 20 people, others they'll welcome 100.
The tours help raise money for upkeep and restoration and, these days, for a potential move closer to downtown Muskegon, to where the ship originally docked.
"We hope to move," says Johnson. "We have to or else it's going to be scrapped. So we're working on it. We've been in this location for 24 years. We don't own this spot (the former Grand Trunk Ferry dock).
"We're on a two-year lease that has been going on for 24 years. Our dock was over where the (USS) LST (393) is.
"We just had a board meeting today, and we had a city official come down for it. So we're trying to work on this, but there's just so much. It's a 360-foot-long vessel. So you have to find a spot that can accommodate it.
"We need donations; that's the big thing. It's going pretty well, but it's never going great. It's never the number you want."
In the meantime, the nonprofit is trying to raise money by using the ship's many cool spaces for different events.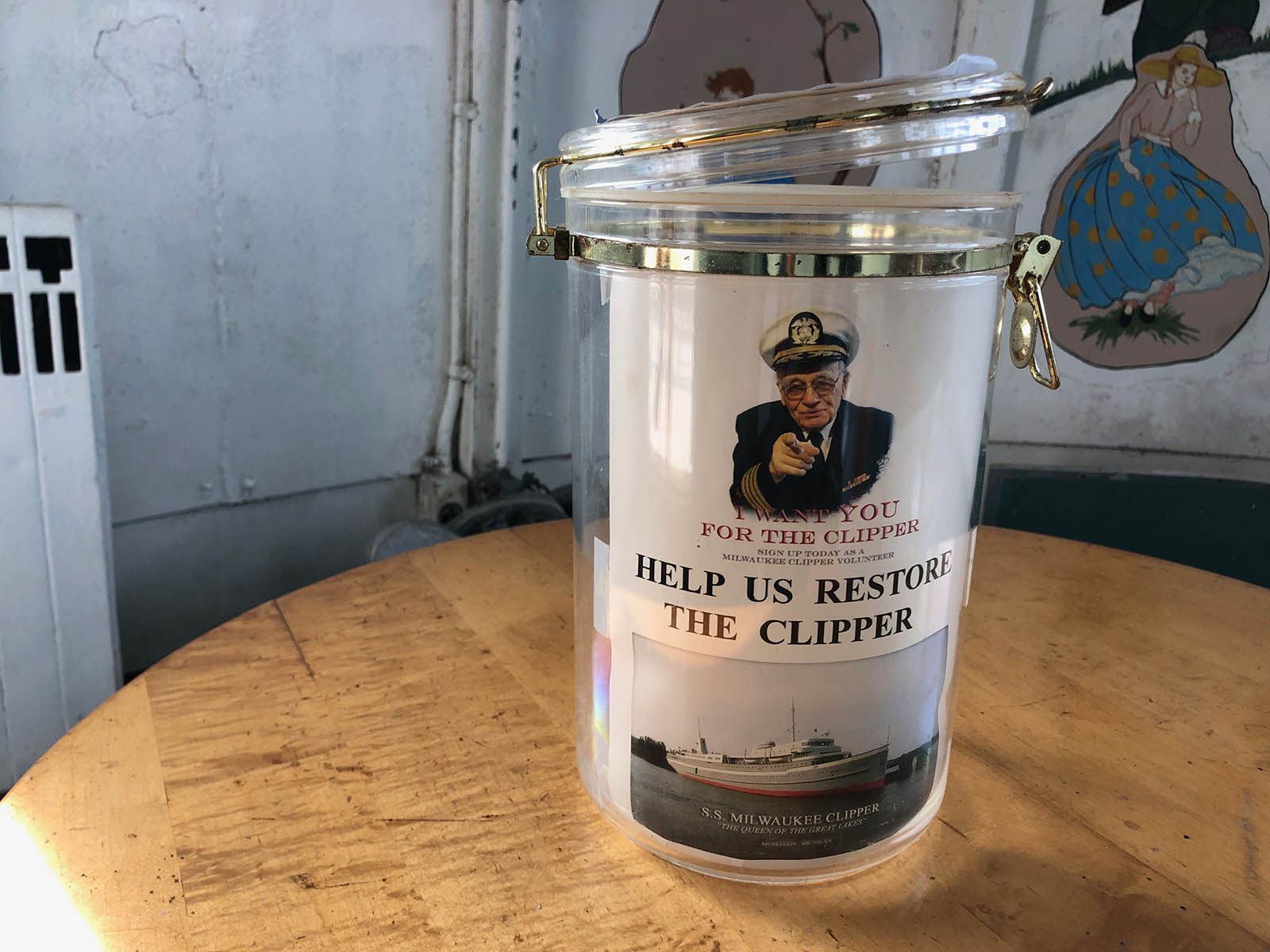 "You have the staterooms, you have the cafeteria, you have the dance floor, all that," Johnson says. "We've been doing events for members, stuff like that. We've been doing some movies in here.
"There's a lot that we can do with this ship. You're stepping back in time. These rooms were as they were back in 1970, practically untouched."
Born in Brooklyn, N.Y., where he lived until he was 17, Bobby received his BA-Mass Communications from UWM in 1989 and has lived in Walker's Point, Bay View, Enderis Park, South Milwaukee and on the East Side.
He has published three non-fiction books in Italy – including one about an event in Milwaukee history, which was published in the U.S. in autumn 2010. Four more books, all about Milwaukee, have been published by The History Press.
With his most recent band, The Yell Leaders, Bobby released four LPs and had a songs featured in episodes of TV's "Party of Five" and "Dawson's Creek," and films in Japan, South America and the U.S. The Yell Leaders were named the best unsigned band in their region by VH-1 as part of its Rock Across America 1998 Tour. Most recently, the band contributed tracks to a UK vinyl/CD tribute to the Redskins and collaborated on a track with Italian novelist Enrico Remmert.
He's produced three installments of the "OMCD" series of local music compilations for OnMilwaukee.com and in 2007 produced a CD of Italian music and poetry.
In 2005, he was awarded the City of Asti's (Italy) Journalism Prize for his work focusing on that area. He has also won awards from the Milwaukee Press Club.
He can be heard weekly on 88Nine Radio Milwaukee talking about his "Urban Spelunking" series of stories.