In this space I've written a fair number of words on tax foreclosed or abandoned historic properties that have fallen into the lap of the Milwaukee Department of City Development, which attempts to stabilize them and then offer them for sale at a reasonable price and with a variety of potential aids and incentives, including grants and forgivable loans.
Here, I have a success story to share. (There are others, too, including the recent sale of this gem, and an accepted offer on this one.)
In 2012, the striking Samuel Weinstock House, 3402 W. St. Paul Ave. in Merrill Park, had seen better days. It's hulking yet beautiful porch was crumbling and pulling away from the cream city brick house.
The windows were boarded up and the inside had surely seen better days.
Then the DCD stepped in and with the assistance of the late Paul Jakubovich, made the house weather tight and restored the porch. You can see from these photos how it looked before and after the work:

(PHOTOS: Milwaukee Department of City Development)
And then, DCD found someone to love and care for this 1889 West Side treasure in the form of Sherrie Tussler, who is not only the executive director of Hunger Task Force, but who also has experience with gut rehabs of vintage old homes.
Having worked on two old houses before, Tussler wasn't afraid to take on the work required inside the Weinstock house. Now, it is without a doubt sparkling gem of its neighborhood and one of the loveliest late 19th century homes in the entire city.
The house was designed by Edward V. Koch – among whose relatively few known surviving works is the Lion House on Highland Boulevard (he also designed the Metropolitan Block Downtown, which was destroyed by fire) – who designed it in an eclectic mix of Queen Anne and Gothic Revival styles for Samuel Weinstock, who was born in Bavaria in 1825 and arrived in the U.S. at the age of 20 and spent some time in New York City before arriving in Milwaukee in 1852.
Working as a merchant for seven years here, Weinstock then relocated to Rubicon, just west of Hartford, where he bought and sold cattle, according to the interim historic designation study report completed for the home in 2009.
While there, Weinstock married fellow Bavarian expat Fannie Bamberger – though the wedding was in New York City.
Three years later, the Weinstocks moved to Brandon, in Fond du Lac County, and opened a store with his brother. In 1870 – now with two children to support – Weinstock sold his share of the store to his brother and opened his own shop.
"The History of Fond du Lac County, Wisconsin," lauded Weinstock as having been, "continuously in mercantile life in Brandon longer than any other merchant; has a good trade from both foreigners and Americans."
Upon his retirement at age 64, Weinstock moved his family to Milwaukee where he purchased lots in Merrill Park and tapped Koch to build his ebullient home at an estimated cost of $3,000.
"The Weinstock House is a significant Milwaukee example of an exuberant, masonry dwelling that is reminiscent of the type of houses being designed in Germany in the late 19th century," raves the designation report.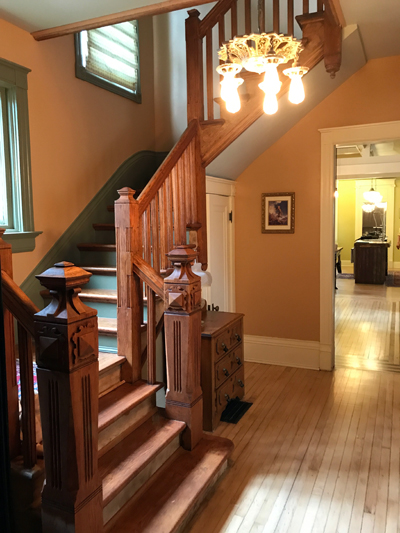 "While the basic form of the house, with its projecting bays and complex roofline and tower, has its roots in the Queen Anne style, the house displays elements of Gothic Revival, Romanesque Revival and Germanic half-timbering and masonry work that lends it an Old World character. There is no other house still extant in Milwaukee like it. Built in 1889, this is the largest and most elaborate of the known works of local architect Edward V. Koch."
Fannie Weinstock died in 1919 and Samuel followed her in 1920. Their daughter Theresa continued to live in the house – renting some of the space to another family – and remained even after selling it in 1922 to Theresa Nicklas. In fact, she stayed until 1930, six years after Nicklas had sold to absentee landlord John Lutz.
Weinstock later worked as a sales clerk at Boston Store and lived on 31st and Wells until her death in 1956.
Meanwhile, the Weinstock house sat vacant for most of the first half of the 1930s until Cora Gill arrived to run a boarding house in 1936. Two years later, Joseph and Mary Zupat took over and rented a pair of two-room units on the first floor, a one-room unit and a "sleeping room" on the second floor.
Some neighbors have told Tussler that the home was used for a time – specifics unknown – as a funeral parlor and can remember coffins being carried into and out of the home through the basement bulkhead doors in back, but neither city permits nor city directories turn up evidence of this use.
Samuel Weinstock's own burial service was held inside the home but that was in 1920.
A number of owners had the place from the 1970s until about 2010.
Now, it is Tussler's and she has been working to restore the exterior and to make the interior her own.
"I was looking for a house in the city, I wanted to return to the city. I was living in Wauwatosa, (in) not the most diverse neighborhood for me," Tussler recalls, "and so I was ready to be back in the city, and I started looking around the city's website at historic houses, and this one seemed to be the right size. It's amazing, such a cool look on the outside.
"I bought it with the intention of slowly taking my time and doing it right. I wasn't in any kind of panic or sense of urgency around it, and I was using resources I already had on board, and contractors that I already used before. The house wasn't quite ready when I moved into it, I literally had a bathroom and a bedroom, and I was still living on a construction site for about half a year."
Tussler says she was undaunted by the work she thought it would take to bring the house to where she wanted – and where preservationists demanded because of its historic designation – it to be.
"I anticipated that this would come close to a gut rehab, but not a complete gut rehab," she says. "I was wrong it was a complete gut rehab. Once you start going at it ... one thing I didn't realize was that it had a fire, and the previous owner decided that rather than repair all the plaster they would drywall over the top of the plaster. So we had to take down drywall and plaster because the trim was all buried. Everything was flat in the room. A lot had gone wrong."
Now, inside, the entry still has its original tile and inside the gorgeous staircase survives. There are fireplaces in the living rooms, which still have beautiful hardwood floors. There are a couple sets of functioning (thanks to Tussler's work) pocket doors and other fine details.
But a lot went missing over the years, too, Tussler says, including original doors and their hardware, for example. She's sought out period replacements whenever she didn't have the original items.
One thing Tussler decided was that this will be her last gut rehab and so she would do what she wanted on the inside. The most noticeable change is that she removed the ceiling in the living room and a wall that separated two bedrooms above and created a soaring space that Weinstock likely could never have imagined.
Upstairs, there's a balcony that looks down on the room below. In that same space up there, the ceiling was raised to allow a view of an arched window that once illuminated the third floor attic.
Tussler reconfigured the kitchen and a later addition bathroom on the main floor to create a larger cooking and prep area and to tuck the bathroom into a more logical space. She bought a variety of reclaimed cabinets and items to build out a space that suits her needs and her aesthetic.
"I found all of these different pieces but they didn't have to be the same to me, so when I put it up, my brother who was the my contractor, was like, this isn't right. I was like, 'just shut up and do it.' And then when it went up he said, 'you were right, it looks pretty cool.'
"For me it's just kind of eye candy, and it's all this old wood and just old cabinets."
She created two modern bathrooms upstairs, including a fully-equipped one attached to the master bedroom, which opened up and incorporates what used to be what Tussler calls "a weird space" in the corner tower.
The top floor is mostly unfinished, except for a single bedroom, but has the bones ready should she decided to take on that project.
In the basement she has the bits and pieces that had been removed from the home but saved by previous owners and over time she continues to restore them bit by bit.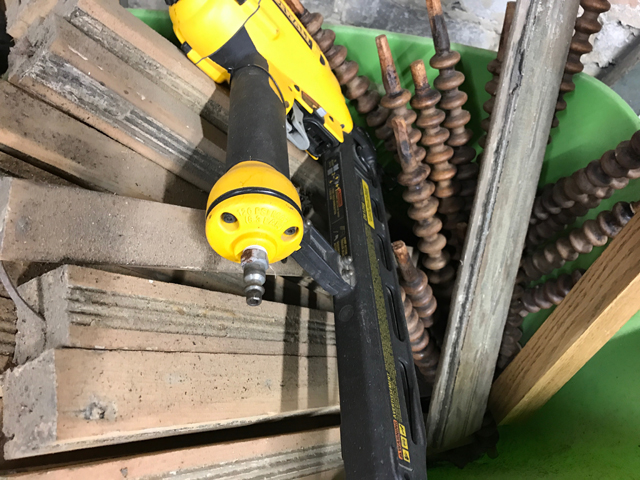 Outside, the city had already taken care of tuckpointing and the removal of paint from the cream city brick, as well as doing the porch. Tussler continues to do some exterior work but her most stunning contribution outside so far is the lush gardens that she says have led neighbors to not only stop littering on the lawn but also to offer compliments.
While Tussler says she won't do another rehab, a few minutes later I ask if she had a good experience buying a home from the city's DCD – "Yeah, absolutely I did (have a good experience)," she says – and she backtracks a little, falling victim to what just might be an incurable lust for home rehab.
"I'd ask if you'd do it again," I say, "but you already said you're not doing it ..."
"Well, you know, it's funny," she replies, "because, there's been a fire across the street and the next house over has been sitting there vacant for a while, and I've been thinking about buying it ..."
That interest has since become a real estate deal, and Tussler has again strapped on her tool belt.
That house, she says, will be a rental property, because Tussler is happy where she is, in a gorgeous historic house rooted in Milwaukee's past, but adapted to her own tastes and needs.
"I told everybody this is my last house," she says. "I've done three, and so in this house, I get to do whatever I want to do. A lot of people come in and they go, 'there's way too much stuff going on!' Or 'there's a lot of stuff to look at,' or 'there's lot of textures,' or 'all the colors don't match,' and I'm like, 'I don't need to match all my colors anymore.'
"I don't really care what people think about the inside of the house. It makes me happy."
Born in Brooklyn, N.Y., where he lived until he was 17, Bobby received his BA-Mass Communications from UWM in 1989 and has lived in Walker's Point, Bay View, Enderis Park, South Milwaukee and on the East Side.
He has published three non-fiction books in Italy – including one about an event in Milwaukee history, which was published in the U.S. in autumn 2010. Four more books, all about Milwaukee, have been published by The History Press.
With his most recent band, The Yell Leaders, Bobby released four LPs and had a songs featured in episodes of TV's "Party of Five" and "Dawson's Creek," and films in Japan, South America and the U.S. The Yell Leaders were named the best unsigned band in their region by VH-1 as part of its Rock Across America 1998 Tour. Most recently, the band contributed tracks to a UK vinyl/CD tribute to the Redskins and collaborated on a track with Italian novelist Enrico Remmert.
He's produced three installments of the "OMCD" series of local music compilations for OnMilwaukee.com and in 2007 produced a CD of Italian music and poetry.
In 2005, he was awarded the City of Asti's (Italy) Journalism Prize for his work focusing on that area.
He can be heard weekly on 88Nine Radio Milwaukee talking about his "Urban Spelunking" series of stories.