A reddish brick building at the intersection of two alleys north of the Bradley Center – between 4th and 5th Streets, just south of Juneau – has most recently been used as storage for the arena. Its days are numbered as it is slated to come down soon to make way for the new arena.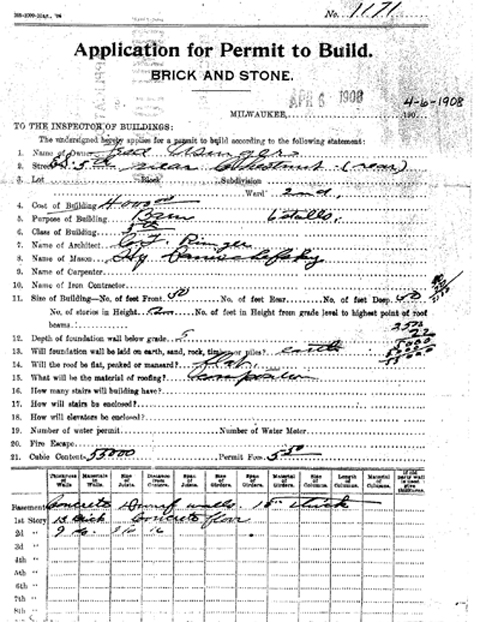 The history of the building was a little hard to come by, at least at first. Because it is in an alley (at the intersection of two alleys, actually) it has no outward address.
The square, two-story building doesn't appear on the 1894 Sanborn Fire Insurance Map, but you can see it on the 1910 map, marked with the word "Private."
In recent years, the building – which turns out to carry a North 5th Street address (1128) – has served as storage for the Bucks and the BC, who call it the "North North Building" because it sits north of the "North Building," which houses workshops and the refrigeration unit for the arena's hockey set-up.
Its earlier uses were more mysterious, though inside there was a clue that I saw last year when I got a chance to go inside.
On the inside of the double doors that face east on the upper floor there's a flaking decal of a Usinger's sausage elf. That sticker led me to Fritz Usinger.
"The building has a long history with our company," says Usinger, who runs the business started by his great-grandfather Fred Usinger launched in 1880. "My understanding is that at one time it served as the stable for horses that pulled our delivery wagons. There were living quarters above on the second floor."
Though it's really little more than a brick box, the building has a certain elegance, one that has often made passersby – including me – stop and take notice, even though it was long hidden from 4th Street by an MATC building that was demolished a couple years ago.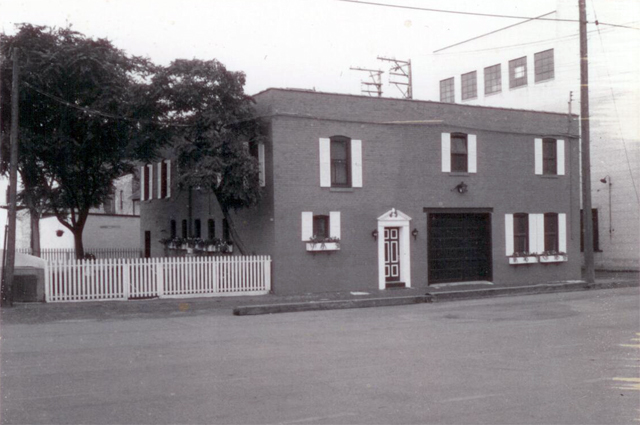 The building in 1983. (PHOTO: Courtesy of Lloyd Schoen)
Fred Usinger hired respected and experienced architect Carl Ringer – who had worked in the offices local architecture giants like George Mygatt, James Douglas and Edward Townsend Mix – to design the building, which cost $4,000 to erect, in 1908. Two years earlier, Ringer had designed a major addition to the company's 3rd Street headquarters, which had been built in 1888 to designs by Jacob Hausmann & Bro.

This 1905 photo shows some of the likely earliest residents of the Usinger's stables.
(PHOTO: Courtesy of Fritz Usinger)
The city building permit described the two-story alley structure as a barn, with six horse stalls.
"Later," recalls Usinger, "the building was converted into a garage that housed our small panel delivery trucks. We referred to (it) as 'Art's Garage,' because Art Schoen, who worked for us for many years as a delivery driver and salesman, lived above the garage with his family."
According to Usinger, at that time the company's drivers were route salesman, selling product off the truck to their accounts.
Remnants of those living quarters survive in the form of a kitchen, bathroom and a few adjacent rooms on the western side of the upper floor.
Lloyd Schoen, 92, remembers growing up there.
"My father and mother (Anna) moved there in 1928. There was an elderly couple living there before them. My father worked for Usinger's for 61 years. I lived there with them and my (younger) brother (Harvey) until 1942 when I joined the Navy. I got out in '47 and I lived there for about two years. In the meantime I met the dream of my life and got married.
Lloyd and his dog Spottie in the yard, circa 1930s. The rear of a neighboring home can be seen in the background.
(PHOTO: Courtesy of Lloyd Schoen)
"Prior to us moving in there, they delivered with horse and wagon and they had stalls down there. I remember them tearing those out when they re-did that (in the 1930s). They tore up the old floor and poured new concrete.
"They could park five cars down there, it was office people parking there. Then at night they parked a couple trucks in there that were out doing deliveries during the day. I remember my dad cleaned it out every week and I helped. The east half of the second floor was the hayloft. There used to be a long beam that stuck out (to help raise the hay up into the loft) and one day it fell out and landed on my father. It nearly killed him."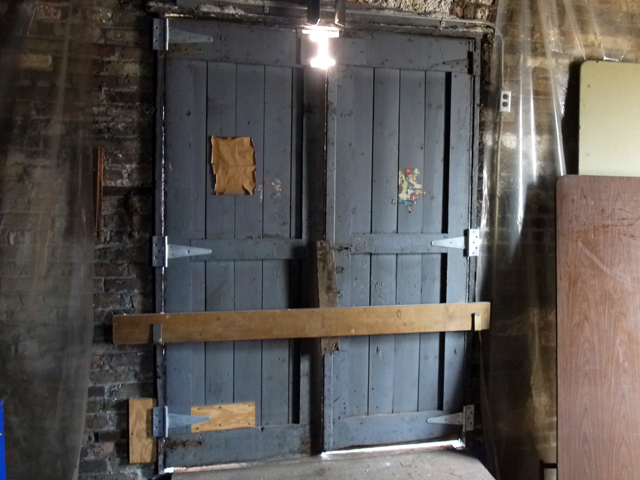 The old hay chute survives, but removing the panel, one can see that the opening between floors long since been sealed.
Lloyd remembers attending nearby Highland Avenue Elementary School (which closed in 1964 and was demolished) and, later, Lincoln High. He has many memories of the neighborhood of his youth and of what he calls his "old homestead."
"We had a mixed neighborhood," he says. "We were of German descent, there were Greek kids, a couple Spanish kids, some Jewish families. There was a store on 5th and Highland where we bought all our groceries.
"On the west side of (our) building we had a fenced-in yard, with bright green grass and three big trees. After '83 they paved it over for the parking spots. Across the alley (to the south) there was a big, long barn and that's where they had all the horses there for the Luick Dairy, which was later Sealtest. They delivered with horses until about '51, I think."
"I remember during the big snowstorm in 1947 they had a board, it was solid wood, about 5 inches thick and probably 10 feet long, nearly as wide as the alley, and maybe 4 feet high and they tied six horses to that so they could plow the alley and get the horses out to deliver the milk."

The view of 5th Street from an apartment window, 1983. (PHOTO: Courtesy of Lloyd Schoen)
Schoen's parents were the last – and by far the longest-running – tenants of the apartment in the old barn, living there until 1983.
"My father was a salesman at Usinger's and he ended up taking care of odds and ends (for the company) after he retired. He started in 1922 and he had a heart attack in 1983 and he passed away. By then he was taking care of the lots, parking cars for events."
After Art Schoen's death, Fein Brothers bought the building to use for storage, Schoen recalls, and about five years later, they sold it to the Bradley Center. At some point during the 1980s, it was apparently owned by David Berther, who also owned the nearby former Gipfel Union Brewery building, which was later moved across the street, and has since been demolished.
According to Usinger, a larger (Usinger's) garage for bigger trucks, located about 30 yards to the south of "Art's Garage," was demolished to make way for the Bradley Center.
In the meantime, Lloyd took over his dad's parking operation and even today, under the name Lloyd's Parking, Schoen parks cars during events, running a trio of lots that can accommodate just over 50 cars. Every time he's at work, he can see his childhood home across the street.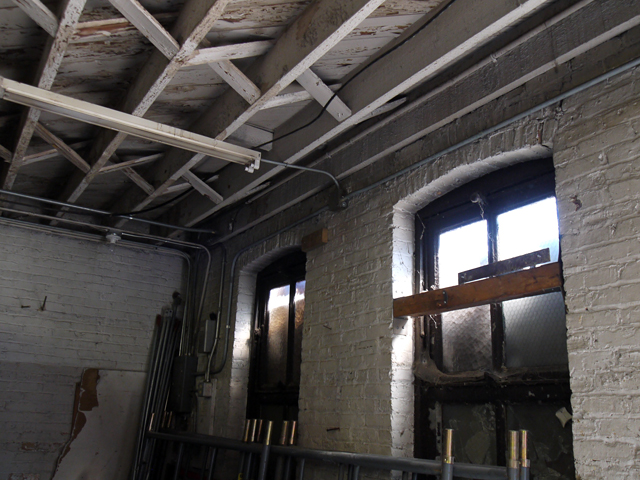 "I talked to (Bucks President Peter) Feigin and he couldn't get over it. 'You lived there?! That's not a Usinger's building,' he said. 'It isn't now, but it was then,' I told him."
In addition to the Usinger's barn, two other buildings will be cleared in the coming weeks to make way for the new arena, including the North Building – which will likely be demolished first and probably requires the most care because of its refrigeration systems – and the former Kissinger Meat and Poultry building across 5th Street, at Juneau.
Born in Brooklyn, N.Y., where he lived until he was 17, Bobby received his BA-Mass Communications from UWM in 1989 and has lived in Walker's Point, Bay View, Enderis Park, South Milwaukee and on the East Side.
He has published three non-fiction books in Italy – including one about an event in Milwaukee history, which was published in the U.S. in autumn 2010. Four more books, all about Milwaukee, have been published by The History Press.
With his most recent band, The Yell Leaders, Bobby released four LPs and had a songs featured in episodes of TV's "Party of Five" and "Dawson's Creek," and films in Japan, South America and the U.S. The Yell Leaders were named the best unsigned band in their region by VH-1 as part of its Rock Across America 1998 Tour. Most recently, the band contributed tracks to a UK vinyl/CD tribute to the Redskins and collaborated on a track with Italian novelist Enrico Remmert.
He's produced three installments of the "OMCD" series of local music compilations for OnMilwaukee.com and in 2007 produced a CD of Italian music and poetry.
In 2005, he was awarded the City of Asti's (Italy) Journalism Prize for his work focusing on that area. He has also won awards from the Milwaukee Press Club.
He can be heard weekly on 88Nine Radio Milwaukee talking about his "Urban Spelunking" series of stories.