Recently, we visited Engine Co. 6 on Brady Street, a firehouse that, in addition to being well-known in the neighborhood, has a long history on the East Side. The first station was built here in 1875 and was replaced with the current building in 1946.
The first fire house was built at 1693 N. Franklin Pl. in either 1875, '76 or '77, depending on your source.
A city historic designation report for a different firehouse, attributes the building to architect Thomas N. Philpot, who is thought to have designed the "Chief Lippert" station on 7th and North in 1876.
The same report notes that Henry Koch, who drew the firehouse on Broadway for Engine Co. 1 in 1872, also submitted plans for the project.
Philpot's "Lippert" and Butler No. 6 station's have nearly identical Italianate designs.
According to "Beertown Blazes," a definitive book on the Milwaukee Fire Department, the station, officially called A.A.R. Butler No. 6, was the last station to get a name and a number. (Incidentally, in their earliest days, Milwaukee elementary schools also had names: Cass Street was the Juneau School, Maryland Avenue was the Murray School, District 2 was The Jefferson School, etc.)
The city spent $5,930 to erect the quarters – with its 150-foot lookout tower – for the men of Engine Co. 6, who were by then wearing matching uniforms, something the department instituted in 1874.
Above is the first known photo of the crew, who sit upon and stand next to their 1872 horse-drawn Amoskeag steamer, dubbed "The Ludington."
In 1910, the quarters were home to 10 men, six horses, a hose wagon and a fire engine (though sources differ on whether or not Engine 6 was still running an 1880 Ahrens or an 1893 1st size American). According to the 1910 Sanborn map (which voted Ahrens), the station was equipped with 2,000 feet of 2.5-inch hose.
Because firemen seem to be especially conscious and proud of department history, the photo above and the one below, from 1911, showing hose wagon 6, are displayed in the Engine Co. 6 office today.
A caption reads, "each steam pumper was quartered with a hose wagon. ... Left to right: Pipeman Louis Dombrowski, Lt. Eugene Hackett, Pipeman Andrew Milkowski, Driver John Zinda and Capt. Phillip Plunkett. Unfortunately, the horses are not identified."
Alas, over the years, two Engine 6 firefighters have fallen in the line of duty: Pipeman Thomas Sullivan died in the Becker-Conrad Tanneries fire beneath the Holton Street viaduct in December 1892 and 24-year-old Ralph Helminiak was asphyxiated in a house fire at 2437 N. 1st St. in January 1971.
More than 300 firemen, some of whom traveled from as far as Madison and Chicago, attended Helminiak's funeral to participate in a solemn procession led by Engine 6's vehicle, which was laden with flowers.
At the dawn of 1946, Engine Co. 6 moved into the Engine Co. 21 house at 2050 N. Palmer St., while the old firehouse was razed and a new one – almost certainly designed by Charles Malig – was built on the same site.
The timing was unfortunate. Engine 6 moved over to Palmer Street and the Franklin Place house was closed on Jan. 7, 1946. Exactly three weeks later, a massive three-alarm blaze engulfed a commercial and residential building, displacing 17 residents and damaging a variety of businesses, including Schowalter's Pharmacy, United Radio repair shop, Kosobucki Jewelers, Joe Famularo's barber shop, Humboldt Beauty Shop, Joseph Ziino's law office and John Seng's dental office.
The morning after the fire – which sent three firemen to the hospital and left the neighborhood sheathed in ice from water poured on the blaze – the Sentinel noted, "a pedestrian had turned in an alarm at E. Brady St. and N. Franklin Pl. (Ironically, a fire station at that corner during the many years in which no serious fire occurred in the neighborhood, was moved only a short time ago.)"
Originally estimated to cost $45,000, the two-story red brick quarters – which welcomed Engine Co. 6 back home just before New Year's Day, in late December, 1947 – it ended up costing nearly double that.
In October that year, though Fire Chief Edward Wischer was forced to trim his budget request – ditching the idea of getting five new inspectors and 10 new firefighters, among other line items – he did win the $450 needed to buy a stove and refrigerator for the new quarters.
"Wischer asserted that firemen had asked donations from merchants with which to buy a cooking stove and refrigerator," wrote the Journal. "In the past, firemen have bought their own stoves and refrigerators for firehouse. They also buy their own food."
These days, the city provides firehouses with a stove, a sink, a table, some hard backed chairs and one refrigerator. Firefighters still buy their own food and any other amenities – exercise equipment, TVs, appliances, etc. – for the quarters.
During my visit, Capt. Carter Hunnicutt and his the other three firefighters on duty graciously hosted me for lunch and showed me around. As is now the rule, each shift has four firefighters, which is pretty much the minimum for staffing an engine.
After some great grilled burgers, corn on the cob, Asian slaw, tortellini and guacamole – thanks to Pat Gatton – Hunnicutt showed me the historical photos in the office (most of which are included here above), and the quarters upstairs. The dorm space is quite large for a house that Hunnicutt says – because the station can only fit one vehicle – likely never housed more than perhaps six or so people at any given time.
We went to the basement to see the maze of bracing (pictured above) that helps support the engine sitting above us. Today's trucks (sorry, firefighters, I know a "truck" is an altogether different bird) are considerably weightier than vehicles were back in the 1940s.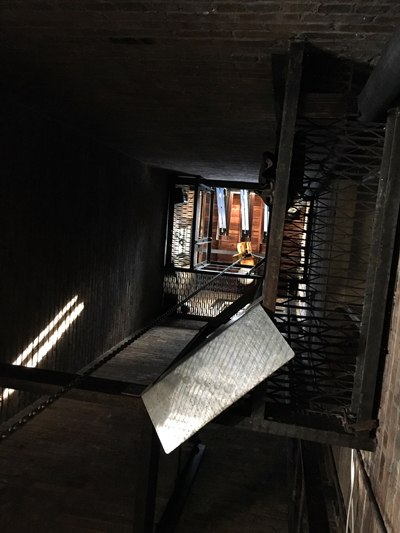 For the first time ever, I not only got to shoot a photo looking up into the hose tower (pictured above), I also got to shoot some at the top of the house tower, which was pretty amazing for a geek like me. I was pleased to see that at least a few firefighters had marked their names up there for posterity. Seems only right.
These three wood-slatted horizontal posts are what the 50-foot hoses wrap around when they hang. A motorized chain raises and lowers the hoses.
Interestingly, if you look up in the station, you'll notice that there are four holes for brass poles, but only one of them actually has a pole in it these days. Hunnicutt tells me that Engine 6 crew members occasionally use the pole for a speedy trip downstairs.
I know what you're thinking. And, yes, finally, I got my chance. It was fun, though I think my descent was so slow that it was painful for a seasoned firefighter to watch.
Born in Brooklyn, N.Y., where he lived until he was 17, Bobby received his BA-Mass Communications from UWM in 1989 and has lived in Walker's Point, Bay View, Enderis Park, South Milwaukee and on the East Side.
He has published three non-fiction books in Italy – including one about an event in Milwaukee history, which was published in the U.S. in autumn 2010. Four more books, all about Milwaukee, have been published by The History Press.
With his most recent band, The Yell Leaders, Bobby released four LPs and had a songs featured in episodes of TV's "Party of Five" and "Dawson's Creek," and films in Japan, South America and the U.S. The Yell Leaders were named the best unsigned band in their region by VH-1 as part of its Rock Across America 1998 Tour. Most recently, the band contributed tracks to a UK vinyl/CD tribute to the Redskins and collaborated on a track with Italian novelist Enrico Remmert.
He's produced three installments of the "OMCD" series of local music compilations for OnMilwaukee.com and in 2007 produced a CD of Italian music and poetry.
In 2005, he was awarded the City of Asti's (Italy) Journalism Prize for his work focusing on that area. He has also won awards from the Milwaukee Press Club.
He can be heard weekly on 88Nine Radio Milwaukee talking about his "Urban Spelunking" series of stories.