Even in a neighborhood full of vintage architecture, there's no mistaking it. Driving or walking past, the Italianate cream city brick building at 1704 N. 4th St., on the corner of Walnut Street, looks old.
If the area – which is now the confluence of Bronzeville, Haymarket and Brewers Hill neighborhoods – has had a long, varied history (and it has), then Baasen House, which is what this three-story gem is called, is perfectly at home here.
Recently, Milwaukee Youth Arts Center – across Walnut – purchased the building from the Visiting Nurse Association for $950,000, according to the Business Journal, with help from an anonymous donor. When I toured the building, MYAC had no plans yet for it, but was considering options.
The main part of the structure was designed by Charles Gombert – who, among other works, drew the North Point water tower – as a two-story residence for railroad exec and early Milwaukee settler John F. Baasen, who was active in helping to establish the St. Francis of Assisi monastery a couple blocks up 4th Street.
Alas, the home was completed in 1874, the same year that Baasen died, and when his wife Mary passed away four years later, the home was occupied by their children Elise and Michael, who stayed until 1883. It was transformed into a boarding house, according to Russell Zimmermann's "Heritage Guidebook," run by brewer Emmanuel Burgy and his wife Elizabeth.
Soon, the building was purchased by the YMCA, which ran it as its "German branch" – the neighborhood was heavily Germanic then – and added the gym wing to the north in 1889. But four years later the Y consolidated its operations elsewhere and leased the old Baasen place to The House of Mercy in 1894.
(PHOTO: Milwaukee Public Library)
According to John Gurda, who wrote about the building's history for the daily paper, the House of Mercy "combined social work with maternity services, and it was the last refuge, according to the Milwaukee Sentinel, for 'unfortunate girls' who 'had no other place to go.' Although admission was voluntary, to a degree, there were iron bars on the windows. ... There was no shortage of prostitutes to reform.
The House of Mercy's superintendent, Julia Kurtz, estimated that Milwaukee supported 121 brothels ... that housed a total of 400 girls, with another 1,600 working on the streets. Kurtz resigned in 1899, declaring herself 'unequal to the nervous strain that comes with the daily life'."
If the place didn't close with Kurtz's resignation, it didn't last much longer because by 1905, it had been recast as the home of Mount Sinai Hospital, which had 15 beds at the start, but added the third floor in 1907. Around the same time, the gym, which had a tall ceiling with exposed framing, was converted to hospital rooms too.
During the Mount Sinai era, the original single story bay on the Walnut Street side – now gone – still stood.

(PHOTO: Milwaukee Public Library)
By the early teens (some sources say 1912, others 1914), Sinai moved to a bigger home on North 12th Street, and in 1919 the building was converted into the Wisconsin House Hotel (and bar, pictured above), operated by Michael Schilz. According to the Wisconsin Historical Society's Architectural Inventory, a number of retail businesses set up on the 4th Street side, including a women's clothing store, a restaurant, a cigar store and a photo studio.
Tavernkeep Joe Kersher opened the first bar in the place in 1933. Bars continued to occupy the building for many years after.
In 1984, Baasen House was added to the National Register of Historic Places and the state added it to its own register five years later. A much more modern addition now stands to the east, connected at each of the floors and in the basement, which was built when the Baasen House was home to an adult care facility and later an Aurora Health Care facility, which closed in October 2015.
When the place went up for sale earlier this year, I was eager to see inside and was pleased to see what appeared to be layers of history peeling back to make themselves visible again. After a cursory glance in the "new" side, which, with its bland cubicle rooms and character-less spaces stands in stark contrast to the older side, I focused on the original Baasen House and its attached 1889 gym, which appears to have been the work of architect Cornelius Leenhouts and Hugh Wilson Guthrie.
On the first floor of the old gym, there are still a few small rooms, which were likely added when Mt. Sinai converted the gym to hospital space after 1907. Up above, in the attic, you can see the ceiling joists (pictured above), which were painting and finished with wood trim, and the plastered ceiling, which were surely once visible from below when the space was a big, open gym. Seems safe to assume to the old dumbwaiter and laundry chute – as well as the floorboards that created the attic space – were installed during the conversion.
In the 1874 building, there are many small rooms, each with a window – floor to ceiling on the second floor – and a shelf or a built-in with drawers and shelves. On the second floor some of the rooms still have white tile floors (pictured above), and could have been operating theaters, shower rooms or something similar.
On the main floor, the history has been scrubbed off, or at least hidden behind bland drywall, though the quirky, rabbit-warren floor plan remains.
But the basement, much like the upper floors, is laced with interesting details. Cream city brick floors, peeking out from the cement poured atop them, ancient boilers, stone foundation walls, a suite that clearly appears to have been a kitchen and dining room, a space that was once a bathroom (though with interior windows looking into what appears to have been a laundry). And the wallpaper pictured above.
Down here, there's also an old door with window stickers advertising an old distillery.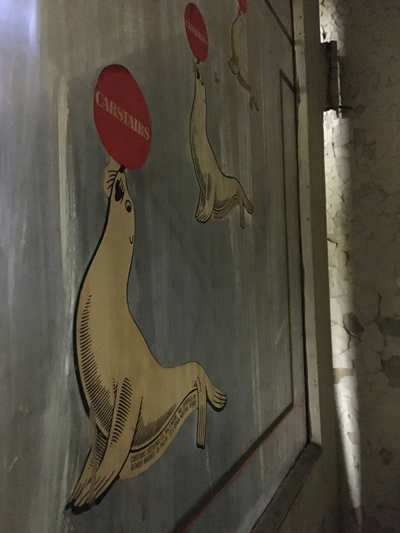 The future of the place seems uncertain, and it's not only the warren-like floor plan that makes it challenging. There's a spot in the basement where a wood floor appears laid atop soil.
In numerous areas, wide cracks in brick basement walls – I mean wide enough to stick your hand in – have been "repaired" with Great Stuff expanding foam.
Upstairs, a ceiling appears in rough shape where a pipe was probably leaking, and lead paint is peeling in every room of the Baasen House.
The modern addition appears to be in much better shape, but that hardly seems to be space that will concern history buffs and the preservation minded.
We'll see what the future brings for this long-lived Milwaukee building. Hopefully, the Milwaukee Youth Arts Center will find a way for it to continue to serve the neighborhood in some useful capacity.
Born in Brooklyn, N.Y., where he lived until he was 17, Bobby received his BA-Mass Communications from UWM in 1989 and has lived in Walker's Point, Bay View, Enderis Park, South Milwaukee and on the East Side.
He has published three non-fiction books in Italy – including one about an event in Milwaukee history, which was published in the U.S. in autumn 2010. Four more books, all about Milwaukee, have been published by The History Press.
With his most recent band, The Yell Leaders, Bobby released four LPs and had a songs featured in episodes of TV's "Party of Five" and "Dawson's Creek," and films in Japan, South America and the U.S. The Yell Leaders were named the best unsigned band in their region by VH-1 as part of its Rock Across America 1998 Tour. Most recently, the band contributed tracks to a UK vinyl/CD tribute to the Redskins and collaborated on a track with Italian novelist Enrico Remmert.
He's produced three installments of the "OMCD" series of local music compilations for OnMilwaukee.com and in 2007 produced a CD of Italian music and poetry.
In 2005, he was awarded the City of Asti's (Italy) Journalism Prize for his work focusing on that area. He has also won awards from the Milwaukee Press Club.
He can be heard weekly on 88Nine Radio Milwaukee talking about his "Urban Spelunking" series of stories.