If you only visit Turner Hall, 1034 N. 4th St., for concerts, it's easy in the dark of night and the dimly lit concert experience to miss the beauty of the building itself. Built in 1882 and opened in 1883, the gorgeous romanesque revival Cream City brick clubhouse was designed by Henry C. Koch – who designed Milwaukee's City Hall – for the Milwaukee Turners.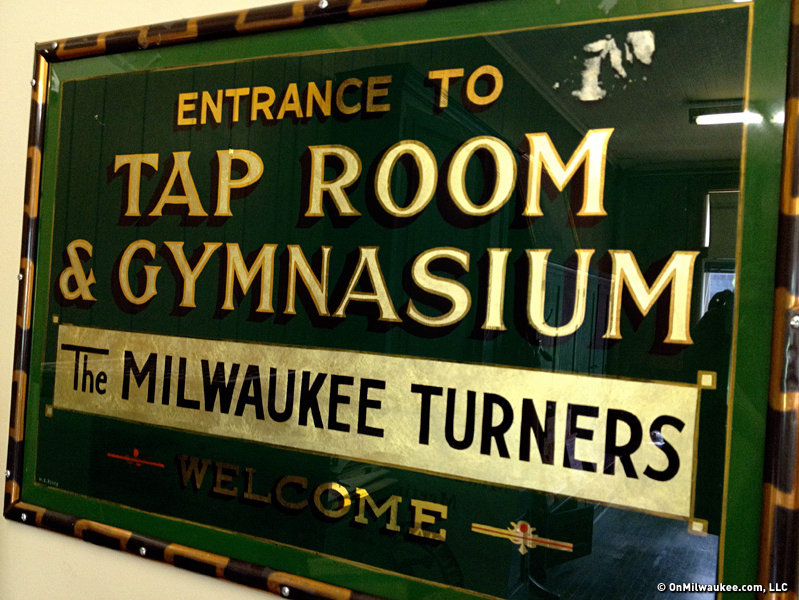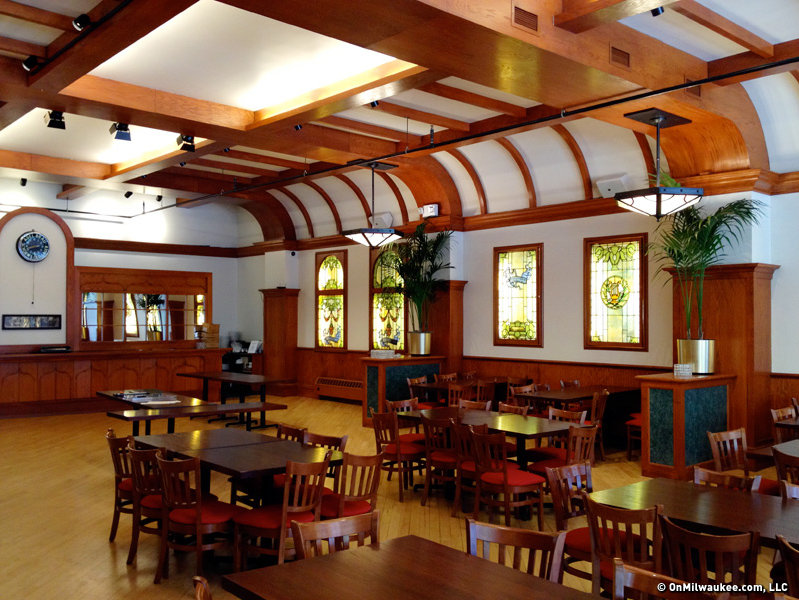 The building has a two-story gym in the basement and another two-story ballroom perched above. Between them sits a sprawling restaurant and bar that has become famous over the years as a Friday night fish fry hot spot.
The old Bahn Frei Turner Hall on North Avenue has a similar layout.
Outside, Koch balanced his facade with peaked wings flanking a central portion with three tall, slim windows – the kind that he used to adorn his 8th Street School built in 1884 – and capped it with a pointed tower. A small porch marks the entrance. Gorgeous red string courses add depth and color.
Inside there are murals, iron stairs dotted with circular glass details and woodwork galore.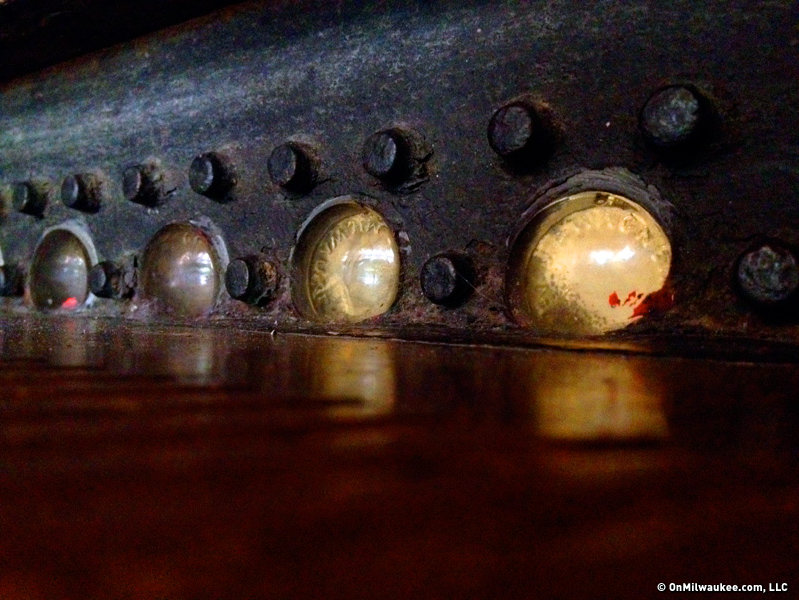 According to its website, Turner Hall is the only Milwaukee building that is honored as a National Landmark, a local Historical Landmark and with a listing on the National Registry of Historic Places.
The building was the third home to the Milwaukee German Turnverein, a social, athletic and cultural organization founded in 1853 by German political exiles dubbed "Forty-Eighters." The group's previous home sat just south on 4th Street where there is now a parking lot.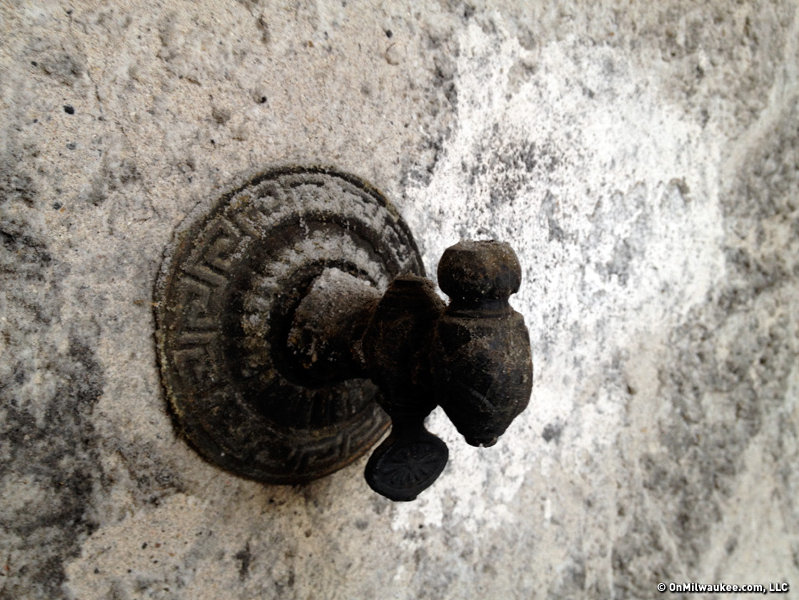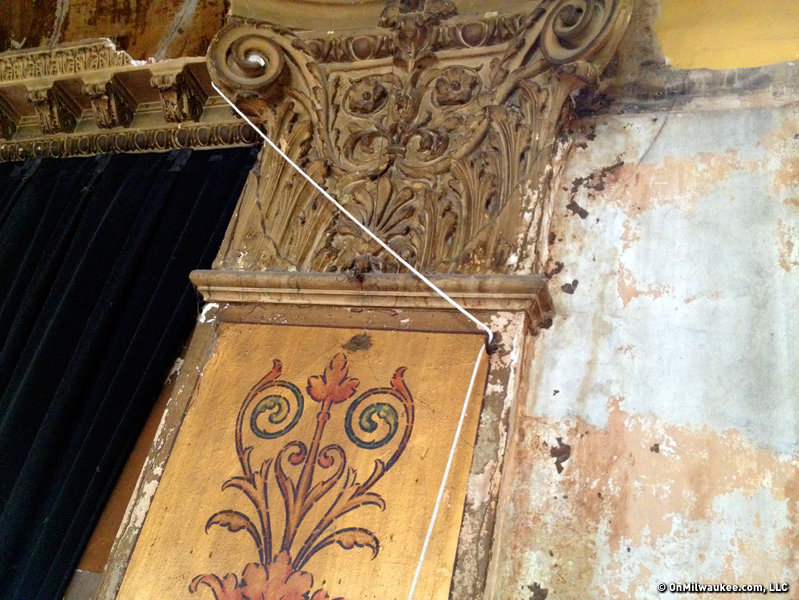 These days, the Turners are best known for their focus on athletics and gymnastics, but the group was, in the past, known for its political power, too. Mayors Emil Seidel, Daniel Hoan and Frank Zeidler were among its members.
It's not surprising that Turner Hall's now wavy floors – a lot of settling occurs in a building built on a tamarack swamp – ooze history.
"When I come in the ballroom with tours, I ask the kids to imagine people with the "8-hour workday signs'," says executive director Katharina Hren. "To have this room full of people rallying for that. The fact that they went to Bay View the next day, when the massacre took place. That it started here is kind of mind boggling."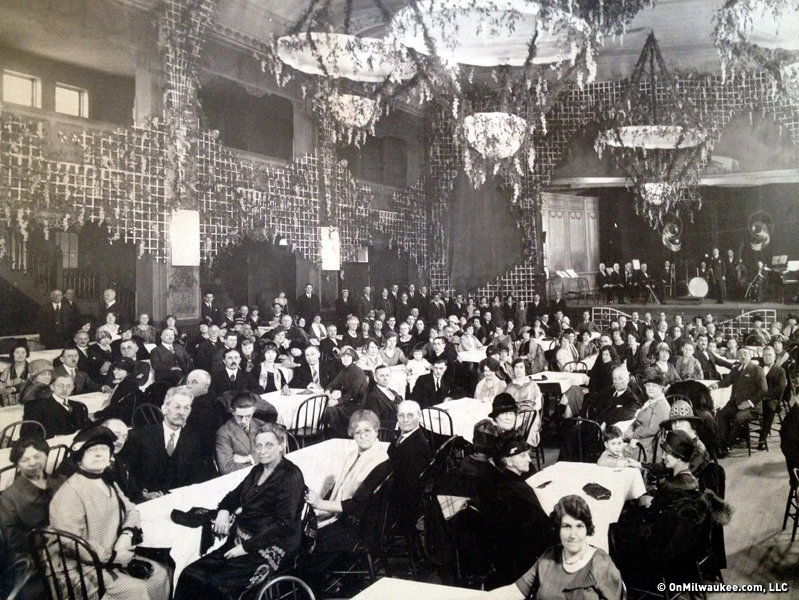 While exploring every nook and cranny of the old building with me and Andrew Nelson of The Pabst/Riverside/Turner Hall, Hren – a German teacher who was also director of the Goethe House for more than a decade – adds that among others, Eugene Debs spoke at Turner Hall.
The ballroom was also used for concerts and other amusements and it is said that Charles K. Harris' multi-million-selling 1891 waltz "After the Ball" – written while he was living in Milwaukee – was inspired by a visit to Turner Hall Ballroom. "After the Ball" was the best-selling tune in Tin Pan Alley history which has led some to call it the first American pop song.
"You can't get this same sense of history in a more modern building," says Hren.
There were two fires in the ballroom – in 1933 and 1941. That damage led to the closing of the space for many years. Now that it's been reopened, the damage is part of the history – and feels like part of the mystique – of the ballroom.
Of course, with history, come stories of hauntings, right?
"Kids touring with school groups often ask if there are ghosts here, which is not a comforting thought," says Hren.
"I've heard that the walls are filled with the ashes of dead Turners who requested that their ashes be poured in the walls," adds Nelson. "There are certain stories that you hear. Maybe a ghost told me that."
"I don't know about that. It's possible," counters Hren. "What I do know is that I have three urns filled with ashes in my office that were found in the walls here."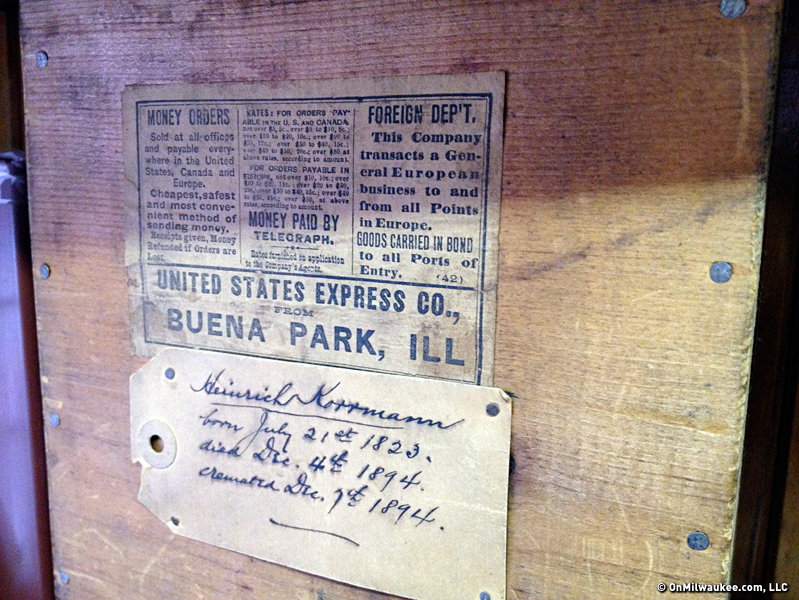 We take a look at the ashes, which are just in plain boxes, with tags describing the contents. Not especially creepy. At least not outwardly.
And there's not much creepy about Turner at all, really. If anything, inside there are elements that conjure a fun-house. There's that almost comically wavy ballroom floor, which in the cold light of day looks a bit like a rollicking sea.
But don't worry if you feel it bouncing during a gig. The floor is built with spring action to absorb the weight and the movement. Another unusual feature is the raked stage, which slopes from the back toward the audience.
"Usually artists are a little surprised," says Nelson.
Up in the balcony, there is similar unevenness. Along the north wall is a doorway that over the years has slanted more and more. The solution? Keep planing down the top of the door to match the slant.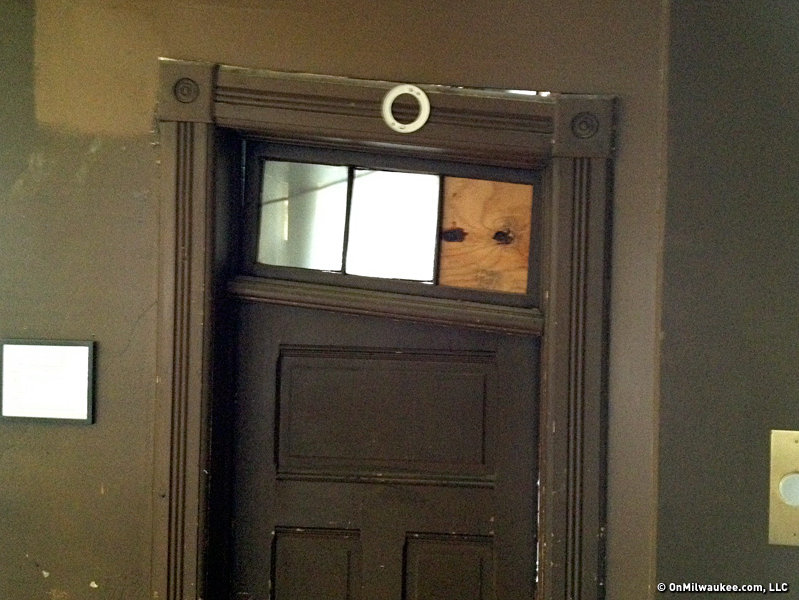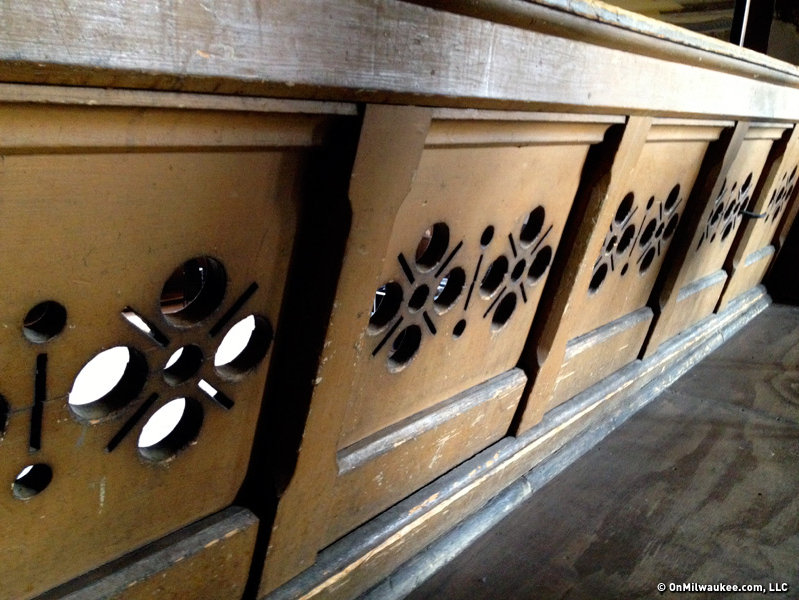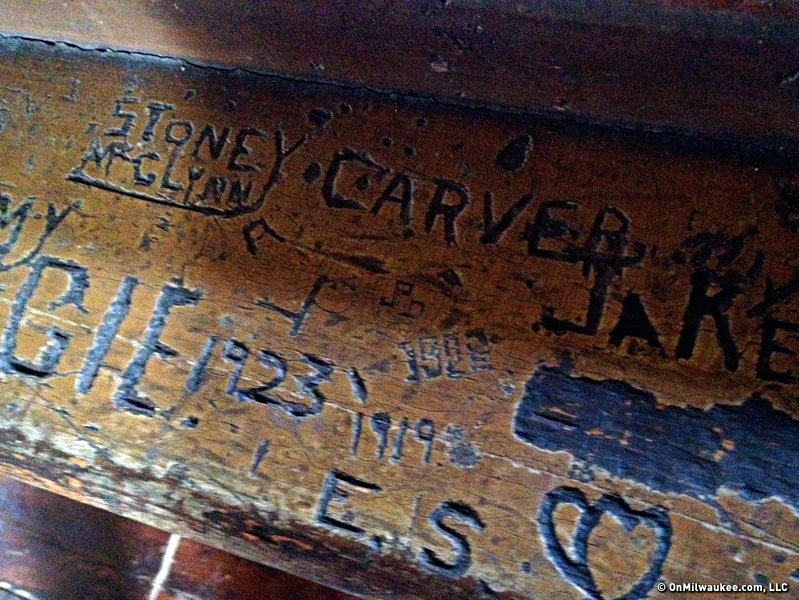 You might not have noticed that – or the decorative woodwork along the balcony rail – during a dark concert. In the same penumbra you've likely missed the graffiti etched into the rail, too. The earliest dated one I found said, "1919." But nearby, the name "Stoney McGlynn" is carved. Could McGlynn himself have defaced Turner Hall during his years with the American Association Brewers, 1909-12?!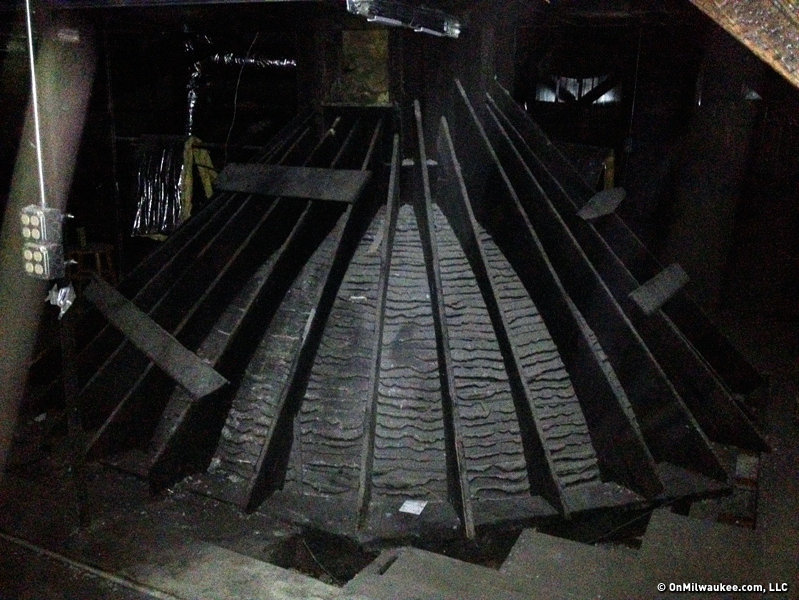 As always my favorite visits are to the attic and the roof. Up a flight of stairs, can walk out onto the ceiling above the ballroom and see the domed side of the recesses in the ballroom ceiling (pictured above). You can also step out onto the roof and get a close-up view of the ornate tower and, behind you, the city skyline.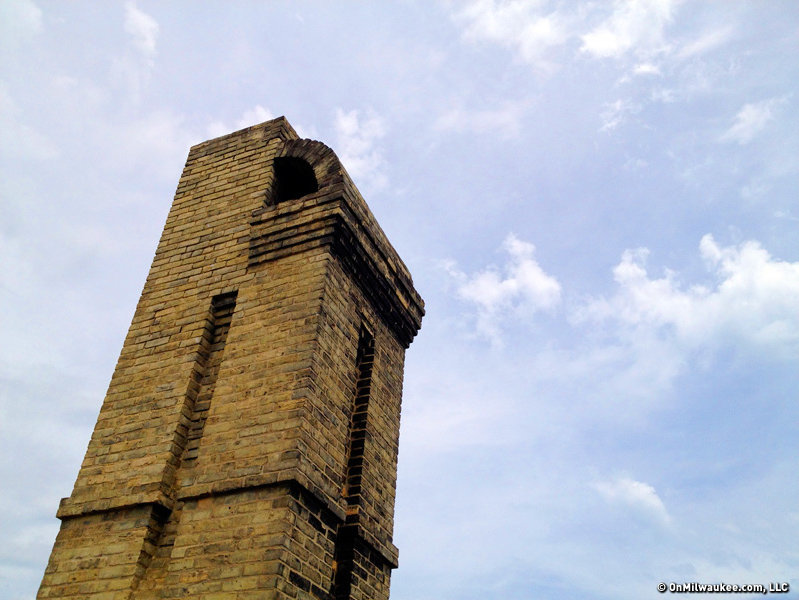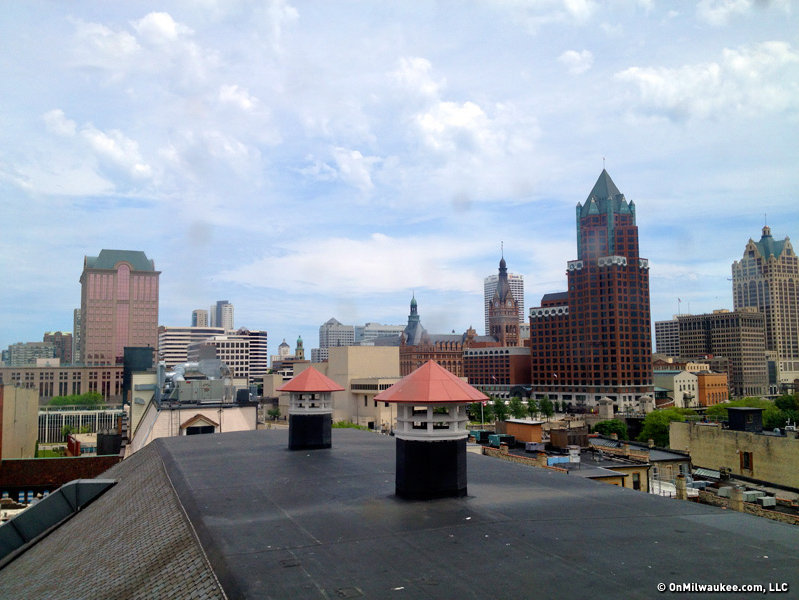 One more flight brings you into the tower itself, where there's more than a little dust and remnants of the pigeons that used to roost there. Intriguingly there's also a discarded bit of metal roof decoration that begs for preservation. In the tower there's more graffiti but that's more recent. Some are dated back to the 1960s and one, written with a finger on a dusty window, can be easily traced to a current employee.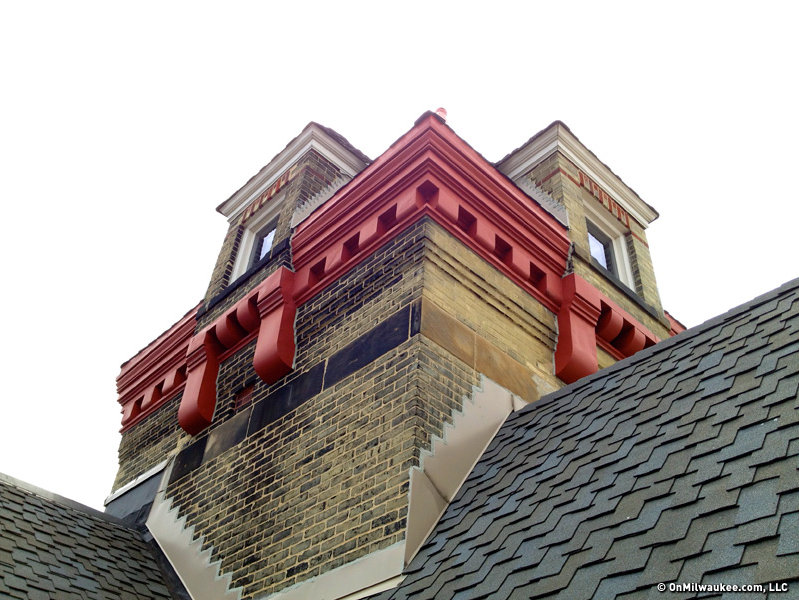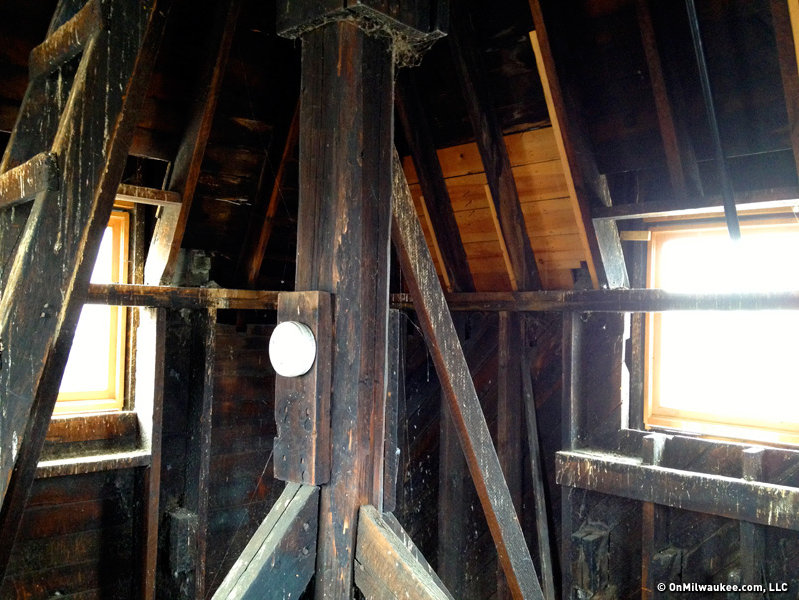 Down in the basement we can see the surprisingly large gym, with its original balcony. We can also see where there was once a window that allowed parents up in the restaurant to watch their children in the gym below.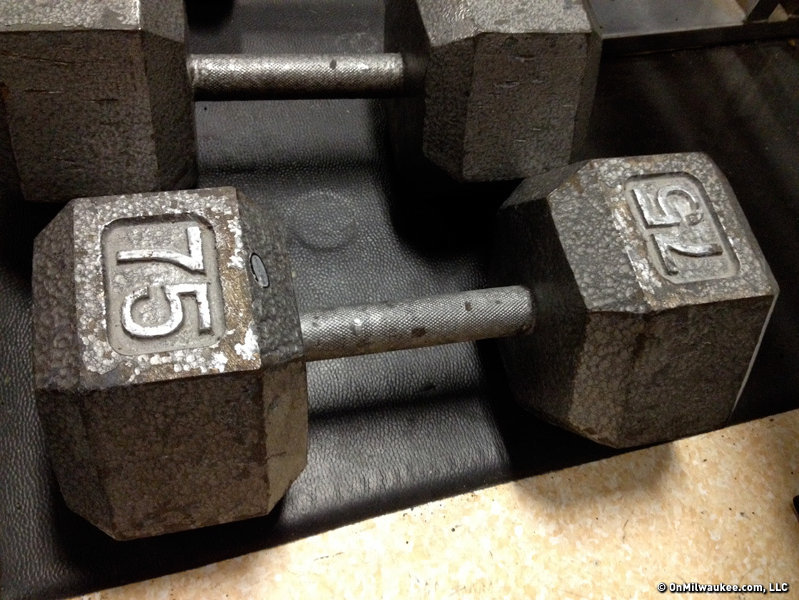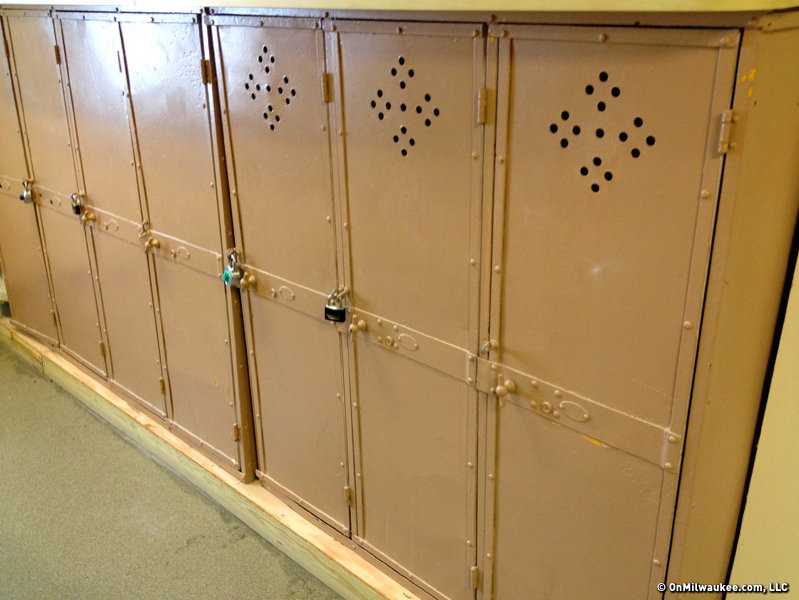 Although an old sauna is gone, a row of vintage lockers remains, as does a hatch that leads to a crawl space beneath the gym. Yes, I was tempted to go. No, I did not actually go down.
There's a modern climbing wall – much to the delight of many touring bands – in the gym. There are also two old cast iron dumbells weighing in at 75 pounds each. The Turners, I guess, were serious he-men.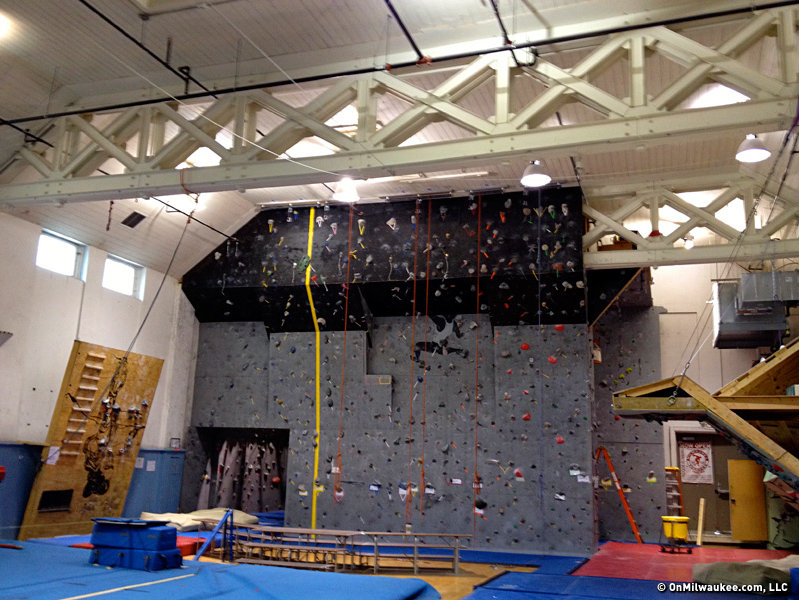 It's plain to see that Turner Hall has long been a place to relax and have a good time. That's a tradition, says Nelson, that continues today.
"This is where (Milwaukee's Germans) felt comfortable to come and be themselves," he says. "This was a gathering place where they could speak German. I like to think that since October 2007 this has become a gathering place for like-minded people who could come and let their hair down, too."
Born in Brooklyn, N.Y., where he lived until he was 17, Bobby received his BA-Mass Communications from UWM in 1989 and has lived in Walker's Point, Bay View, Enderis Park, South Milwaukee and on the East Side.
He has published three non-fiction books in Italy – including one about an event in Milwaukee history, which was published in the U.S. in autumn 2010. Four more books, all about Milwaukee, have been published by The History Press.
With his most recent band, The Yell Leaders, Bobby released four LPs and had a songs featured in episodes of TV's "Party of Five" and "Dawson's Creek," and films in Japan, South America and the U.S. The Yell Leaders were named the best unsigned band in their region by VH-1 as part of its Rock Across America 1998 Tour. Most recently, the band contributed tracks to a UK vinyl/CD tribute to the Redskins and collaborated on a track with Italian novelist Enrico Remmert.
He's produced three installments of the "OMCD" series of local music compilations for OnMilwaukee.com and in 2007 produced a CD of Italian music and poetry.
In 2005, he was awarded the City of Asti's (Italy) Journalism Prize for his work focusing on that area. He has also won awards from the Milwaukee Press Club.
He can be heard weekly on 88Nine Radio Milwaukee talking about his "Urban Spelunking" series of stories.