Editor's Note: Sponsored content is paid third-party advertising content. OnMilwaukee's newsroom does not write or edit this content.
For this month's article, we'd like to revisit ACTS Housing and one of the winners of the #milwaukeemeanshome contest.
To recap, last October, OnMilwaukee, Steinhafels and ACTS Housing partnered up to offer a contest that invited people to take a photo of what "home" means to them and put it on Instagram with the hashtag #milwaukeemeanshome. Three winners were selected, and for each of those winners, an ACTS Housing homeowner was also chosen. The prize – a $500 Steinhafels gift card!
We decided to profile one of those homeowners, as she transforms her new house in Milwaukee's central city into the home of her family's dreams. Ondina Andino bought the majestic home through ACTS Housing. As you can see, it's beautiful – with intricate details that you just don't see in homes anymore.
However, the years have been rough on the house – a scene all too common in this part of the city. The home was a foreclosure and needs some significant TLC. Ondina says she is up to the challenge! Luckily, she owns her own home repair company, Sunny Home Improvement, LLC. Her contractors are working to renovate the home in between other projects.
Ondina's story is similar to many of us. She has a family and needed to size-up from her starter home. When the opportunity arose to buy this house through ACTS, she says she couldn't pass it up. "It's exciting, but sometimes it's scary … like all the renovations and the timing."
Ondina took us on a tour through the home and talked about some of the repairs and renovations she plans on making. It's a two-family home, and she does eventually plan to rent out the upper unit. She says she wants to keep the home's traditional feel. "Yeah, that's what I like. So I will not change much, just the color."
Rebecca Stoner and Ramon Guadarrama work for ACTS, and are helping Ondina through the process. For those who don't know about ACTS, Stoner gives an explanation of the organization's all-inclusive services to assist people transition from renting to owning a home. "That includes financial and credit counseling. We're a real estate brokerage, so we have five realtors on staff who can help you find your dream home. We also have a rehab counseling team, Ramon is part of it, that helps you figure out repairs that will have to be done on the home, and how much it's going to cost. The last thing is we also provide mortgages – small mortgages and financing, to help you purchase and repair the house."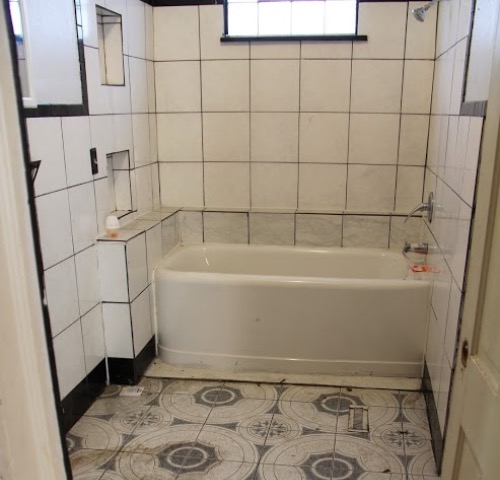 Over the last 23 years, ACTS has worked with more than 2,100 families in Milwaukee! As a rehab counselor with ACTS, Guadarrama helps people like Ondina who have significant improvements to do on their new home before moving in. He says a lot of the families actually enjoy the grunt work of home repair. "What I mean is they want to paint, choose their own colors, buy their own doors and it really becomes a project for a family where they really end up loving the place they're gonna live. It becomes kind of a bonding experience too, and they can really make it a home of their own."
This idea of transforming houses into true "homes" is why Steinhafels is so excited to be partnering with ACTS. As Stoner points out, the missions are very similar. "The connection with Steinhafels makes so much sense, because once you're home and the renovation is done, what is the next thing you think of? You think, 'OK, how can I make this cozy? What furniture can I put in here?' So we're just really happy the missions align, and that Steinhafels is willing to support us and work with us, and we can't wait to do more in the future."
It all comes back to family. As a family-owned, local business since 1934, Steinhafels knows how important the family is to building a strong community and a strong home – the four walls are just one small part of it. Guadarrama says he is happy to see an organization like ACTS thriving in Milwaukee's neighborhoods that need it most. "My point of view is the city, in reality is going to be full of strong families, that's our mission. And at the same time having a strong neighborhood, it will make a strong community."
To see Ondina's face beaming with pride is all you need to understand the true value of home ownership.
Stoner says closing day never gets old for ACTS Housing workers! "Our mission is empowerment through home ownership. So I think the reason I love the ACTS model so much is that it's always a family's home. From the day they purchase it, get key in hand, to the day they put that first floorboard in, it's their home. I think the best part is we're here to support and empower, and not dictate what people should and shouldn't do with their homes. In addition, it really is a spectacular feeling once someone is completely done with the work, and you look back and see what the home was then to what it is now, and it's completely different."
We look forward to watching the transformation of Ondina's home … and revealing the finished product to OnMilwaukee readers.
Check out this GALLERY for more pictures of the house!