For this installment of Steinhafels Decorating Solutions "Before and After" presented by OnMilwaukee, we look at a recent project that shows some great collaboration between designer and clients. The designer/client relationship is so important for achieving success on a redesign. If they are not on the same page, the results could be disastrous.
Devin Bagdassian is an interior designer based at our Corporate Superstore in Waukesha. She says she loved working on this project in Menomonee Falls. "I met with Jane and Geo, and they were such an incredibly kind couple to work with. Both of them were so easygoing, fun and open to new ideas. I loved that they wanted a room that was comfortable, tranquil and kid-friendly."
This project is a great example of utilizing the fireplace as a focal point! Devin explains: "There was a lot of wood around the fireplace, and I thought by lightening up the fireplace with stone, it would look stunning. I wanted the room to be beautiful from all angles, and when people walked in, they felt comfortable. The stacked stone has multiple shades of white with flecks of shimmer – it's absolutely gorgeous. When the lanterns are lit, the light dances off the stone!"
Before
After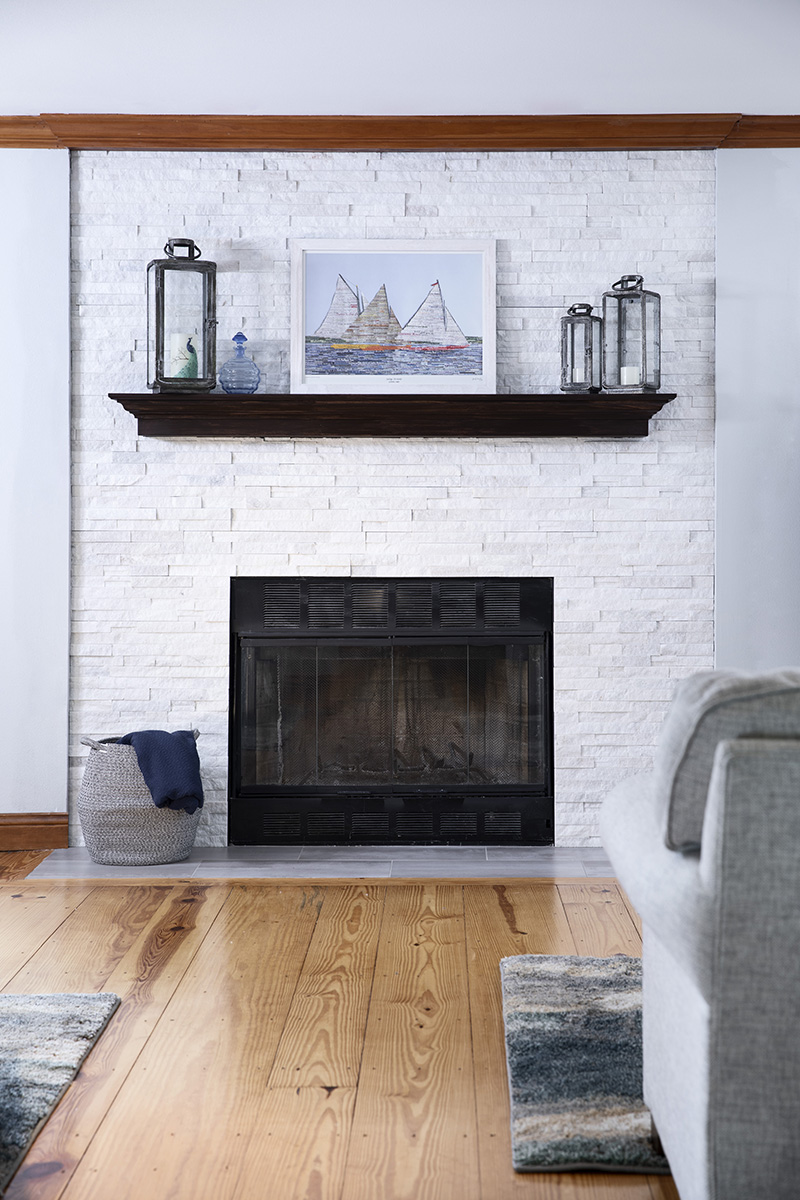 Jane, the homeowner, says the fireplace was one of the main reasons they hired a designer.
"We knew we didn't like the current design, but didn't know how to achieve the look we wanted in a new design. Devin actually picked a few stone options that she thought complimented both the style of the room and our kitchen countertop, which is also white stone and has a little sparkle to it."
Devin adds that the open layout of the home also created some challenges, but also provided design inspiration.
"The kitchen, dining and living rooms are all connected and open. I wanted to create cohesiveness between the rooms so they flowed," she explains. "The colors in the kitchen and dining room were teal and gray, so we added more sea colors. We used a grey for the base fabric of the sectional, and brought in color through accessories, artwork, rugs and pillows to tie everything together. The clients had artwork of sailboats on the mantel – this was great inspiration for me to create a beachy feel for the rooms."
Let's take a look a closer look at the results!
This sectional is one of Jane's favorite parts of the room.
"We love the sectional. We didn't know if we could have one with our unique space, but we really wanted one. Devin was able to find a custom-order piece that worked for us and fit our needs. We also love that we have enough seating for our whole family, but also enough open space for our kids to play."
Devin adds, "Working together we were able to pick a sectional, and a size and location to place it in their room that would still create open flow to both rooms. If Jane and Geo entertain, there is a good amount of seating and a few different places to enjoy great conversation. The vendor of the sectional is King Hickory, and they have lots of options offered to customize each piece to the liking of the client. We picked pillows for the sectional that would compliment all the other items in the room, and to add color to the grey base fabric of the sectional.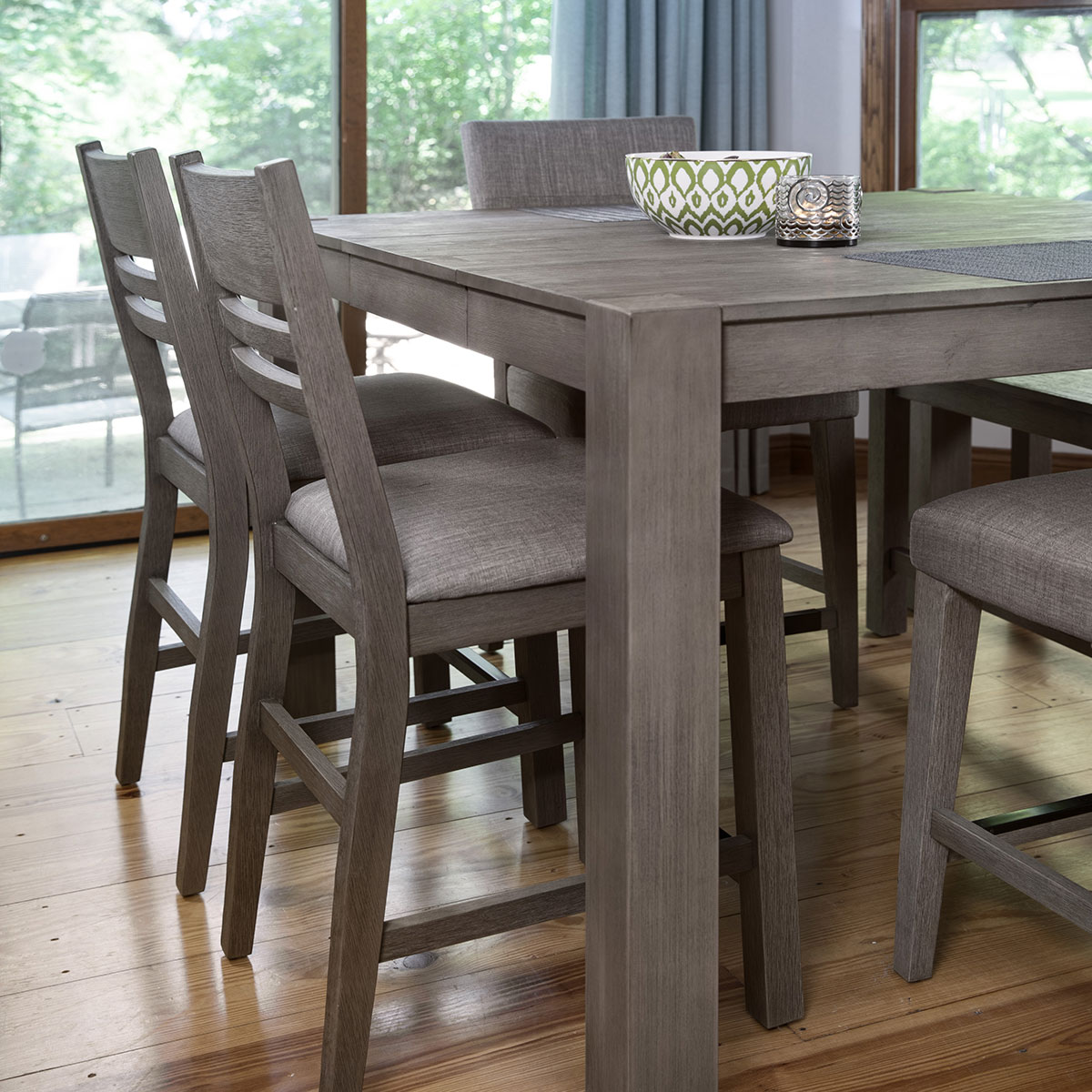 At the end of the day, Jane and Geo were looking for help making their home more stylish and practical. Jane says working with Devin and Decorating Solutions made the process easy, which was key for her busy, young family.
"This was our first time working with a designer, and having her walk us through step by step made it easy for us. Devin spent time in our home getting to know our needs and style, and also spent time with us at Steinhafels, walking us through several options. It was great to be able to sit in several different pieces in-store before making a final decision. We also enjoyed getting to know Devin and sharing more about our family with her. She made the experience fun and took all the stress out of it – and stayed within budget!"
Even the family dog Astro looks happy, sitting on her throne – I mean, sectional – with a big grin on her face!