Editor's note: The following sponsored content was provided by Steinhafels.
The holiday weekend is over, but you still have a chance to take advantage of the Memorial Day deals at Steinhafels.
Right now, shoppers can get 40-70% off items across the store, including sofas, sectionals and recliners.
Let's face it: After a long day, all we want to do is go home and sink into our favorite seat. From leather to upholstered, and manual to power recline, we have something for everyone and every budget. However, picking that perfect piece can be overwhelming. Our Sales Associates will take the time to go through every sofa and recliner with you to be sure you find the right fit, but it's good to go in armed with some knowledge about finding the perfect sit!
That's where our Decorating Solutions Interior Designer Marcia Lecheler comes in! Marcia works in our new Crystal Lake Superstore and has years of experience. She wants to make sure her clients not only love the way her designs look, but how they FEEL. Here's some advice she has for selecting a sofa, in her own words.
Marcia's tips for the perfect sit
When selecting your sofa, of course you want it to be comfortable – but how do you determine what makes the difference from piece to piece as you do the sofa hop? Is it soft or firm? Short or deep? Do you want a lot of pillows or none? Unconsciously, your brain is silently asking these questions until you find the one that is "just right." Outside this Goldilocks story, there is more to it, and when you know the inside scoop, you can choose the one that is best suited for you.
Seat height and seat depth are very important, and often is what determines the "right fit" for someone to be comfortable. Ideally, when you sit on a sofa, you want your feet to be comfortably on the floor. By doing this, your back will be more relaxed as you sit, and you avoid stress points that cause fatigue, which ultimately causes you to fidget to find a comfortable position.
Generally, manufacturers keep seat height within a small range from 18-21 inches. Interestingly, even new "comfort height" toilets are made ergonomically correct within this same range!
When it comes to sofas, for depth, what makes seat depth shorter or deeper is the style of cushion. There are basically two types: a "Box" cushion and a "T" cushion. A short depth will always have a box cushion which is even with the front face of the arm and stays within the arms. Box cushions offer more options to flip them, extending the life of the cushion. Shorter people gravitate to box cushions sofas, because they allow their feet to be on the floor.
Your deeper sofas will have the "T" cushion, an extension that goes in front of the sofa arm, therefore increasing the overall depth of the sofa seat but offering less options for flipping. Often sofas with "T" cushions will come with more toss pillows.
Other considerations: Contemporary sofas may have a bolster pillow inside the arms, and these can be a very deep seat breaking the "Box" versus "T" cushion rule.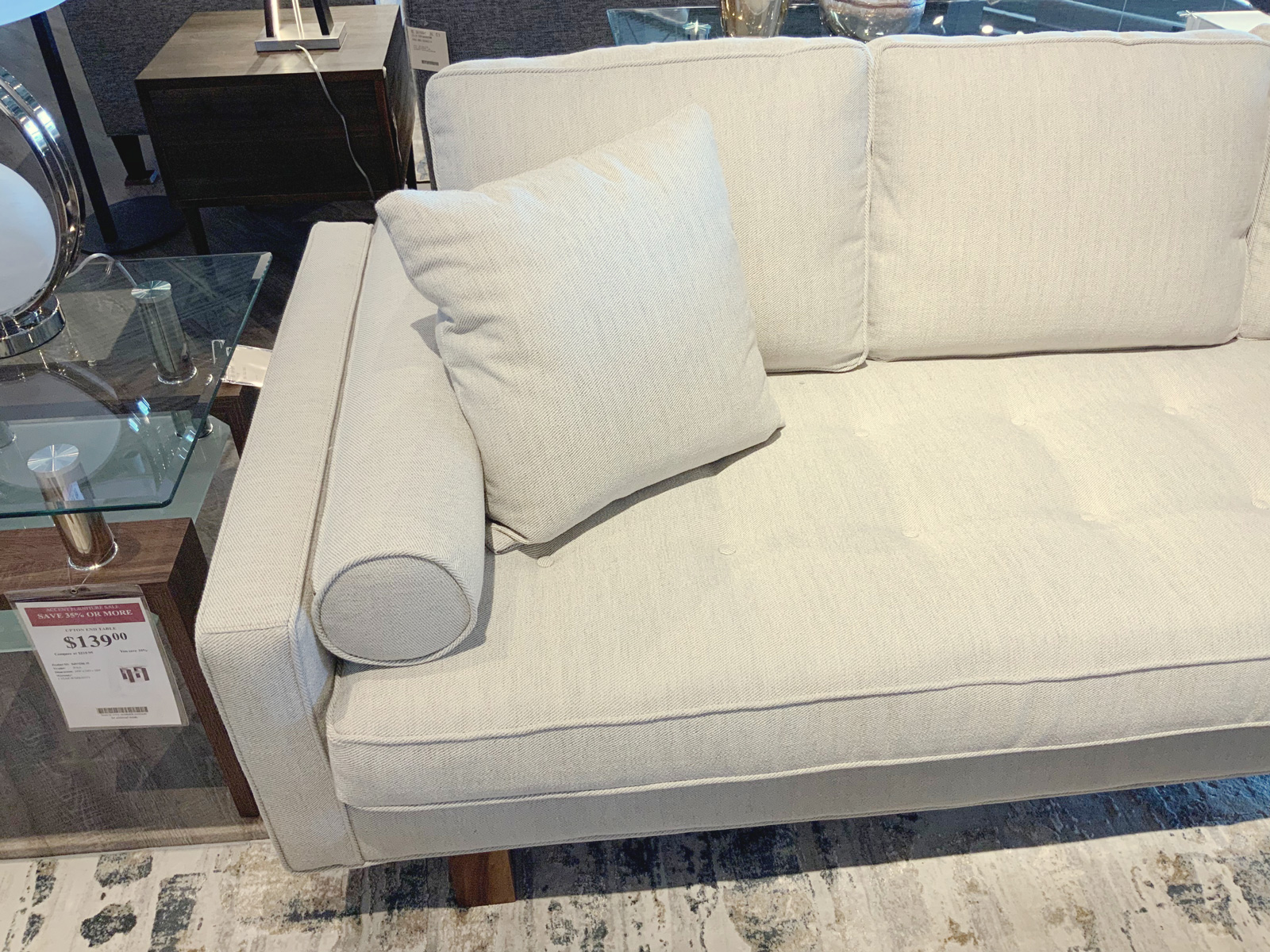 Finally, there is the tight back sofa where back cushions are removed and the back of the sofa has a tight structured back. These sofas have a short seat depth and are a more firm sit overall. They are less plush, and provide more support making it easier for someone to stand up – and why they are favored by elderly people or people with physical limitations.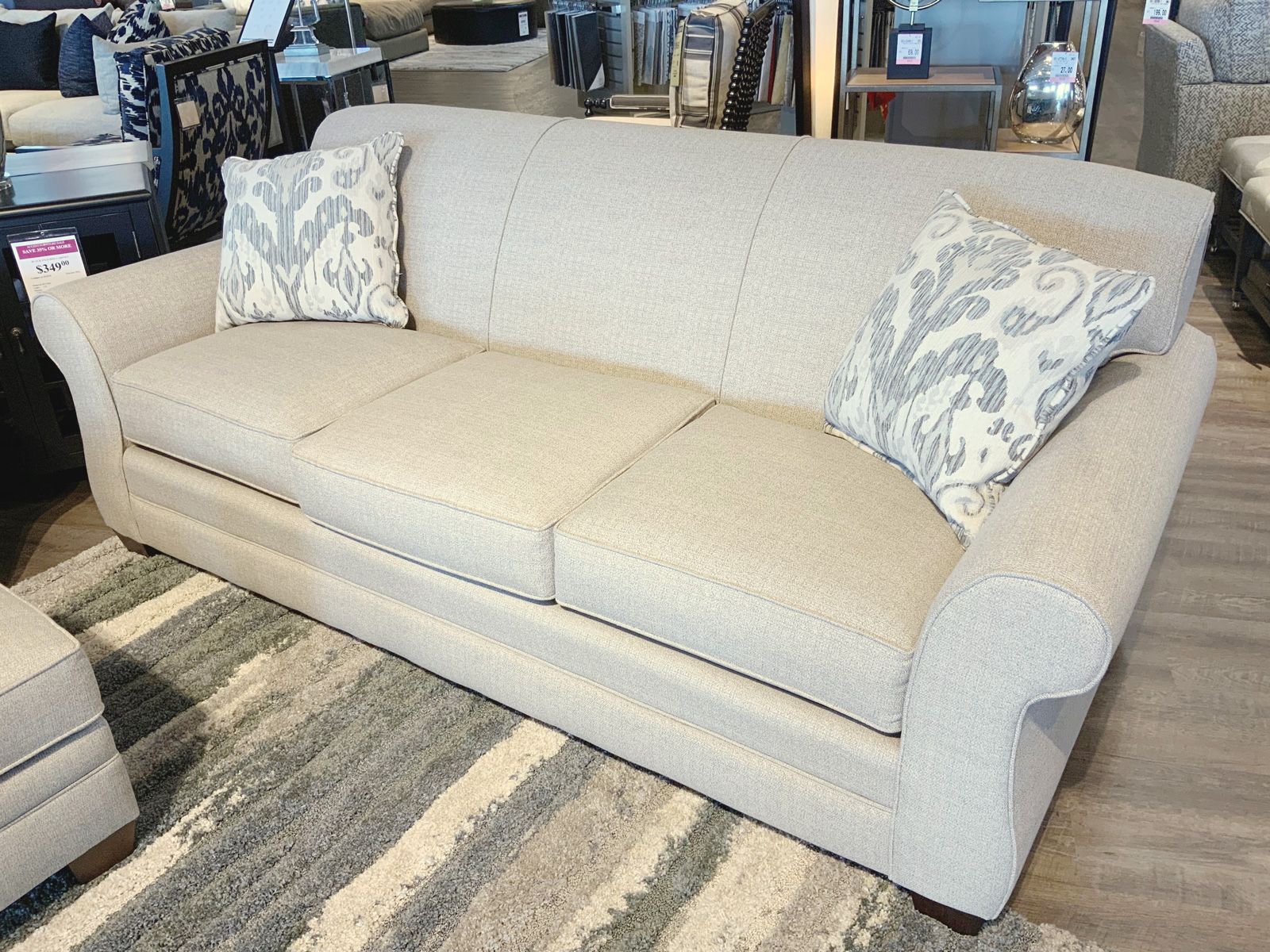 So as you are considering your next sofa purchase, try to keep these pointers in mind so you can choose the sofa that is "just right" for you.