Editor's note: The following sponsored content was provided by Steinhafels.
With our busy schedules and hectic lives, sleep is more important than ever. It's also crucial that those hours spent in bed are efficient. Even if you fall asleep quickly, do you actually STAY asleep?
A major component in getting proper sleep is investing in the proper sleep system: the mattress, pillow and base that are perfect for you.
Now at Steinhafels, thanks to pressure mapping technology, you can Discover Your Sleep System in just a few minutes. OnMilwaukee's editorial director Carolynn Buser came by our Greenfield store to check it out. Sleep Specialist and Decorating Solutions Interior Designer Caitlin Jahns took her through the process.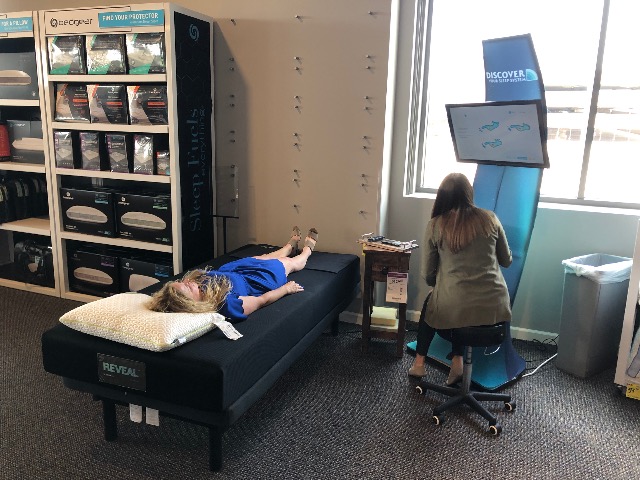 "We're gonna figure out our perfect mattress to figure out exactly how we can sleep through the entire night, get a better night's sleep and have a more energetic day the next day," Caitlin exclaims.
Any of our Sleep Specialists at our Waukesha or Greenfield stores can walk you through the process, and help you find a mattress that will help you sleep better and fit your body's unique needs. The goal is for a mattress to relieve pressure and give our customers proper spinal alignment.
Check out Carolynn's test!
Discover Your Sleep System was developed by XSensor, a leading company in pressure imaging. For the first time ever you will SEE on a computer screen what you FEEL. Our kiosk makes finding your perfect mattress quick and easy. You lie down on the kiosk and get "pressure mapped." Using a scientific approach, it will match you with the ideal bedding options we carry.
Carolynn likes that the process is science-based. "It zeros in on what your body needs. I think most people when they come in to pick out a mattress, it's somewhat anecdotal, just what feels good to them or what they perceive to be the best for them. I like that you are actually taking a look at their pressure point and give them some scientific background about why this is good for you."
LeeJean Williams is our Mattress Buyer. She has been working tirelessly to get these kiosks up and running, and is so excited we can offer this to our customers. "It will narrow down the assortment and actually reduce the amount of time it takes to select a mattress. I'm excited for customers to see what a proper mattress can do! Thirty-percent of our lives are spent in our beds. Getting a good night's sleep is so important to living a healthy life. And it's not just about the mattress; it's about the entire sleep system – mattress, pillows, foundation. I'm just excited for our customers to experience the true meaning of a good night's sleep."
You can check out all of Steinhafels furniture online – or just go to your local Steinhafels Superstore or mattress store, and one of their skilled sales people will be happy to help you select your perfect mattress!