Editor's note: The following sponsored content was provided by Steinhafels.
As our lives become busier and more tied to technology than ever, the hours we spend in our beds at night recovering from the day are more precious than ever. Don't waste those hours on a mattress that makes you feel even worse in the morning!
At Steinhafels, we're constantly working with our mattress vendors (Tempur-Pedic, Sealy, Beautyrest, Stearns and Foster, and our factory-direct line Dreams) to make sure we are offering our customers the newest technology in mattresses at a competitive price.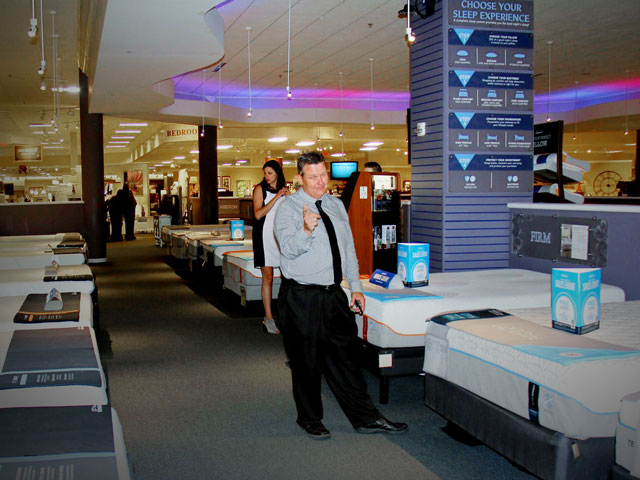 LeeJean "LJ" Williams is our mattress buyer. She's excited to be rolling out a new line of Tempur-Pedic Proadapt mattresses. She says, "Reaction has been very strong, and I encourage everyone to get out and lay on the brand new Tempurs."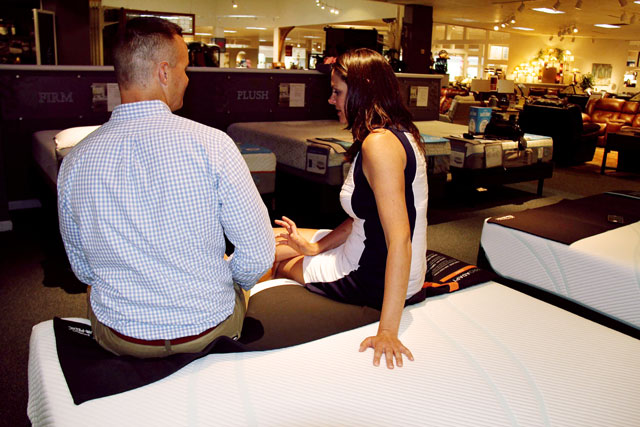 Well, that's exactly what we did! As you can see in this video, our Steinhafels on-site chiropractor, Dr. Brad Fritz, tested out the new Proadapt mattresses and talked about which mattress feels are best for various sleep styles.
Let's take a closer look at our mattress's role in obtaining optimal wellness. As mentioned before, Dr. Brad Fritz is the on-site chiropractor at Steinhafels. Dr. Fritz is with the Chiropractic Company in Oconomowoc and was nice enough to offer his expertise on this important subject.
Tell us about your job, and how you got involved with Steinhafels.
It's my job to assess patients, and remove stress from their nervous systems as gently and efficiently as possible by restoring alignment and mobility to the spine and joints throughout the rest of the body. It's important that we educate our patients on ergonomics, nutrition and overall health to make sure their condition is resolved and they maintain wellness. Dr. Gerondale at our Glendale location has treated multiple employees of the Waukesha Steinhafels, and our two companies have similar values toward health and wellness, and formed a mutually beneficial agreement to take care of and educate the Steinhafels employees in all departments.
Why did you want to become a chiropractor?
I've always wanted to be in the healthcare industry and wanted to help people, and the Chiropractic field aligned with my ideals on how to help my friends and family, and I love sharing it with all my patients too.
Do you like working at Steinhafels, directly with the workers?
Absolutely! Everyone is friendly, enjoys their jobs and is very easy to talk to. Steinhafels takes great care of their employees – with great benefits like chiro, an MD, massage, and the gym to maintain healthy and active lifestyles.
How important is it for folks to get a good night's sleep? How does it tie into whole body wellness?
Sleep is different for everyone, but it's important for recovery and healing from our stressful lives. Everyone is under stress, and a good night's sleep is essential for managing stress. Too much stress leads to disease, and the right mattress for your back will make all the difference.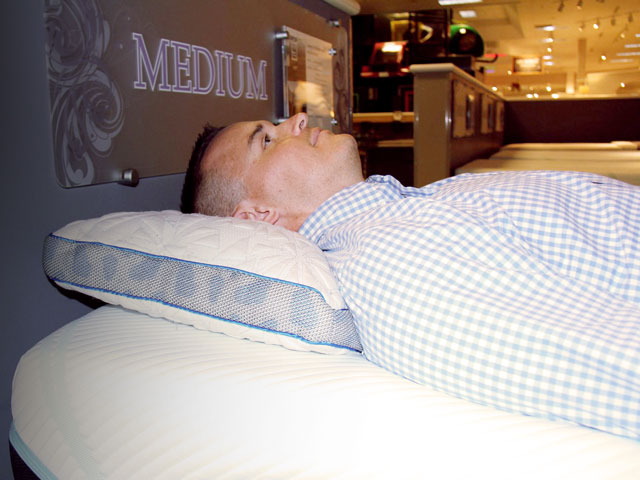 As a chiropractor, do you find that overall people don't sleep properly?
Sleeping position is key because it can either add to your daily stress, or ease the stress and help the body heal/recover. Joint flexion will stress the joints, muscles and tissues of the body, and cause morning aches and pains. A mattress with proper support for the curvatures of the spine will keep the body in a neutral position and keep stress off the body.
What's the ideal sleep position?
On your back with your arms and legs straight, palms facing the ceiling.
What's the ideal mattress? Does it vary for everyone?
Firm enough to support your neck and back – all spines are different. I recommend people try as many mattresses as possible to find what fits their back, which is why Steinhafels is a great place to look.
What's your overall impression of the mattress selection at Steinhafels?
There are great options for all bodies from pillow-top with firm support underneath, to Tempur-Pedic, which is form fitting to support the neck and back.
How about adjustable bases? Are they good for the back/body? Is there a certain way to use them best?
Adjustable bases are great for readers in bed, people with ailments that need to focus on circulation and people who snore to help open the airway. Those are just a few ways adjustable bases can help.
How about pillows – any tips there?
Again everyone is different, but the key is to support the neck and the natural cervical curvature, whether lying on your back or on your side.
What's YOUR favorite type of mattress?
Firmer the better. I prefer sleeping on my back with a light to medium density pillow tucked under my shoulders and behind my neck, but I can also fluff it up if I turn onto my side. Studies show that you most likely switch sleeping positions about eight to twelve times per night, so having a versatile pillow is a plus, or different pillows to interchange as you move.
Wow — that's a lot of great information! We know choosing a mattress can be overwhelming. That's why all of the associates at our Steinhafels Superstores and mattress stores are highly trained and knowledgeable about every mattress we carry. Come check us out, and lay on a few mattresses. After all, where else can you go and lay down in the middle of the day, without anyone judging you?