The Green Bay Packers may be missing the playoffs for the first time in eight years, but that's no reason to be a Vikings-loving Grinch over the holidays.
'Tis the season to be jolly, of course. But 'tis also the season of the Packers and the Bucks, the Badgers, Golden Eagles and Panthers basketball teams, the Admirals, the Wave and even the Brewers' (off)season.
'Tis the season to give and receive, and since there's undoubtedly at least one sports fan on your gift list, here's a guide to what you should get them this year to help them Christmas-cheer for their favorite local teams.
So, since you can't go back and time to give Aaron Rodgers a healthy new collarbone, here are some other gift ideas for the sports lover on your list:
Green Bay Packers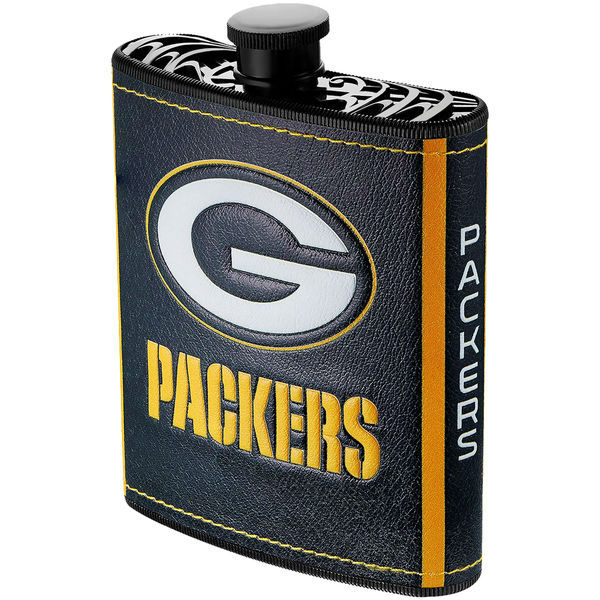 What better way to forget about this disappointing, playoff-less season – and take the edge off of watching Case Keenum and the Minnesota Vikings win the NFC North division – than with a little booze? This 7oz, leather-wrapped hip flask comes with a mini funnel for easy refills, and it features the printed and embossed Packers logo. Also, it's officially licensed and sold on the NFL Shop, though don't try and sneak it in past security at Lambeau. In 2018, you can taste Green Bay victory every time you take a sip.
Are you a 6-foot-3, 255-pound beefcake with long blonde hair, but you just don't have the face to really pull off looking like Clay Matthews? Then this player mask – a high-definition digital image printed on 100 percent polyester mesh material that is fully breathable – is for you. Whether you're a kinda-weird Claymaker super fan or a trick-or-treating kid, you can live out the fantasy of being your favorite linebacker.
Remember when they played football the good old-fashioned way? With heart and hard hits and grit (and concussions) and integrity? Show everyone you're a real Football Guy with this Hornung authentic throwback jersey, constructed of premium nylon mesh and featuring genuine graphics and accents. Be the Golden Boy and complain about the Packers' current running game!
Say goodbye to freezing-cold hands at your Lambeau Field tailgate with this Green Bay Packers drink mitt. Hand-crocheted with double yarn, it's a mitten that's also a drink holder, keeping your hand warm and your beverage cold.
Milwaukee Bucks
Giannis Antetokounmpo plush doll
He's the most lovable player in the NBA, and Milwaukeeans can love him even more with this 10-inch tall, plush Giannis Antetokounmpo doll wearing the Bucks Statement Jersey. Throw him around the room to imitate the Greek Freak's soaring slam dunks.
There's a special Milwaukee ticket package for every fan. Are you a supporter of local music and local business? Then go to a Milwaukee Mondays game, featuring an exclusive T-shirt and area artist performance. Looking to have a good time with friends before you hit the town? Grab a Bucks Night Out package, which offers a ticket, drink voucher, Bucks pint glass and early access to the indoor tailgate. Want to entertain the whole family with a Fear the Deer evening? Take advantage of a Bucks Family Night game that includes four tickets, four sodas and four Usinger's hot dogs. Or, if you want to celebrate the past during this Bucks 50th anniversary season, pick a game that comes with a Legends of the Rafters Bobblehead.
Bango has opened up his locker for select upcoming Bucks games, which will feature a one-of-a-kind item with the ticket. The Feb. 2 game against New York includes a unique Fear The Deer Player T-shirt; the March 2 game vs. Indiana comes with a City Design Uniform Hat; the March 4 contest against Philadelphia includes a Classic Design Uniform Beanie; and the March 17 game vs. the Hawks features a vintage Bucks Stein.
Does your friend who claims to be a "fan" really not have a Jabari jersey yet? Parker is coming back from his ACL injury in February, and he'll need all Bucks fans to have his back – or at least have him on their backs – when he takes the court. This authentic Swingman climacool uniform from Adidas will show Parker, and everyone else, that No. 12 is No. 1 in your heart.
Milwaukee Brewers
"The Last Jedi" is in theaters, and if you know someone who loves both the Brewers and "Star Wars" – besides getting them tickets to the team's Star Wars Night on May 4, 2018 – give them something to wear to the game. The Brewers offer several different "Star Wars" team shirts, Fanatics Branded with vintage printed graphics, including Brewers Empire, Jedi Strong, Join the Alliance and more, in both male and female varieties.
Tailgating is perhaps Miller Park's greatest tradition, especially when it's done right. Give the gift of this 2' x 8' aluminum tailgate table, and you'll probably get to enjoy it – whether for food, drinking games or sitting under in the rain – before a Brewers game next season.
Eric Sogard "Nerd Power" jersey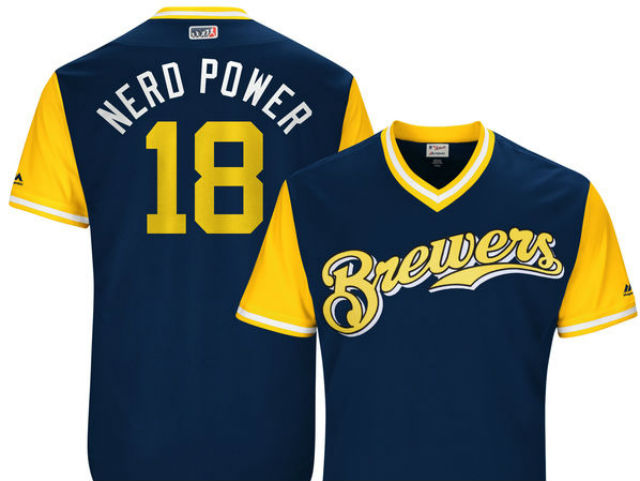 Jocks and geeks alike will love celebrating Sogard, Milwaukee's bespectacled second baseman. This unique Players Weekend authentic jersey from Majestic shows support for both the Brewers and youth baseball and also spreads a positive message to kids.
Sure, fans can wear a Brewers hat and jersey to a game. But the most diehard Brew Crew members should be showing their team colors from head to toe. If you know someone like that, these 100 percent canvas Victory sneakers from Row One with screen-print Brewers graphics are the perfect finishing touch.
Marquette Golden Eagles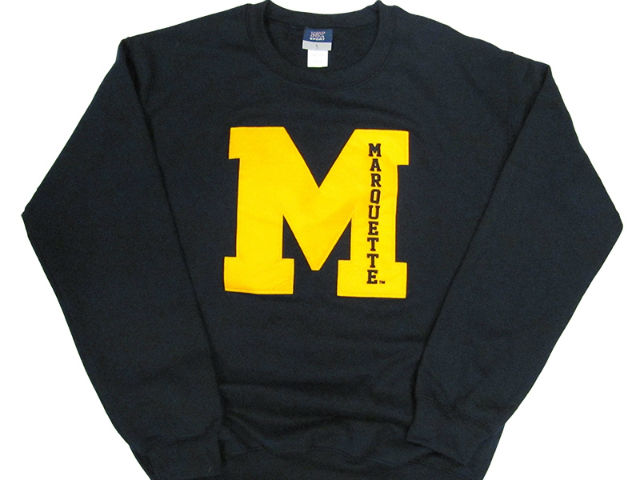 There's nothing more classic-looking than this Marquette sweater. Help the Golden Eagle – or Warrior – alumnus in your life show pride in their 136-year-old university with this "M" letter crew navy sweatshirt.
Honor legendary Marquette head coach Al McGuire with this "Al's Night" long sleeve T-shirt. Wearing it, fans can party like it's 1977, the year Marquette won the NCAA national championship.
Wisconsin Badgers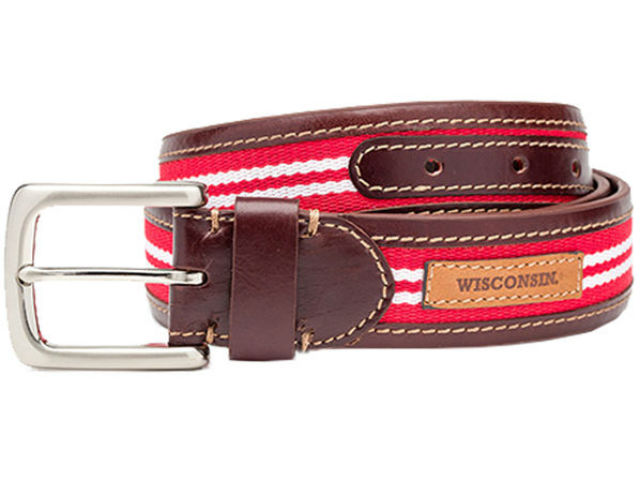 Unless your friend is a student who wears those Wisconsin pinstripe overalls to games, they'll need something to hold up their pants – assuming beers and burgers haven't done the trick. Get that Bucky fan this Badgers tailgate leather belt, and tie their whole outfit together.
What better way for someone to show their school spirit on spring break than with these red Wisconsin floral swim trunks? Answer: no better way. Help the Badgers fan in your life be the vibrantly colored life of the pool or lake party next year.
Milwaukee Panthers
Know a UWM alum whose little girl wants to help cheer for the Panthers? Get them this adorable Wisconsin-Milwaukee toddler loop bow pair; it's never too early to be a fan!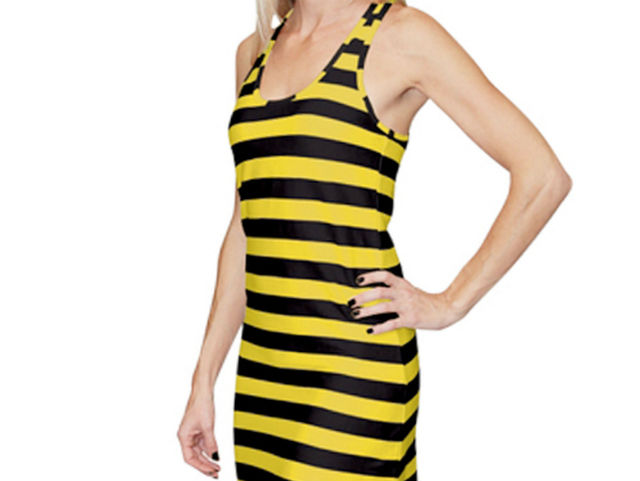 This eye-catching Game Bibs gold and black sundress will let proud Panthers show their colors all summer long. Help bring back the East Side, UWM ladies!
Milwaukee Admirals
The Admirals are the AHL affiliate of the NHL's Nashville Predators, who made it to the Stanley Cup Finals last year, partly thanks to several former Milwaukee players. Rep the Pr
eds while you root for the Ads with this T-shirt: "The Road to Nashville Goes Through Milwaukee."
Milwaukee Wave
The Wave have the sharpest colors and snazziest look of any local team, so get the soccer fan in your life on the bandwagon with their most popular player's jersey. And, after a Milwaukee game, they can even get Bennett to sign it during the Wave's on-field autograph session.
Born in Milwaukee but a product of Shorewood High School (go 'Hounds!) and Northwestern University (go 'Cats!), Jimmy never knew the schoolboy bliss of cheering for a winning football, basketball or baseball team. So he ditched being a fan in order to cover sports professionally - occasionally objectively, always passionately. He's lived in Chicago, New York and Dallas, but now resides again in his beloved Brew City and is an ardent attacker of the notorious Milwaukee Inferiority Complex.
After interning at print publications like Birds and Blooms (official motto: "America's #1 backyard birding and gardening magazine!"), Sports Illustrated (unofficial motto: "Subscribe and save up to 90% off the cover price!") and The Dallas Morning News (a newspaper!), Jimmy worked for web outlets like CBSSports.com, where he was a Packers beat reporter, and FOX Sports Wisconsin, where he managed digital content. He's a proponent and frequent user of em dashes, parenthetical asides, descriptive appositives and, really, anything that makes his sentences longer and more needlessly complex.
Jimmy appreciates references to late '90s Brewers and Bucks players and is the curator of the unofficial John Jaha Hall of Fame. He also enjoys running, biking and soccer, but isn't too annoying about them. He writes about sports - both mainstream and unconventional - and non-sports, including history, music, food, art and even golf (just kidding!), and welcomes reader suggestions for off-the-beaten-path story ideas.