All week long we will be featuring holiday recipes, local gift guides and more during "Home for the Holidays Week" brought to you by Sendik's Food Market. Your trusted, local grocer.
'Tis the season to be jolly, of course. But 'tis also the season of the Packers and the Bucks, the Badgers, Golden Eagles and Panthers basketball teams, the Admirals and the Wave, as well as the Brewers' offseason, which is never a more important season than now when they're rebuilding.
'Tis the season to give and receive, and since there's undoubtedly at least one sports fan on your holiday gift list, here's a guide to what you should get them this year to help them root for their favorite local teams.
Presenting the 2016 sports lover gift guide:
Packers
Women's Green Bay Packers Klew Green Big Logo Ugly Sweater Dress: That's quite the mouthful of a name, which is fitting because this is quite the article of clothing. Adorably attention-grabbing, vibrantly in-your-face and made with 100 percent acrylic knit material that is flattering but comfortable and necessarily warm, this Klew ugly sweater dress makes the Lady Packer Fan in your life the life of the party, whether tailgating in the Lambeau parking lot or on the couch at a friend's house. Don't just make a fashion statement; make a fashion exclamation about the team you love. It's a top seller in the NFL Shop and retails for $74.99.
Green Bay Packers MVP Toaster: Breakfast is the most important meal of the day. And for some Wisconsinites, the Packers are the most important thing in their lives. For those people, the ProToast MVP Toaster is a must-have. It's a pebble-grain-finished, football-shaped, two-slice toaster that is adorned with team logos and brands a Green Bay 'G' on every piece of bread. The toaster works on bread, waffles, English muffins and toaster pastries, but you could probably squash a brat bun in there, too. Available at the Packers Pro Shop for $29.96.
Gunslinger: The Remarkable, Improbable, Iconic Life of Brett Favre: This biography paints the fascinating picture of Brett Favre, the man, the player and the character – including all the good, bad and truly human elements that made No. 4 who he was. New York Times bestselling author Jeff Pearlman spoke to more than 500 sources – Favre, himself, declined to be interviewed – for the spellbinding 448-page story. Here's our Q&A with Pearlman, who discussed the book, which is available for $15.99 on Kindle at Amazon for the Green Bay-loving reader you know.
Packers dog jersey: This Packers team has had a turbulent, up-and-down season and, to be honest, any player whose uniform you wanted you probably already have – all the big stars have been on the team for years. Instead, get your pup on the bandwagon with a Packers pet jersey. I have a friend who called her dog Lacy, which made for an easy petwear decision, but if your little muffin isn't named after a Green Bay player, you can always get a generic team jersey. That hopeful, longing look your dog is giving you during every game isn't because it wants all the Buffalo Chicken dip you're eating; it's because s/he wants to be a fan and represent Packer Nation too. At the Packers Pro Shop, these pet mesh jerseys are just $21.95.
Beard Brigade Beard Oil: If your man's face is as hirsute as Packers fullback Aaron Ripkowski, he could use a soothing, moisturizing, conditioning, styling and sheening beard oil. One of the best out there is a Milwaukee-made facial-hair oil called Redbeard's Spice ($14.99), which would be perfect for Ripkowski, from Beard Brigade Co. Or, if your face more closely resembles that of the clean-shaven James Starks, there's Milwaukee Apothecary, another local company that makes men's high-quality grooming and shaving products ranging in price from $4-$20.
Original Cheesehead hat: Who doesn't love the classic, wedge-shaped foam Cheesehead hat? (Ed note: OnMilwaukee senior writer Molly Snyder doesn't.) If nothing else Packers-related gets your green-and-gold blood pumping, this timelessly iconic piece of memorabilia – first conceived in South Milwaukee by Ralph Bruno and now produced by local company Foamation, Inc. – is a solid, dependable and always-appreciated Green Bay fan item, with a pretty interesting history. This year, Foamation relocated its operation from St. Francis to Milwaukee – at 1120 S. Barclay St., near Rockwell Automation – and sells not only its Original Cheesehead hat ($12.50-$19.75, depending on size), but also a range of other cheesy foam products.
Green Bay Packers #4 Brett Favre Face Sweater: Say you know someone who likes Brett Favre and cheesy holiday attire. That's probably a narrow crossover segment, but this is just the thing for that person. The Favre likeness appears to only vaguely resemble the old gunslinger – even in 1996, this face is a stretch – but he's wearing a plush applique Santa hat, and that's fun. The acrylic sweater has been marked down – unsurprisingly – in the Packer Pro Shop from $84.95 to $63.71.
Bucks
Milwaukee Monday game tickets: The Milwaukee Monday promotion is one of the best the Bucks offer. Each event features local entertainment, including a halftime performance, as well as a unique, locally designed Milwaukee Originals Bucks T-shirt. The Bucks also highlight a Milwaukee neighborhood at each Monday home game to share the positive things happening in the community. There are five Milwaukee Monday games remaining; ticket and T-shirt packages are $27 for the upper level and $44 for the lower level and available here.
Thon Maker jersey: Look, of course you can get a Giannis Antetokounmpo or Jabari Parker jersey, and no one will bat an eye. Khris Middleton unis are always good, and jerseys of new fan favorite Matthew Dellavedova are becoming more and more common at the BMO Harris Bradley Center. But if you really want to #OwnTheFuture, like the Bucks, get a Thon Maker jersey. He's a 19-year-old 7-footer with sky-high potential and a captivating, winning personality who should be in Milwaukee for years. If you want to get a Malcolm Brogdon, the Bucks' second-round pick who's been one of the best rookies in the league this season, that's fine too. Replica jerseys are available in the NBA Store for $69.99.
Bucks hat: Seemingly everyone's got one, so if your Bucks friends or family members don't own Bucks headgear, they're missing out. There are plenty to choose from, including throwback logos, the new branding and other unique designs. Most run between $29.99-$39.99 in the Bucks Pro Shop.
Brewers
Orlando Arcia jersey: Under general manager Dealin' David Stearns, the Brewers have made numerous trades and roster moves as they undergo a full-scale organizational rebuild to acquire prospects. In the team's effort to exchange veterans for young, controllable talent, Milwaukee has gotten rid of many of its biggest names. After trading Jonathan Lucroy last year and possibly dealing Ryan Braun this offseason, practically every jersey that's worn to Miller Park for Brewers games will have been rendered outdated and irrelevant. Do yourself a favor: invest in an Orlando Arcia jersey, replicas of which are available on Team Pro Edge for $79.98 (or you can wait a bit until MLB officially releases the authentic Brewers ones). The young shortstop prodigy should be a fixture on Milwaukee's big-league roster for a long time, and this holiday season is your chance to make the Brewers fan on your list a frontrunner.
Season tickets … for 2019: They're not expected to compete for another couple years, but when Stearns and the Brewers are done rebuilding, this could be a really, really good baseball team. Even if you can't buy season tickets that far in advance, give your favorite fan a voucher "Good for Season Tickets When the Brewers are Contenders Again." They'll thank you in a few years, when Milwaukee is hosting World Series games at Miller Park.
Bernie Brewer Beer Slide Shirt: Too Much Metal for One Hand makes some of the raddest T-shirts and apparel in the city. This one, featuring the tag line "Milrockee" and a Bernie Brewer-mustachioed beer barrel, is one of our favorite sports shirts. Home runs and beer, that's what Milrockee does! Ladies shirts are available, too, priced at $18, from Too Much Metal.
Badgers
Weber Q 1200 University of Wisconsin Grill: What's more Wisconsin than tailgating? Hook up your Bucky fans so they can grill with Badger pride. Combining portability – crucial for tailgate transportation – and big grill performance, the large capacity, porcelain-enameled, cast-iron cooking grates will cook up anything you want, including brats, burgers, steaks, Gophers, Hawkeyes, Wolverines and more. It's available at the Weber Store for $299.99.
Badgers Helmet Bottle Stopper: OK, look, when you think Wisconsin, you don't normally think about wine and burgundy; better options are usually Ale Asylum, Karben4, Wisconsin Brewing Co. or Titletown. But for that fancy-drinking Badger fan who insists on pairing wine and cheese, this helmet bottle stopper, which costs $19.99 on Fans Edge, is a thing you could get.
Marquette
Hillflint cotton team sweater: Few schools romanticize their sports past more than Marquette – especially the halcyon Al McGuire-led National Championship year – and nothing hits the nostalgia button better than a vintage, throwback sweater. The Golden Eagles were the Warriors in the era these sweaters are paying homage to, so you won't find a nickname on them, but they're undeniably cool. Ugly sweaters have had their day in the sun anyway; give the Marquette booster – especially if it's your dad or grandfather – a high-quality sweater they'll actually want to wear. The simple Heritage version is $85, while the Tailgating Sweater and Crewneck Stadium Sweater are each $89.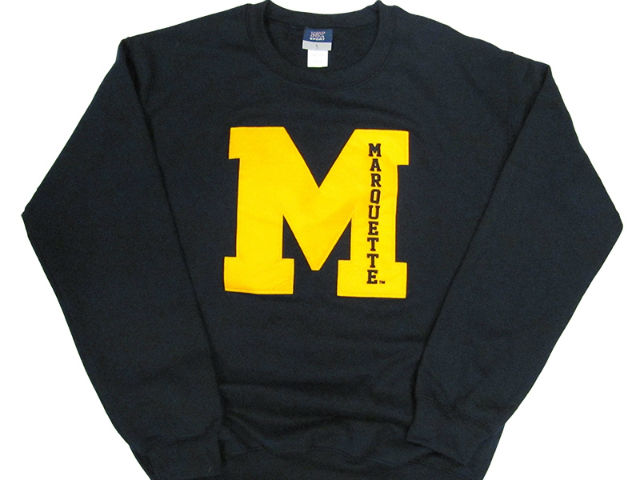 Milwaukee Home Marquette shirt: For someone in the younger, Golden Eagles-identifying generation, this Milwaukee Home Marquette edition T-shirt is a great choice. It's soft, smooth, 100 percent cotton and, thanks to Milwaukee Home's iconic, simple and hugely popular design, it's a great look on alums at the BMO Harris Bradley Center and students watching at Caff's, available here for $29.99.
Panthers
Milwaukee Home Panthers shirt: Ditto the above for UW-Milwaukee, the city's proud Wisconsin system school. Doesn't get any more local than repping Milwaukee Home and UWM. Available here for $29.99.
'Milwaukee Wordmark Engraved' Executive Wood Clock and Pen Stand: You don't have to be a big-money benefactor like Sheldon B. Lubar to show school pride in a lavish way. This high-gloss, wood-finished desk set is a timeless classic with a laser-engraved Milwaukee logo, as well as gold-plated double ink pens that frame the intricately crafted Roman numeral faced clock. Maybe you do have to be Sheldon Lubar actually; retails for $119.98 at Panthers Gear, where there are lots of other excellent, more affordable ways to support UW-Milwaukee.
Admirals
Team gear: The Admirals may not be the biggest ticket in town, but their logo/branding has been recognized as among the best in all of sports and they're apparel is pretty awesome. This light blue alternate replica third jersey is pretty dope and very deserving of its big price tag ($125); this pullover hooded sweatshirt with the Ads jersey crest and inset sleeve stripes ($80) is sleek and practical for a mid-winter home game at the UW-Milwaukee Panther Arena; and this knit Admirals logo hat with fluffy pom ($25) would make a great stocking-stuffer.
Hockey puck chillers: Got a hockey fan you've gotta buy for who doesn't care about the Admirals? Well that's a shame, because they may be AHL, but they're what we've got, so go support them. Anyway, one of the best ways to stay warm during a chilly winter night is to watch hockey and drink whiskey. These hockey-themed stone "pucks," which costs $14.95 on Uncommon Goods, will keep your spirit cold without diluting the beverage.
Soccer
Wave gear: With their recently rebranded, electrically vibrant colors – neon yellow, light blue and black – the indoor Wave always look good during their fast-paced, high-scoring and exciting games at the UW-Milwaukee Panther Arena. You can look good too, with comfy sweatshirts, sharp T-shirts and replica jerseys at the team's MASL store, ranging from $20 to $80. Everyone's got Packers, Bucks and Brewers swag; be a soccer hipster and get some Wave merchandise.
Torrent gear: For the outdoor Torrent, the city's newest sports team that launched last year, our best bets are their custom, Nomad-sponsored jerseys and team scarfs, featuring the club's hydro-themed light and dark blue with black trim. You can also get a $3 Torrent Stress Ball in the team's store, which you wouldn't have needed last year when they went 6-0 in the NPSL and easily won the Midwest Central Conference.
Tickets: Both the Wave and Torrent need your support and both teams offer affordable, high-value, family-friendly fun. The Wave's three-pack game ticket packages are practically unbeatable when it comes to spending your local entertainment dollar, while the Torrent's season tickets are well worth their price, especially as they move to Tosa's Hart Park next season. Both organizations offer individual, season and group tickets.
Bandwagon
Cubs World Series shirt: Of all the awful Chicago Cubs World Series Champions shirts that have frantically been made since they Lovable Losers won it all, this one is the most tolerable. The shirt is $24.80 on Red Bubble. It reminds Cubs fans that their success and happiness is fleeting and will soon pass and that, ultimately, the only inevitability left in life – now that Chicago has triumphed in the World Series – is the icy grip of death.
Golf
Toilet Golf: For the man who never wants to leave the golf course, this Moonmini Potty Putter Set will let him practice his short game even when he's doing his business. With this bathroom putting set, which the manufacturer describes as a "hilarious, whimsical, nostalgic mini golf game" that's easy and quick to set up, no time that could be spent on the green is wasted on the throne. It's $15.96 on Amazon and, obviously, is still in stock.
Born in Milwaukee but a product of Shorewood High School (go 'Hounds!) and Northwestern University (go 'Cats!), Jimmy never knew the schoolboy bliss of cheering for a winning football, basketball or baseball team. So he ditched being a fan in order to cover sports professionally - occasionally objectively, always passionately. He's lived in Chicago, New York and Dallas, but now resides again in his beloved Brew City and is an ardent attacker of the notorious Milwaukee Inferiority Complex.
After interning at print publications like Birds and Blooms (official motto: "America's #1 backyard birding and gardening magazine!"), Sports Illustrated (unofficial motto: "Subscribe and save up to 90% off the cover price!") and The Dallas Morning News (a newspaper!), Jimmy worked for web outlets like CBSSports.com, where he was a Packers beat reporter, and FOX Sports Wisconsin, where he managed digital content. He's a proponent and frequent user of em dashes, parenthetical asides, descriptive appositives and, really, anything that makes his sentences longer and more needlessly complex.
Jimmy appreciates references to late '90s Brewers and Bucks players and is the curator of the unofficial John Jaha Hall of Fame. He also enjoys running, biking and soccer, but isn't too annoying about them. He writes about sports - both mainstream and unconventional - and non-sports, including history, music, food, art and even golf (just kidding!), and welcomes reader suggestions for off-the-beaten-path story ideas.