A Brewers player who could consistently hit. A healthy thumb for Aaron Rodgers. A new Packers defensive coordinator. A time machine to undo the Josh Hader trade. Sconnie sports fans have a lot on their wish lists this holiday season. But while unfortunately you can't do much about any of those – though congrats to whoever asked for a new Badgers football coach! – you can at least get the Milwaukee sports fanatic in your life one of these awesome present ideas that are definitely worth cheering about. Here are about a dozen sports gifts that'll make you the Giannis of the household this holiday season.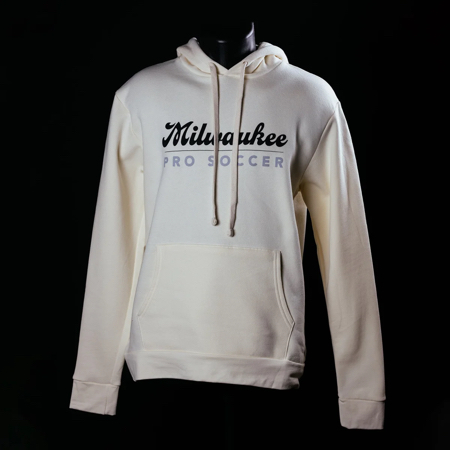 Brew City's new pro soccer team – much less its name – has yet to arrive, but their gear already has. And it's pretty awesome. Milwaukee Pro Soccer, the organization behind the upcoming squad, has a team store filled with slick merch repping the future of footie in the city. My personal standout pick is the cream-colored hoodie ($60), but all of the gear is cool – and, best of all, a merchandise purchase automatically counts toward a season ticket deposit and locks in a place in line for first access to season tickets when the team finally takes the field. Now that's forward-thinking fashion.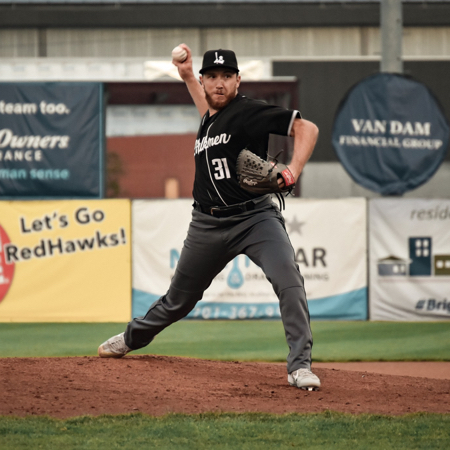 Tickets for the Savannah Bananas' big visit to the Milkmen's stadium won't be on sale for another several months – but why not get tickets to some actual Milkmen game instead?! ($15 a game in a five-game mini-plan) The on-field product is big-league quality – especially with the Milkmen, who made it all the way to the league finals last season – and as for the rest of the entertainment, while there may not be players dancing on stilts mid-game, the Milkmen throw a great, hilarious and family-friendly party even without the Savannah Bananas' help.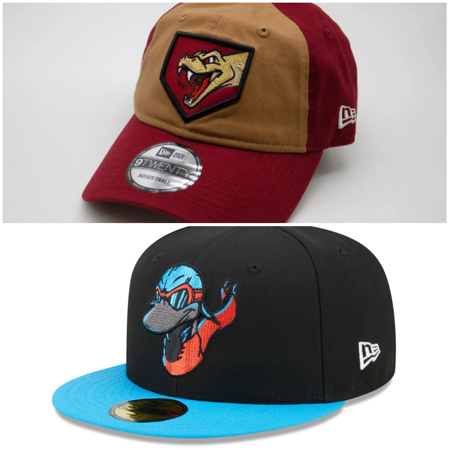 Minor league baseball teams are no strangers to the occasional rebrand – take, for instance, the Wisconsin Timber Rattlers aka the Wisconsin Brats aka the Wisconsin Udder Tuggers. But both the Appleton-based minor league team and the Beloit Sky Carp are getting particularly marvelous new 'dos (emphasis on the "Marvel") this upcoming season thanks to a league-wide collaboration between MiLB and Marvel, with the latter creating fresh comic-inspired looks for special games in 2023. Some of them aren't great (poor Oklahoma City Dodgers) but both Beloit and Wisconsin's Marvel-styled updates are pretty nifty – and are available on now on on-field caps ($44) and t-shirts ($34) worthy of a "POW!" or "BLAMMO!"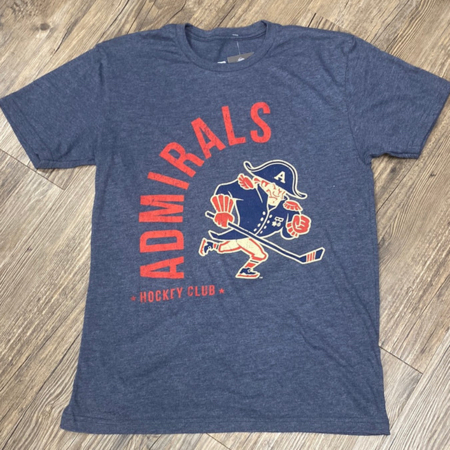 The local hockey team has a bunch of nifty gear in its shop, from replica jerseys to collectible pucks and even an Admirals cribbage board. But why not cheer on the present while wearing a blast from the (non-existent) past with this very cool Admirals t-shirt ($30), repping their faux throwback logo. The fake old-school look was just born last year – but like its fridge and Fish Fry alternates, the "historic" design is so well done that you could easily be convinced it's the real retro deal, born during the Ads' earliest days playing on frozen Lake Michigan.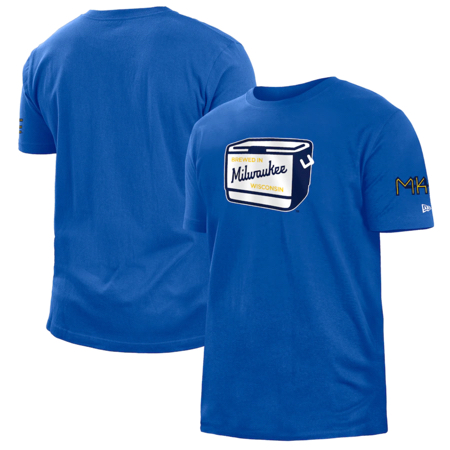 Fans' opinions on the Crew's City Connect alternate look are all over the place – but one thing everyone can agree on is that the grill and cooler logos, paying tribute to Milwaukee's outstanding tailgating culture, are a home run. There's still some smalls of the grill shirts remaining on the Brewers' website, but for everyone else, there's plenty of these slick cooler t-shirts ($35) that are indeed quite cool.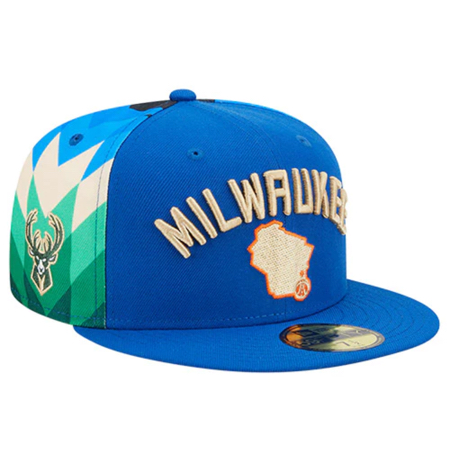 After a polarizing attempt at blue a few years ago, the Bucks got it right the second time with their new blue-forward City Edition look for 2022-23 – especially with the beautiful patchwork mural Irish rainbow paneling on the sides. And it even looks great in hat form, available in both fitted ($50) and adjustible ($40) variations. I'm normally not one for a busy hat with design elements cluttering the crown – and for those who agree, there's plenty of other options in the team's new City Edition collection – but between the crisp blue color, cool front logo and the gorgeous patchwork striping on the sides, much like Giannis, this one's a winner.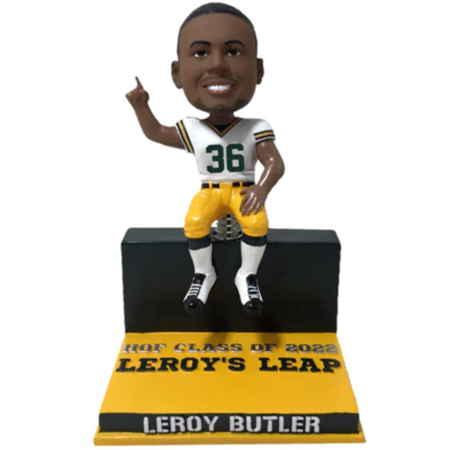 The legendary Packers safety finally got his golden jacket from the NFL Hall of Fame this year – so why not get the golden jacket of bobbleheads to honor this moment and this man? The National Bobblehead Hall of Fame Museum right here in Milwaukee has created this special commemorative collectable for LeRoy Butler ($36), paying tribute to his leap into the Hall of Fame as well as his iconic leap into Lambeau's stands that still lives on today. The Pack won't be hoisting any trophies this year – but at least your favorite Packers fan can hoist this!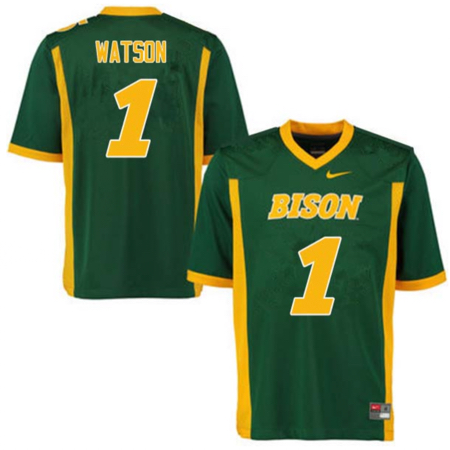 Any Green Bay fan can get a Packers jersey of speed-demon rookie phenom Christian Watson. A TRUE Green Bay fan, however, gets a Christian Watson jersey from his days at North Dakota State University ($89.99). It's a deep-cut Packers reference that'll impress even the most hardcore cheeseheads – plus NDSU's colors just happened to be green and gold, so you'll still blend right in with a Lambeau-loving crowd.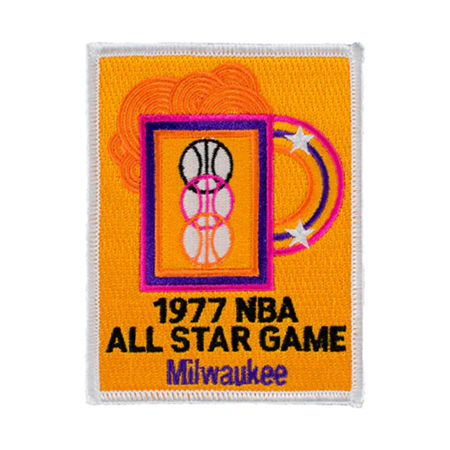 Looking for a slam dunk stocking stuffer for the Giannis fan in your life? Check out this embroidered patch ($15) from the Milwaukee-hosted 1977 NBA All-Star game. Cheers to this terrific throwback item, cheers to the NBA hopefully giving Brew City the All-Star game showcase again some year soon and cheers to the Bucks bringing this awesome old-school logo back when they do.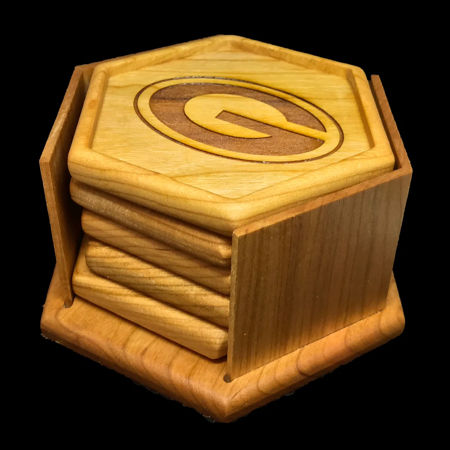 Thanks to the Packers, Bucks and Badgers, this past Wisconsin sports year has required more drinking than usual – but that doesn't mean there needs to be more rings on your tables too! Check out these beautifully crafted Sconnie sports drink coasters ($50), showcasing a number of local squads including the Bucks, Admirals and more. They're so impressive that even an Illinois fan in the comments raved about them!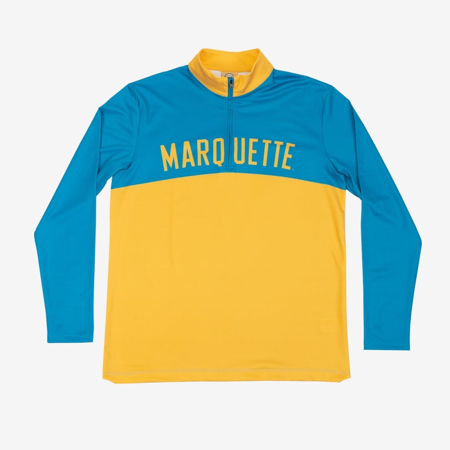 Starting this current season 8-3 – complete with no bad losses and a win over Baylor – Golden Eagles fans don't have to stay stuck living in their accomplished past. That being said ... that past dressed damn well, and you can too with this slick retro shooting shirt ($80). And if that's a little rich for your Christmas budget this season, there's also this equally nifty retro t-shirt ($34) from Homefield that brings back the program cover font from the '80s.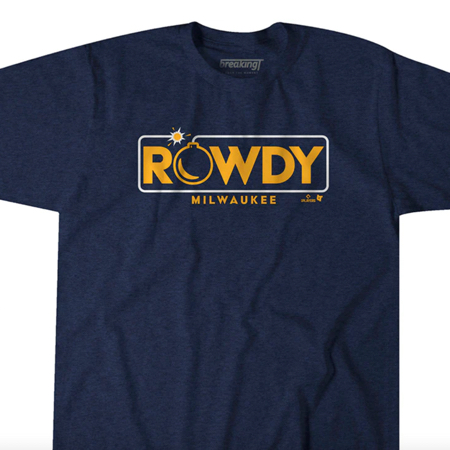 The fashionable folks at Breaking T are always on top of the latest Sconnie sports stories, with past tendy t-shirts shouting out "Relax Roxane," "Let Hernan Pitch," Craigtember and Aaron Rodgers meme-friendly face after a big hit. One favorite – and one that's still on-trend – is this wearable tribute to the Brew Crew's slugger Rowdy Tellez ($26). It's a home-run look worthy of the team's leader in home runs last season.
Moran's Pub World Cup gear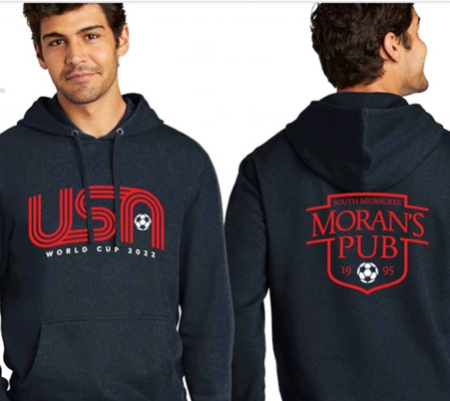 The United States' time in the World Cup may be done, but repping their knockout stage run in this memorably wild global tournament – while also repping a great local soccer bar – will never go out of style. So reach out to Moran's Pub (either by email at jamesmoranwi@gmail.com or by phone at (414) 902-0148) and snag one of these Golden Boot-worthy World Cup items, either in t-shirt ($20), long-sleeve ($30), polo ($30) or zip-up ($45) form. It looks nifty – plus you won't look like a bandwagoner when the World Cup comes back around in four years.
As much as it is a gigantic cliché to say that one has always had a passion for film, Matt Mueller has always had a passion for film. Whether it was bringing in the latest movie reviews for his first grade show-and-tell or writing film reviews for the St. Norbert College Times as a high school student, Matt is way too obsessed with movies for his own good.
When he's not writing about the latest blockbuster or talking much too glowingly about "Piranha 3D," Matt can probably be found watching literally any sport (minus cricket) or working at - get this - a local movie theater. Or watching a movie. Yeah, he's probably watching a movie.