Hope springs eternal. That's a phrase you'll hear every year around this time, and after the Brewers' epic collapse in 2014, the opportunity for rebirth and redemption can not come to soon.
And now it's here.
The Brewers made a few interesting offseason moves this winter, and beginning on March 4, the team will have the opportunity to see if they paid off. Sure, you can wait until Opening Day to find out for yourself. Or, you can get a sneak peak at the best vacation a baseball fan could hope for.
It's easier, and more approachable, than you think.
Cactus League basics
Bring your glove, because the seats are close to the field.
The Brewers play 31 Cactus League games in a schedule that kicks off on March 4 and wraps up on April 4, before the Crew comes home to open its season at Miller Park. They have only two days off on March 16 and 30. Almost all games are played at 1:05 p.m. local time, which is two hours behind Milwaukee – Arizona doesn't do Daylight Saving Time.
In total, Arizona hosts 15 teams in the Cactus League, which means you can see lots of teams at lots of different stadiums – and you'll absolutely, positively need a car for this trip. With the Diamondbacks and the Rockies moving to Salt River Fields four years ago, the entire league is now based in the Phoenix area – no more day trips to Tucson.
Salt River Fields at Talking Stick: a must-see ballpark.
There are clusters of teams in each part of the area – Kansas City, Texas, Seattle and San Diego in the northwest, for example – which can help cut down on your driving if you book your lodging nearby.
Cincinnati, one of the Crew's NL Central rivals, moved to Arizona four years ago, too, meaning that the Cactus League now has equaled the number of teams in the rival Grapefruit League in Florida. And, personal bias aside, fans who've been to both Arizona and Florida will almost unanimously agree that the Cactus League is more fun.
The Brewers train at Maryvale Baseball Park at 3600 N. 51st Ave. – a short jaunt west of downtown Phoenix off of I-10. Upon opening 15 years ago, Maryvale got a bad rap from some Midwesterners who claim the park is in a rough area of town and not as aesthetically pleasing as newer stadiums. For those mapping the address, Maryvale is technically part of Phoenix.
While it's nothing like its upscale Scottsdale counterpart where the Giants play, Maryvale has undergone some upgrades and is a safe area, with plenty of good parking available. You probably wouldn't pick the neighborhood as your nighttime hangout, but it's spacious and friendly, and it has a field shaped just like Miller Park.
Scottsdale sunset.
For accommodations, look for a hotel that's centrally located between all the parks. You can't go wrong in Tempe or Scottsdale. Keep in mind, though, that Phoenix traffic is notoriously bad, and some parks are a 45-minute drive from anywhere. If you're looking to go upscale, you've got tons of options; among the best are the Four Seasons, Hotel Valley Ho, Hotel Palomar Phoenix, Westin Kierland and Montelucia. All of these properties are awesome in different ways.
The last several years, the OnMilwaukee.com spring training group has stayed at the Sheraton Crescent, which is your closest and best choice if you'll be seeing games at Maryvale.
Last year we stayed at two new properties for us, and one familiar old favorite. We started at the JW Marriott Camelback Inn Resort & Spa, which has an amazing desert campus that feels rustic yet high-end. Then we moved over to my favorite hotel, anywhere: the Hotel Valley Ho, in Scottsdale. Finally, we wrapped up our trip at The Saguaro in downtown Scottsdale – it's the official hotel of the San Francisco Giants, and it's somewhat modest but with a great modern vibe. In different ways, we loved all three.
The pool scene at The Saguaro.
This year, we're checking our Talking Stick Resort in Scottsdale for the first time. It should be a pretty different experience than what we've seen here before (hello, casino!) and I'm eager to check it out. I do know that, in addition to a fun pool scene, its spectacular ballpark is the first Spring Training stadium built on tribal land, and there are some cool experiences like Topgolf and Octane Raceway connected by a complimentary trolley. We'll tell you all about our experiences at Talking Stick while we're there from March 15-18.
Talking Stick offers guests a free trolley.
Young talent
Even though the games don't count, there are always some great story lines that arise during each Spring Training. If you have the chance to catch multiple games, a few players will surely catch your eye and you can match your scouting skills with those of the pros.
In the first half of March, it's all about talent assessment, and the Brewers will trot out dozens of young players in every game. Since all of the minor league affiliates train in Maryvale, you'll feel constantly surrounded by an army of no-name Brewers. But these are the stars of tomorrow and when they reach Miller Park you can say you saw them when.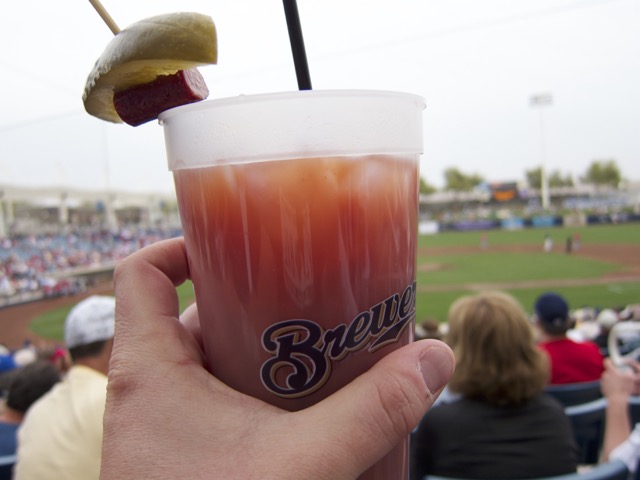 Cheers to the Crew!
Get to games as early as you can, as watching these prospects practice is an experience you won't get in Milwaukee. They run from field to field – Maryvale has a handful – chatting and mingling with the fans. Most will sign autographs if you ask nicely. Be sure to bring your own baseballs, baseball cards and Sharpie pens for the players to sign because they obviously aren't toting these in their back pockets. Kids fare best so encourage your children not to be shy.
Tickets range in price at the various ballparks (at Maryvale, they remain unchanged, ranging from $8 to $23), but here's an insider's tip: buy the cheapest ticket you can find. At most parks, including Maryvale, the outfield is called the berm, a sloped grassy area where you can spread out and watch the game from a relaxing incline. If you position yourself in the right place, catching home run balls is doable – and while different teams draw bigger crowds, attendance is frequently sparse at Brewers games – which means it's easy to take home a souvenir.
Fans wait for souvenirs. (PHOTO: Eron Laber)

If you want a real seat, just play it cool and sit somewhere that isn't occupied. With the exception of the newer parks and the Giants in Scottsdale, these games rarely sell out, and the laid-back ushers really don't mind where you plop yourself down and catch some sun. Stadium food varies from park to park, but it's usually quite good.

You'll notice a big difference from Miller Park if you find yourself sitting in a real seat, however: the proximity to the field. The Cactus League ballparks are more than just intimate; you'll almost feel like you are sitting on the field. Foul balls are a plenty, so keep your eye on the game and bring your glove.
Up close and personal at Maryvale.

If possible, plan your trip around days when the Brewers play a mix of home and away games. All of the stadiums have their own unique charm, but some of the nicest parks include the amazing new stadiums for the Dodgers, the Rockies, the Royals' and Rangers' Surprise Stadium and the Giants' Scottsdale Stadium. And Tempe Diablo has a free trolley, as does Westgate City Center in Glendale for games at Camelback Ranch.
Beyond baseball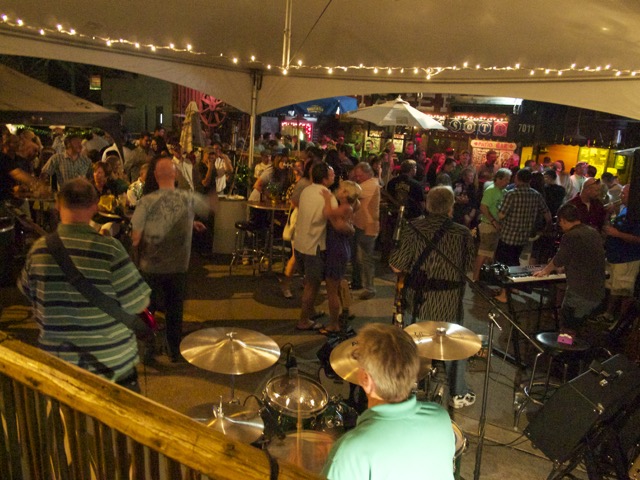 The oldest bar in Scottsdale: Coach House.

A week of sun and baseball may tire you out, but the fun doesn't stop after sundown in and around Phoenix. Tempe, the home of Arizona State University, sports a thriving collegiate nightlife, while Phoenix and Scottsdale offer an older, more upscale bar experience. Some of our favorite haunts include Dos Gringos, The Coach House, Four Peaks Brewery and The Vig.

If you must take a break from baseball, you can try a number of side trips and other activities. Some worth noting: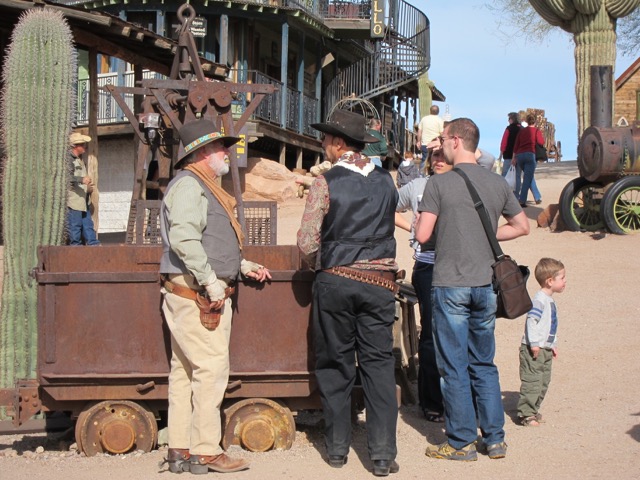 Goldfield Ghost Town in Apache Junction.

Play some golf on one of Arizona's 300 courses: Considered one of the world's top spots, it's a fair bet you haven't been able to break out your clubs in Milwaukee for months. Here's a link to our 2013, 2012, 2011, 2010, 2009 and 2008 reviews.

Climb Camelback Mountain: Considered a novice climbing experience, it's still plenty challenging. Clear away a couple hours of your schedule for the free and breathtaking experience just north of Tempe. Echo Canyon and Cholla trails are both open and the refurbishments to Echo are great. More parking, much needed trail maintenance and real bathrooms. You can also climb Piestewa Peak; it's just west of Camelback.

Cactus League Experience: This exhibit at the Arizona Historical Museum it includes the history of spring training in Arizona, from the early days until present. There are more than 400 items, arranged by team.

Visit Taliesin West: Located in Scottsdale, the architecture school built by Wisconsin's own Frank Lloyd Wright is just as beautiful as the Spring Green original but completely different (I've been twice). Take the tour. Wright also designed Tempe's Grady Gammage Memorial Auditorium.
Sedona is visually stunning family fun.

Drive north to Sedona: Sedona is a beautiful artist community near Flagstaff. It takes a few hours, but it's well worth it. The landscape is like nothing you'll see in Wisconsin. Simply breathtaking and totally romantic.

Day trip to Nogales, Mexico: Just a few hours south of Phoenix, you can walk across the border and shop or just take in the sights. Critics will tell you Nogales isn't "real Mexico," and they have a point, but it's a fun change from the ordinary. If you are really adventurous, plan a trip to Puerto Penasco (a.k.a. Rocky Point) four hours southeast in Sonora. (Just make sure you go during ASU's Spring Break.) Neither place is dangerous if you remain aware, but you'll need a passport.

If you get homesick: There is a surprising number of connections between Wisconsin and Arizona. Milwaukee custard king Karl Kopp owns an upscale restaurant called AZ88 in Scottsdale and one in Phoenix called Hanny's. If you are a Packers fan (even out of season), there are several bars and restaurants in the Phoenix area that list themselves backers of the Green and Gold. The Buffalo Chip Saloon in Cave Creek was owned by Marla McGee, the daughter of Max, former Packers' wide receiver and radio color commentator. And a former Bayside couple owns two delis in Scottsdale called Kashman's Place. Note that famed Packers bar, Mabel Murphy's, is no longer in business.

Visit a ghost town: It's a short drive to Apache Junction's Goldfield Ghost Town. Hokey and only semi-authentic, it's free, family fun and definitely worth a visit. Apache Junction is in the foothills of the Superstition Mountains, and natural desert beauty abounds.

Check out the cultural events the Phoenix / Scottsdale / Tempe area has to offer: More info is available at the Arizona Department of Tourism Web site, arizonaguide.com.
The author meeting Hank the Dog in 2014, shortly after he was adopted by the Brewers.

No matter how you plan your trip, keep this phrase in mind, "It's spring training for everyone." Keep your schedule flexible and take the opportunity to relax. It's a sure bet you'll come back tan, rested and ready for the start of the 2015 baseball season with renewed passion for your Milwaukee Brewers.
Andy is the president, publisher and founder of OnMilwaukee. He returned to Milwaukee in 1996 after living on the East Coast for nine years, where he wrote for The Dallas Morning News Washington Bureau and worked in the White House Office of Communications. He was also Associate Editor of The GW Hatchet, his college newspaper at The George Washington University.
Before launching OnMilwaukee.com in 1998 at age 23, he worked in public relations for two Milwaukee firms, most of the time daydreaming about starting his own publication.
Hobbies include running when he finds the time, fixing the rust on his '75 MGB, mowing the lawn at his cottage in the Northwoods, and making an annual pilgrimage to Phoenix for Brewers Spring Training.