There are many non-chain coffee shops in Milwaukee, but until last month, not one that was located on the far south end of Bay View. Until recently that is, when Gwenn Barker and Juliet Popovic opened Sprocket Cafe, 3385 S. Kinnickinnic Ave.
The cafe is connected to Popovic's other business, Rusty Sprocket Antiques, a fun and well-stocked vintage thrift store.
"The antique shop opens at noon, at which time we open the door between the two businesses and customers can shop and sip if they want to," says Barker.
Sprocket works exclusively with Anodyne Coffee and features two different blends daily, including their signature house blend called Sprocket GSB that's a unique blend of Guatemalan, Sumatran and Brazilian beans.
"It's a great, strong workingman's coffee," says Barker.
They also serve a flavorful decaf called Fool's Gold Blend.
"Anodyne is awesome. They really worked with us hand and hand all the way through the process of opening the cafe," says Barker.
Anodyne employees came to Sprocket Cafe and provided multiple training sessions for all of Sprocket's employees.
"We truly wanted to provide the best coffee money can buy as well as a friendly environment," says Barker. "We wanted to create a 'Cheers'-type atmosphere, a 'Norm!' ("Cheer's" reference) environment."
And indeed, the cozy, creative, bike-themed space is extremely welcoming and "Cheers"-esque. But it's also very "Central Perk"-ish from the sitcom "Friends." Sprocket Cafe is a modernized '90s cafe and the vintage, blue couch that's centralized in the space makes it even more of a place where the spirits of Phoebe, Ross, Rachel and Monica might visit.
The space was remodeled – it was a yarn shop prior – and the walls are adorned with vintage local business signs, antique game boards, local art (they are currently looking for more artists) and vintage coffee cans and grinders. There's also a lending library and board games.
During the wall painting process, the goal was to cover every inch with new paint. And every inch was covered, but the "ceiling heart" was not.
The women decided to open the cafe based on recommendations from the neighborhood.
"Some of the people living on the far south end of Bay View wanted an option other than Starbucks," says Barker. "It's changing, but in the past this was the 'forgotten side' of Bay View."
Barker and Popovic credit a large portion of Sprocket's early success to their employees, who are four men with beards, referred to by the owners as "the bearded barista brigade."
There is also a bicycle repair shop in the basement of the building which contributes to the bike theme of both the cafe and the antique shop.
"We get a lot of bike traffic," says Popovic. "Anyone can stop in if they need adjustments or a flat fixed or whatever they need."
Popovic's fiancee, Andrew Ross, handles the bicycle mechanics.
"We specialize in vintage bike restoration and have many on display and for sale in both the cafe and antique shop," Popovic says.
For now, Sprocket Cafe is concentrating on coffee beans and coffee drinks, and will focus on food in the future. Currently, they serve local bakery items from East Side Ovens and Canfora Bakery, along with fresh fruit and cereal.
"Eventually we want to serve a one-pot meal everyday – a chili or stew or stroganoff – and simple sandwiches that are fresh and made with local ingredients," says Popovic.
The cafe also serves Angelo's Gelato – either by the dish or as a coffee dessert drink called the affogato which includes a couple small scoops of gelato – currently either vanilla, chocolate or espresso – drizzled with a shot of GSB.
Sprocket is also on Grub Hub and, through the service, provides cafe-to-car service.
They also hope to acquire a liquor license in the future.
"We are prepared for a Milwaukee coffee / Milwaukee whiskey blend down the road," says Barker.
Sprocket Cafe will have a grand opening in January. Stay tuned to OnMilwaukee for more about this event when it becomes available.
"Once the holidays are gone and it's just cold out, people are ready to do something fun," says Barker.
Sprocket Cafe's hours are Monday through Friday from 6 a.m. to 5 p.m.; Saturdays from 7 a.m. to 5 p.m. and Sundays from 7 a.m. to 3 p.m. The space is also very affordably available for rentals. Contact the cafe for more information.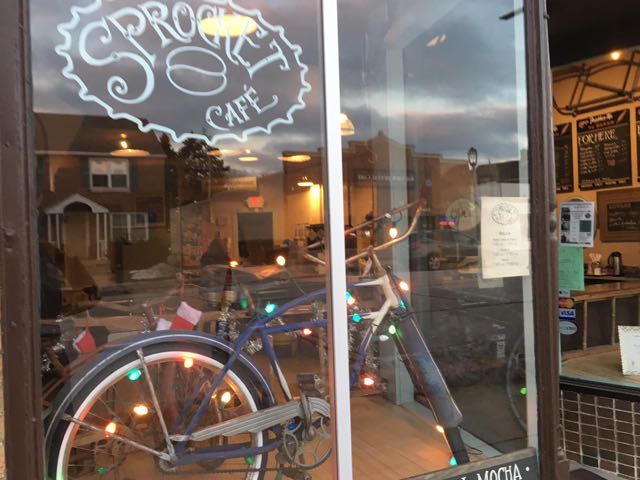 Molly Snyder started writing and publishing her work at the age 10, when her community newspaper printed her poem, "The Unicorn." Since then, she's expanded beyond the subject of mythical creatures and written in many different mediums but, nearest and dearest to her heart, thousands of articles for OnMilwaukee.

Molly is a regular contributor to FOX6 News and numerous radio stations as well as the co-host of "Dandelions: A Podcast For Women." She's received five Milwaukee Press Club Awards, served as the Pfister Narrator and is the Wisconsin State Fair's Celebrity Cream Puff Eating Champion of 2019.