It may look like all white outside right now thanks to last night's snowstorm, but Downtown Milwaukee will quickly turn all shades of green this weekend to celebrate the Shamrock Club of Wisconsin's St. Patrick's Day parade, marching its 55th edition down several of the city's main boulevards on Saturday afternoon.
"The St. Patrick's Day parade is one of Milwaukee's favorite traditions," said Stacie Callies, Executive Director of Westown Association, in a release. "Each year we look forward to celebrating our city's Irish history and culture with thousands the of families and spectators that attend the parade, even if they are only Irish for the day."
To help make sure you're green with Irish cheer and pride this weekend, rather than green with anger at some parking snafu, car towing or intense case of FOMO, here's a guide to everything you need to know about this year's St. Patrick's Day parade festivities – from the parade route to street closures and the official parties held before and after the celebrations step off.
Where and when is the parade?
As for the main event, the St. Patrick's Day parade will step off Saturday, March 11, at noon at North MLK Drive and West Wisconsin Avenue. The procession – featuring more than 100 Irish dance groups, pipe and drum corps, the Milwaukee Dancing Grannies collecting cash donations for Hunger Task Force, notable Milwaukeeans, banners, local businesses and more – will make its way through Downtown before ending at Water Street and Highland Avenue. Here's the map of the full 2023 parade route for Saturday: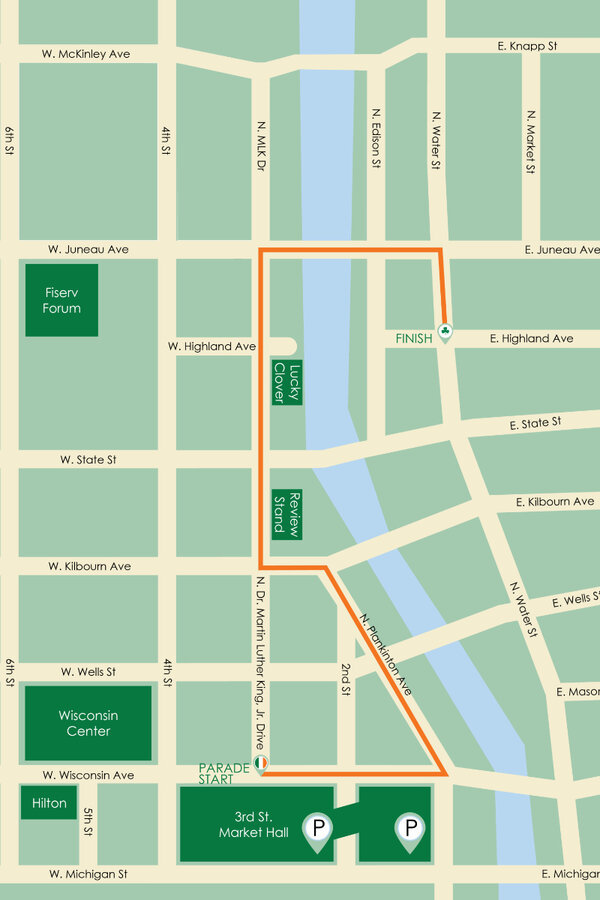 Prior to the parade's noon step-off, there will also be a mass held on Saturday at 8:30 a.m. at St. Patrick's Church, located at 723 W Washington St.
What streets will be closed?
Several streets will be off-limits during the St. Patrick's Day parade celebrations, such as the following:
Closed at 10 a.m.
West Wisconsin Avenue from MLK Drive to North 6th Street
North Vel R. Phillips Avenue from West Wisconsin Avenue to West Clybourn Street (West Michigan Street will remain open to traffic)
North 3rd Street from West Michigan Street to West Everett Street
West Everett Street from North 3rd Street to North Vel R. Phillips Avenue
Closed at 11:45 a.m.
West Wisconsin Avenue from MLK Drive to North Plankinton Avenue

North Plankinton Avenue from West Wisconsin Avenue to West Kilbourn Avenue
West Kilbourn Avenue from North Plankinton Avenue to North MLK Drive
North MLK Drive from West Kilbourn Avenue to West Juneau Avenue
West Juneau Avenue from North MLK Drive to North Water Street
North Water Street from East Juneau Avenue to East Highland Avenue
Closed from 1-2:30 p.m. for de-staging
North Water Street from East Highland Avenue to East State Street
East Highland Avenue from North Broadway to North Edison Street
In addition, St. Patrick's Day parade officials expect access to streets in the staging area to close around 10 a.m. and access to streets in the parade route to close around 11:45 a.m. Access should return to normal around 2 p.m. on Saturday.
Where can (and can't) I park?
Parking changes will begin bright and early on Saturday, with the City of Milwaukee putting up temporary "no parking" signs along the St. Patrick's Day parade route beginning at 7 a.m. Any cars parked along the route after that time on Saturday morning and early afternoon will be towed.
To help avoid that, The Avenue structure – with entrances found at 615 N. Plankinton Ave. and 258 W. Michigan St. – will offer parking for just $3 for those who enter between 8 a.m. and 3 p.m. For more information on the location, click here – and for more parking options, visit Interstate Parking's website.
To avoid Downtown parking dilemmas all together, St. Patrick's Day parade officials also recommend utilizing a ride-share service or using public transit like The Hop or MCTS. (Which is also a good idea for St. Patrick's Day proper on Thursday, March 17, especially with Miller Lite's Free Rides bus program returning this year.)
What's happening before and after?
Of course, the parade is just part of the St. Patrick's Day celebrations this weekend. Technically, the festivities will begin Friday afternoon, with 3rd Street Market Hall hosting a press conference and preview entertainment beginning at noon. At midday, the Beglan Academy of Irish Dance will perform at the food hall, followed by the press conference shortly after at 12:15 p.m.
To keep the pre-parade festivities going, the ShamROCK Kick-off Party will get folks into the spirit on Friday night. Hosted from 5:30-11 p.m. at Lucky Clover – found at 1048 N. MLK Drive, right next to the Wisconsin Cheese Mart – the free kick-off party will feature raffle prizes, including Bucks tickets and other Downtown-related experiences, and musical performances from Ian Gould at 5:30 p.m. and local music icon Pat McCurdy at 8 p.m. For more information on the kick-off event – including parking tips – click here.
The party won't stop after the parade, either, as those still feeling festive can stop by the Irish Cultural & Heritage Center, found at 2133 W. Wisconsin Ave., from 1-6 p.m. on Saturday for the post-parade party featuring plentiful Irish dancing, live music performances, food and drink, a raffle and more. Unlike Friday night's pre-party, however, the post-parade festivities are not free, with admission costing $8 per person and $20 per family (three or more adults). Those ages 12 and younger, however, do get free admission to the post-parade party. For more details – including the full schedule of performers for the day – visit the post-parade party's website.
For more information on the St. Patrick's Day Parade and its surrounding events, click here. And for more St. Paddy's Day updates and information, stay tuned to OnMilwaukee.
As much as it is a gigantic cliché to say that one has always had a passion for film, Matt Mueller has always had a passion for film. Whether it was bringing in the latest movie reviews for his first grade show-and-tell or writing film reviews for the St. Norbert College Times as a high school student, Matt is way too obsessed with movies for his own good.
When he's not writing about the latest blockbuster or talking much too glowingly about "Piranha 3D," Matt can probably be found watching literally any sport (minus cricket) or working at - get this - a local movie theater. Or watching a movie. Yeah, he's probably watching a movie.