Check in early and stay late during OnMilwaukee's "Hotel Week" sponsored by VISIT Milwaukee. The next seven days will be packed with stories about historic area hotels, reviews, history, food and drink, staycations and more. Find out what it's like to be a tourist in this town. (Chocolate on your pillow not included.)
The funny thing about Cedarburg is that even though it's so very close to Milwaukee, when you're in its secluded little downtown, you feel so very far away.
Main street Cedarburg looks like it belongs in a train set, or perhaps a series of quaint dollhouses, yet it's not specifically a tourist attraction: this is where and how the people live here in this bedroom community.
Still, while plenty of Milwaukeeans like us visit the Stagecoach Inn Bed & Breakfast for a staycation, this charming old hotel attracts plenty of people from Chicago, Madison, Minneapolis and the Fox Valley.
And so it should. The hotel dates back to 1853, a gorgeous stone Greek revival structure that earned its names from a stagecoach stop on the way from Milwaukee to Green Bay. Legend says the stage coach rolled into town at 5:20 p.m., which is why new owners Bill and Anne Conley built the five20 social stop on the first floor, a micro pub for guests and the general public, alike.
As a hotel, the Stagecoach Inn offers nine unique rooms, ranging in price from about $110-160 a night. The larger rooms, like the one we visited, are more like vintage apartments – long wooden beams support the ceilings, the walls and surfaces adorned with period antiques. The smaller rooms are more simple, while three of the suites on the second floor feature whirlpool baths. All the bathrooms are private, upgraded and modern.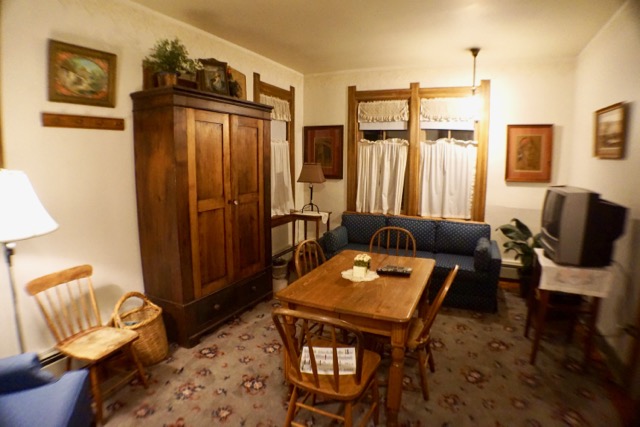 For such an old building, the rooms are spacious, clean and delightfully dated (the small tube TV has a built-in VCR!). If you're the type who likes these types of accommodations, you'll probably be amused by the 14 identical paintings on the walls of the girl looking at a bird. You may, like me, wonder if the room is haunted (no ghosts, however, woke me up from my peaceful slumber on the antique bed). It just adds to the Stagecoach's many charms.
In other words, you've gotta buy into all of this to get into it: Cedarburg's main street, Washington Avenue, sets the table for the experience, with great little shops like Amy's Candy Kitchen and the small-plate brewpub, Stilt House Gastro Bar, just up the street. But actually lounging around the inn, talking to the owners and sharing stories, is part of the B&B experience.
The Conleys only purchased the inn from its previous owners in February, and while they're new to the innkeeping business, it doesn't feel like it. Bill and Anne, of nearby Mequon, know how to engage with their guests, while also giving them the privacy they need to enjoy the solitude. Bill told me that it can be a delicate balance.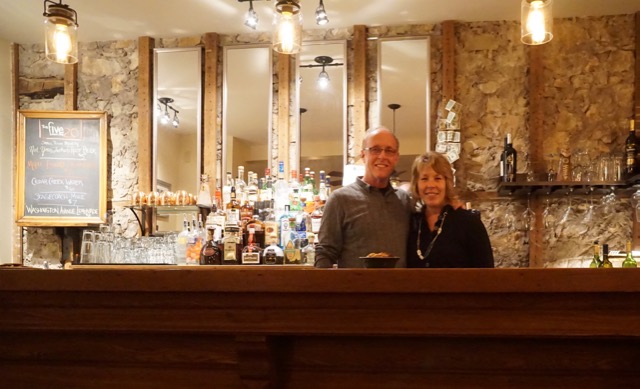 That goes for breakfast, too. Guests can roll into the informal dining room for a continental breakfast when they choose, and strike up as much conversation as they like with the small welcoming staff. Fare included in the price consists of coffee, juice, fruit and pastries, as well as cereal and instant oatmeal – it's not the lavish, home-cooked breakfast experience you get at some other B&Bs; but at this price point, it's still quite a value. And it feels like you're somewhere else, even some time else.
While industrial modern boutique hotels serve a certain downtown niche, it's good to know the opposite still exists and thrives. Bill told me that while many of his guests are older, he's seeing an uptick in millennial visitors, too – people who are looking to get away to something different.
And the Stagecoach Inn is just that. It hearkens back to a different era in Wisconsin's history. Lying in the antique bed, staring at the rustic ceiling beams, you're forced to think who else stayed here over the course of the last 163 years. If only for a night, it's a fun and easy respite from the real world just miles away.
Andy is the president, publisher and founder of OnMilwaukee. He returned to Milwaukee in 1996 after living on the East Coast for nine years, where he wrote for The Dallas Morning News Washington Bureau and worked in the White House Office of Communications. He was also Associate Editor of The GW Hatchet, his college newspaper at The George Washington University.
Before launching OnMilwaukee.com in 1998 at age 23, he worked in public relations for two Milwaukee firms, most of the time daydreaming about starting his own publication.
Hobbies include running when he finds the time, fixing the rust on his '75 MGB, mowing the lawn at his cottage in the Northwoods, and making an annual pilgrimage to Phoenix for Brewers Spring Training.