This content is in collaboration with the Wisconsin State Fair.
It's the season of "White Christmas" and winter wonderlands – but I say bah humbug! The charm of a white Christmas fades away when you're red in the face from spending a whole afternoon shoveling it all away. And clearly whoever coined the phrase "winter wonderland" never tried driving during a Wisconsin winter? Nothing wonderland-like about it.
Sorry, forget dreaming of a white Christmas: I'm already dreaming of summer's return. But you don't have to have a blue Christmas without the great Milwaukee summer. In fact, you can start prepping for one of the biggest events of the sunny season – the Wisconsin State Fair, returning Aug. 3-13 – right now thanks to the brand new 11-day Fair Fun Pass, offering admission for the entire fair for just $99 during these holiday times. But in case all those savings in your stocking aren't enough to thaw out your warm memories and feelings of summer during these frigid forecasts, here are eleven reasons to already be looking ahead to next year's Wisconsin State Fair. Now, if only there was a popular Christmas carol that I could conveniently use to count these all off ...
On the first day of Christmas, the 11-day Fair Fun Pass gave to me ...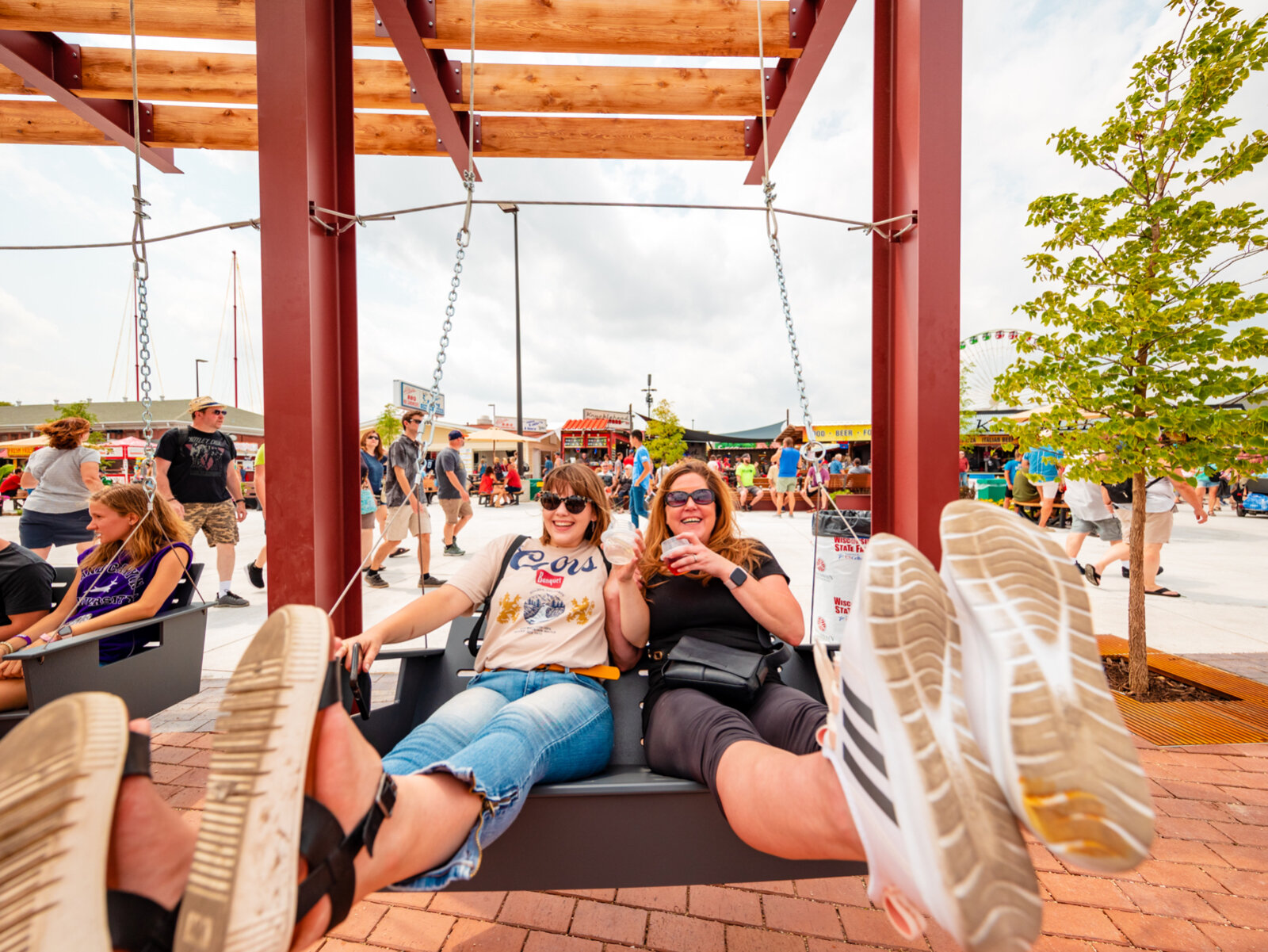 A lanyard, a sticker and a whole bunch of savings! You don't have to wait all the way until next summer to enjoy the rewards of your 11-day Fair Fun Pass, as those who purchase a Fair Fun Pass will score a special 2023 Super Fan lanyard along with a commemorative 2023 Wisconsin State Fair sticker. However, it's not only what you get from the 11-day Fair Fun Pass; it's also what you don't have to give up. During this holiday season, the pass – valued at $198 – is half that price, costing you only $99 and keeping the other $99 in your pocket. So really, it should be the entry for the 99th day of Christmas – but thankfully the song and this piece don't go to 99.
On the second day of Christmas, the 11-day Fair Fun Pass gave to me ...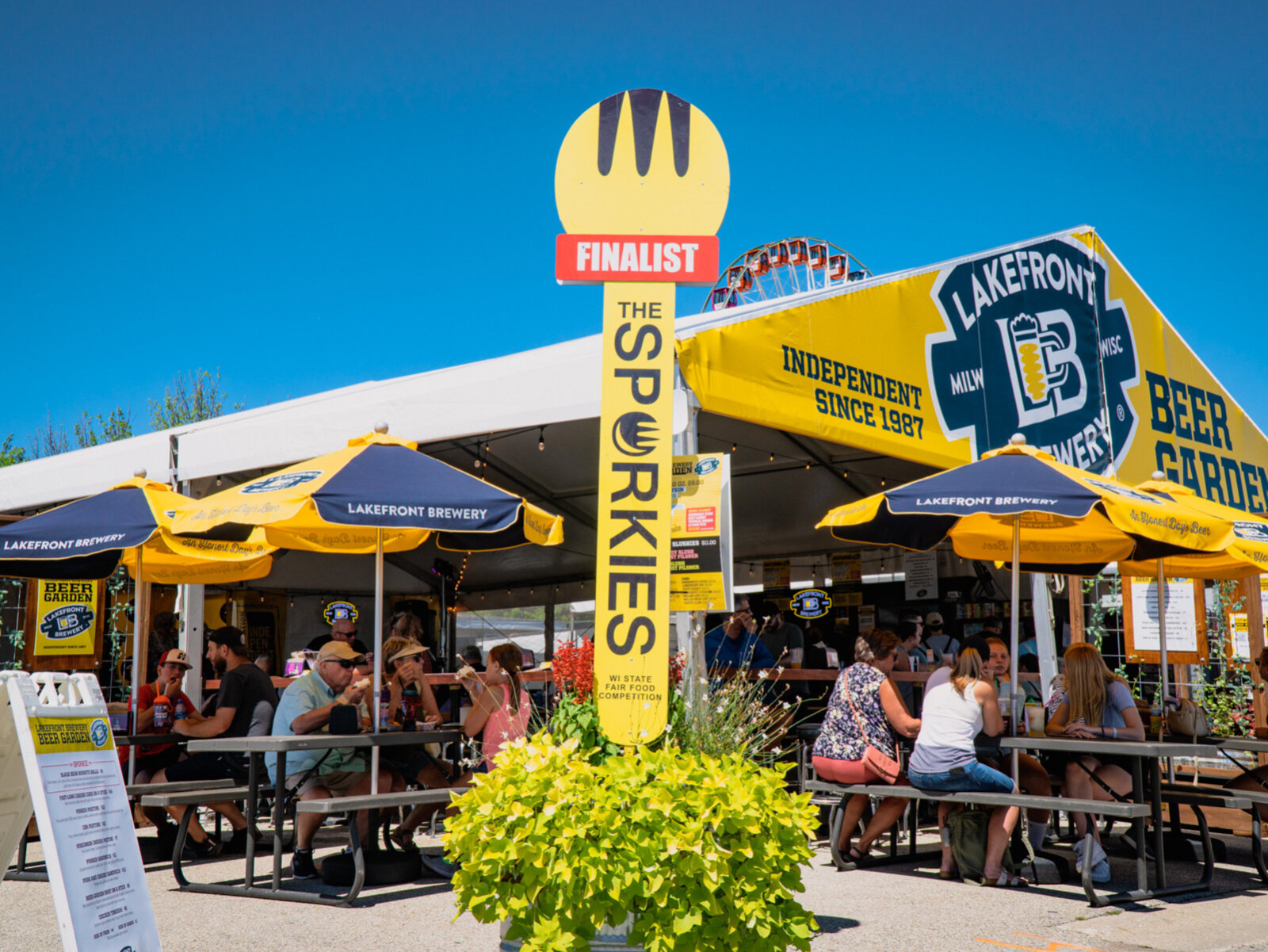 Two clogged arteries from eating all the Sporkies nominees! The regular menus at the Wisconsin State Fair always deliver a number of decadent treats and eats on sticks – from cookie dough to butter-soaked corn on the cob to classic burgers and corn dogs, and fried olives on a stick. But any Wisconsin State Fair fanatic knows the really memorable meals are found amongst the annual Sporkie nominees as each year vendors from across the fairgrounds push the foodie-est parts of their brains to come up with the wildest and most delicious culinary creations possible. Last year's slate of inventive eats included a brandy old fashioned s'more on a stick; Flamin' Hot Cheetos chicken on a stick; a variation on the delectible cheese curd taco, this time with a fried pickle star; a version of a corn dog but with a beer brat, cheese curds and Cruller cornmeal batter all deep-fried with cabbage and sauce; and – the year's winner – the Peño Pretzel Popper Brat. Anyone else suddenly salivating?
Whether you love all the funky food combinations or not, the Sporkies always add another bonus adventure to the Wisconsin State Fair – not only for your taste buds but for the entire experience. The hunt for all the nominees turns the late summer classic into a scrumptuous scavenger hunt, sending you meandering around the park looking for those spork-shaped beacons outside a vending stand. It makes finding the foods all the more satisfying – plus you might even stumble across some other tasty discoveries along the way that weren't Sporkie-nominated but are delicious nevertheless. And as an added bonus, with all that walking around, you can almost convince yourself that you've gotten enough exercise to burn off the various deep-fried delicacies. Almost.
Oh, and don't forget: While you fill on tasty State Fair foods, keep your wallet full as well with the help of a Bargain Book, which offers savings that could only be more tantalizing if they were deep fried and put on stick. And in case that wasn't enough savings, you can get a Bargain Book for a bargain right now as it costs only $5 during this holiday season.
On the third day of Christmas, the 11-day Fair Fun Pass gave to me ...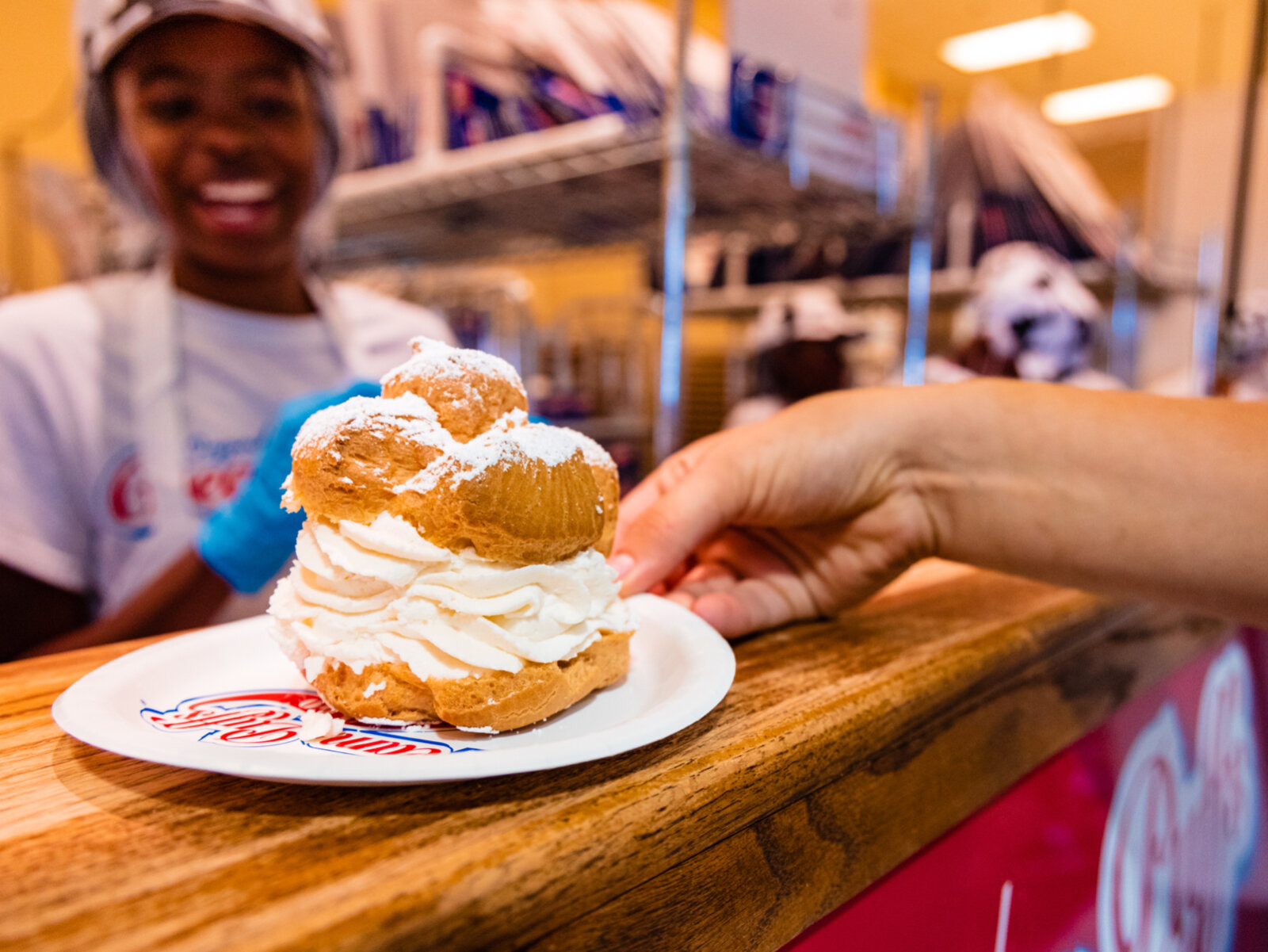 A three-pack of classic cream puffs! Even after eating all of those Sporkies and fried foods on sticks, somehow there's always room for a cream puff (or three). It wouldn't be the Wisconsin State Fair without digging into its signature sweet treat – that light, fluffy, slightly sweet cream combined with the satisfying tender chew of the pastry, just sturdy enough for me to twist off the top half and use as an edible spoon to scoop away at the mound of whipped filling. Oh no, all that delicious description has got me hankering for one – but while the puffs themselves aren't for sale right now, you can feast on a holiday season deal featuring six-pack vouchers for just $22, making the light dessert even lighter on your wallet when they come back around next summer.
On the fourth day of Christmas, the 11-day Fair Fun Pass gave to me ...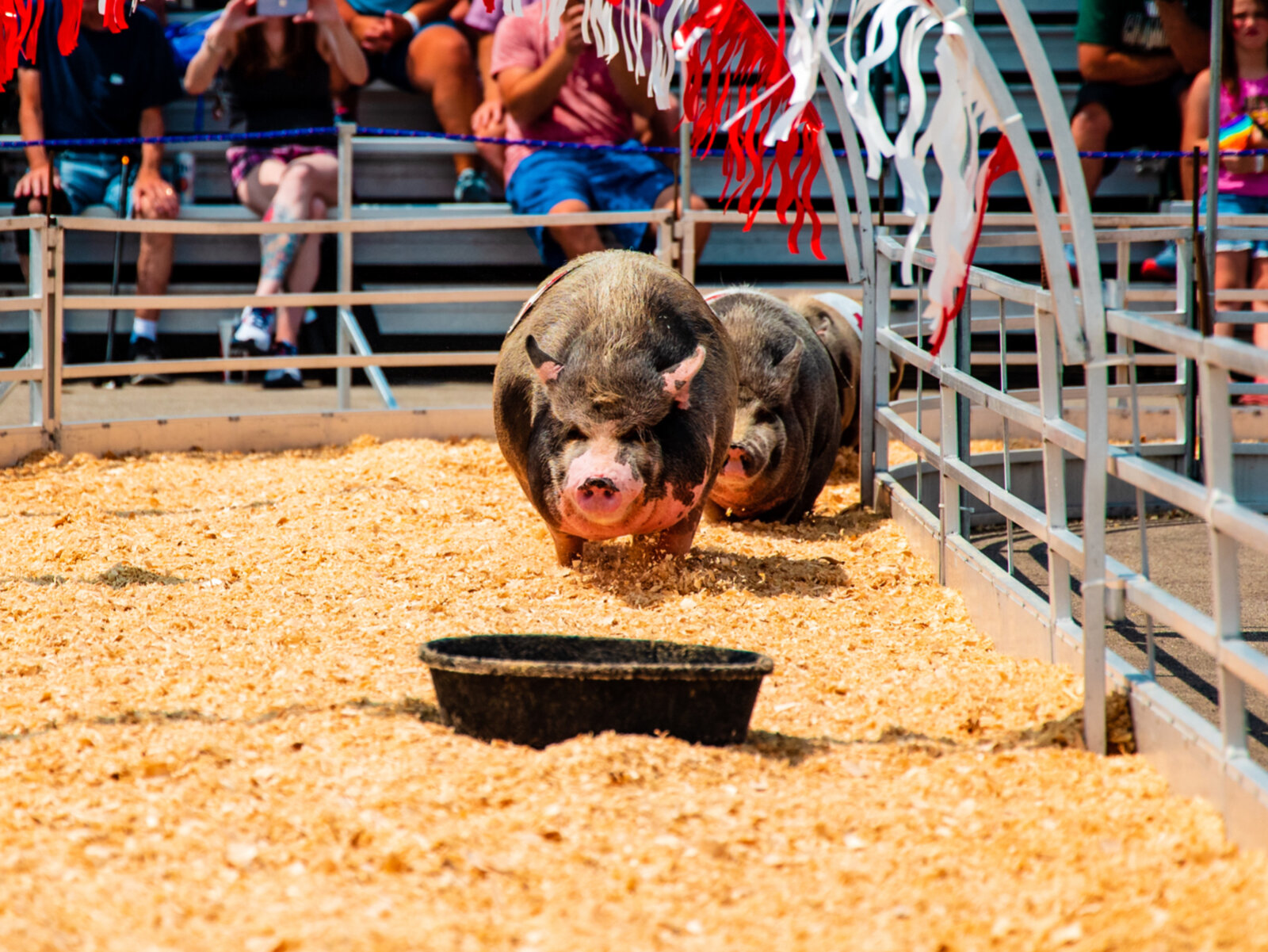 Four racing pigs! For those who want a little aerobics to go with all the eating, the Wisconsin State Fair offers the Cream Puff 5k, a fun run (that comes complete with a delicious cream puff reward at the end, because even the exercise at the Fair comes with dessert). Or you could just let the pigs do the working out for you. I nominate that – as few things are more childlike fun at the Fair than grabbing your seat in the bleachers and watching a collection of happy piggies scamper their way around a ring for your amusement. Whether you're there just for the fun of watching some hefty sows roam their way to the finish line or you're hoping to make some quick cash casually betting with your friends on which little piggy will get to the finish line fastest, the pig races are an oink-worthy delight. Plus, you get a bunch of terrifically terrible pig-related puns at the start of every race! Wordplay: always a winner.
On the fifth day of Christmas, the 11-day Fair Fun Pass gave to me ...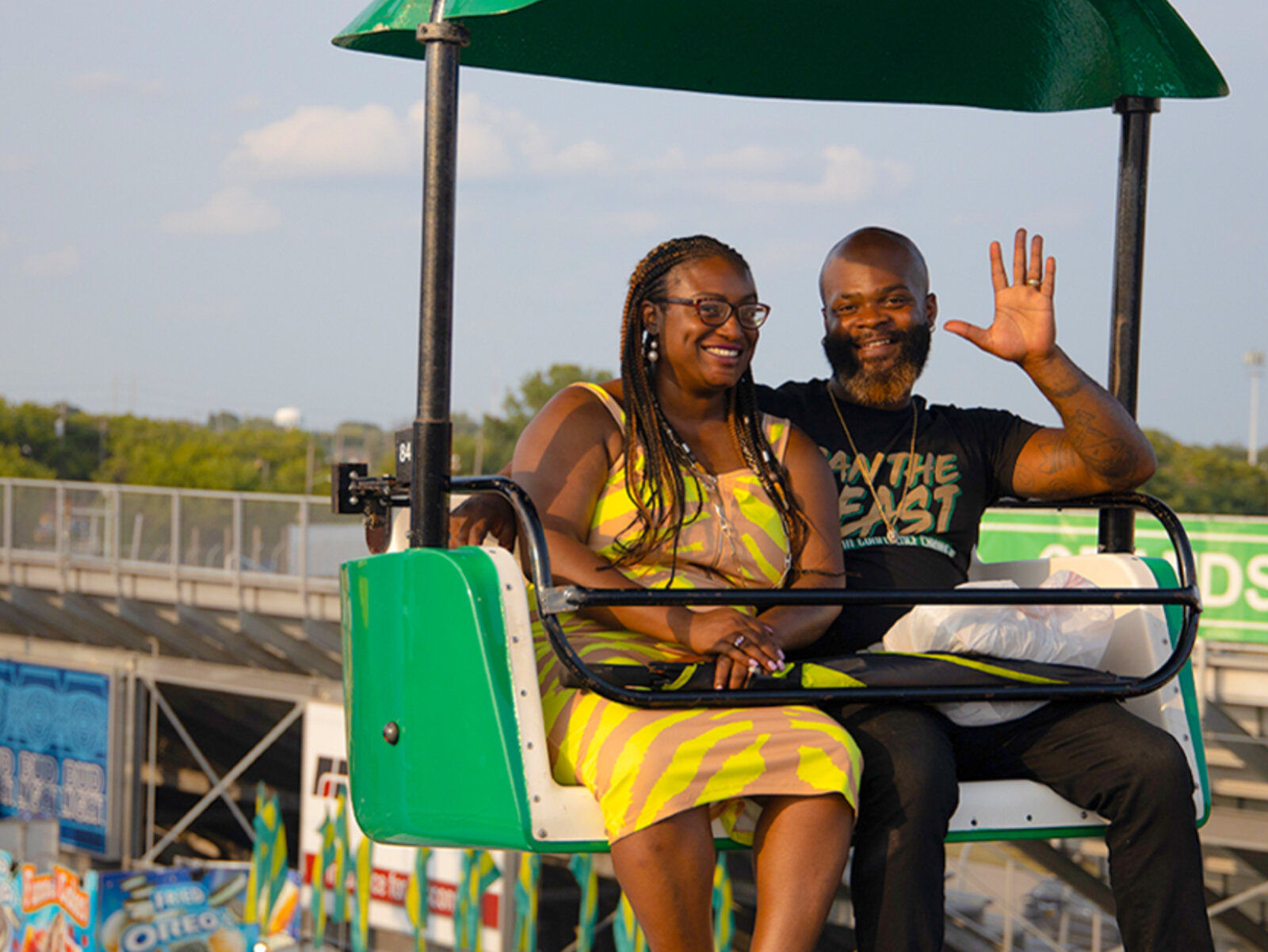 Five SkyGlider rides! There are lots of terrific places to hunker down and people-watch – but no place offers a better and more scenic angle than the iconic SkyGlider. Wheeling its way above the grounds, you get to do your best Simba impression and marvel at seeing everything to light touches across the fairgrounds – and, while you're up there, marvel at the bad semi-drunken dancing going on at the various live stages from a safe distance. A ride on the SkyGlider always serves as a perfect respite from the delightful chaos below – so much so that you might want to do your best Molly Snyder at Summerfest impression and stay on the ride the whole darn day.
On the sixth day of Christmas, the 11-day Fair Fun Pass gave to me ...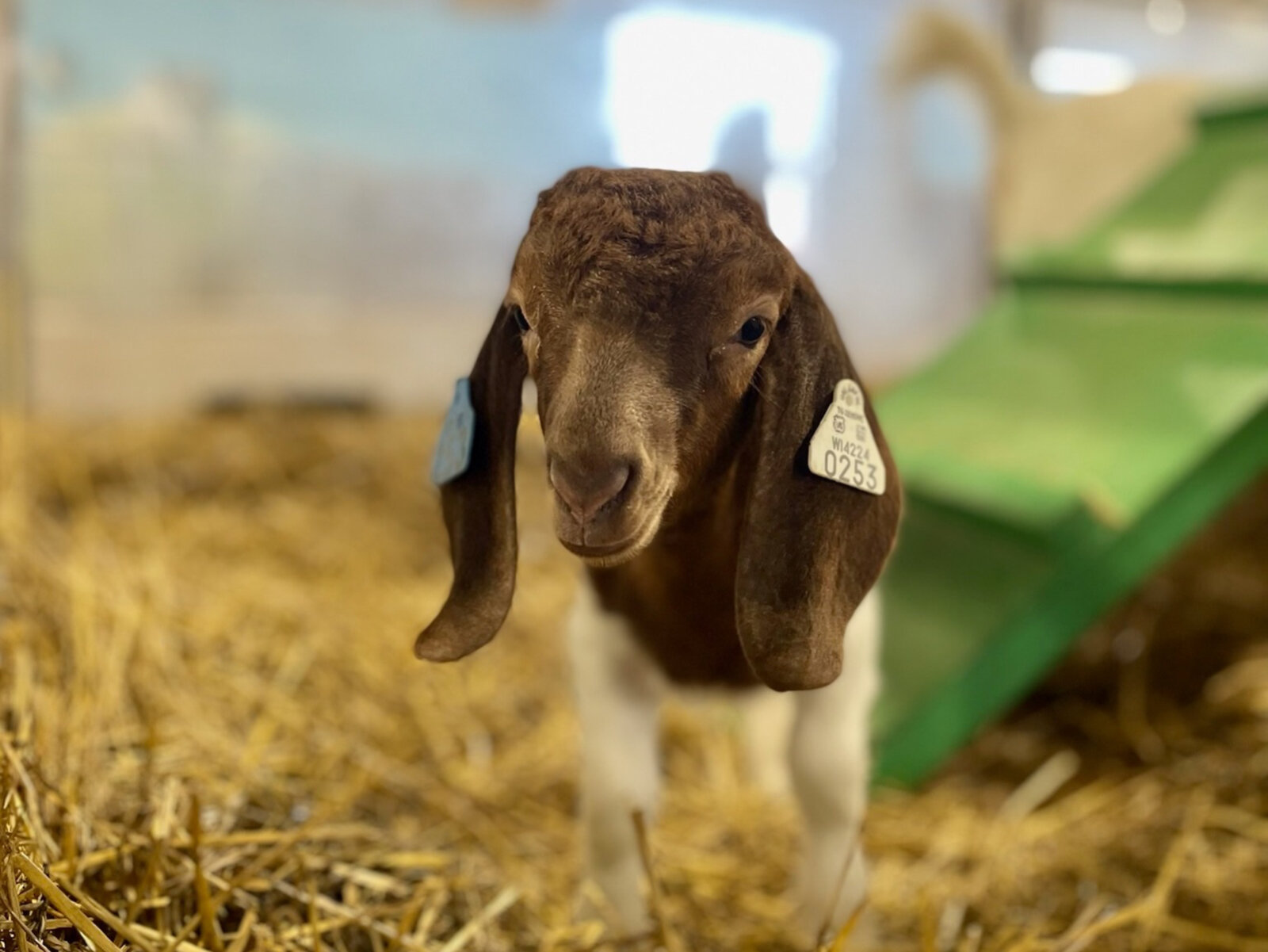 Six barns full of adorable animals! You can't spell "Wisconsin State Fair" without "aw" – which you'll say a lot while roaming around the Fair's half-dozen barns and exhibition rings, filled with some of the state's most mesmerizingly massive and impressive animals and livestock. Whether you think the swine are most divine, say "of course" to seeing a horse, mooo-ve to marvel at the cattle or get hoppin' happy to see the rabbits, the Wisconsin State Fair and the farmers who come from across the Badger State have plenty of beautiful barnyard animals to show off. And on the topic of showing them off, be sure to check out the various showcase events throughout the Fair – especially the underrated ones like the rabbit hopping competition or the "cow prom."
On the seventh day of Christmas, the 11-day Fair Fun Pass gave to me ...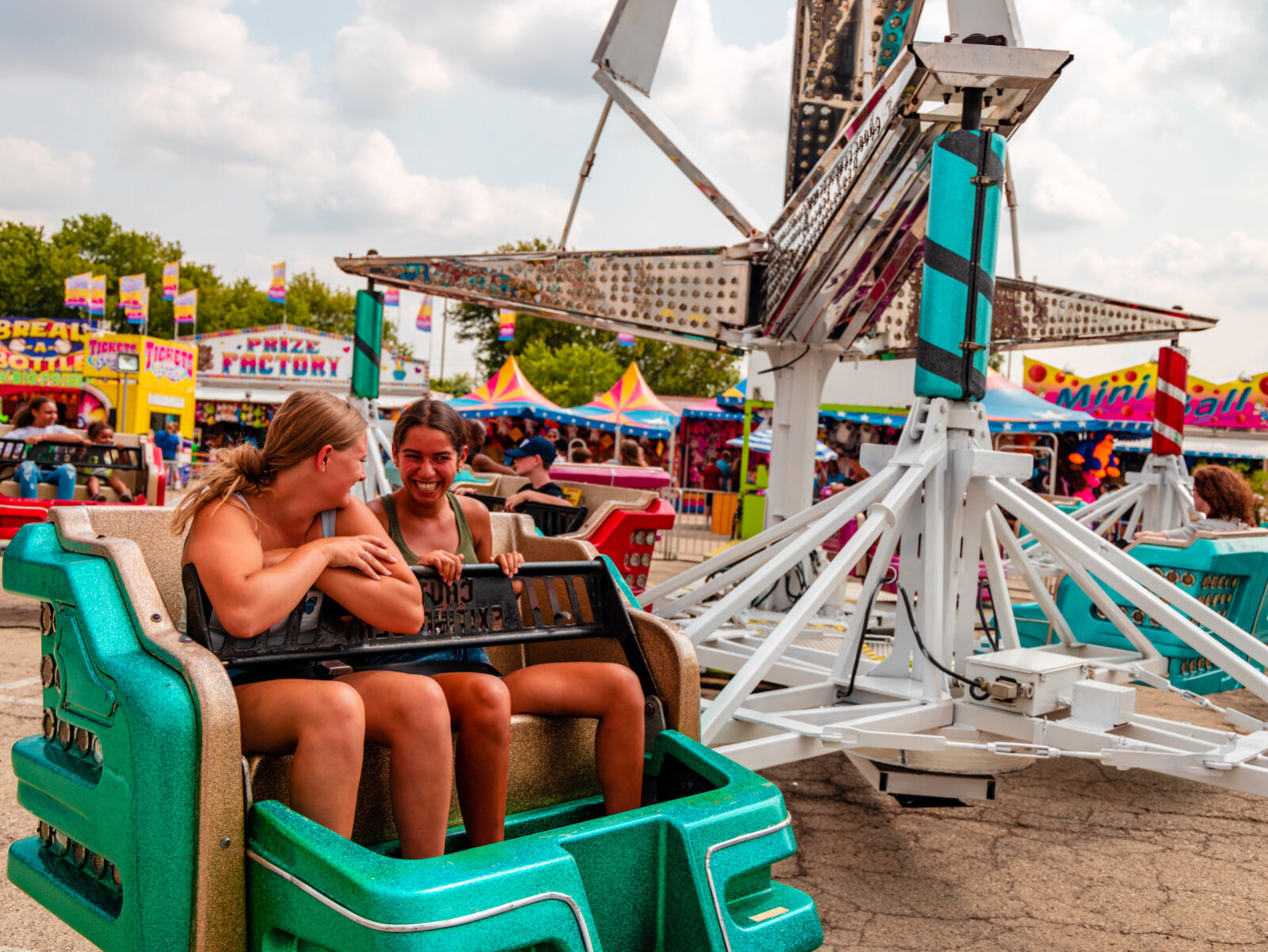 Seven spins through SpinCity! It's not all fun and games at the Wisconsin State Fair. Well, actually, it's almost quite literally all fun and games – especially at SpinCity, the late summer spectacular's playzone dedicated to, you guessed it, fun and games. Filled with enough games and rides to sate every kid and turn every adult into a kid, SpinCity is like a bonus amusement park right next to the State Fair Park – and speaking of bonuses, in addition to the savings on the 11-day Fair Fun Pass, the State Fair is also offering sweet deals on SpinCity ticket voucher packs. So while you won't be able to take a spin through SpinCity until next summer, you can already prepare yourself for the fun now at a great price.
On the eighth day of Christmas, the 11-day Fair Fun Pass gave to me ...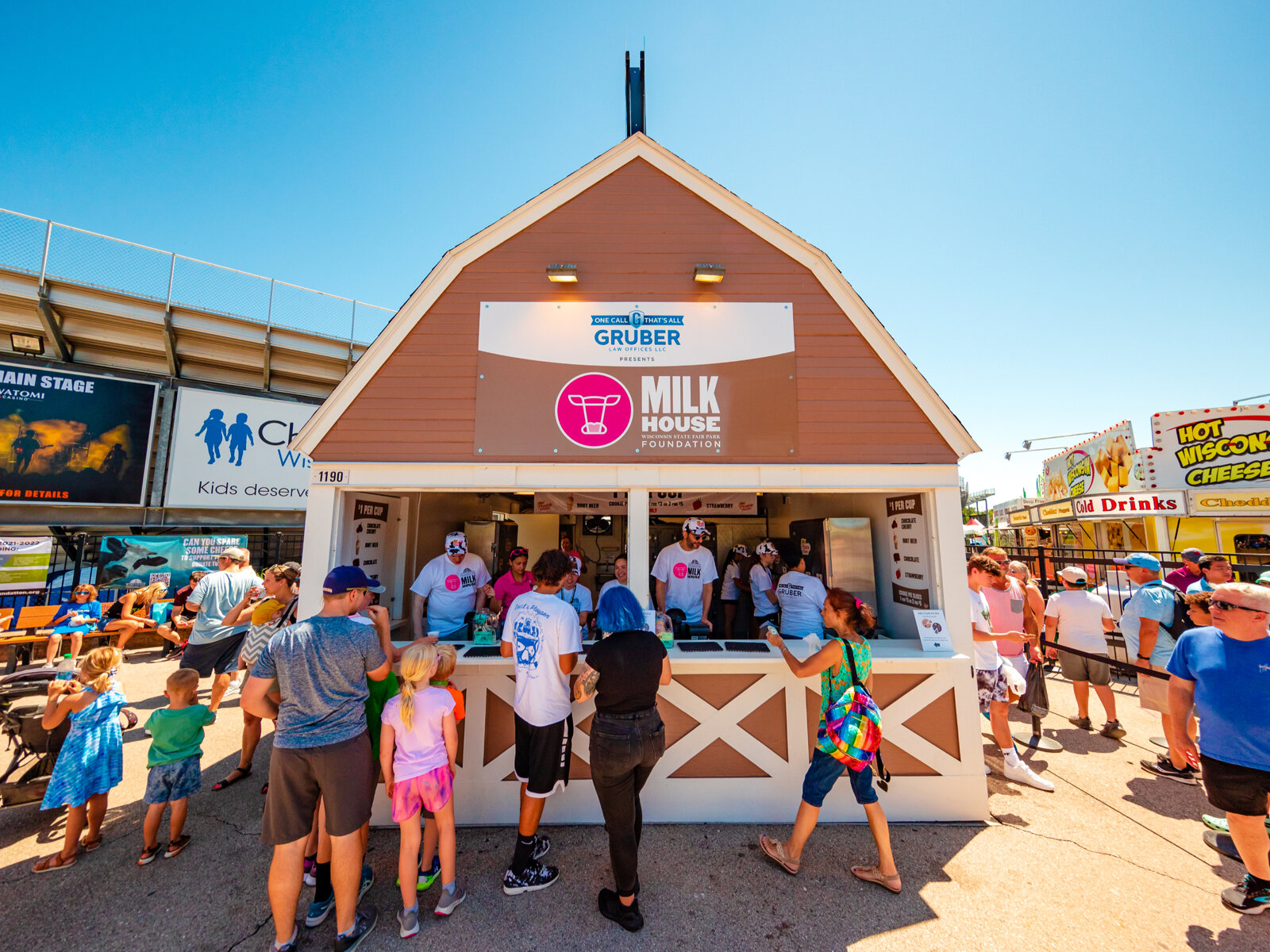 Eight ounces of delicious Wisconsin milk! Acclaimed local San Diego news anchorman Ron Burgundy once famously said, "Milk was a bad choice" – but that's never the case at the Milk House at the Wisconsin State Fair. The fan favorite disappeared for two years, but at last year's edition, the moo-filled marvel returned to action, complete with its cooling eight-ounce cups of delicious flavored milks, each delicious on their own or perfect for mixing into new palate-pleasing flavor combinations. Best of all, the Milk House is now run by the Wisconsin State Fair Park Foundation, meaning that the money made from the milk goes back into making the State Fair even better. Actually, pardon me: That's great news ... but the best part is still the tasty milk.
On the ninth day of Christmas, the 11-day Fair Fun Pass gave to me ...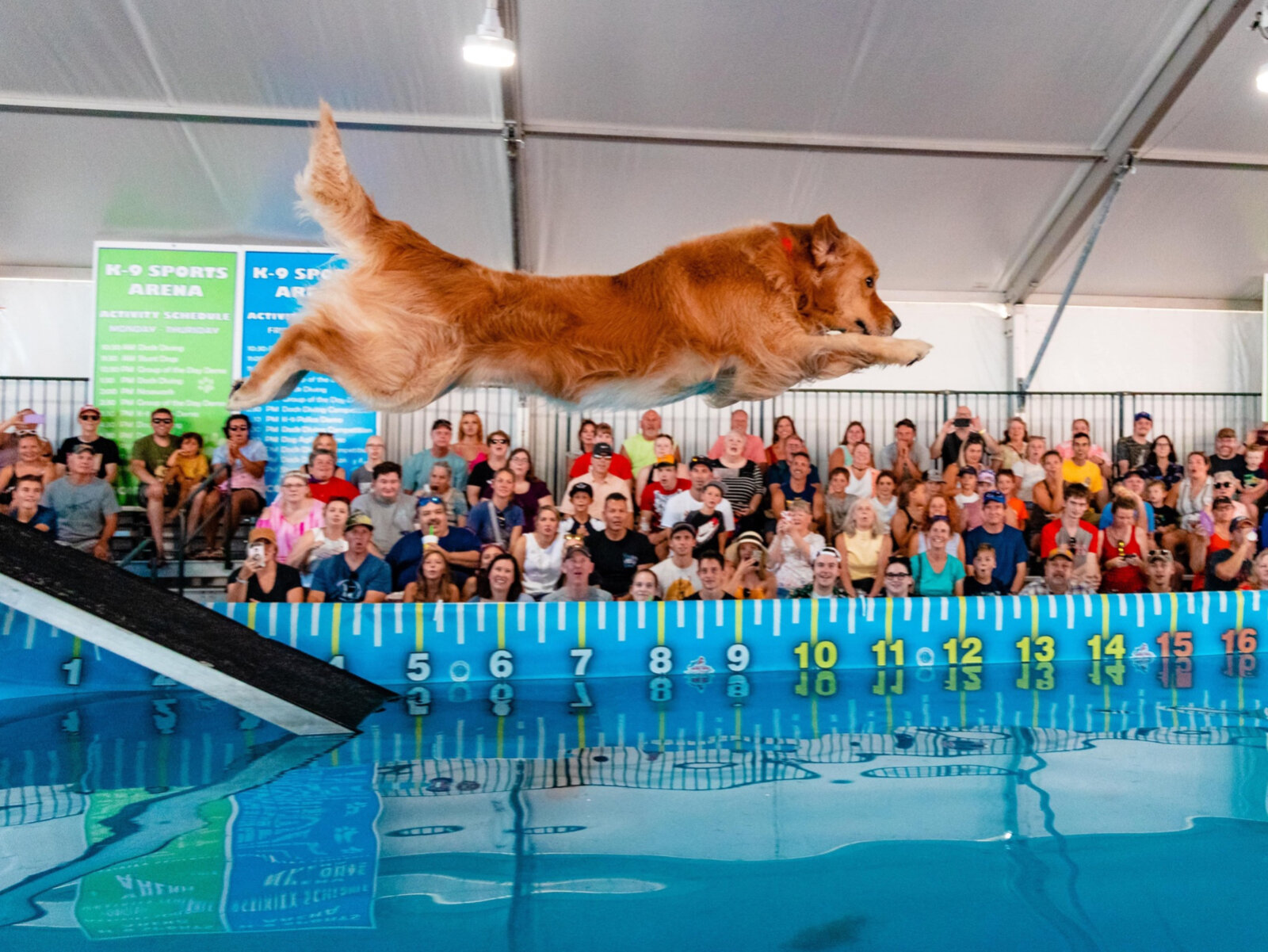 Nine canines doing dog agility and dock dives! The Wisconsin State Fair's animal barns always get all the attention – and deservedly so. But don't miss out on some of the most active (and adorable) animals on the grounds over at the K-9 Sports Arena. Showing off skills like running nuanced dog agility courses, flinging themselves a wild distance off a dock or flexing their impressive sniffing abilities, the K-9 Sports Arena has a plethora of precious puppers ready to perform for you. And arguably best of all, the space comes tucked away under a tent, offering some blessed seats in the shade on those steamy hot Wisconsin State Fair days. Though (*looks at current temperature and cringes*) those temperatures don't seem so bad right now.
On the tenth day of Christmas, the 11-day Fair Fun Pass gave to me ...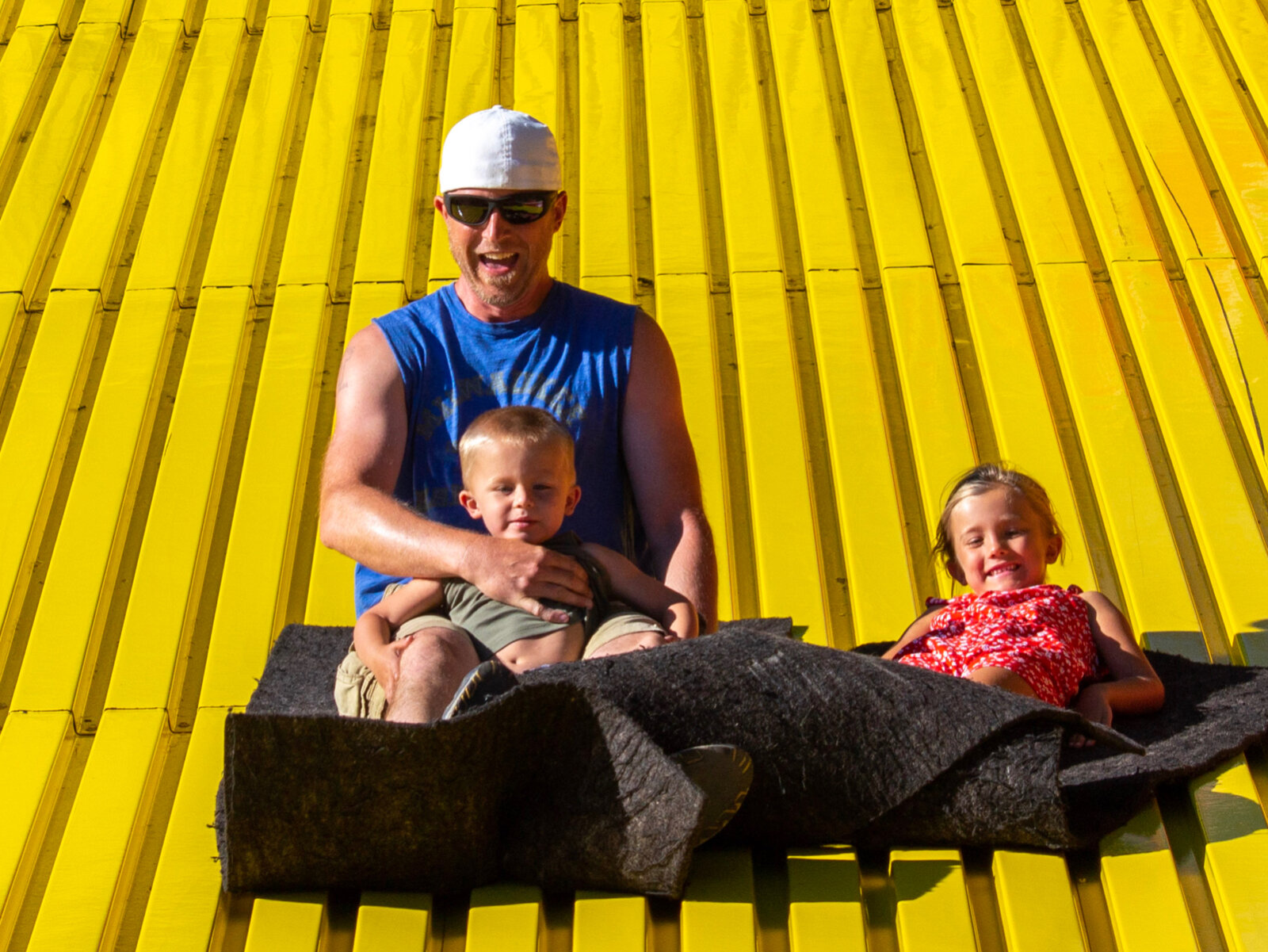 Ten slides down the Giant Slide! Indeed, after eating all that delicious fried food, you gotta get that body moving – not exercising, of course, but at least moving. Slipping down a slide burns calories, right?
Sure, it looks simple – just a scratchy blanket and a hilly but straight yellow track – but somehow even through decades of gravity-defying rollercoaster and theme park ride innovations, the Wisconsin State Fair Giant Slide has the enduring power to thrill riders young and old. It's higher than you think. It's faster than you think. It's overall more exhilarating than you think. No matter how much you've filled yourself on food and drink throughout your day at the Fair, the Giant Slide will get your stomach to do delighted flips – of excitement, of nostalgia and of basic childlike glee.
On the eleventh day of Christmas, the 11-day Fair Fun Pass gave to me ...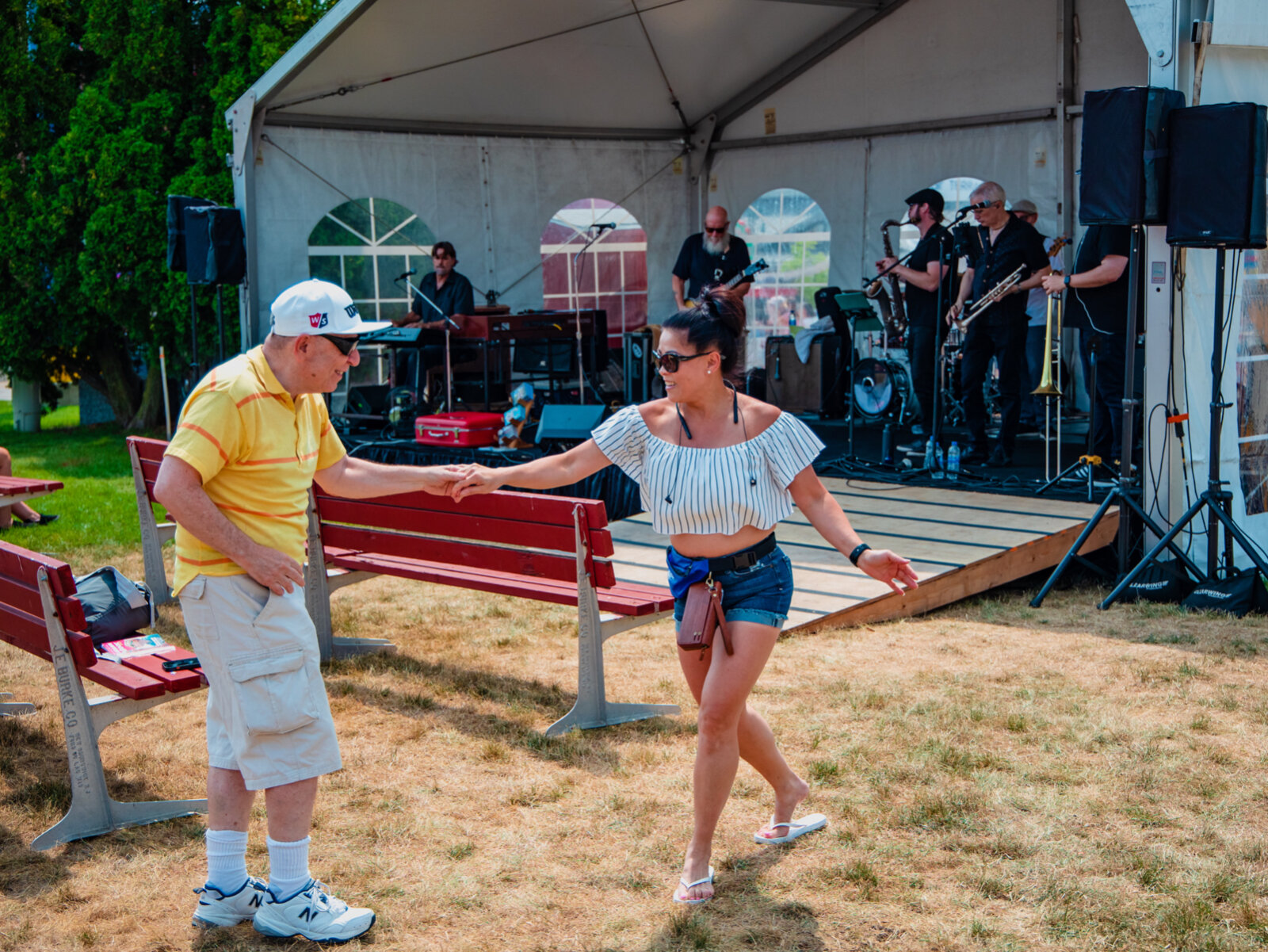 Eleven awesome days of live entertainment! In case the past ten days of Fair fun wasn't enough music to your ears, how about some literal music for your ears? The Wisconsin State Fair is annually one of the most impressive lineups of live entertainment you can find in the city – across all genres, from the big names hitting the Main Stage to the local favorites found at the tiniest tucked-away vendor stages.
Longing for a laugh (beyond tricking a friend into eating something peculiar from the Exotic Meats truck)? Recent State Fair lineups have featured the hilarious likes of Charlie Berens and Jeff Dunham. Feeling a flashback? In addition to iconic acts like Kansas, The Association, The Turtles, REO Speedwagon and more taking the Main Stage, you can always find a classic blaring out from one of the bar stages from an awesome and enthusiastic local cover band. On the hunt for recent hits? The local bands have you covered there as well – plus the likes of Nelly, Brett Young, Fitz and the Tantrums have played the Main Stage. With dozens of live stages spread around the grounds, you can always find somebody somewhere playing something you love, something that gets you on your feet and applauding into the night, ears ringing until the next day – when you come back to do it all again.
So with that all, buy your 11-day Fair Fun Pass now – or, if you don't have the stomach space to gorge on all eleven days, snag single-day tickets here.
As much as it is a gigantic cliché to say that one has always had a passion for film, Matt Mueller has always had a passion for film. Whether it was bringing in the latest movie reviews for his first grade show-and-tell or writing film reviews for the St. Norbert College Times as a high school student, Matt is way too obsessed with movies for his own good.
When he's not writing about the latest blockbuster or talking much too glowingly about "Piranha 3D," Matt can probably be found watching literally any sport (minus cricket) or working at - get this - a local movie theater. Or watching a movie. Yeah, he's probably watching a movie.