It had been two full years since I found myself at the Wisconsin State Fair, and damn, I missed it. In 2019, I was laid up from back surgery. In 2020, well, there was no State Fair. And in 2021, with the Delta variant of Covid raging, I can't say I was super-enthusiastic about being among that many people (anecdotally, I saw nary a dozen masks among the attendees), but being fully vaccinated, I needed to get back.
I've always liked the annual spectacle, even if gorging myself on cream puffs and deep-fried food isn't my main goal. I really just enjoy the fun weirdness of people-watching, the baby goats and the collective experience that is the yin to Summerfest's yang: the bookending of the great Milwaukee summer.
So, don't expect any amazing revelations here, but after a grueling time away, here are seven things I missed about State Fair:
1. Hard-working cover bands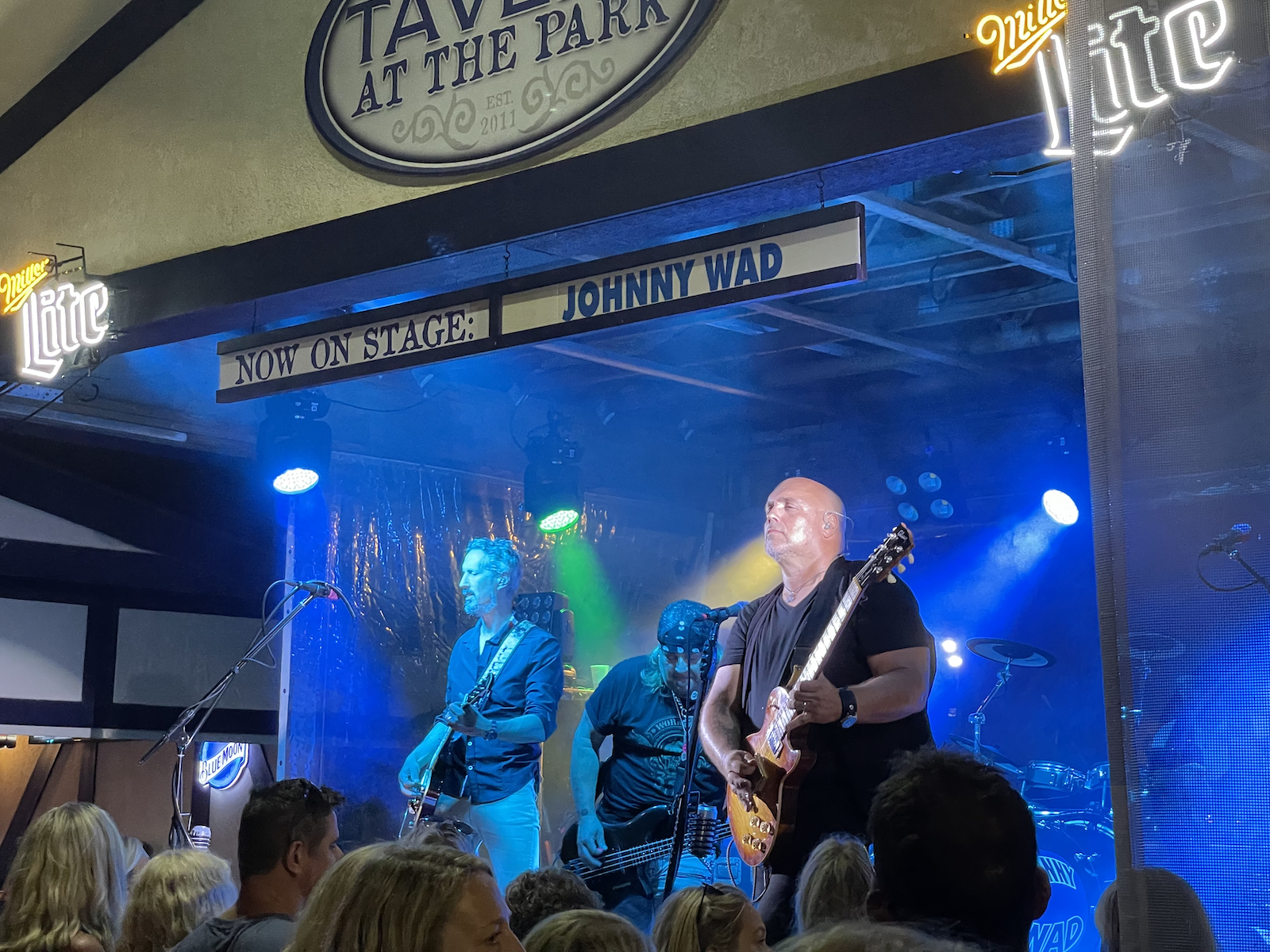 I've seen fun bands (The Monkees, 1986) and great bands (Spacehog, 2014) at State Fair, but I also have a sweet spot for cover bands from around the state living their best lives. Exhibit A: Johnny Wad, an unironic rock band from Green Bay that I recall first seeing at a Crivitz Pig Wrestling party in 2005. These guys have been around for freaking-ever, and it's hard not to enjoy their note-for-note renditions of "Sweet Child of Mine" and "Summer of 69." Not your thing? Walk 100 feet away and see a band like The Toys or Mt. Olive. It's easy to pick on bands like this, but it's better to suspend disbelief and enjoy them for what they are.
2. Passionate dancing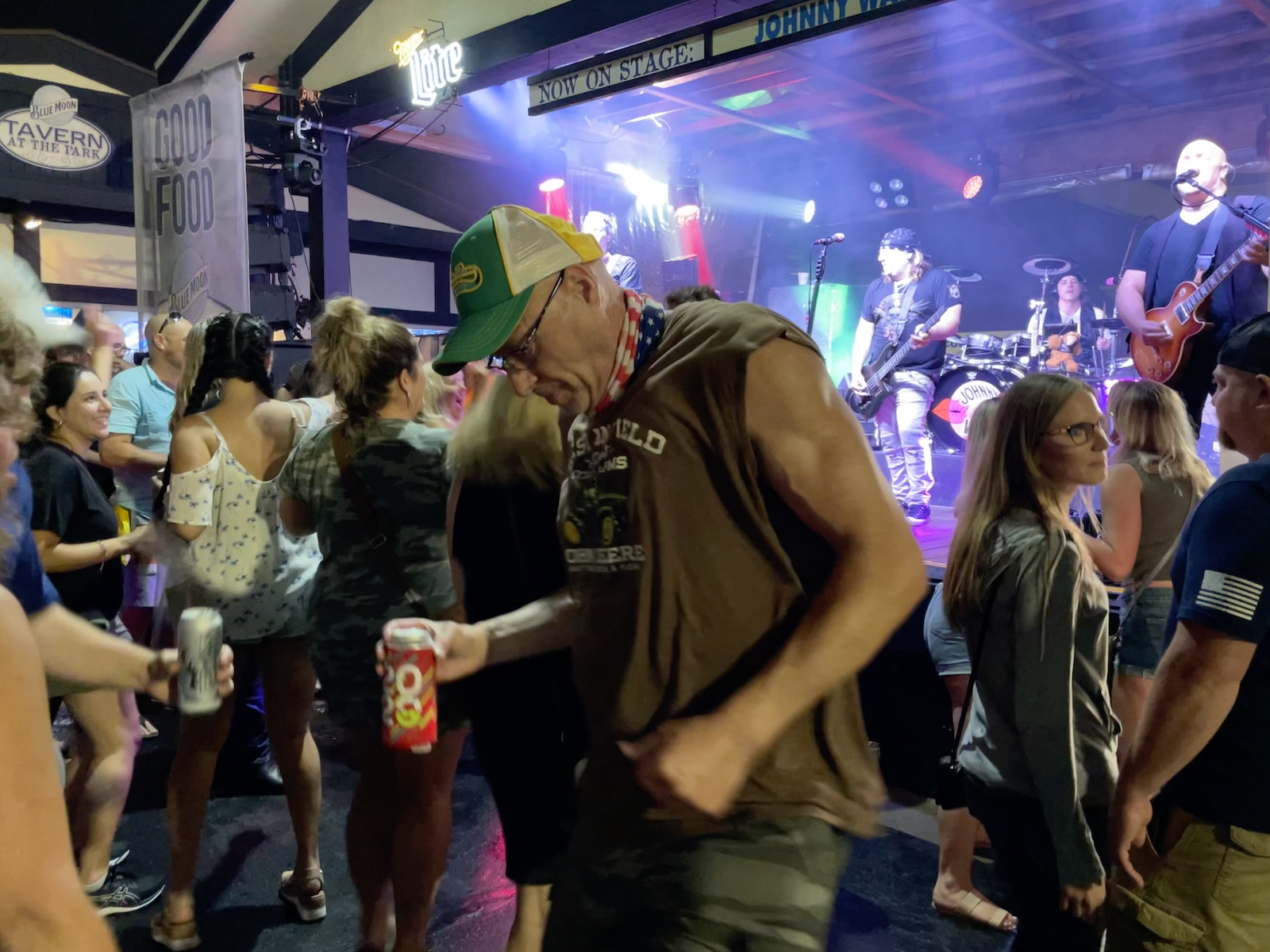 And the best reason to enjoy these cover bands is because of the blissed out audience, dropping their inhibitions and dancing like nobody's watching (even though we are). It's clear I wasn't the only one with some pent up energy from the long lockdown. How could you not feel happy for this guy?
3. Baby goats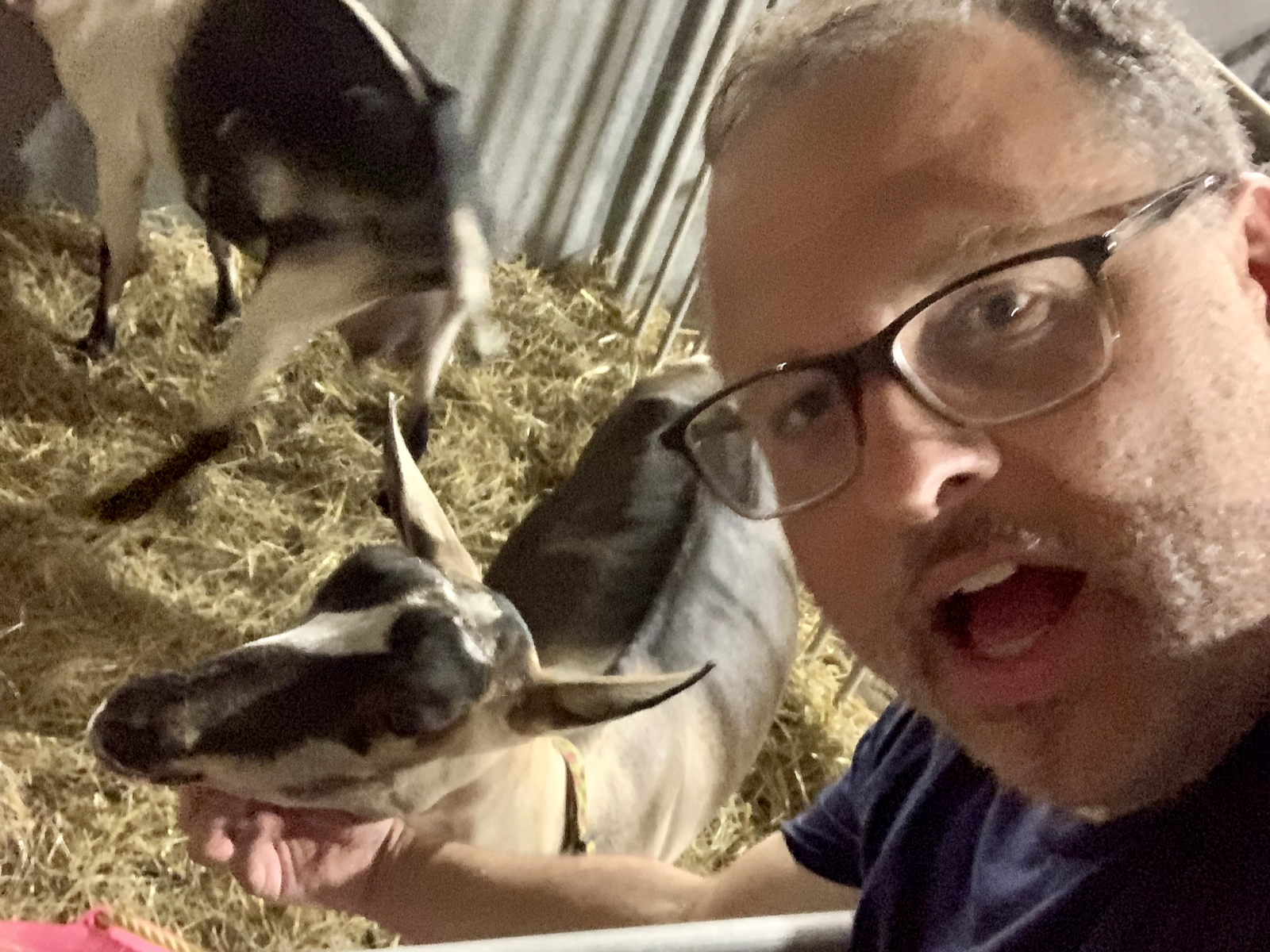 People who know me know that I love goats. The smaller, the screamier, the better. So, while I make it a tradition to pet the cows and the sheep and the pigs, the baby goats are my favorite. I also like chatting up the farmers who bring their goats to the fair, because I know that these puppy-like creatures (they wag their little tails!) aren't just here to entertain me; this is a big deal for people to bring their animals hours away and work in the hot, August humidity. I hope to learn a thing or two; namely, how I can get myself a pet goat.
4. Fancy horses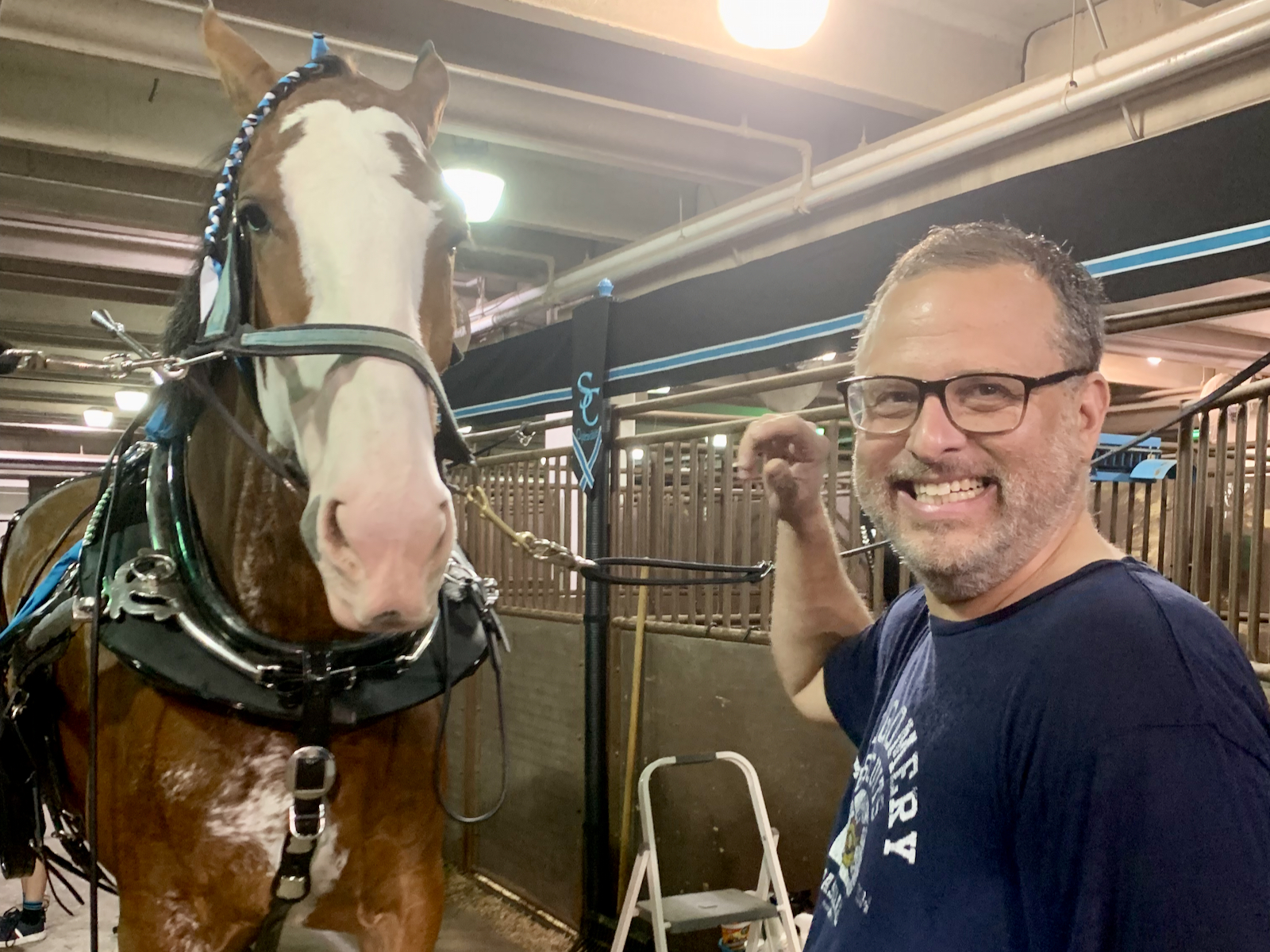 Yeah, everyone loves horses, but State Fair contains some pretty bedazzled ones. I don't really get it, but I'm intrigued to see horses wearing jewelry and dreadlocks. Such a niche hobby, and I'm here for it.
5. Weird merch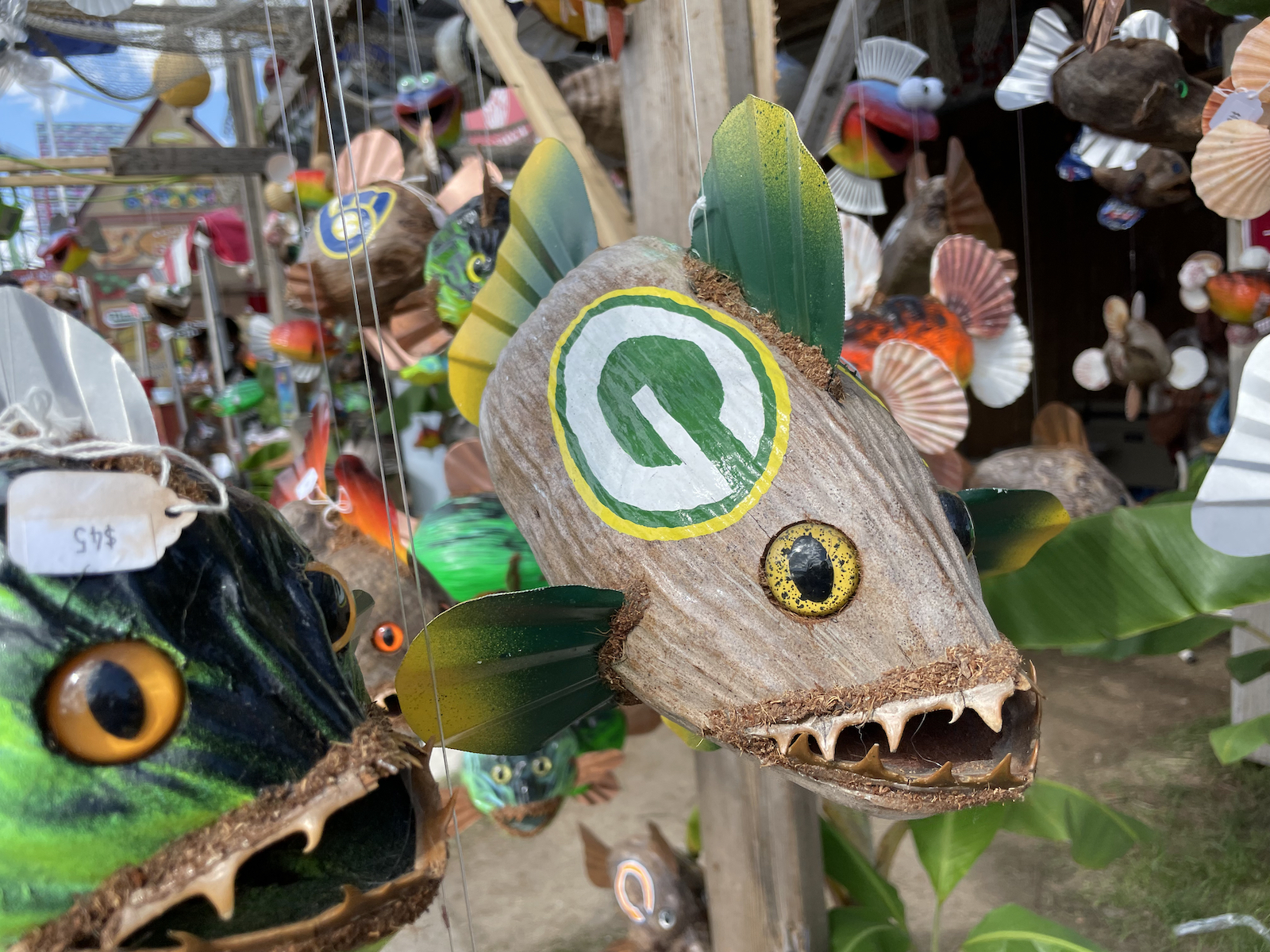 The "as seen on TV" exposition center is usually a highlight for me, but I felt a little safer outside this year. While I stopped in and got suckered into buying my daughter a $65 nail polish power UV light thingie, I more enjoyed wandering around the grounds looking at things I'd want to buy someday (hot tubs), things I never would buy (coconuts carved into fish with a Packers logo), and things I don't even understand (rows and rows of extremely long belts). The items for sale at State Fair are like a pre-internet Wish.com. No obvious rhyme or reason, but oddly intriguing to browse. I'll pass on the counterfeit Packers shirts, but they certainly made me giggle.
6. OK, just one deep-fried thing on a stick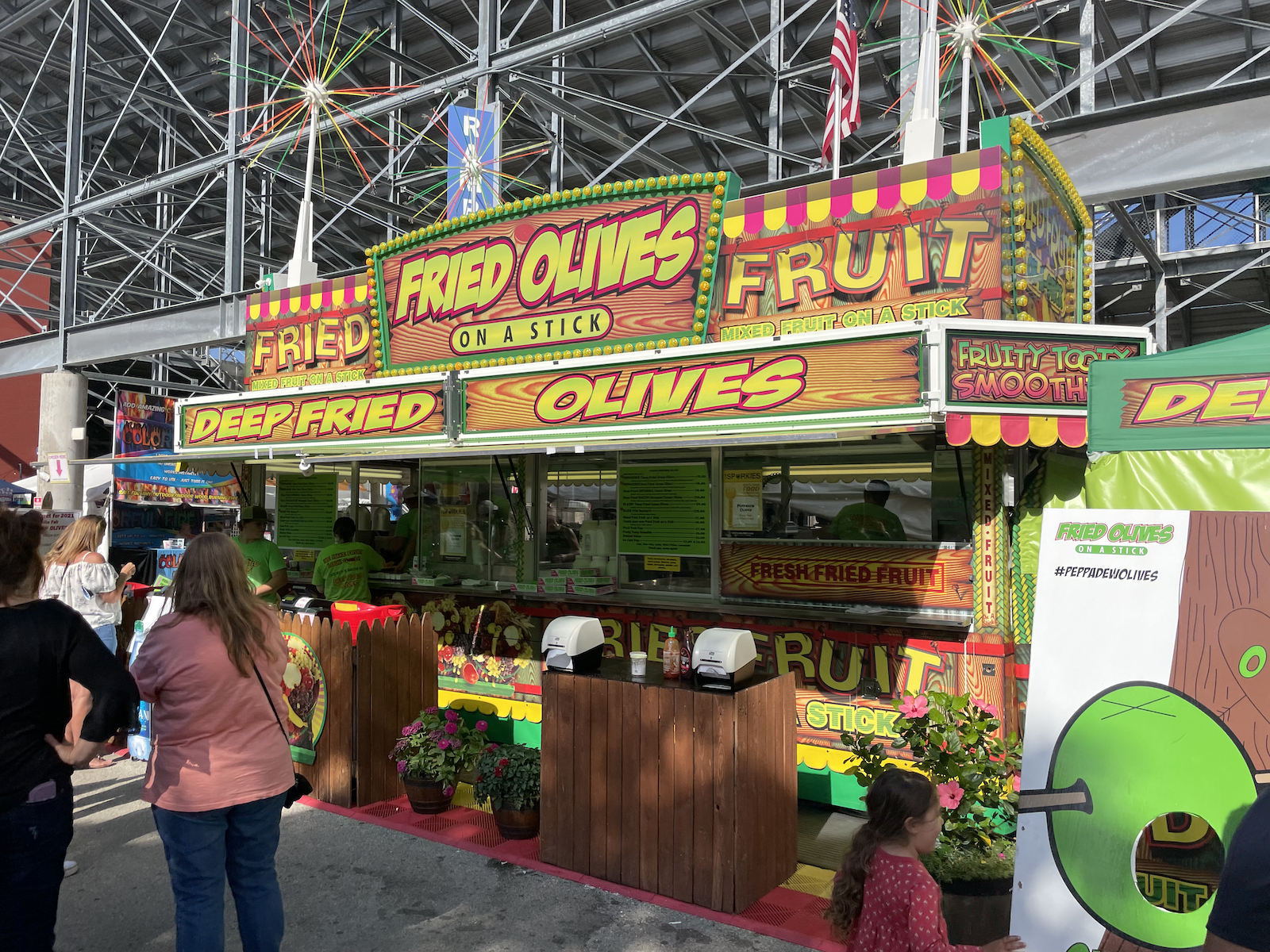 I don't go to State Fair to accelerate my demise from poor eating choices that I already make on a daily basis, but a guy's gotta eat. This year, my bad but delicious decisions included "bratzos," which was homemade potato chips, smothered with ground up bratwurst, beer cheese and horseradish sauce; and deep-fried peppadew olives on a stick with hot honey sauce. The former left me full and sweaty, but the latter was really good and not that over-the top.
7. Kids having fun again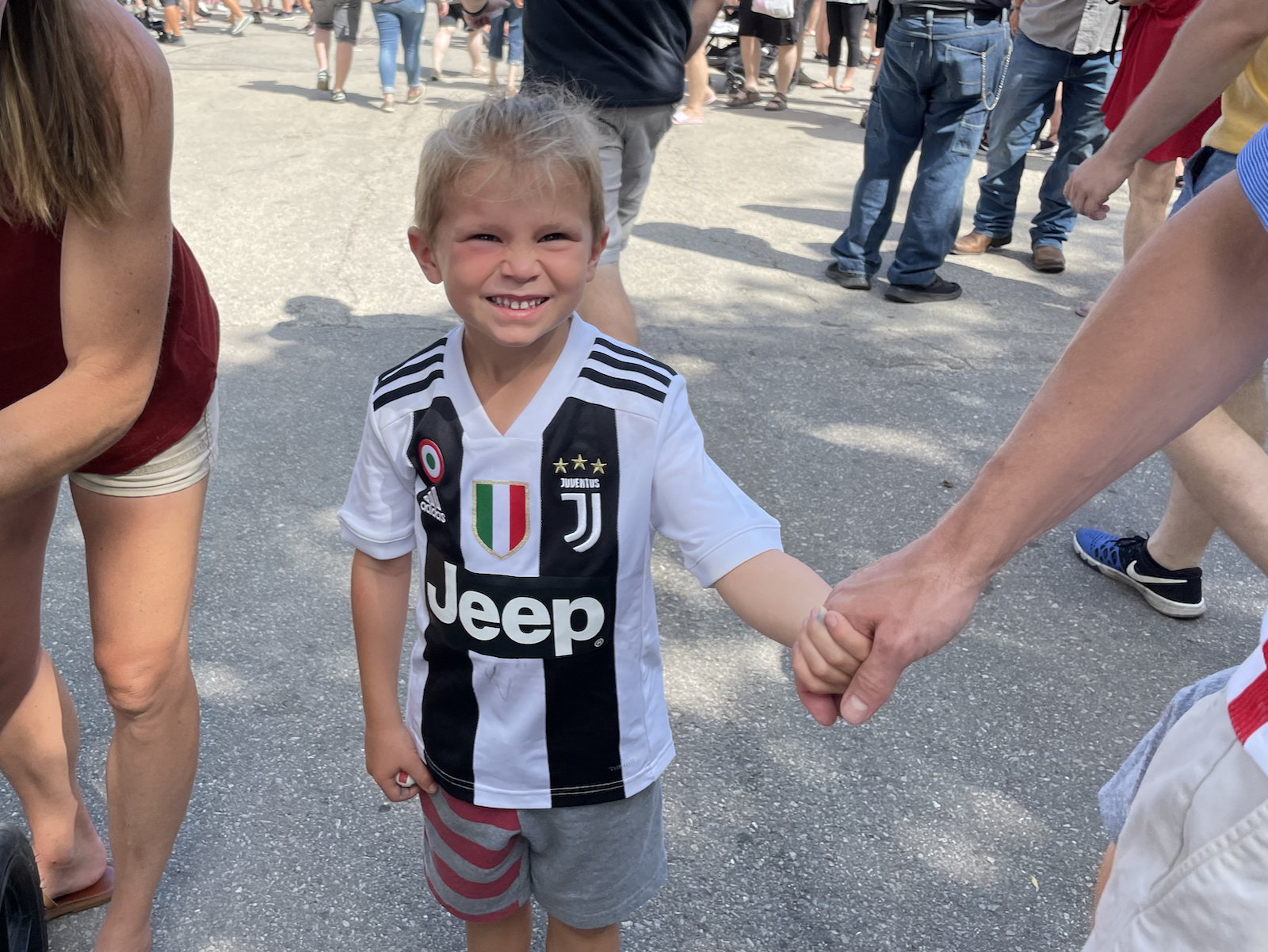 It's easy to complain about how much Covid has inconvenienced us all, but I maintain that the kids are the ones suffering for the adults' bad behavior. My daughter and her friends are old enough to be vaccinated, and they are, but the younger children still can't get their jab – so they have to take their chances and hope the rest of us play our part to end this thing. On Saturday, we met up with friends with two pre-schoolers, and these little guys were grinning ear to ear with their ears of corn. They cheered for the sea lion show and played on the playground. And at least the Covid vaccination tent that offered free cream puffs had a few people standing in line again. We won't know for a few weeks if State Fair was a super spreader event – and I pray that it wasn't – because children, more so than us adults, need their lives back. State Fair is some of the best family fun Milwaukee has to offer. I found myself a little on edge at this year's event, but I sure hope we never have to see this pandemic shut it down again. If you haven't already gotten vaccinated, please do so. If not for yourself, do it for the kids. They deserve the great Milwaukee summer, too.
Andy is the president, publisher and founder of OnMilwaukee. He returned to Milwaukee in 1996 after living on the East Coast for nine years, where he wrote for The Dallas Morning News Washington Bureau and worked in the White House Office of Communications. He was also Associate Editor of The GW Hatchet, his college newspaper at The George Washington University.
Before launching OnMilwaukee.com in 1998 at age 23, he worked in public relations for two Milwaukee firms, most of the time daydreaming about starting his own publication.
Hobbies include running when he finds the time, fixing the rust on his '75 MGB, mowing the lawn at his cottage in the Northwoods, and making an annual pilgrimage to Phoenix for Brewers Spring Training.