Editor's note: With the news of a devastating fire at the State Theater on Thursday night, we wanted to repost this Urban Spelunking – originally published on July 24, 2015 – in order to showcase and remember the historic Milwaukee theater.
What a long strange trip it was.
While theaters like the Downer and Oriental have venerable histories as long-running cinema houses, consider, if you will, the more varied history of the now-dilapidated State Theater, 2616 W. State St.
Originally a movie theater, the State has served a number of purposes – all entertainment related – during its nearly 100-year history.
Though for the past 20-plus years it's been silent, boarded up, the State spent four decades as a cinema, two more as an extremely conservative dance hall, another as a rock and roll club and, finally, five years as a strip club.

(Photo: Adam Levin)
Drive past now and the two-story building offers few hints of its storied past as a place where 1940s cabaret star Hildegarde may have entertained movie audiences, as the venue that first hosted The Police and U2 in Milwaukee, as a place where Tarzana crushed beer cans with her breasts.
There's a mural painted on the boards that cover its entrance doors and ticket window. There's bare brick where the marquee was once attached. Beyond that, nothing.

(Photo: Adam Levin)
Inside, there's no power (which led to some challenging photography), but history is layered here. Piles of remnants remain, especially from the Hoops era: slides of specific body parts of nude women, posters advertising visiting striptease stars – like Miss Nude Germany, April Day, possessor of the "World's Most Fabulous Legs," which is surely the attribute most patrons were paying to see – old city licenses, broken glasses, beer bottles, plastic cups, a couple dancing poles and signs declaring "no touching!"
(Photo: Adam Levin)
In the old office, a poster for the British band Sad Cafe – which featured singer Paul Young – hangs and it's significant because the group was among the earliest to appear at The Palms when it opened at the dawn of 1979.
Backstage, there's a tanning bed, as well as a goodbye note from a stripper penned with marker on a full-length mirror when the club closed in 1991.
Nearby is a note, penned in green marker – "Guru Guru from Germany was here 9.16th 79" – dating from The Palms era. I sent the German prog rock band the photo below and drummer Mani Neumeier replied, "Wow, already 36 years ago, help. Guru Guru is still alive and kicking. We have over 30 gigs in 2014 (and) a new live CD, too."
The stage survives at the far end of the big room, though it seems shorter than I remember, so I'm not sure if it's the same boards upon which the likes of Sting, Bono, Elvis Costello and Peter Tosh performed; if its the same stage upon which The Plasmatics' Wendy O. Williams "simulated sexual acts" with a sledgehammer, leading to her arrest and a barrage of charges, trials and civil lawsuits ... and national media attention.
Up on the ceiling, in the proscenium and on the walls, there is gorgeous plaster decoration and detail that survives. The organ rooms flanking the stage still have their vents and decorative urns full of plaster flowers, though the Kimball keyboard itself is long gone.
Upstairs, there are some hints of the old projection booth and a two-story apartment that's in decrepit condition, except for a built-in cabinet with gorgeous beveled glass doors.
A "beautiful new photo-play theater"
The building was constructed by the South Side Construction Co. in 1915 to plans drawn by architect Frank W. Andree – who also designed the Rudalt Theater in Columbus, near Madison, and kept an office in the Cawker Building at 108 W. Wells St. – and seven years later Lindl, Lesser and Schutte designed an addition.
(Photo: Courtesy Larry Widen)
Opened as 976-seat State Theater in December 1915, the venue was, for a time, one of 10 Warner Theaters in the city, along with the likes of the Venetian on Center Street, the Downer, the Lake in Bay View and, of course the jewel – The Warner (later called The Grand) on Wisconsin Avenue.
When the State opened, an ad in the Milwaukee Journal boasted that the "beautiful new photo-play theater" was "one of the most modern buildings around." It was equipped with a Kimball organ, reportedly of two manuals and six ranks (for you organ-spotters out there), which was reportedly removed a few years before the theater closed in 1955.
That grand opening ad noted that the State would screen the "best feature photoplays" that would change daily.
Veteran film projectionist Gilbert Freundl was quoted in the book "Silver Screens," by Larry Widen and Judi Anderson, talked about working in the booth at the Warner:

State Theater-era painted motif.

"When you worked at the Warner, you weren't allowed to make mistakes," he said. "They expected the best. You learned your craft in one of Warner's smaller houses, like the State, or the Downer, out in the neighborhoods, and slowly worked your way Downtown. You had to prove yourself."
Hildegarde Sell (who also played at The Lyric on Vliet Street in her earliest days) is said to have played piano during silent pictures at the State before she hit it big.
A 1949 ad shows that the State was by then part of the Fox Theaters group, which also included The Paradise in West Allis, the Princess and the Wisconsin Downtown, and others.
"Refrain from improper or fancy dancing"
By 1955, The State had closed and was purchased by Tom Harrington as a new home for his Friendship Club, which he'd launched in 1929 above the Avenue Bar on 7th and Wisconsin. The Friendship Club was a dance hall, mostly for single folks, who wanted a nice, clean night out.
Harrington remodeled the place and by 1975, when it closed, the Journal's Jay Scriba described it as "a big, clean, well run Legion Hall type place with a Milwaukee bubbler in the lobby, American flags decorating the 80 by 67 foot wooden dance floor and a Minocqua-Eagle River mural of pine trees behind the proscenium bandstand."
It seems quite clear that the Friendship Club was a prudish sort of place, one that required, in the words of the club's rules board – as recounted by Scriba – "proper dancing attire (coats and ties for men; no shorts or slacks for women)," and asked clients to "refrain from improper or fancy dancing."
The rules also banned "hazing, smart cracking and smoking on the dance floor."
It was the kind of place, Scriba wrote, "where ladies leave their purses on the table when they get up to dance."
Clearly, Harrington – if he had shaken off this mortal coil by then – would be less than pleased with what would come next at the State, and lord knows if he were still alive when Wendy O. Williams pretend-masturbated and fellated a sledgehammer, hearing about that taking place on his evergreen-laden proscenium bandstand would surely have finished him off.
Rock and roll moves in
The Electric Ballroom brought rock and roll to the former State and during its roughly four-year run, it brought in a number of big names, including AC/DC, Elvis Costello (on Dec. 1, 1977, with Bad Boy opening!), The Runaways, The Ramones, Welsh metal band Budgie, Eddie Money, Judas Priest, Hawkwind and Todd Rundgren, whose October 1978 gig there was released on CD last year.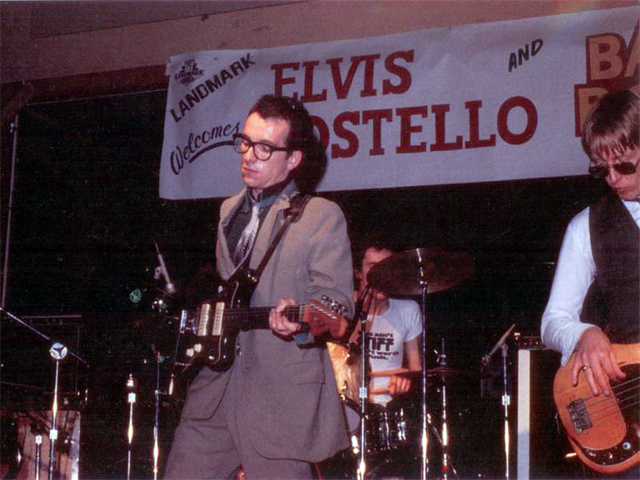 Elvis Costello & the Attractions at the Electric Ballroom, Dec. 1, 1977. (Photo: Larry Widen)
It also booked up and comers like Rockford's Cheap Trick, along with local bands, including The Lubricants, who did something – I'm not sure what – to earn the honor of being banned.
By January 1979, Chuck Vecitis and Peter Sobotka bought the place. They renamed it The Palms and spent a few weeks cleaning and painting before reopening it.
But the toughest thing to change, it seems, was the Electric Ballroom's rough reputation.
"The people who owned it wouldn't have gotten their license again," Vecitis told the Milwaukee Sentinel that year. "We had to fight for our license for two months. When we took the club over, we had fights in here every night. We just put the security in and put a stop to it. No one gets hassled in here anymore."
Among the earliest shows there were performances by George Thorogood & the Destroyers, Sad Cafe, Steve Forbert, Poco, Asleep at the Wheel, Peter Tosh, Dire Straits and The Police.
The list of bands that played The Palms by the time it closed in 1986 is impressive: Megadeth, The Replacements, Duran Duran, Dokken, Orchestral Manoeuvres in the Dark, Talking Heads, The Psychedelic Furs, Gang of Four, The Stray Cats, The Stranglers, The Motels, Joan Jett, The Ramones and, on April 15, 1981, U2.
Read more about the U2 gig here.
(Photo: Milwaukeerockposters.com)
There were countless others, too. And the shows were a bargain. Gigs by Tom Petty & the Heartbreakers, Meatloaf and Eddie Money cost $1. One. Dollar. Admission to see U2 on its first American tour was $4.50.
Like the Electric Ballroom before it, The Palms also booked local acts, and I can remember seeing Kafka and St. Bernard there around 1984. Five years earlier, The Haskels had organized Milwaukee's debut "New Wave Festival" at the club.
Guitarist Mike Ciaccio, whose band The Tense Experts opened that U2 show, remembers The Palms:
"I saw a lot of people there," he says. "Not horribly cavernous sounding, but sort of. Somewhat seedy in the dressing rooms, but a step up from some, including wherever we lived for more than a few months. I liked it."
His then-bandmate Bobby Steele says they used to do load-in and stage work at the club when they weren't gigging.
"We lived about a half block away from The Palms, and often we would get roadie gigs. It was probably $20 and free shots. I roadied for the Ramones. One of my friends was stage manager and lived in the apartment upstairs for a few years."

Veteran musician and producer Mike Hoffmann – who later played with Tommy Ciaccio in E•I•E•I•O – says that his band Yipes! – which also included Pat McCurdy – was a fixture at the club.
Yipes' last show at The Palms (Photo: Bob Braun)

"Yipes! began there and ended there," he says. "We played for 40 people first time in, and then we had two sold-out shows when we broke up. Peter and Chuck took very good care of us all the way. It was a very important venue for a lot of acts here but national acts came through all the time.
"I always liked the fact that it was an old theater that was converted into a rock club – big stage, a dressing room area upstairs, a dressing room area backstage; it was all very cool. The Palms was where I really learned how to act like a rock star and prepared me for the rest of my career, which continues to this day, and I'm very thankful for all of that."

The Plasmatics' Wendy O. Williams onstage at The Palms, Jan. 18, 1981. (Photo: Larry Widen)

Don Hallen worked at The Palms and also briefly lived in the apartment upstairs.
"I was the stage manager there for two stints in the early '80s," he recalls. "The first week I was stage manager The Tourists, with Annie Lennox, played and two days later it was The Pretenders. Was there the night of The Plasmatics. Did lights for Joan Jett and Hank Williams Jr. It was a great time.
"I only lived upstairs for a while, but it did have its times, when the place was used for a dressing room. I could tell you a story or two. The Palms was a cool place to work, worked with so many good bands, saw so many great shows, got paid for it, and could drink for free on the job. Who in their early 20s wouldn't love that?"
But the neighborhood was changing and the business was changing and by 1986, The Palms had gasped its last breath.
"The Goddess of the Crushed Beer Can"
Hoops opened amid some controversy soon after. According to a 1996 article in the Milwaukee Sentinel, "When Hoops bar was being remodeled before opening in 1986, the license holder responded to claims by Ald. Paul Henningsen that the bar planned to have scantily clad women dancing. Although (he) denied that such plans existed, he would not rule out the possibility of such activity in the future. The bar had go-go dancers when it opened about a month later."
A couple stripper poles remain from the Hoops era.

One of those dancers was the storied Tarzana, a 5-9, 130-pound former cheerleader named Kathy Phillips, whose husband was manager of Hoops.
Phillips, who hailed from Albuquerque, was rumored to be shy and self-effacing. Interviewed by the Milwaukee Sentinel's Dave Tianen, she said, "I don't think I'm a sexy woman. I've got freckles and dimples. ... I'd give anything to have a flat chest. Outside of the business, I'd like to be small-busted. I can't jog or anything.
"I'm shy in a way," she also said. "I don't like compliments. In high school, for gym, I used to change in the shower. I didn't want to be seen in my bra and panties."
But fans loved Tarzana's special talent, revealed during her 20-minute performances – which Tianen noted contained 18 costume changes. The climax was Tarzana's ability to crush beer cans with her cleavage.
Tarzana bared all for a Penthouse shoot, but I'm not sure if that ever appeared in print. But what did end up in the papers were complaints from neighbors who disapproved of the shenanigans at Hoops, which they told the Sentinel included public urination, noise, parking woes and fights.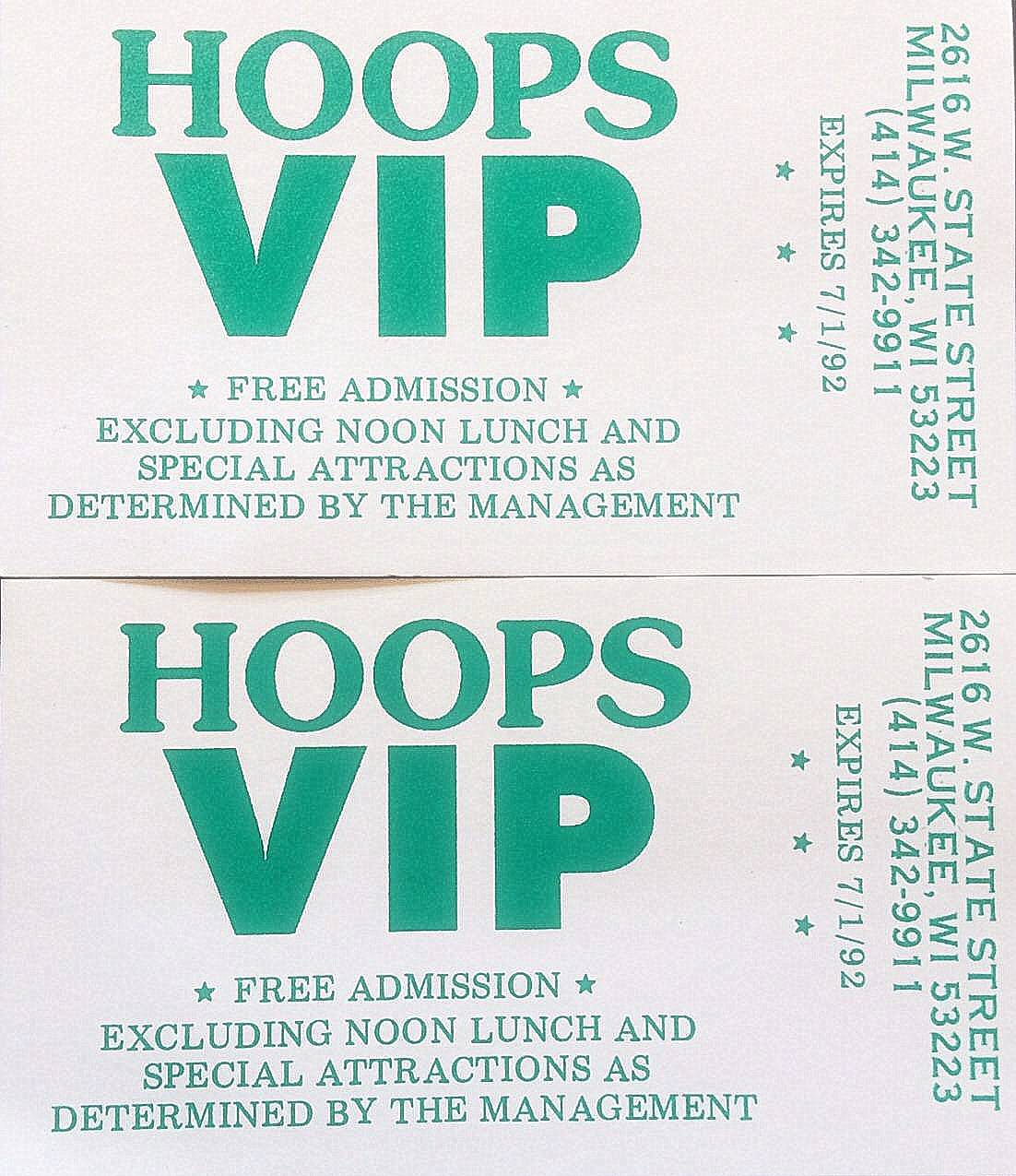 (Photo: Adam Levin)
In 1991 the city's Utility and Licenses Committee voted unanimously to strip the club of its licenses and Hoops came to a halt.
There, too, lies the end of the story. The building has been vacant ever since and nature – and vacancy – are slowly taking a toll.
The building now rests in the hands of the city's Department of City Development, which isn't actively hawking it but is always eager to hear ideas and consider offers for its sale and redevelopment.
One such plan is in its infancy; just a flicker of an idea right now, really. And that plan would take the former Hoops building full circle, reopening the State as a movie house and developing the former candy store/lunch counter and laundromat across the alley as a cafe.
Born in Brooklyn, N.Y., where he lived until he was 17, Bobby received his BA-Mass Communications from UWM in 1989 and has lived in Walker's Point, Bay View, Enderis Park, South Milwaukee and on the East Side.
He has published three non-fiction books in Italy – including one about an event in Milwaukee history, which was published in the U.S. in autumn 2010. Four more books, all about Milwaukee, have been published by The History Press.
With his most recent band, The Yell Leaders, Bobby released four LPs and had a songs featured in episodes of TV's "Party of Five" and "Dawson's Creek," and films in Japan, South America and the U.S. The Yell Leaders were named the best unsigned band in their region by VH-1 as part of its Rock Across America 1998 Tour. Most recently, the band contributed tracks to a UK vinyl/CD tribute to the Redskins and collaborated on a track with Italian novelist Enrico Remmert.
He's produced three installments of the "OMCD" series of local music compilations for OnMilwaukee.com and in 2007 produced a CD of Italian music and poetry.
In 2005, he was awarded the City of Asti's (Italy) Journalism Prize for his work focusing on that area. He has also won awards from the Milwaukee Press Club.
He can be heard weekly on 88Nine Radio Milwaukee talking about his "Urban Spelunking" series of stories.