Fans of Milwaukee – and Great Lakes – history who haven't signed up for the Wisconsin Marine Historical Society's mailing list are missing out.
The group – headquarted at Milwaukee Public Library, which I featured in this story a few years back – is very active in terms of collecting and archiving documents and photos and objects and also hosts numerous events each year.
The newsletter is an easy way to find cool old photos in your inbox every week (sometimes more). And, because these folks are history buffs like the rest of us, there's always a story behind the photos and the WMHS folks share that story. This one was written by John Buellesbach of MKE Marine Reports (mkemarinerpt‌@‌gmail‌.com).
For example, on this day, Oct. 29, in 1929, the Goodrich steamer WISCONSIN foundered in Lake Michigan during a furious storm. Incredibly, 52 of the 68 men on board would survive.
Ignoring storm warnings, the WISCONSIN was making her scheduled run from Chicago to Milwaukee when she began taking water. Unable to control flooding, her crew called for assistance via wireless.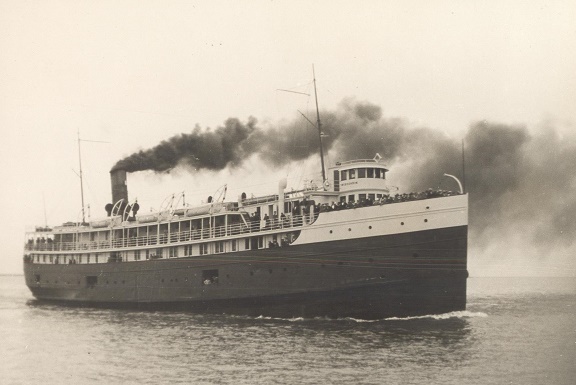 Two coast guard boats and a fish tug responded. Conditions made rescue extremely difficult and survival far from certain. Thus ended a 48-year career during which the WISCONSIN served five owners and sailed under five different names. Her remains rest in 125 feet of water six and one-half miles southeast of Kenosha.
Designed by noted marine architect Frank Kirby to carry passengers and freight, the WISCONSIN's iron hull was 204 feet long and 35 feet wide. Launched in 1881, she was built for Goodrich Transportation by the Detroit Dry Dock Company at Wyandotte, Michigan. Intended to operate year-round, the WISCONSIN incorporated a double-bottomed hull that would rise over and crush ice instead of trying to plow through it. Modern icebreakers use this same principle.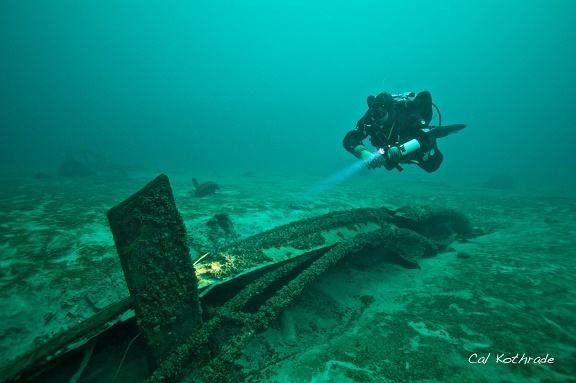 Much of the freight carried was done so under contract with the railroads. In 1883, when business declined, Goodrich sold the WISCONSIN, her sister ship MICHIGAN, and the sidewheel steamer CITY OF MILWAUKEE to the Detroit, Grand Haven & Milwaukee Railway. When Crosby Transportation took over the railway's cross-lake service, it purchased the WISCONSIN and renamed her NAOMI.
On May 21, 1907, the NAOMI was 28 miles out of Grand Haven en route to Milwaukee when she caught fire. A passing steamer, the KANSAS, noticed the blaze and stayed with the stricken vessel. After NAOMI's captain sent up distress signals, two more vessels arrived on scene. Fortunately, the weather was excellent and Lake Michigan calm. Many passengers escaped in lifeboats and were picked up the KANSAS. The freighter KERR, which had a steel hull, slid under NAOMI's stern allowing the remaining passengers and crew to escape. 75 were saved – five died. After the fire had burned itself out, the KERR towed what remained back to Grand Haven.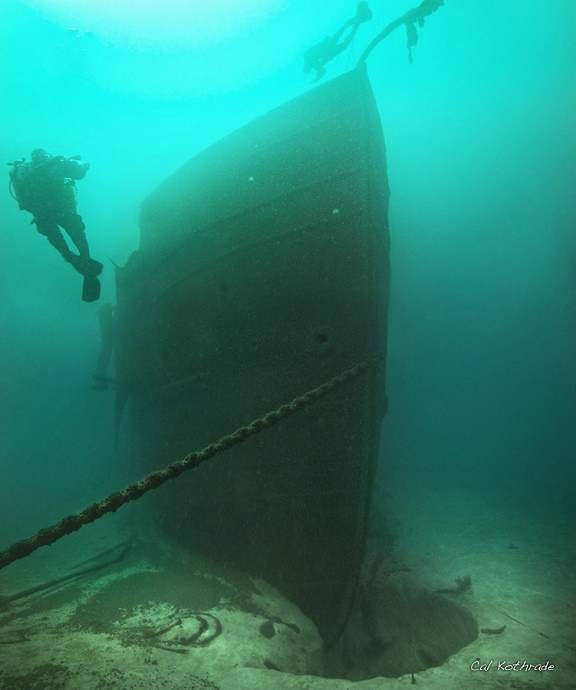 Manitowoc Dry Dock would rebuild NAOMI. When she emerged from the shipyard in 1909, NAOMI was 209 feet long with a 40-foot beam. A steel superstructure included 100 cabins on two decks and modern amenities. She was one of the finest combination passenger-freight steamers on the Lakes. One year later, her name was changed to E.G. CROSBY.
After entering World War I, the United States purchased the CROSBY. Given the name, GENERAL ROBERT M. O'REILLY, she moved to New York harbor and was used as a hospital ship. When the war ended, the Chicago, Racine & Milwaukee Steamship Company acquired the GENERAL O'REILLY and renamed her PILGRIM. She was put on the Chicago Milwaukee run in direct competition with the Goodrich boats.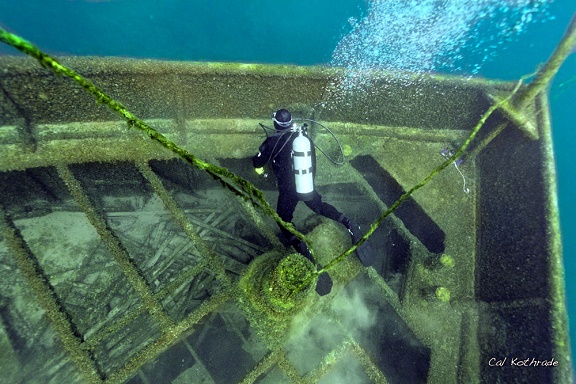 Goodrich Transit acquired the Chicago, Racine & Milwaukee in 1922. The PILGRIM soon found herself back at Manitowoc where she received extensive upgrades. With work complete, her original name, WISCONSIN, was restored. She was placed back in Chicago Milwaukee service as a night boat opposite the ILLINOIS.
On Oct. 22, 1929, an intense storm slammed the upper Midwest. Wind gusts at Chicago reached 53 miles per hour and wind driven waves pounded the western shore of Lake Michigan. Caught in this tempest was the WISCONSIN making her regular run from Chicago. She arrived at Milwaukee 12 hours late and with a noticeable list. According to her skipper, Captain D.H. Morrison, the storm was the worst he had encountered in his 26 years on the Great Lakes. He attributed the list to an "unequal expulsion of water ballast."
So when storm warnings were posted one week later, Captain Morrison was not overly concerned. The WISCONSIN had proven herself a staunch vessel capable of handling the worst of Lake Michigan's storms. And although almost 50 years old, her boilers and hull had been inspected one month earlier and were found to be "entirely seaworthy." Carrying a cargo of automobiles, iron castings and boxed freight, the WISCONSIN left Chicago at 7:25 p.m. Monday, Oct. 28, bound for Racine and Milwaukee. On board was a crew of 64 and four passengers.
Once again the WISCONSIN found herself battling heavy waves and gale force winds as she clawed her way north. Around midnight, as the WISCONSIN neared Kenosha, her crew noticed the boat was taking water and started the pumps. But unable to locate any breach, they could do nothing to slow the incoming water. The pumps could not keep up and water was soon threatening the boilers.
The first wireless message went out at 1:30 a.m. Stations in Chicago, Kenosha and Racine began monitoring the situation. It was hoped the ILLINOIS, which was at Racine, could tow the WISCONSIN into that port. Unfortunately, the ILLINOIS damaged her rudder and was unable to assist. At 2:35 a.m., the WISCONSIN reported that her fires were out and she had no steam. 25 minutes later she broadcast a distress call. She sent a final message at 4:34 a.m. before her transmitter went dead.
A coast guard boat from Kenosha reached the WISCONSIN about 4:00 a.m. A coast guard boat from Racine and the fish tug SEARCH arrived later. Because of high waves, the rescue boats could not come alongside. So the men on the WISCONSIN would have to use lifeboats and rafts to escape. They began launching lifeboats about 4:45 a.m. The WISCONSIN went under about two hours later.
Under very difficult conditions, the rescuers began taking survivors off lifeboats and rafts, and pulling them from the icy water. Amazingly, 52 of 68 survived. "Bound to his duty and true to the tradition of the sea," Captain Dougal Morrison remained on his ship to the end. According to one report, he was "picked up by the Kenosha guardsmen, carried ashore, shook hands with his fellows at the coast guard station was lifted into an ambulance collapsed and died."
Souvenir hunters soon invaded the beaches. They threatened to leave little of the wreckage that washed ashore. "Crowds were on the beach three miles south carrying away bits of wood and parts of boats as souvenirs. One man, it was said, even tried to carry off a whole boat." The Kenosha coast guard began patrolling the area to collect and secure wreckage.
An investigation failed to identify what caused the flooding that sank the WISCONSIN. Federal Inspector Fred Meno acknowledged that this question might never be answered. The most definite testimony he heard came from an oiler who believed "that water had leaked in somewhere through the coal bunkers." Whatever the cause, the inspector concluded that WISCONSIN's officers and crew were in no way responsible.
The vessel and its contents were fully insured. Initial estimates valued the WISCONSIN at $250,000 and her contents at $200,000. The location of the sunken vessel, about six and one-half miles southeast of Kenosha, was fairly well known. Water depth at the site was about 125 feet.
Hardhat divers visited the wreck in 1936 with hopes of salvaging the contents. They found her resting upright. However, the superstructure was missing. To gain access, divers blew a hole in the hull. They found that at least seven automobiles had broken loose creating a tangled mess. Very little was worth bringing up.
Since being rediscovered in 1963 by scuba diver Richard Race, the WISCONSIN has become a popular dive site. Divers can penetrate the hull and still view some of the vintage autos she carried. In 2014, Scuba Diving Magazine listed the WISCONSIN as one of the best 25 wrecks in U.S. waters.
NOTES:
The NAOMI's first mate when she burned in 1907 was Robert McKay. Later known as "Heavy Weather" McKay, he was captain of the car ferry MILWAUKEE, which sank one week before the WISCONSIN.
Captain Edward G. Crosby founded Crosby Transportation. Along with his wife and daughter, Crosby was aboard the TITANIC on her maiden voyage in 1912. He died when the TITANIC struck an iceberg and sank. His wife and daughter survived.
A captain did not go down with the ship because of tradition or for glory. He did so because that's what the company wanted. Once a distress signal was sent, the vessel and its contents became property of those who salvaged it. But as long as the captain remained aboard, the owners could argue the ship was not abandoned. Consequently, their claims should be superior to those of salvors.
An intriguing situation arose concerning one of the dead, L.B.H. DeCassagus of Chicago. A woman identified the body as that of her husband and arranged for its shipment to Chicago. Later, a second woman demanded the body claiming she was the wife of DeCassagus. When informed that another woman had claimed the body, the second woman immediately left for Chicago.
On Monday, Oct. 28, 1929, the Dow Jones Industrial Average opened at 298.97. It lost 38.33 that day. On Tuesday, the index lost another 30.57 as panic selling reached a peak with 16 million shares traded, a record that would stand for 40 years. In two days, the Dow Jones had fallen 68.90 (23%) – an equivalent loss today would be over 4,000. October 29 became known as "Black Tuesday" and marks the beginning of the Great Depression.
PHOTOS: Wisconsin Marine Historical Society and, below water, Cal Kothrade.
Sign up for the Wisconsin Marine Historical Society's email newsletter by emailing wmhs@wmhs.org.
Born in Brooklyn, N.Y., where he lived until he was 17, Bobby received his BA-Mass Communications from UWM in 1989 and has lived in Walker's Point, Bay View, Enderis Park, South Milwaukee and on the East Side.
He has published three non-fiction books in Italy – including one about an event in Milwaukee history, which was published in the U.S. in autumn 2010. Four more books, all about Milwaukee, have been published by The History Press.
With his most recent band, The Yell Leaders, Bobby released four LPs and had a songs featured in episodes of TV's "Party of Five" and "Dawson's Creek," and films in Japan, South America and the U.S. The Yell Leaders were named the best unsigned band in their region by VH-1 as part of its Rock Across America 1998 Tour. Most recently, the band contributed tracks to a UK vinyl/CD tribute to the Redskins and collaborated on a track with Italian novelist Enrico Remmert.
He's produced three installments of the "OMCD" series of local music compilations for OnMilwaukee.com and in 2007 produced a CD of Italian music and poetry.
In 2005, he was awarded the City of Asti's (Italy) Journalism Prize for his work focusing on that area. He has also won awards from the Milwaukee Press Club.
He can be heard weekly on 88Nine Radio Milwaukee talking about his "Urban Spelunking" series of stories.