Milwaukee's got a knack for putting waste to good use. Consider Milorganite or, less obviously to those of us up here on the surface, the city's steam system.
What was once a byproduct of energy production has been parlayed into a money-making venture that more than a century after its introduction is still a major service offered to Downtown Milwaukee by We Energies.
Currently, the system -- fueled by the Valley Power Plant on Canal Street in the Menomonee Valley -- serves more than 400 customers via about 215,000 linear feet -- nearly 39 miles -- of high-pressure and low-pressure steam piping that runs through 18,379 linear feet of walkable tunnels that criss cross the city, from 19th Street to the lake, from Vliet Street to the north to Mitchell Street to the south.
Recently, I got to go down into those tunnels to see how the system works. But first, a little background, on a system that is similar to many around the country.
According to John Gurda's history of We Energies, "Path of a Pioneer," Milwaukee's steam system has its roots in the 1897 Milwaukee Electric Rail and Light Co. purchase of the Milwaukee and Wauwatosa Motor Railway Co. That deal brought an old Pabst powerhouse on Broadway into the system.
"Waste steam from the Broadway plant's boilers was piped underground to provide heat as well as light to The Pabst Theater, the Pabst-owned St. Charles Hotel and other buildings on the east side of the river," Gurda wrote.
By the 1910s, steam was a valuable part of the business, wrote Gurda.
"(The company) did not overlook the commercial market for steam heat. Once a waste product of the system's power plants, steam became a small but important business line, particularly on Downtown Milwaukee. In 1917, the company installed a steam tunnel connecting the Commerce and East Wells (Oneida Street, pictured below) Power Plants. The tunnel extended the steam system's reach and ensured its continuity of supply."
Before these plants went online, there was a more scattered scattershot network fed by small boilers around the system, says Steam Services Manager Bob Jones.
A lot of times a lot of the customers back then had their own heating systems in their buildings and they were tying them together. And once we put in Oneida and Commerce Street that's when, at the time, Wisconsin Electric began to grow its own system.
The system was further expanded with additions to the Commerce and Wells Street plants in 1939 and 1941 and in 1968 and '69 the two units of the Valley Power Plant came online, "just in time," wrote Gurda, "to serve the steam system's newest and largest customer: Marquette University."
Among the other steam customers are Northwestern Mutual, Milwaukee School of Engineering, Rockwell Automation, Milwaukee Art Museum and the City of Milwaukee.
The steam is currently created by coal-burning boilers, but soon that will change as one unit of the Valley Power Plant is currently being converted to natural gas and the second unit will be converted by early next year.
The 480-degree steam has many uses, from heating buildings in the winter to heating water and myriad industrial purposes. It's food grade so it's used to wash dishes, process laundry and for sterilization.
"The system that we have now is not a return system," says Jones in the steam services headquarters, located in an unassuming building in Merrill Park, "so, it's up to the customer to drain every bit of heat out of the steam that they can. To make it as efficient as possible.
"We have some customers who put a radiator on the back end to suck out more heat or a heat exchanger to heat water coming in and it sucks all the heat out and the water goes to the drain."
Steam is pumped through two systems. One is low pressure, in larger pipes, operating at around 12 pounds per square inch, and the other, in smaller pipes, but moving a larger mass, is high pressure, which typically runs at 150 psi.
"Low pressure, even though it sounds like you don't get as much out of it, a lot of the customers can get a lot of heat out of that low pressure steam," says Jones. "Both quantities of steam still have basically the same amount of BTUs. But the thing is with the high pressure you can use smaller pipes and send more mass through.
"We use more of the high pressure system so that we don't have such big pipes going all throughout the system. So we send high pressure steam to a pressure reducing station and that changes the steam from high pressure to low pressure."
Steam leaves the Valley Power Plant in two large pipes that cross Canal Street via a steel archway, then travels up over the Menomonee River on its way toward Downtown.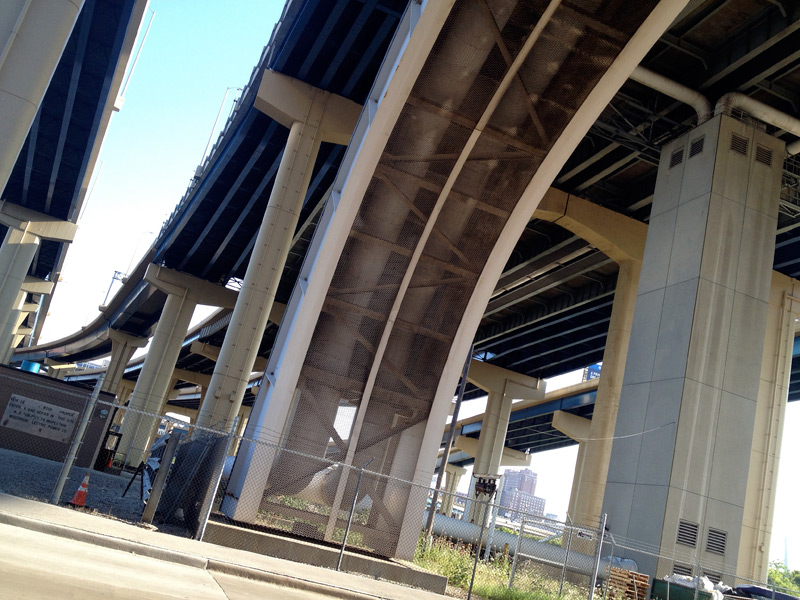 These days, thanks to a new pipe, the system -- which is still growing, a building on Greenfield Avenue recently connected to it -- also goes to the south side.
"We had to excavate and put in what we call direct bury piping," says Jones of the south leg, which was installed in the late 1990s. "That's the carrier pipe with the steam, insulation and an exterior pipe for protection. It's coated chemically so it doesn't rust."
The oldest part of the system is to the northeast, up near Knapp and Prospect. The western and northwestern portions were added in the late 1960s when the Valley Power Plant opened.
Accessing the tunnel that runs below the river requires a long descent on a series of ladders that reach beneath the river bed. Then, you can either crouch and walk through, bent over, or you can lay flat on your back on a tram system and make your way under the river that way.
Alas, I didn't get to experience that. Instead, a We Energies crew took me in an old tunnel and a new one.
To access the older tunnel, which lies beneath a major Downtown thoroughfare, we enter through the basement of a recognizable historic office building (for safety and security's sake, I've agreed to be vague about the entrances -- the tunnels can be dangerous).

An unremarkable metal door swings open and we're there. Hold on to your hat, because the wind in the tunnels will practically knock you sideways. And you definitely don't want to make any contact with the two large pipes that run along one side of the tunnel. They can heat up to in excess of 400 degrees, at least on the inside, and get pretty hot even on the outside and touching it could leave you with a burn you'll remember. That's why steam workers wear heavy gloves and long-sleeved shirts.
This tunnel -- probably built at the dawn of the last century -- looks a whole lot like, well, a tunnel. It's round, wet, damp and, although constructed with cream city brick, it also looks a lot like a cave thanks to the calcified stalactites and the salty sprouts on the walls that resemble those crystals you grew with a kit as a kid.

We walk about a half a block to where there's a ladder down to another tunnel, another maybe 20 feet down. Up above there's a cream city brick chamber that leads to a manhole cover through which we can see two narrow shafts of sunlight.

Some manhole covers, like this one, allow for venting. Others access the tunnels with a ladder, still others don't lead to tunnels but instead only to small vaults where workers can get to system equipment of various kinds.

What surprised me most, perhaps, was the lack of wildlife of any kind. I saw nary a rat, nor a single spider. Not even one scurrying cockroach.

Stewart Buser -- whose daughter, coincidentally, is an OnMilwaukee.com staffer -- tells me that the most he's ever seen in his decades in the tunnels is a roach or two. The four-legged creatures can't really get in, he says. They tend to hang out more in the sewer tunnels and pipes.

But the same doesn't apply to water.

The biggest cause of infiltration is water main breaks and leaks, Buser's colleague Gary Smallwood tells me as we gaze up at the sunlight peeking through the manhole cover about 15 feet above. But heavy rains also contribute.

Back up on the street, Buser shows me the manhole cover we saw from below and I'm surprised at how near it is. It felt like we'd walked further in that tunnel. Did I mention it's insanely hot and humid down there?

A quick drive across the river with colleague Bob Bauman and we head over to the end of the line at a newer stretch of tunnel. Smallwood opens a manhole cover in a parking lot not far from the river, and Buser drops a line connected to a meter down the hole to check the air quality before we descend.
We get the all clear and climb perhaps eight feet down to a grate through which we can see the tunnel, which is maybe another 15-20 feet below.

Buser tells me we could follow this tunnel about five blocks west and five blocks south, though we won't go nearly that far.

We descend and I immediately can tell the difference. The poured concrete tunnels of the late 1960s have barely any calcification, because there's been a whole lot less water infiltration.

The brick and mortar construction of the old tunnels was more porous -- especially after more than a century of wear. Buser tells me that when he started decades ago, the new tunnels were dry as a bone. As more and more construction has gone on above, he points especially to development at the former Pabst Brewery, the tunnels have begun to let more water in.

There's a bit of water in some spots at the bottom of the tunnel, but in other stretches there's none. Sometimes, though, it's hard to tell the wet from the dry.

Luckily, for the most part, I was able to straddle the bottom of the tunnel by walking with my feet a bit up the lower curves to avoid stepping in the rust colored liquid that often disguised itself as a solid. A couple of times, thinking I was stepping on firm ground, I found myself squirting down into the brine.

Though the newer tunnels felt a little bigger, both required this six-foot person to walk slightly stooped. But they were readily walkable.

We walked about two blocks in this tunnel, to where a fan roared so loudly we could no longer hear each other speak. This was the base of a vent that we later stopped to see from the sidewalk above.

Heading back toward the ladders to the manhole cover I mused that while the steam travels through these tunnels at up to 10,000 feet per minute, the wind and the heat and trying to keep one's Doc Martens out of the deeper muck force man to move through them at a considerably slower rate.
Born in Brooklyn, N.Y., where he lived until he was 17, Bobby received his BA-Mass Communications from UWM in 1989 and has lived in Walker's Point, Bay View, Enderis Park, South Milwaukee and on the East Side.
He has published three non-fiction books in Italy – including one about an event in Milwaukee history, which was published in the U.S. in autumn 2010. Four more books, all about Milwaukee, have been published by The History Press.
With his most recent band, The Yell Leaders, Bobby released four LPs and had a songs featured in episodes of TV's "Party of Five" and "Dawson's Creek," and films in Japan, South America and the U.S. The Yell Leaders were named the best unsigned band in their region by VH-1 as part of its Rock Across America 1998 Tour. Most recently, the band contributed tracks to a UK vinyl/CD tribute to the Redskins and collaborated on a track with Italian novelist Enrico Remmert.
He's produced three installments of the "OMCD" series of local music compilations for OnMilwaukee.com and in 2007 produced a CD of Italian music and poetry.
In 2005, he was awarded the City of Asti's (Italy) Journalism Prize for his work focusing on that area. He has also won awards from the Milwaukee Press Club.
He can be heard weekly on 88Nine Radio Milwaukee talking about his "Urban Spelunking" series of stories.