Editor's note: The following sponsored content was provided by Steinhafels.
For this month's featured "Before and After" project from the Steinhafels in-house interior design team, we're going to highlight one of the team's most tenured members!
Designer Linda Patti has been with Steinhafels for more than 24 years and has decorated more than 700 homes. From modest condos to mansions in Lake Country, Linda truly has done it all!
Today, let's look at a recent redesign Linda managed in Oconomowoc. This project was no easy task! The couple's grown children were out of the house, and they were looking to make some big changes – both inside and outside the home! Linda had to come up with a budget for the entire project, which can be a very daunting concept to someone who isn't used to budgeting for large-scale projects.
Before
Linda says the process began the same way many of these projects begin.
"The homeowner came into the store confused and unsure of how to accomplish the entire home overhaul. It was great working with these customers because they were willing to follow my lead," she notes. "The first step was to come up with a budget for the entire project which included: the exterior color, garage door, light fixtures, windows – everything except the roof – interior flooring, wall coloring, all furniture, light fixtures, kitchen stain finish, and hardware and appliances. They did not have a style. Through interviewing and learning their likes and dislikes, we created a style for them."
Linda admits that drawing up a budget was a bit challenging; however, once she understood the scope of the project, it all came together quite easily. From day one, Linda requested a total budget so they could make financial arrangements. When working on a project of this magnitude, having a total budget from the start allows a designer to coordinate a cohesive flow of everything. Linda is proud to add, "We were almost right on budget at the end!"
After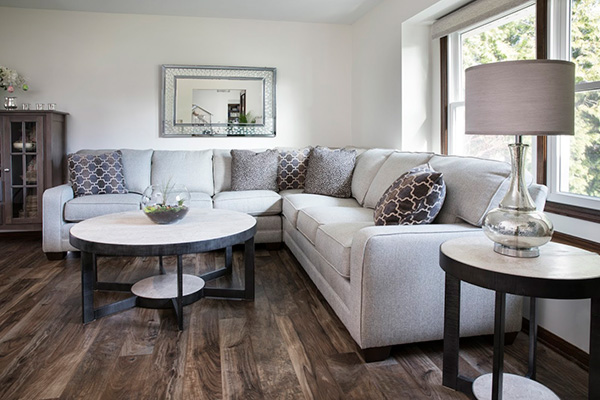 As you can see, the finished result is a complete 180 from the original design – and it WORKS! One of the cool things about working with the Steinhafels Decorating Solutions program is that while our designers try to use as much Steinhafels product as possible, they are also open to exploring other outlets, especially for a complete home overhaul like this one!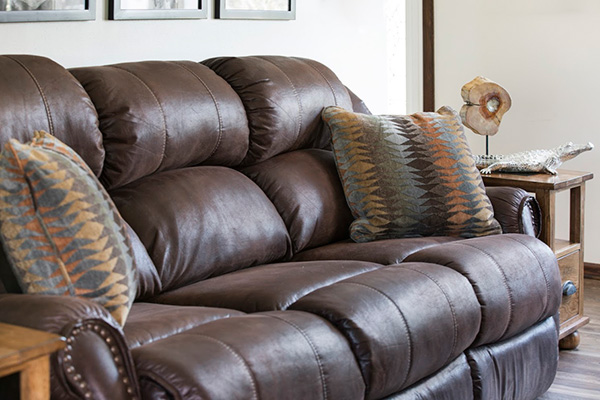 Linda explains, "We utilized many Steinhafels products; however, some of the items I needed to locate elsewhere. For example, interior/exterior lighting was purchased from Home Depot; accessories for the most part were found online through Wayfair. To complete an entire project like this, it is imperative to have the ability to access outside sources to accomplish the exterior, lighting, and to get the 'right' look."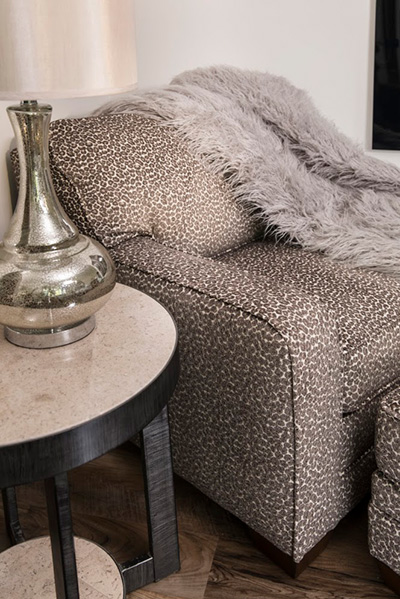 Another thing we like to think we do really well is offering special order options. Many of the pieces in this redesign are special order – meaning you can't find them in-store or on our website. Linda says this is vital to a design project. "Personalizing to every customer is a necessity. From sizing to specific design characteristics, our special order options enable me to locate the specific items I need to make the design project their own. It always is nice when customers are open to many of my suggestions, and trust my judgement."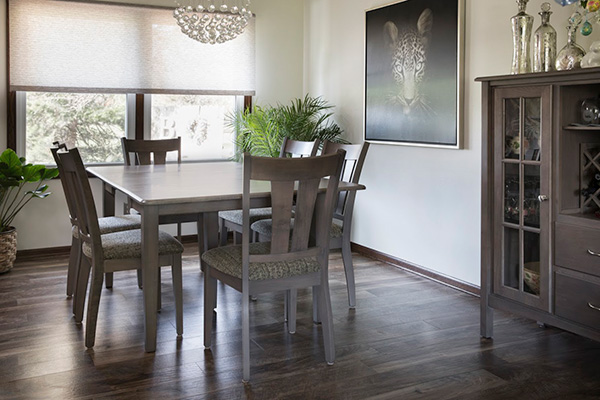 Linda's goal is to see the smile on a client's face after a job well done. This project didn't disappoint! She recalls, "It was very gratifying to see the final results and the joy the family expressed. She even went to social media commenting on her satisfaction with my services, the products and final results."
Don't just take our word for it when it comes to Linda's expertise. Check out the customer testimonial for this project:
"We are so happy with our home updating project. Linda Patti, our Steinhafels decorator, helped us pick out all of our furniture, paint colors, flooring, sinks and fixtures. It turned out amazing. She also helped us pick out our exterior paint color, aluminum wrapping, front doors and garage doors. Linda Patti is kind, caring and absolutely wonderful to work with. She is a great resource to use when checking on buying products to use in your home. I highly recommend Linda Patti for a decorator." – Debra B. from Oconomowoc
It must be a great feeling to have a job that brings a smile to so many peoples' faces. A redesign can be a stressful process, but with designers like Linda, it can also be fun, and the results will keep you smiling for years to come!