Editor's Note: Sponsored content is paid third-party advertising content. OnMilwaukee's newsroom does not write or edit this content.
When we think about an interior design project, we often are drawn to the visual results – how it looks, the style, focal points and the color palette.
But when you think about it, a redesign can also be a very emotional process. Homeowners often pour their hearts and souls into a project.
This couldn't be truer than in the case of Gina from Oak Creek. Her story is heartbreaking, but she is doing better ... day by day. We are happy to say one of our Steinhafels' Decorating Solutions designers was able to play a small role in her recovery.
Gina's story
Gina and her family's lives were turned upside down in March of 2015, when someone set fire to their home as she and her husband Russ slept.
"At almost 1:56 in the morning, our neighbor was banging on the door saying, 'Get out of the house; it's on fire,'" Gina recalls.
Investigators could quickly tell the fire was no accident. The arsonist had poured gasoline on the home's gas meter and lit it on fire.
"It was horrific," Gina says.
The suspect was arrested, and later convicted and sent to prison on arson charges. The family knew the suspect, and to this day, Gina can't completely believe this happened. "I can't even imagine ... in a million years, I couldn't imagine something like that happening. And I wasn't afraid of him … until that happened."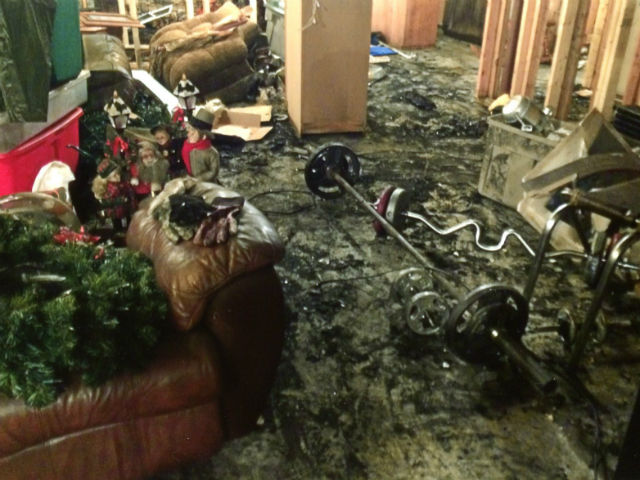 The home was a total loss. Some items were salvaged by a restoration company, but for Gina, the loss of the house itself was almost more heartbreaking. You see, Gina and her husband had designed the home from the ground up. It truly was their dream house. Gina says the home reflected their personalities perfectly and had some extra character. "We love the hardwood, we love natural stone, and just to have it a little bit different than what you normally see."
The family decided to rebuild in the same spot and to keep the new house as close to the original as possible, with some interior updates.
Gina designed the interior the first time, but couldn't do it by herself this time around. "I needed help," she admits, crying.
That's where Steinhafels came in – and Decorating Solutions Interior Designer Jenii Kluver!
Gina explains, "I met Jenii, and she was amazing. I told her some of the story, and she was there to help. She came here, and it was all under construction. I don't know how she did what she did. She looked, got an idea of our taste, what we like. She was so patient with me, between the court hearings and my job."
Jenii admits it was a daunting task at first. "It was a little scary to be honest. These people had a large part of their lives ripped away from them, and I really had no idea what to expect. I walked through the house during the middle of the rebuild, so all I saw were studs and some drywall. Luckily, Russ had the blueprints from the first time they built their home, so I was able to work off of that."
The rebuilding process was cathartic for Gina, who lived in a tiny apartment with her husband and dog for nine months during the rebuilding process. "Life will never be the same. It's like you have life before the fire, and after," she says.
Jenii knew this redesign was one of the only things keeping Gina going. She recalls, "I really wanted to get this project right for them. I don't think I've ever felt as much pressure during a project as I did during this one. I also wanted to make sure I took care of everything so that this project was one less thing for them to worry about. I also wanted to make sure I wasn't giving her the exact same design as what she had prior to the fire. I tried to look at this as a fresh new start for the family, so I wanted the design to be fresh and new as well."
All of the work was worth it! Tearfully, Gina talks about her new life, in her "new" home. "It's day by day. I'm jumpy. Things scare me that didn't scare me before, but I feel safe in my house, and I didn't know I'd be able to feel like that again. I love it."
Of course, not every redesign is this emotional or large-scale, but for our designers, every job is important, no matter how big or small.
It's pretty simple, Jenii explains. "I do my job because I love seeing people happy."
Gina knows the healing process is far from over, and she will never be completely the same again, but at least for now, she has her sanctuary and a place that truly does make her happy. "This IS my home, nobody's taking it from me, and Steinhafels and Jenii are a big reason I feel like I'm home."
Check out more Before and After pictures of Gina's home in this gallery.
Here's a link to dozens of projects our Decorating Solutions designers have worked on!