Editor's Note: Sponsored content is paid third-party advertising content. OnMilwaukee's newsroom does not write or edit this content.
Steinhafels is proud to be part of OnMilwaukee's 10th annual Dining Month. Each month, Steinhafels focuses on a different topic involving furniture and home decor. This month is a perfect fit for us. In addition to OnMilwaukee's awesome restaurant reviews, dining guides and chef profiles, we'd like to give you some fresh ideas for entertaining at home!
We consulted our resident dining experts for advice on what's trending right now. Dawn Still is Steinhafels' Casegoods Buyer, and Katelin Sarcia is the Assistant Buyer for Bedroom and Dining. They make sure our customers have the best selection of dining furniture on the market today – focusing on quality, style, and comfort.
Here are some of the trends peaking this season, which look to have staying power:
Farmhouse
The farmhouse style is created by blending contrasting natural textures and a relaxed vibe – bringing back simple "old world charm" to modern settings.
Our new Magnolia Home line by Joanna Gaines has some beautiful farmhouse pieces like this one!
Going gray
The charm of gray is something that refuses to go away. This go-to color has replaced the white and beige trend of the '90s and early 2000s, and has turned into a long-lasting style statement.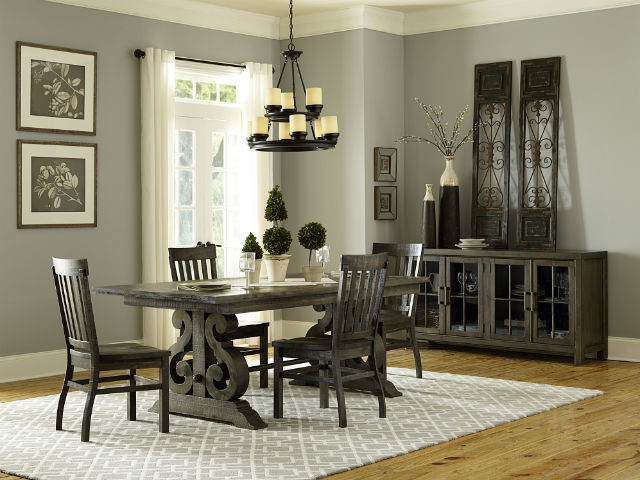 Mixed media
Mixed media dining furniture gives your home an industrial appeal with an artistic touch.
Wire brush
Natural texture is created by wire brushing wood, which makes the grain pop. This gives the furniture a rustic look that is smooth to the touch.
You can also check out our yearly Magalog for all the latest trends in EVERY room of your home!
The top five tips for d
ivine dining
from our Magalog
Refresh Your Style: If you have a modern living space, update your dining room too!

Let There Be Light: Making a small change in lighting can make a big impact.
Have a Seat: Your dining chairs don't need to be uniform – mix it up by adding upholstered armchairs at the heads of the table.
Go With the Flow: Be sure you have enough space for food, drinks and guests. Add an extra serving cart if needed.
Accessorize: Give your dining room a personal touch with lamps, artwork and floor/window coverings.
You can learn more about these tips HERE. Happy dining!