Slurp up these festival stories packed with vitamins, minerals and everything you need to spike your summer fun. The Summer Festivals Guide is brought to you by Punch Bowl Social. Come on in - it's time we all win at adulting.
Summerfest served up its opening course on a gorgeous summer night on Wednesday, and for those gathered at the Miller Lite Oasis, they got dessert first as EDM star Steve Aoki threw one heck of a party for the rowdy crowd – and then threw about a dozen sheet cakes into it. But no matter whether you took a whole pile of cake frosting to the face or you came away unscathed from Aoki's infamous blizzard of baked goods, you still likely had a sweet time on opening night.
After playing The Rave for years, Aoki made his first visit to the Big Gig back in 2017 – and made quite the impact in the process, putting on a massive party for more than 15,000 fans that inspired the DJ to take to social media and tweet his love for Milwaukee. Two years later, the honeymoon period shows no sign of stopping as Aoki energetically returned to the Miller Lite Oasis to get this year's Summerfest party started. And he very much did – just ask anyone's still-rattling ear drums within a mile of his stage. (You might have to speak up, however.)
Coming out onto his massive two-screen stage set-up to a chant of "A-Oh-Key!" from the crowd, a bright neon-drenched futuristic skyline on his video screens and an iPhone ringtone coming through the speakers, Aoki spent the next 90 minutes playing the amped-up ringleader of the dancing, screaming, jumping circus in the crowd. He kept the audience hopping in the palm of his hand with a steady setlist of his own smash-hit singles – "Are You Lonely," "I Love It When You Cry," "Mayhem" and his 2018 BTS collaboration "Waste It On Me," complete with its star-studded music video playing on his stage's screens – nimbly combined with crowd-pleasing Top 40 remixes, ranging from Macklemore's "Can't Hold Us" in the early going, "Mi Gente" by J Balvin and "Titanium" from Sia near the middle, and a final run including the likes of Swedish House Mafia and Kid Cudi's "Pursuit of Happiness." And sure, a bass-bumping remix of "Hava Nagila," because why not.
All the while, the packed crowd writhed and raged to the bass blaring and blurping out of the speakers. But while the music kept everyone moving, it was Aoki himself whose showmanship maintained the gig's momentum from start to finish. He stood on top of his DJ stand, walked out in front to enthusiastically lead the crowd or, at one point, went into the audience for a number. He regularly told the Milwaukee audience how he's "f*cking happy to be here with you tonight" – and seemed to genuinely mean it rather than simply recite the usual lines. And he brought guests onto the stage, from rapper Bok Nero for help on "Kolony Anthem" to his opener Quix and a handful of randomly selected fans from the crowd to party next to him for a song.
In general, Aoki's energy matched the music, not content to merely sit behind his stage, maybe throw his hands in the air every so often and even add a few fist pumps if he was feeling extra crazy. He worked hard enough that he quickly had to bail on his shirt and launch that into the crowd in between geysers of bottled water.
Of course, things would get much, much messier from there, as near the end of his set, Aoki busted out his song "Cakeface" with a parade of about a dozen desserts (rumored to be from Sendik's) to match. Because if you want to keep energy up after an hour-plus of constant knee-buckling bouncing and ear-shattering bass, you catapult cakes into the audience.
Call it a literal sugar rush. I missed the brunt of the flying baked goods, but some of the sheet cake shrapnel did manage to fly its way into my vicinity and onto my hat and hoodie. I was one of the fortunate ones – or maybe unfortunate, though nowhere near as unfortunate as this fan's sad and forgotten phone, lying demolished and deceased in a pile of frosting and cake.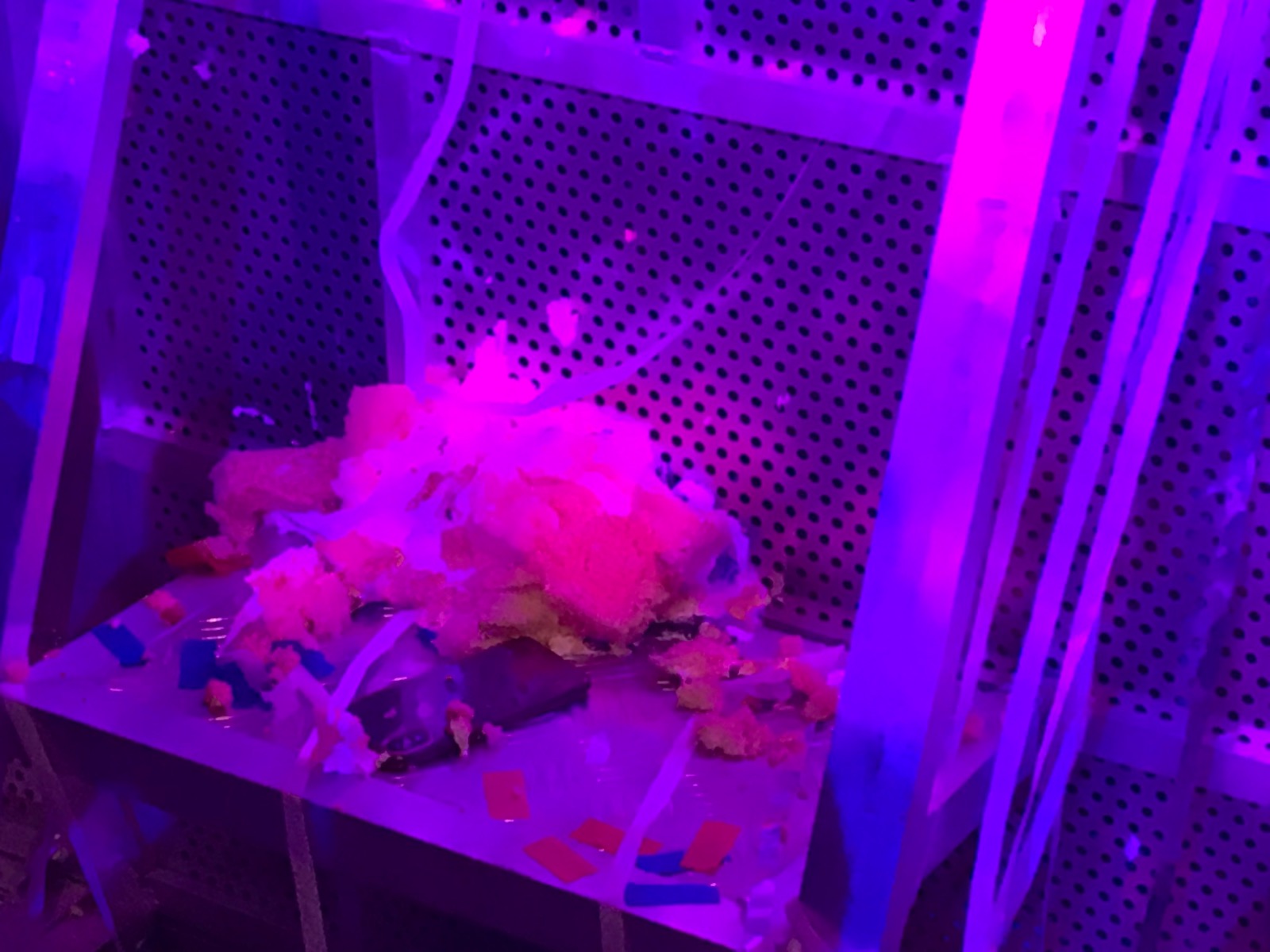 While the cake likely killed that phone, however, the soaring sweets – including one special on-stage delivery for YouTuber Tristan Jass – were just the extra energy boost needed for the final run of remixes.
THIS DUDE @steveaoki JUST BOMBED ME IN THE FACE WITH A CAKE ON STAGE!!!!! 😂😂😂 pic.twitter.com/dJg0zXUXH9 — Tristan Jass (@TristanJass) June 27, 2019
If one isn't a fan of EDM walking into a concert, one likely won't walk out a convert. (Some anecdotal evidence: Two older gentlemen came over to stand in our section and watch the opener. They maybe lasted five minutes.) I doubt Aoki's Summerfest show would buck that trend. The 90-minute party was, to use very fancy and eloquent critical terms, a lot – even before the cakes took flight.
Between the endlessly burping bass, the constant dancing, shuffling and basketball-esque boxing out going on in the crowd, and the general break-free sensory overload, my once-spry millennial knees left the Miller Lite Oasis ambling and aching, my youthful eardrums echoing and my brain bombarded to the point of mush.
So, in other words, the final product from a recipe for a quality EDM show – exhausting in exactly the way a fan hopes, with no time to think about that until it's all over. Just add frosting.
As much as it is a gigantic cliché to say that one has always had a passion for film, Matt Mueller has always had a passion for film. Whether it was bringing in the latest movie reviews for his first grade show-and-tell or writing film reviews for the St. Norbert College Times as a high school student, Matt is way too obsessed with movies for his own good.
When he's not writing about the latest blockbuster or talking much too glowingly about "Piranha 3D," Matt can probably be found watching literally any sport (minus cricket) or working at - get this - a local movie theater. Or watching a movie. Yeah, he's probably watching a movie.