In the low, dimly lit space beneath St James Episcopal Church, 833 W. Wisconsin Ave., there's a hissing sound and a horizontal geyser of steam shooting out of a pipe.
It immediately grabs your attention. Until you see the tall thin grave stone leaning up against a brick column.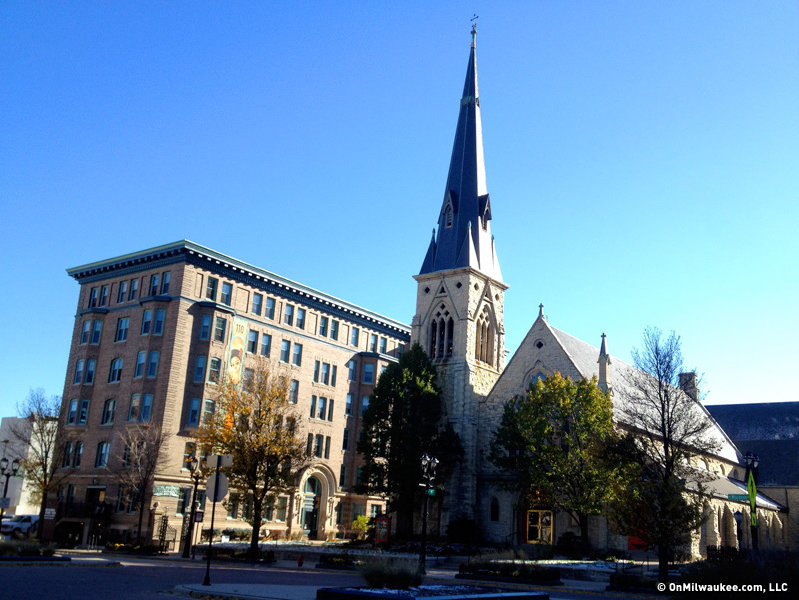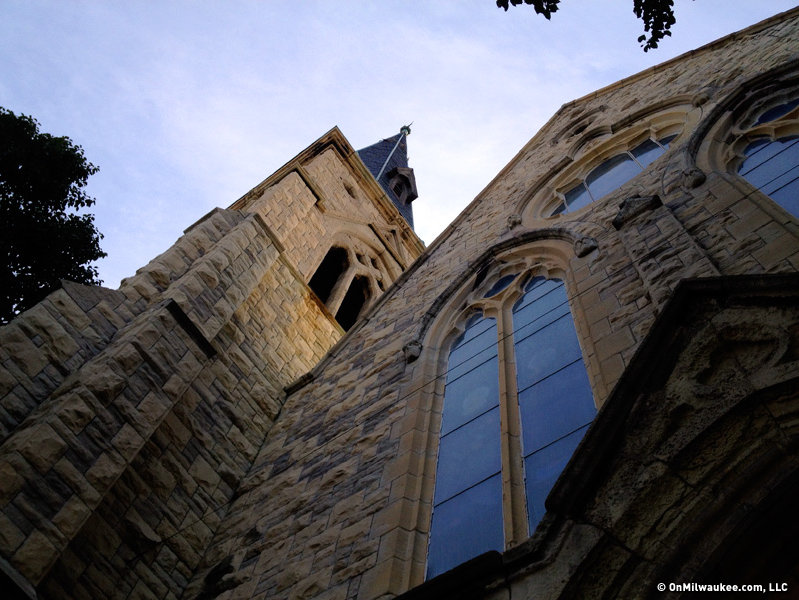 St. James is built atop the former Spring Street Burying Ground. They think all the human remains were removed when the church bought the property in 1850, but a few scattered headstones mark a lingering doubt.
But let's start at the top.
St. James got its start as a mission of St. Paul's Episcopal Church with a wood frame chapel on 2nd and Wisconsin, in 1850. In 1851, the church purchased a plot of land for $150 from the City of Milwaukee on the south side of Wisconsin Avenue bounded between Eighth and Ninth Streets and moved its existing building to the site.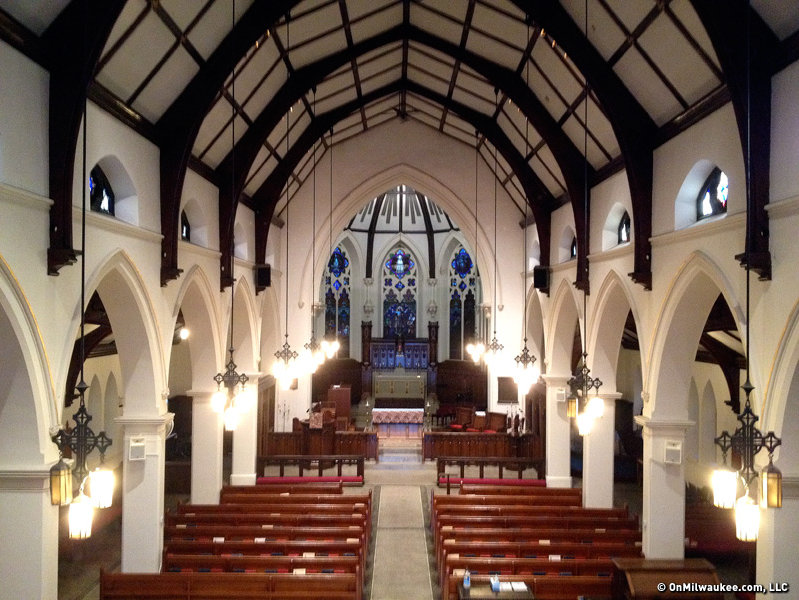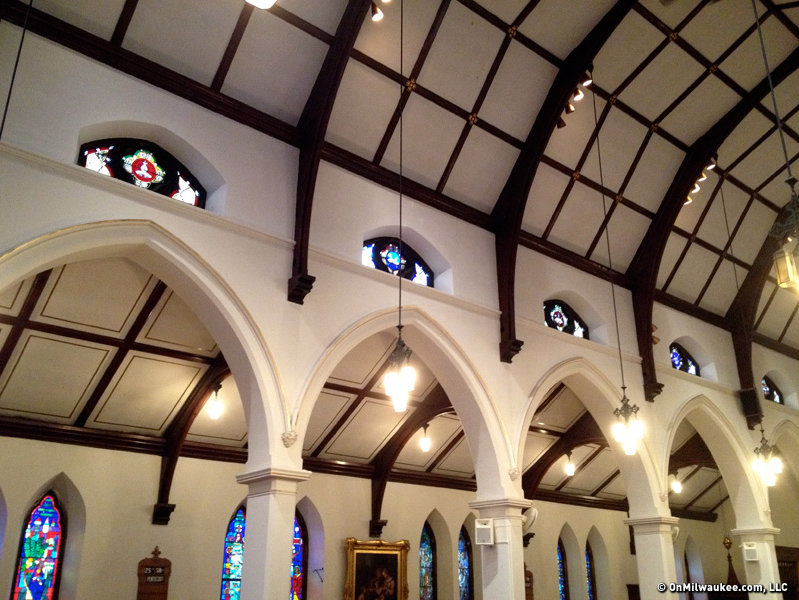 That site was where the Spring Street Burying Ground was established in 1838.
In his 1876 "Pioneer History of Milwaukee," James Smith Buck wrote, "the first cemetery on the West Side was upon that block lying between Spring (Wisconsin), Sycamore (Michigan), Eighth and Ninth Streets in that portion lying west of the alley. ... I have helped bury quite a number there; no burials have taken place, however, for many years upon that ground, and all who were buried there have been removed."
The cemetery was renowned for its beauty, which, apparently derived at least in part from the wild roses that grew there and for the scent they produced.
In 1867-8, St. James built the stone church that stands today on the site. A Dec. 31, 1872 fire nearly destroyed the church, though the tower and walls survived and are the ones that we see today. A parish house that still stands was erected behind the church in 1899.
The easternmost part of the land was sold at the turn of the century and is the site of St. James Court apartments.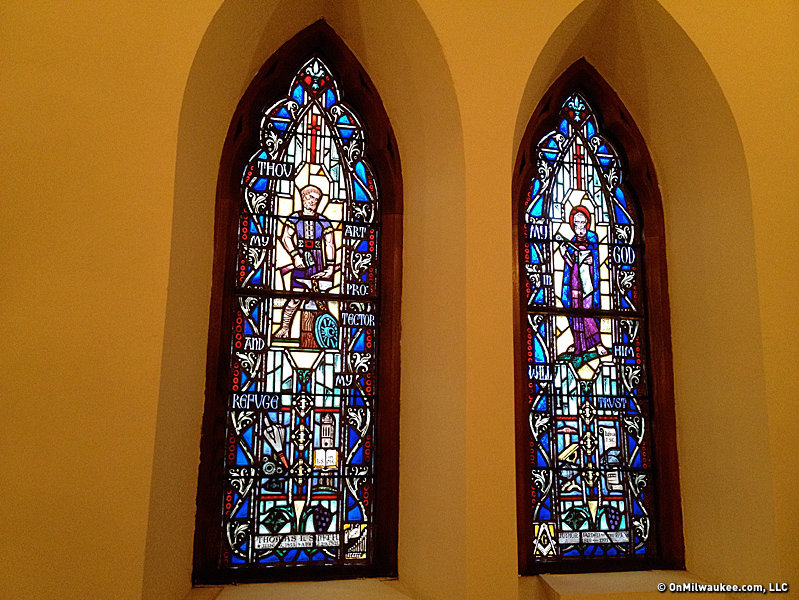 Although in his "Heritage Guidebook," Russell Zimmermann attributes St. James to architect Edward Townsend Mix, the 1990 historic designation study report drawn up by the city says it is the work of Detroit architect Gordon Lloyd (and attributes the parish house to John Moller).
"St. James in Milwaukee was designed during the height of Lloyd's career as a Gothic Revival church architect and is closely related in design to his Central Methodist Church in Detroit, which was built in 1866-67," the report notes.
"At the end of 1872, a fire gutted the newly completed building, and only the stonewalls, spire, bells, north windows, and several clerestory windows remained. G. W. Lloyd's original plans were still available, and the church was reconstructed in 1873-74 using the complete plans, some of which had not been used in the first building."
If you've never stopped to take a look at the Gothic Revival church, you should.
Though the original front doors have been replaced with plain '60s-era glass doors, the front is striking, with the three-stage tower and broach spire on the east side and slim leaded Gothic windows on either side of the entrance, above which there is the phrase, "Enter Into His Courts With Praise."
I'm fond of the side elevations, where you can see single-story aisles with a clerestory above. In the clerestory are windows – six per side – with windows commemorating the 12 disciples. On the facade are windows showing St. Andrews (Scottish congregation members like Alexander Mitchell would have settled for nothing less), St. James, St. Simon and St. John below a quatrefoil stained glass depiction of St. Paul, in honor of the patron saint of St. James' roots at St. Paul's on the East Side.
It's hard to look closely at St. James and not see some condition problems. Pastor Drew Bunting has no illusions on that front.
"We've had some deferred maintenance over the years," says Bunting, who joined the parish in March. "I'm sure you've worked with churches, and seen the effects of that, and we've got some serious problems at this point, but underneath it all, is a beautiful building that has an amazing history. I had a meeting with a structural engineer actually last week, and his determination is that we're structurally sound."
Bunting takes me inside and shows me around the sanctuary, the most immediately striking feature of which is the ceiling, with its wooden tracery. The arches separating the nave from the aisles and the white painted walls make the space feel open and airy.
In the eastern aisle, there is a pair of windows paying tribute to Thomas Smith, a member of the A.O. Smith family according to Bunting, who were church members. The windows have some industrial imagery, including a bellows, a draftsman's compass, a wheel, a blacksmith.
Nearby, are dark wood panels that also come with a story, says Bunting.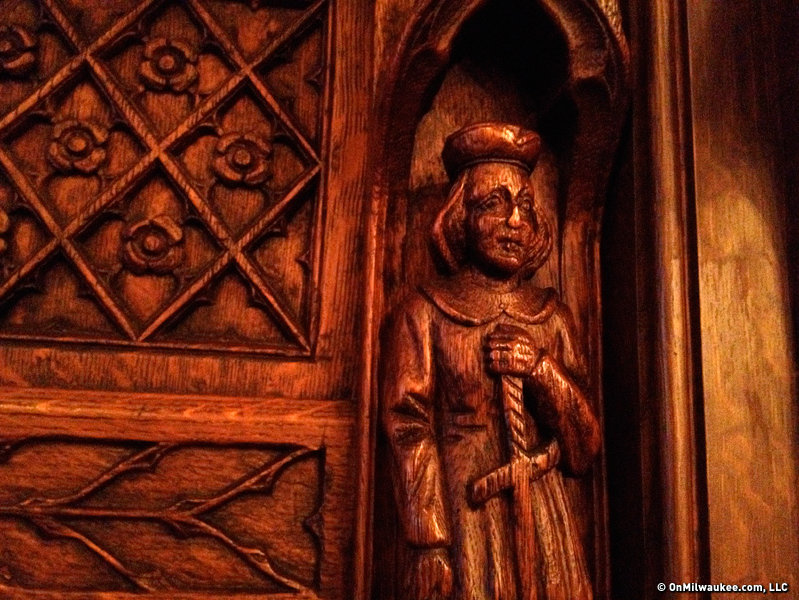 "The panels are not original," he says. "These came over from Belgium, and were given to the church and installed. They're evidently 16th century ... from a monastery. The legend is that somebody from the A.O. Smith family donated them because they bought them for their house and they didn't like them."
An earlier newspaper article about the church suggests they were meant to be installed in the A.O. Smith board room.
On the same side is a pair of signed Tiffany windows that are instantly recognizable for their soft colors and stylized design.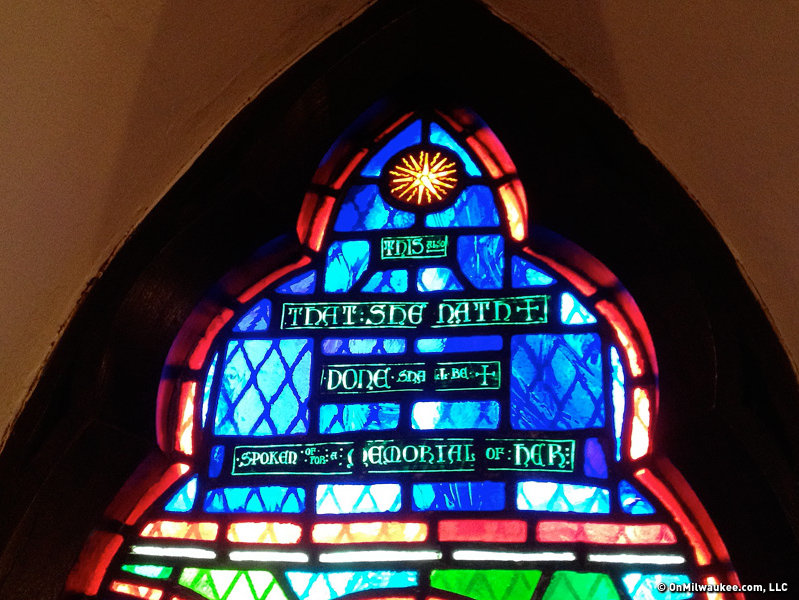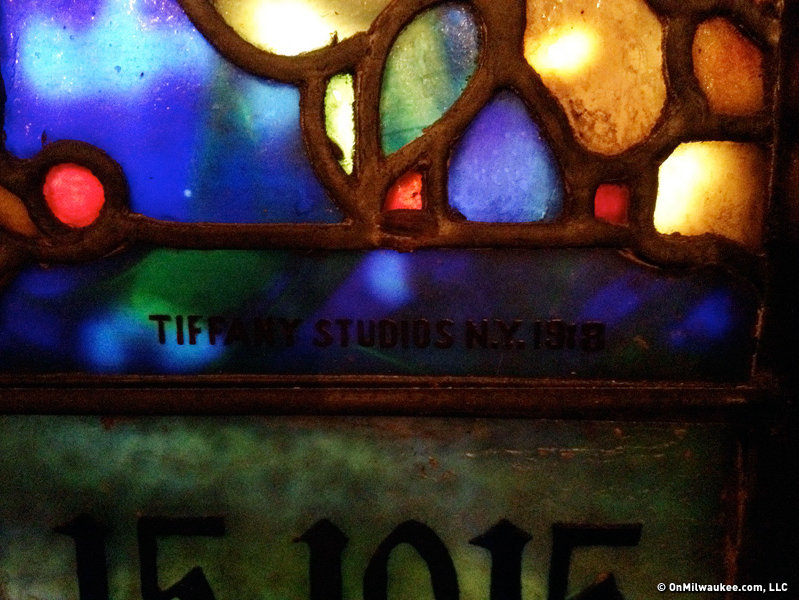 Further along is a 1950s-era leaded window that, natch, has a story.
"Allegedly, you could say, that star at the very top there, is actually a representation of Sputnik. The points of the star are intended to be the antennae, the satellite and then those little wavy lines are radio beams. The window was dated '58 and Sputnik is dated '57."
On the opposite aisle is a chapel with a fairly workaday altar bearing a crucifix, a vase of flowers, a plaque. Three wooden plaques with rows of names hang above it.
"This is a small chapel where we commemorate – we have a ministry of indigent burials – so the morgue essentially, they have remains that have not been claimed, we work with the funeral home and the cemetery to bury them," says Bunting.
"There is a list of people who will come out for the burials, and we'll get 15, 20, 25 people show up. Just so people have the dignity of burial, and their names are read aloud. The cemetery donates space; the city subsidizes some of it. I think it's one of the coolest things we do as a parish. To do that actually, is such an honor."
Above us are traces of water damage. On the opposite side is some peeling paint. Bunting says that the parish is working on securing funds from a variety of sources to help fix the many issues faced by the church, which has been on the National Register of Historic Places since 1979.
Though the parish receives some operating funds from the Diocese, it is more or less on its own when it comes to building maintenance. And it's a small church these days, with a congregation of perhaps 100 people.
"We'll get 40 to 50 on Sunday morning," says Bunting. "It's a really diverse community in a lot of ways. I think we probably have the longest tradition of being open to LGBT people and and that is still a significant part of the community. We are very oriented towards outreach and service, in addition to hosting The Gathering food program downstairs, which is not strictly a ministry of the parish, but we host them, we have something called Red Door Clothes, which is a clothing ministry that distributes clothing two Saturdays a month that we do in collaboration with Trinity Episcopal in Wauwatosa.
"And we have a sundries distribution program where we collect soaps and other essentials like toilet paper. In the past, the church has been open to letting people sleep on the grounds. Unfortunately, we had some liability concerns that made that impossible to continue. That's always something that we try to be considerate of the neighbors.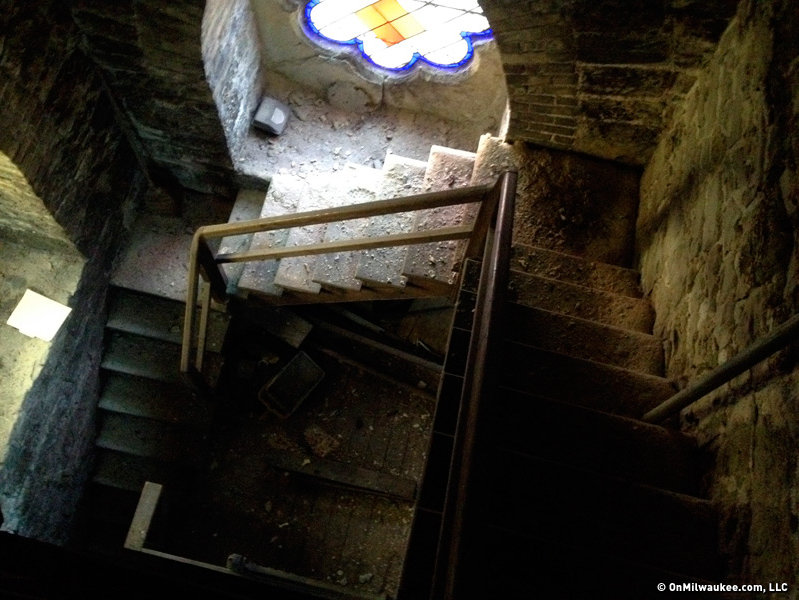 As we talk, we climb the stairs up to the belfry. The tower is surprisingly open and spacious inside, with stairs ascending along the walls. When we get a couple flights up, there's a ladder and Bunting tests it out gingerly – jokingly telling me his wife's phone number, just in case. At the top he lifts off a panel and a rain of dust and who knows what rains down on me, making me glass I just got a haircut. It's easier to shake it out of my close-cropped hair. Climbing through, he gives me the OK and I follow.
In the belfry, there is the usual mix of dirt, dust and bird crap, but, thankfully, no sign of bats or territorial gulls. The pigeons stay way above us while we look at the bells.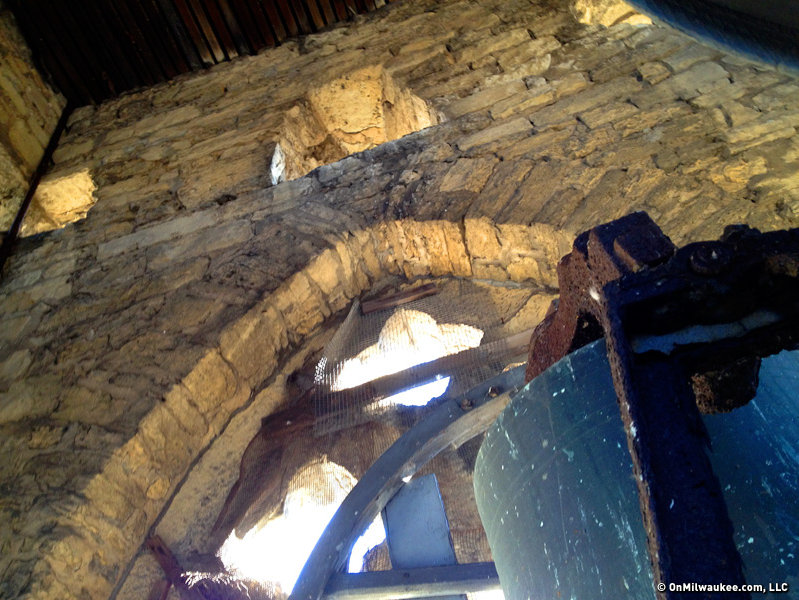 A couple still work, but most of the nine are now frozen in place. Bunting tries to free up a couple but it'll take more than a pair of human hands to get these pealing again.
"These are all the original bells," he says. Pointing at the Marquette dorm next door, he jokes, "I've always liked the idea of giving the undergrads an early wake up call on Sunday mornings," before noting, "there's only one bell that has a name on it, and it was named for a 10-year-old girl that died."
We head back downstairs and make our way up to the altar where there are some striking silver-toned organ pipes, which complement an entire room of pipes above the altar, though nowadays the church relies on an electronic keyboard and these pipes are little more than a decorative reminder of the past.
Before I know it, Bunting has got an almost hidden door open and is walking down a steep and narrow flight of stairs. At the bottom, we turn right and climb through an opening that is suited more to a tween than a full-sized adult.
"This is the secret passage underneath the church," says Bunting. "Well, it wasn't really secret. I spoke to a woman who grew up here. Her father was a priest here. She told me that it was a place where if you were late coming in for choir practice or a service, you could sneak in through another part of the building. That way you did not have to go through the church. It was quieter that way."
We pass some old organ parts and move into a low-ceiling area that stretches the length and width of the sanctuary above. The sound of steam – the church is on city steam – hisses at the far end of the space.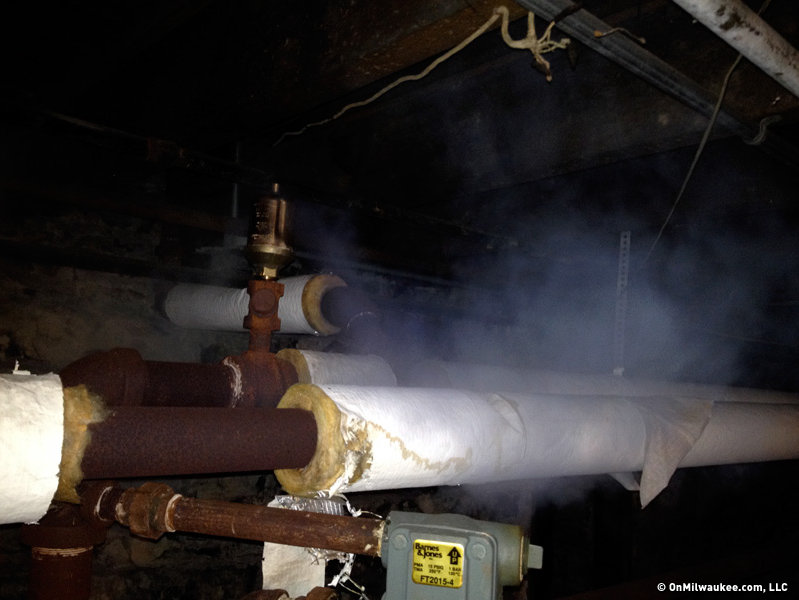 And he we are.
"What we call the crypt is basically the very foundation of the building, and as you saw, the church was built on the site of a former cemetery," says Bunting. "The remains were all moved to Forest Home before the structure was built. But at least according to legend, and some evidence indicates, not all of them were.
"It's not like a medieval cathedral – it's not like remains are intentionally interred here. Apparently there are remains still down here, at least some. On occasion, I've never seen it, they say that some bone will work its way up and come out of the ground."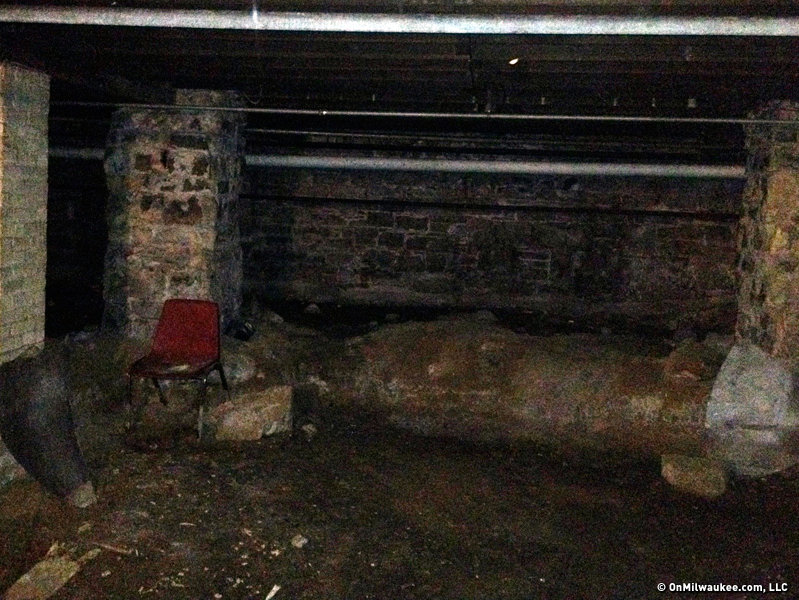 We look at the tombstones that survive down here.
A 1929 newspaper article said, "It is believed that the stones were discarded 68 years ago when the cemetery on the present site of the church was removed to Forest Home cemetery, according to the Rev. Charles T. Hawtrey, assistant rector of the church. The stones which have been used as a weight for the bellows of the present organ in the church probably were placed there about 30 years ago, he said."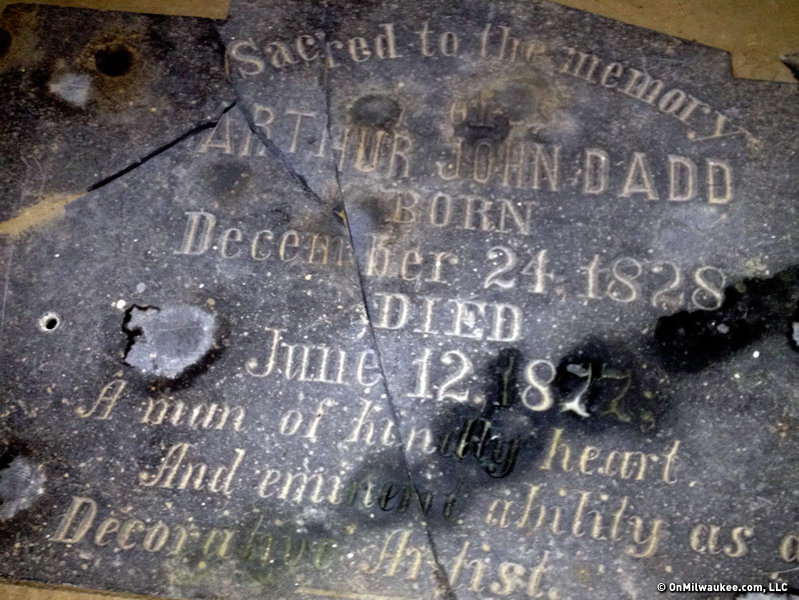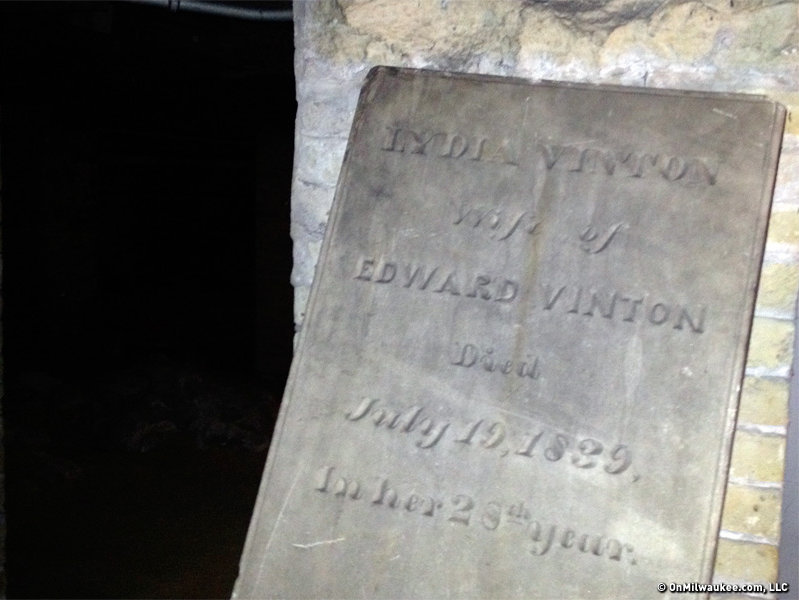 Therefore, just because the stones remain, doesn't mean the bones remain. But, no one really knows for sure. But one piece of evidence might suggest they do.
"Lydia Vinton is the ghost of St. James," says Bunting. "She sort of moves things around on you. She's one of those mischievous ghosts. I may have seen something out of the corner of my eye one time. It would have been a person walking by, but I'm pretty sure it wasn't a ghost."
Born in Brooklyn, N.Y., where he lived until he was 17, Bobby received his BA-Mass Communications from UWM in 1989 and has lived in Walker's Point, Bay View, Enderis Park, South Milwaukee and on the East Side.
He has published three non-fiction books in Italy – including one about an event in Milwaukee history, which was published in the U.S. in autumn 2010. Four more books, all about Milwaukee, have been published by The History Press.
With his most recent band, The Yell Leaders, Bobby released four LPs and had a songs featured in episodes of TV's "Party of Five" and "Dawson's Creek," and films in Japan, South America and the U.S. The Yell Leaders were named the best unsigned band in their region by VH-1 as part of its Rock Across America 1998 Tour. Most recently, the band contributed tracks to a UK vinyl/CD tribute to the Redskins and collaborated on a track with Italian novelist Enrico Remmert.
He's produced three installments of the "OMCD" series of local music compilations for OnMilwaukee.com and in 2007 produced a CD of Italian music and poetry.
In 2005, he was awarded the City of Asti's (Italy) Journalism Prize for his work focusing on that area. He has also won awards from the Milwaukee Press Club.
He can be heard weekly on 88Nine Radio Milwaukee talking about his "Urban Spelunking" series of stories.