On Dec. 11, the Milwaukee Public Museum will reopen The Streets of Old Milwaukee, which has been made over and expanded for its 50th anniversary. And while technology is being added, you won't find it in those street cobbles mined for the exhibit from Buffalo Street, or in the shop windows.
No, that little computer you carry in your pocket will serve as a time machine back to the waning days of the 19th century.
A new app, designed by museum staff along with UW-Milwaukee's App Brewery, will allow you to stroll the streets with three different period characters.
Thanks to beacons hidden throughout the exhibit, guests will hear from these archetypal personalities at different spots in the Streets.
"As far as we know, we are the first museum to use this particular technique, to use storytelling apps using these beacons," says MPM Director of Exhibits and Design, Julian Jackson. "Especially in this manner of multiple themes that change over time in such an immersive environment.
"'Streets' was one of the very first fully immersive exhibits that was ever developed, at least at this scale, so we wanted to continue with that innovation with our refresh."

Helen Murray, aspiring vaudevillian.
The museum is initially focusing on four themes, creating three characters for each of the themes – entertainment, public safety, public health and immigration. Each theme will be available on the free app for six months, and entertainment is the first one up.
The changing of the theme will also have a subtle effect on the physical exhibit, says Jackson.
"The app is also supported by ambient components," he says. "We are opening with entertainment and so the films in the nickelodeon will reflect that theme. Some of the posters on the wall will reflect that theme. Some of the conversations in the shops will reflect that theme. But the best way to get at that theme, the most information that you can get, is embedded within the app.
"There is a lot for people to interact with. There are a lot of stories we could tell this way."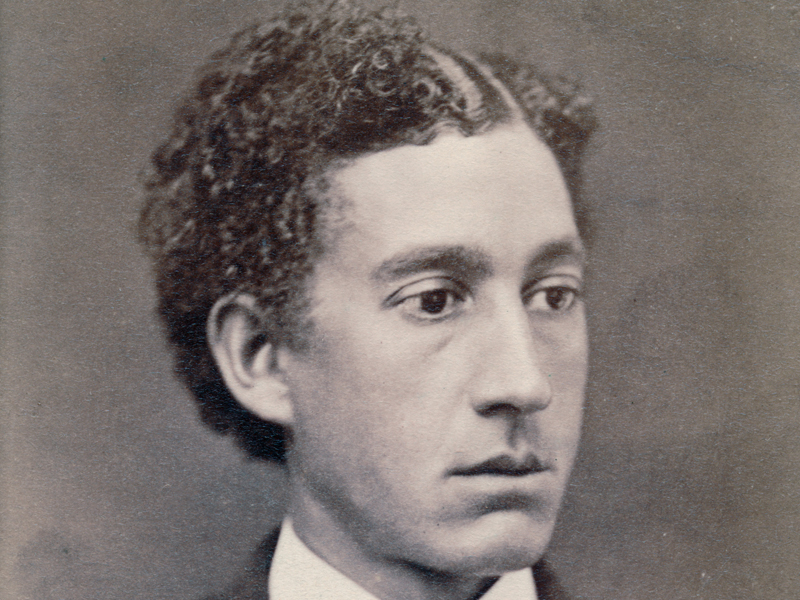 Harris William Tucker, transit worker and award-winning cake walker.
The first three characters are Harris William Tucker, an African American from Georgia who lives in the Cold Spring neighborhood, works on the streetcars and performs as a cake walker; Helen Murray, an Irish American laundress and music teacher, who aspires to national stardom on the vaudeville circuit; and Mrs. Herman (Elsa) Ritter, a classically educated and well-to-do German-American socialite involved in cultural and social philanthropy.
"What I tried to do was work up a cross section of the types of people who were living in Milwaukee," says Al Muchka, the museum's curator of history. "We wanted a depth of humanity here. The idea that we had Bohemians here, the idea that we had a Black community, we had a very early Chinese community, some of these kinds of things will probably be set forth as we progress through some of the characters.
"Then what I did was I able to look into the lives of these type of people through various secondary and primary research materials and kind of pull together a basic dossier that we worked from at the very beginning to give us a framework," says Muchka. "We kind of had an idea of how old this person was and what was their position in life and how would they have spoken and even just moved around the town."
Scripts were written with the assistance of Jackson and other museum staff, voice actors were hired, and the dialogue was recorded at Tanner-Monagle.
Thanks to the beacons, the characters – guests can choose one voice at a time – will "know" where you are and will react appropriately, says Jackson.
"They will say, for example, 'Oh, I see you are at Granny's house, let me tell you about teaching Granny's grandchild music lessons.' Then when they are done with that say, 'Hey, come over to the saloon with me, I want to introduce you to somebody,' or something like that," says Jackson.
Having these characters accompany one through The Streets of Old Milwaukee will give the exhibit another dimension. Because many of the businesses included were sponsored by their eponymous companies 50 years ago, the streets are populated with well-known Milwaukee commercial and historical personalities. But walking with Harris, Helen and Mrs. Ritter opens a new window on life in Milwaukee from around 1880 to the dawn of the 20th century.
"These are the people who normally kind of get lost in the historical shuffle," says Mutchka.
The process was a very collaborative one, according to Jackson and Mutchka.
"I think (it) is a really very true collaboration," says the latter. "Julian being fresh to museum really gave me a chance to step into his world as a designer and really start understanding how the electronics especially are going to affect things. I am really happy for that and I was able to learn an awful lot from him and from Greg Post, our IT director, as well as working with other people around the museum. It really came down to sharing a lot of information and making decisions together."
Adds Jackson, "When you get together with a bunch of people and create a new exhibit it's so multi-faceted that no one person can do it alone, but at the Milwaukee Public Museum, the level of professionalism across the board made it so that really what we dreamed could come to life. I think that level of quality has been at the museum for a very long time. I think we are introducing some new ways of leveraging the great folks who are already here and I am excited where this is going to take us."

Mrs. Herman (Elsa) Ritter, German American socialite.
The characters:
Harris William Tucker is an African American who came to Milwaukee from Georgia as a young adult. The youngest of six children, Harris' parents are freed slaves who now make their living as farmers in Georgia. Harris lives in the Cold Spring neighborhood just northwest of Downtown and works for the electric streetcar company. A lover of music and dance, Harris is very active in cake walk dancing competitions and has been awarded the top prize on more than one occasion. Cake walk dancing is a march-like, expository dance that was developed by African Americans in the Southern plantation communities and was extremely popular in the United States from the 1890s until 1910.
Helen Murray is an Irish American Milwaukeean. Helen works in a laundry, teaches piano and voice, and plays piano at the movie house to make money until her acting career takes off. On the stage, she's known as Helen Du Monde. Her love of the arts and aspirations to fame worry her family, who fear for her prospects at marriage, though she is dating a stage manager of a local theater and another young man who is an avid bicyclist. Helen's dream is to leave Milwaukee to join a vaudeville troupe and tour western theaters on the Orpheum Circuit, as she believes the future center of entertainment will be the American West.
Mrs. Herman (Elsa) Ritter is the Milwaukee-born German American wife of conservative bank executive Herman Ritter. Elsa is classically educated and well connected among Milwaukee's affluent families. She enjoys music and the arts and works to build the reputation of her husband and family. Elsa is devoted to her family and its management but treads the line between traditional values and the increasing awareness of women's issues. Her education and Germanic, free-thinking upbringing connect her to social issues like education for women as well as to philanthropic and cultural endeavors.
(Note: Biographies courtesy of Milwaukee Public Museum)
Born in Brooklyn, N.Y., where he lived until he was 17, Bobby received his BA-Mass Communications from UWM in 1989 and has lived in Walker's Point, Bay View, Enderis Park, South Milwaukee and on the East Side.
He has published three non-fiction books in Italy – including one about an event in Milwaukee history, which was published in the U.S. in autumn 2010. Four more books, all about Milwaukee, have been published by The History Press.
With his most recent band, The Yell Leaders, Bobby released four LPs and had a songs featured in episodes of TV's "Party of Five" and "Dawson's Creek," and films in Japan, South America and the U.S. The Yell Leaders were named the best unsigned band in their region by VH-1 as part of its Rock Across America 1998 Tour. Most recently, the band contributed tracks to a UK vinyl/CD tribute to the Redskins and collaborated on a track with Italian novelist Enrico Remmert.
He's produced three installments of the "OMCD" series of local music compilations for OnMilwaukee.com and in 2007 produced a CD of Italian music and poetry.
In 2005, he was awarded the City of Asti's (Italy) Journalism Prize for his work focusing on that area. He has also won awards from the Milwaukee Press Club.
He can be heard weekly on 88Nine Radio Milwaukee talking about his "Urban Spelunking" series of stories.