About an hour into their bouncing, blazing, fist-bumping country-rock bro-down, Florida Georgia Line brought the piano out to slow it down and dedicate the next one, the religion-themed romantic love song, "H.O.L.Y.", to their wives. It was a nice moment, and a reminder that for these megastars – who rocketed to the top of the charts with their 2012 single, "Cruise," and have remained there pretty much ever since – it's about more than just the money and the fame and the adulation.
It's about relationships, connecting with their fans, sending a message. And also it's about girls. Because, halfway through the song, a guy two rows in front of me pulled out his phone, opened Tinder and started swiping. Message received.
Despite the absence of opener and "Meant To Be" collaborator Bebe Rexha due to illness, and despite another day of oppressive heat – it was 90 degrees at showtime, but felt hotter inside the packed American Family Insurance Amphitheater – Florida Georgia Line gave 20,000 sweltering, singing-along Summerfest fans exactly what they wanted: a fast-paced, high-energy, enthusiastic and ever-grateful performance, crowd-pleasing and crowd-playing, with service-member salutes and lots of their top 40 hits.
Even with the logistical and weather challenges, vocalists Tyler Hubbard and Brian Kelley didn't miss a beat. You don't get this popular by straying off script.
Before they came on, though, Rachel Platten opened – along with country artist Canaan Smith, on very short notice – in place of Rexha. Smith is best known for "Love You Like That" and later performed with Florida-Georgia Line near the end of their set, but the opening attention belonged to Platten.
The 37-year-old New York indie-pop singer-songwriter stole the show – and at least one writer's heart – with her delightfully sincere happiness to be unexpectedly on stage at the amphitheater, her seemingly bashful but sweetly commanding stage presence, the way she charmingly cajoled the sticky, still-finding-their-seats early crowd to sing with her and by bounding exuberantly around the stage despite it being a million degrees and having her actually scheduled headlining show at the BMO Harris Pavilion at 9:45 p.m.
At one point, Platten asked the audience if she could try a new song, which she'd just written a few days before and only taught her accompanists a few hours earlier at the hotel. She'd planned to try it out the next time she had an extra set somewhere, but didn't think it'd be at the Summerfest main stage in a quickly filling-up amphitheater.
"Whatever," she said. "Who cares if we f*ck it up?" Then, as she sat down at her keyboard, Platten asked someone for a bottle of water. When a guy in the VIP area up front apparently offered something, she replied, "I'm not going to take a random strange cup of clear liquid; you look so trustworthy in your tank top, bro."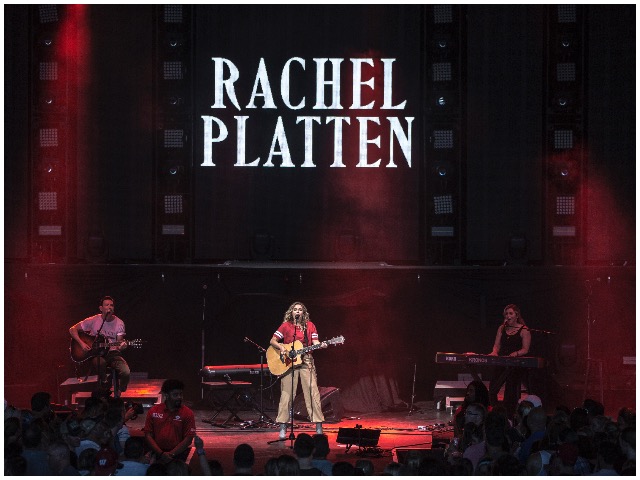 Platten beautifully played some of her own songs, "Broken Glass," "Against Them All" (the new one) and "Good Life;" she covered "Gin and Juice" and beatboxed; and, of course, she performed her inspirational hit debut single, "Fight Song," which had 95 percent of the women in the amp singing demonstratively to whoever they were with.
After Platten left and following only about a 15-minute changeover, Florida Georgia Line took the stage. Hubbard and Kelley, along with their band, appeared in an awesome, phantasmagoric sound and light show – though the flame canons probably could have been abandoned, given the heat – and powered through a few party anthems before addressing their fans.
After leading with "Anything Goes," "Colorado," and "It'z Just What We Do" – with their accompanying corny (maybe self-aware funny?) music videos shown on the video board – Hubbard told the crowd, "It's been three years since we hung out with you, Summerfest, and we missed you."
Without so much as a breath in between, the sweaty, smooth-talking Hubbard and cowboy-cool Kelley launched into the beloved "Round Here," then an Old Camp Whiskey-inspired ditty, "Smooth" and the 2014 single "Confession." Then, they electrified everyone by playing their brand-new single "Simple" – the music video for which was just released a day before – an upbeat, melodic, almost-folksy hit.
Following that came "May We All," "Meant To Be" with the track recording and audience doing Rexha's part, "Stay," and "Dirt," which came with a shout-out to "anyone who wears a uniform" and, naturally, "U-S-A!" chants from the crowd.
Next was "Sippin' On Fire" and "H.O.L.Y.", "God, Your Mama and Me," "Sun Daze," and "Get Your Shine On." Following a stage-darkened encore that was essentially a cold-water-splash and wardrobe change – the requisite cheering by fans was admirable, but probably not necessary, as the band had played only exactly one hour – Florida Georgina Line returned to do "This Is How We Roll," "Up Down" (with Smith) and, finally, the song they're smart enough not yet to abandon.
"Well, BK," Hubbard said to his partner, "should we go ahead and play 'em what they came here for?"
And with that, Florida Georgia Line sang "Cruise," the American Family Insurance Amphitheater erupted and, depending on your Tinder matches and general world view, everything was maybe fine for a night.
Born in Milwaukee but a product of Shorewood High School (go 'Hounds!) and Northwestern University (go 'Cats!), Jimmy never knew the schoolboy bliss of cheering for a winning football, basketball or baseball team. So he ditched being a fan in order to cover sports professionally - occasionally objectively, always passionately. He's lived in Chicago, New York and Dallas, but now resides again in his beloved Brew City and is an ardent attacker of the notorious Milwaukee Inferiority Complex.
After interning at print publications like Birds and Blooms (official motto: "America's #1 backyard birding and gardening magazine!"), Sports Illustrated (unofficial motto: "Subscribe and save up to 90% off the cover price!") and The Dallas Morning News (a newspaper!), Jimmy worked for web outlets like CBSSports.com, where he was a Packers beat reporter, and FOX Sports Wisconsin, where he managed digital content. He's a proponent and frequent user of em dashes, parenthetical asides, descriptive appositives and, really, anything that makes his sentences longer and more needlessly complex.
Jimmy appreciates references to late '90s Brewers and Bucks players and is the curator of the unofficial John Jaha Hall of Fame. He also enjoys running, biking and soccer, but isn't too annoying about them. He writes about sports - both mainstream and unconventional - and non-sports, including history, music, food, art and even golf (just kidding!), and welcomes reader suggestions for off-the-beaten-path story ideas.