It may be hard to believe looking out your window, but Summerfest is just a week away, bringing with it a new slate of stars iconic and on the rise, new foods to help soak up your brews, new memories and hopefully some new weather forecasts. Also new to this year: some new alterations to the Big Gig's biggest stage, the American Family Insurance Amphitheater, which were officially revealed today.
Here's a first look at the revamped Amp, so you can keep your eyes on Thomas Rhett, J. Lo and the rest of the headliners during their shows instead of looking around at the new changes.
Admittedly, one of the largest changes is one that you'll likely feel more than you'll really see: The Amp bowl feels much bigger and more open, thanks to Summerfest raising the roof this past February to almost double its original height, from 39 feet to 65 feet. The lift makes the stage appear much bigger and taller, as well as the bowl itself feel much more comfortable and less claustrophobic.
The most important part of the roof raise, however, is that the Amp can now accommodate larger touring productions and all of the theatrics and extravagance in tow. (Looking at you, Jennifer Lopez's tour stop.)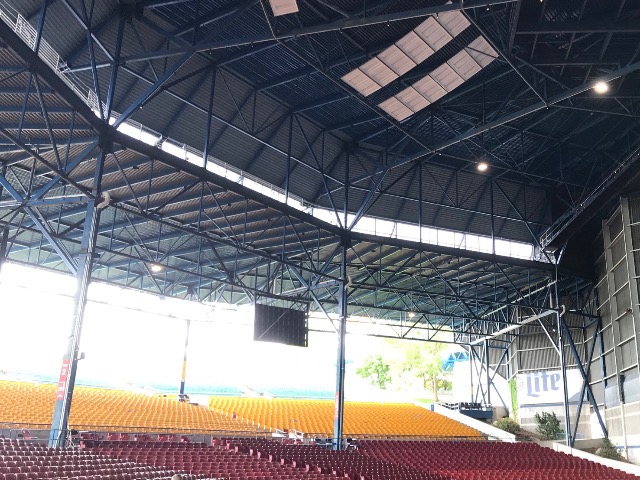 The most noticeable and welcome additions to the Amp for many concert goers, however, might be the ones found far from the stage, out above the crowd. In addition to installing two new LED screens to each side of the stage as before, the Amp now features four extra LED screens hanging from the ceiling just above the beginning of the yellow seating sections, giving audience members seated in the farthest areas a better, closer look at the show.
The rest of the alterations at the American Family Insurance Amphitheater are more behind-the-scenes in nature. The stage itself is now removable and adjustable from three to seven feet, while the front pit area has been made more accessible and adaptable to concert tours' particular stage designs or thrusts.
Plus, the raised roof comes with a newly expanded rigging grid allowing for 360,000 pounds of concentrated rigging above the stage. While many of these changes are more nitty-gritty than, say, new seats or new bathroom or dining options, concert goers will certainly notice the difference with bigger, larger, more unique and more personalized productions able to take the space, with more of their ballyhooed bells and whistles.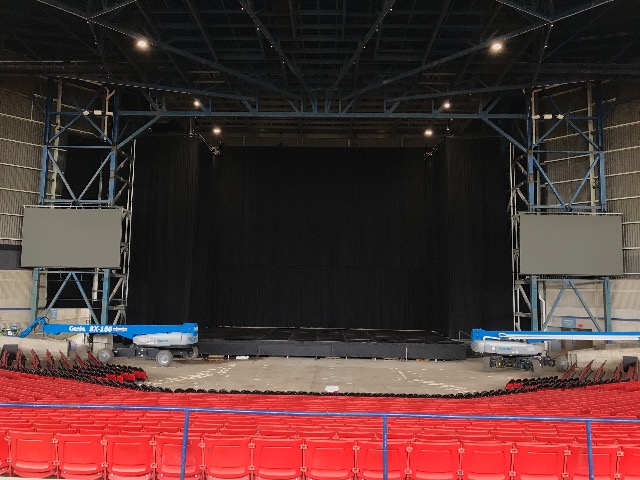 Plus, this is only the first half of the changes coming to the Amp. After Summerfest wraps on July 7, that's when part two of the Amp's reinvigoration will begin, creating a brand new Big Gig main stage for 2020.
But that's getting ahead of ourselves; we've got this Summerfest to enjoy first – and maybe even some actual summer weather to go with it.
A week from today @ThomasRhett will be looking out at you from this same @Summerfest view! The newly revamped @amfam amp is 😍. #smileon #summerfest #onmilwaukee #greatmkesummer pic.twitter.com/1KH999zrX2 — OnMilwaukee (@onmilwaukee) June 19, 2019
As much as it is a gigantic cliché to say that one has always had a passion for film, Matt Mueller has always had a passion for film. Whether it was bringing in the latest movie reviews for his first grade show-and-tell or writing film reviews for the St. Norbert College Times as a high school student, Matt is way too obsessed with movies for his own good.
When he's not writing about the latest blockbuster or talking much too glowingly about "Piranha 3D," Matt can probably be found watching literally any sport (minus cricket) or working at - get this - a local movie theater. Or watching a movie. Yeah, he's probably watching a movie.