This morning, Summerfest announced a new 10-year partnership with Klement's, serving as the official sausage of the Big Gig, as well as sponsoring a brand new sausage and beer garden on the north end of Henry Maier Festival Park.
The new Klement's Sausage & Beer Garden, open from 2 to 8 p.m., will be a backyard-designed space featuring a stage focused on acoustic music from local artists, as well as picnic tables, a seated lounge area and barbecue grills.
"This is a very intimate area that is meant to be comfortable like you would be sitting in your own backyard – and that's what we strived to build here," said Milwaukee World Festival, Inc. president and CEO Don Smiley at a press conference Tuesday morning, adding, "It's going to be a great place to kick back and relax and enjoy some music, all the people-watching and all the delicious Klement's sausages that are offered in their whole portfolio of brands. We're really looking forward to activating this whole area and having yet another new place for our customers to go enjoy on the north end of the park."
Klement's president and CEO Tom Danneker joined Smiley at the media event Tuesday morning, hosted at the Big Gig's administration office, 639 E. Summerfest Pl.
"Klement's is the hometown sausage of Milwaukee, and Summerfest being the hometown music festival, the world's largest music festival, it's a natural combination for us to come together and work together," Danneker said. "We're really proud that the brats and the hot dogs that will be served at Summerfest will be made just down the street by the people who have enjoyed Summerfest for years."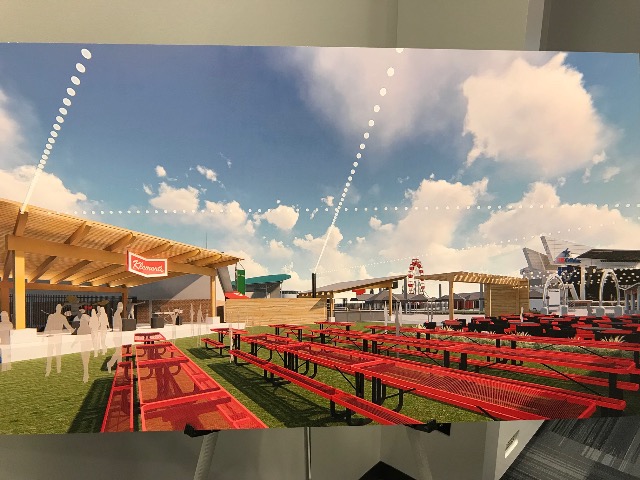 The announcement comes less than three months after the news that Klement's, after 25 years, would no longer serve as the official sausage sponsor of the Milwaukee Brewers and the Famous Racing Sausages. Danneker sent a letter on Jan. 23 to his employees about the baseball team's shift away from Klement's, with Johnsonville announced the next day as its replacement at Miller Park. That same day coincidentally, according to Smiley and Danneker, the two organizations had already planned to meet to discuss further possibilities working together – "just a matter of excellent timing," said Smiley Tuesday morning.
"When we started looking around for new ways for Klement's to invest in this community, Summerfest was really the perfect partnership for us," Danneker noted, adding later, "Regardless of the situation with the Brewers, we've worked with Summerfest in the past. Klement's and Summerfest have always been close. I think what the opportunity was come end of January was to elevate the relationship – and I think what you're seeing here today is examples of elevating that relationship."
Construction on the Klement's Sausage & Beer Garden will begin immediately, with the new space expected to open in time for the 2018 Big Gig.
In related Summerfest announcement news, we're still hotly anticipating word on both the Big Gig's final American Family Insurance Amphitheater act and the annual onslaught of grounds stage headliners, so stay tuned to OnMilwaukee for more updates as they come out.
As much as it is a gigantic cliché to say that one has always had a passion for film, Matt Mueller has always had a passion for film. Whether it was bringing in the latest movie reviews for his first grade show-and-tell or writing film reviews for the St. Norbert College Times as a high school student, Matt is way too obsessed with movies for his own good.
When he's not writing about the latest blockbuster or talking much too glowingly about "Piranha 3D," Matt can probably be found watching literally any sport (minus cricket) or working at - get this - a local movie theater. Or watching a movie. Yeah, he's probably watching a movie.