I know there is still plenty of time before the Big Gig and its festival of new foods – more than 50 items this year. I don't have the expertise or access of a Lori Fredrich to get at them early.
Plus, I am still in training for my annual all day-eating festivities at the Wisconsin State Fair and my annual State Fair Food Checklist.
See the photo below; it's a real thing!
But after reading Lori's condensed wrap-up of 15 of the new food items at Summerfest's big 50th anniversary, I took my own look at the entire list to see what I consider my "must haves."
I see 20.
The official press release rightly states that "the festival has a deep-rooted commitment to local vendors." And I have a deep rooted commitment to eating all that stuff. I actually make a hard copy checklist of foods to try, since it got to the point of too many to remember. It started with some handwritten notes and a hand-drawn check box, and has now evolved into a graphically pleasing actual list that saw multiple publications last year.
Since we're still weeks away, and you may lose the list before Summerfest starts June 28, I'll keep it simple:
Stuffed pasta pizza at Angelo's
Meatballs, sausage, pasta, cheese and sauce in my hands with no utensils necessary. And my mom can't yell at me.
Bacon cheeseburger combo at AJ Bombers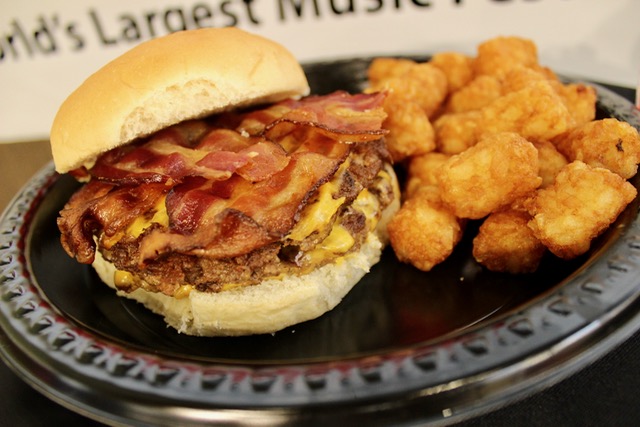 Doesn't sound exotic – and I get my fair share at Brewers games. But Nueske's bacon and the word "smash burger" get my attention.
Spicy pepper jack cheese bites at Chubby's Cheesesteaks
There is no shortage of cheese at Summerfest, but I like the underdog. And pepper jack doesn't get its due share of admiration.
Dessert pizza at Divino
I am not a big dessert fan, but this has Nutella, whipped cream and sugar-coated fried dough. I call that health food.
Non-alcoholic horchata at Botanas
Wait ... take that off the list. Anything starting with "Non-" at a festival doesn't interest me. Don't count that in my 20.
The "Big Cheese" at Cousins Subs
I'd go steak (you can get chicken). And it has bacon. AND in addition to cheese and cheese sauce, it has cheese curds.
I miss the Big Daddy. One wasn't enough, and two were too many. This sounds just right.
Gyro supreme at Greek Village
First, I really enjoy listening to people in line ahead of me butcher the pronunciation of gyro. One of the few times I don't mind waiting in line.
Second, a regular gyro is pretty good (except for the taste that stays in your mouth until the gates close at midnight). But this also has feta cheese and pepperoncini. Based on my wonderful experience with what Taco Bell did for the term, I have to try anything "supreme."
Island Slaw at Island Noodles
Despite being gluten-free (I take gluten supplements) the combination of teriyaki chicken, crushed pineapple, mandarin oranges, siracha glaze and macadamia nuts sounds totally refreshing.
Beer battered bratwurst on a Stick at Mader's
Kudos. The simple satisfaction of a corn dog using a brat. Simple brilliance.
Italian crusted cheese curds at Mille's
Don't get me wrong: The traditional curd is cool. But add Italian spices, and you can't refuse.
Jumbo Salty Dog Cupcake at Peter Sciortino's Bakery
Again, not a dessert guy. BUT when it involves caramel buttercream and sea salt, you can call it whatever you want. I want.
Walking Pasta at Pitch's & Miss Katie's Diner
Four cocktail meatballs on a toothpick doesn't sound very filling, even with the bow-tie pasta and garlic bread. But as someone challenged to keep food off of my shirt in the best of circumstances, I like the idea of food designed for walking.
Housemade cheddar potato tots with barbecued pork from Saz's
If it has Saz's barbecue sauce, they have me.
Bacon Ravioli Completely Noodle-Less Ravioli at Solo
THIS!!!!!!!!!!!!!!!!!!!!!!!!!!!!!!
The title doesn't sound as intriguing as the description: "Six slices of bacon hand woven into ravioli filled with ricotta, parmesan and mozzarella." And it is right outside the American Family Insurance Amphitheater forecourt so I can put some in my pocket for headline shows.
Jumbo pretzel at Usingers
They say it is 24 ounces and suitable for sharing. Speak for yourself.
Deep-fried mojito at Vagabond
Based on my reaction to anything non-alcoholic, you can predict the opposite positive reaction to turning a cocktail into something edible.
Ward's Burger at Ward's House of Prime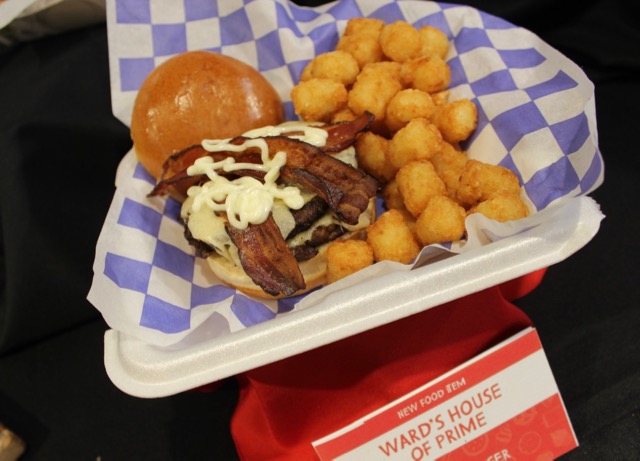 Sounds a little boring. But they put sliced prime rib in with angus burger. I am all about inclusiveness.
Pizza Lorina at Venice Club
After years of experience, I have found the Venice Club is located in an area where I tend to run into people. I can eat the pizza with one hand, giving the impression that the person I am talking to can buy and put a beer in my other hand.
Brew City Mac at Water Street Brewery
This includes a brat and amber beer cheese. You can't get that out of a box.
Wong's appetizer sampler at Wong's Wok
Egg roll, fried chicken, crab rangoon and their new kowloon beef. I'm not sure what that is, but "kowloon" is a name associated with some of the best frozen dinners I've had. So that's worth trying.
Loaded fries from Flannery's Bar
This has tempura chicken tossed in buffalo sauce. It's hard to go a day without buffalo sauce on something.
That's it, 20 new things to try. And I still insist on a Wendy's Triple Cheeseburger to eat on the way out as I walk to my car.
Steve Palec, the host of WKLH's "Rock and Roll Roots" wrote a letter to every radio station in town when he was a sophomore in high school. He offered to sweep floors.

Two responses came back, including one janitor position. Steve took the other: the opportunity to hang out at WUWM.

After that, he worked at WAUK, then WQFM, then WZUU, then back to WQFM ... and finally worked afternoons at WKLH for a little while.

"I gave up Eddie Money to earn money in 1986," says Steve, who eventually entered the world of commercial real estate.

"But 23 years ago WKLH offered me the chance to wake up early every Sunday morning," he says. "I mean every Sunday morning. I mean like 5:30 am. I mean no matter what I did on Saturday night. Live every Sunday morning. I love it."