PVRIS (pronounced like the French city or the famed hotel heiress/terrible DJ) rocked the Uline Warehouse Stage on July 4 at Summerfest.
The four-piece Massachusetts rock band played their first Summerfest show in front of a loyal fanbase that was very excited to see them.
PVRIS came out wearing nearly all black and set up with their three poster members up front: Lydnsey Gunnulfsen on lead vocals/guitar/keyboard, Brian MacDonald on the bass/keyboard and Alex Babinski on guitar/keyboard.
The band got things started with their hit song "You and I," which came out in 2016 when the deluxe version of their debut album, "White Noise," was released. "You and I" is one of the bands more laid back tunes; however, the crowd was so excited to see them play that the energy was ecstatic nevertheless – and stayed that way.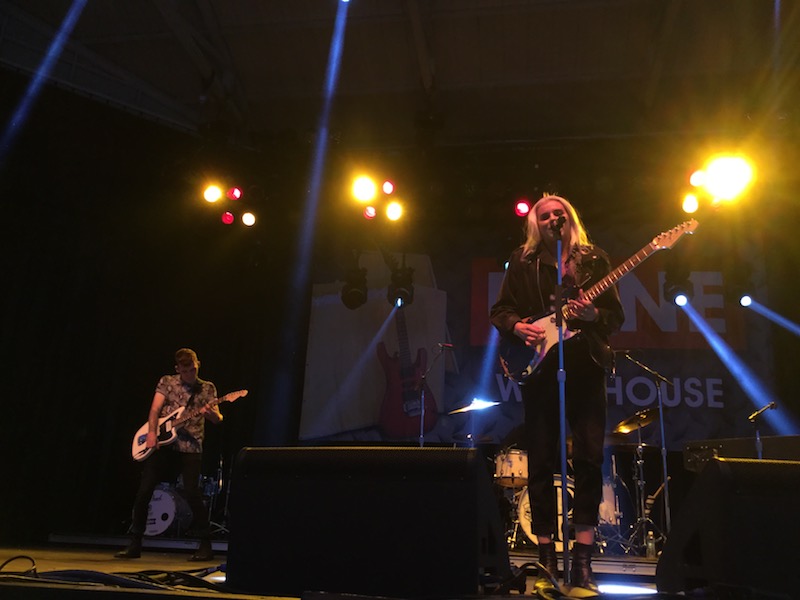 PVRIS fed the crowd's excitement and got them all jumping as they went right into their high energy song, "Fire." The crowd could be heard singing every word as it turned into one big party.
The band must have been able to tell that things were going really well because they just let the show keep rolling as they played their song "Mirrors." The song features a lot of synthetic noises and beats, a staple in PVRIS' music and what sets them apart from other bands in their genre.
Mostly thanks to the 30-minute time slot they were given, PVRIS kept things moving and had yet to talk to the crowd through four songs except for the occasional "Jump!" and "Milwaukee!" However, that did not seem to disappoint the audience. It was clear the fans came to hear PVRIS rock Summerfest, and they were getting what they wanted.
It was not until around the fifth song of the show, "What's Wrong," that PVRIS stopped and Gunnulfsen took a moment to talk to the audience and explain that "What's Wrong" was released a few weeks ago. She went to say how the band has been busy touring and that they had not had much time to rehearse the song as a whole group. After explaining she was a little nervous for what she was about to do, Gunnulfsen sat down at her keyboard and showed how talented she truly is, singing the song to her own piano playing. It was a real treat for the crowd as Gunnusfsen said she has only performed the song in that fashion one other time live.
The band then came back out, and as they did, Gunnulfsen interacted with the crowd more as she said that she had heard it was someone's birthday. She asked multiple audience members if it was their birthday, and of course, everyone she asked said that it was. After thinking that it really was someone's birthday, and maybe she would bring them on stage to sing to them, Gunnulfsen proceeded to say, "It's America's birthday!" And the crowd cheered.
The show rocked on as PVRIS picked things back up with "Eyelids" and followed it with "St. Patrick."
A bouquet of flowers was thrown on stage for Gunnulfsen which she really enjoyed as she thanked the fan who threw them and thanked the whole audience as well. PVRIS then played "Heaven," the first single they released from their highly anticipated new album "All We know Of Heaven, All We Need Of Hell," set for release August 4.
As the show came to an end, Gunnulfsen thanked the crowd again for being so amazing and fun. It was then that PVRIS gave the fans what they all were waiting to hear as they closed their show with their smash hit, "My House."
It was a great finish to a great show, and if you were to ask touring member of the band, drummer Justin Nace how the show went he would agree.
"It was a good one," Nace said. "We really enjoyed it. It was a fun show for sure."
Setlist
"You & I"
"Fire"
"Mirrors"
"Holy"
"Smoke"
"What's Wrong"
"Eyelids"
"St. Patrick"
"Heaven"
"My House"