Milwaukee World Festival, Inc. and U.S. Cellular officials announced Thursday a new 10-year agreement that will demolish the existing U.S. Cellular Connection Stage and replace it with a new, larger stage and an enhanced guest experience for the 2018 festival.
The new stage, which will host country and pop artists during Summerfest and offer increased performance and production space, is part of a concerted effort by the festival to further emphasize the north end of the grounds.
The old U.S. Cellular stage will be torn down "immediately" after Summerfest 2017, the 50th edition of the festival, and planning has already begun, according to Don Smiley, president and chief executive officer of Milwaukee World Festival, Inc. The rebuilt venue will be finished in time to coincide with the completion of the Lakefront Gateway Project and the 51st Summerfest in 2018.
The cost of the new stage was undisclosed at a news conference Thursday, but Smiley said it was "in the millions" and would be shared, though he added U.S. Cellular would be paying "the lion's share." Longtime Summerfest collaborator Eppstein-Uhen was selected to envision, design and lead the project into construction. The current U.S. Celluar Connection Stage, which Smiley said is very popular among fans for its central location, was last upgraded in 1996.
"It's our job as stewards of this (lakefront) property to continue expanding and improving," Smiley said. "We compete globally (for entertainment acts), so we must keep up with our infrastructure and we have to keep improving."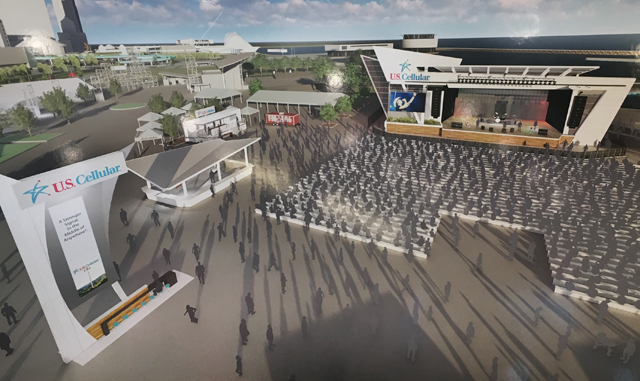 Smiley stressed that the announcement and his excitement wasn't just for a new capital project; the sponsorship term with U.S. Cellular, a collaborator with Summerfest since 2005, had been extended too. "It's a long-term partnership," he said.
Since becoming a sponsor 11 years ago, U.S. Cellular, which is the official wireless communications provider of Summerfest, has worked to enhance the festival experience through technology. According to Summerfest, the company has brought many innovations to the festival grounds, including text- and picture-to-screen technology at the U.S. Cellular Connection Stage, free charging stations throughout the festival grounds, boosted cellular service and, most recently, virtual reality technology.
"We are thrilled to extend our commitment to Summerfest and help take 'The World's Largest Music Festival' even further in the coming years," said Jay Ellison, executive vice president of operations at U.S. Cellular, in a press release. "Our stage is a source of pride for all of us at U.S. Cellular, including our customers, and we look forward to improving the guest experience by introducing the latest wireless technology, new guest amenities and an improved sound experience come 2018."
The announcement came after the Milwaukee World Festival, Inc. Board of Directors' year-end meeting.
"After virtually experiencing today what our guests will experience for themselves at the new U.S. Cellular stage area, I am even more excited for 2018," said Smiley in an official statement. "Our 50th edition in 2017 will be our biggest part on record, but we have huge plans for the future. The debut of this new stage in 2018 will lead us to the next 50 years."
According to the release, the new U.S. Cellular Connection Stage will offer improved patron amenities and access, with a focus on providing an exceptional guest experience. The media sponsor for the stage will continue to be iHeart radio.
According to materials provided by Summerfest, the renovation project will include:
A completely rebuilt stage, completed in time for the 51st Summerfest in 2018.
Increased capacity and improved access for attendees, while featuring a stunning backdrop of the Milwaukee skyling and the lakefront.
A larger performance area, enhanced production capabilities and improved artist amenities that will accommodate artists traveling with larger-scale production.
A 25-foot LED video screen, the largest video screen on the grounds, for enhanced views of performances from any location in the stage area.
An open-air backstage loft area that will be used for artist meet and greets and interviews, as well as exclusive hospitality experiences with up front viewing of the stage for customers and contest winners.
Mobile device charging amenities around the stage area, including benches with charging ports along the lakefront.
Redesigned bar area to provide attendees with better access and accommodations.
As provided in the lease between the City of Milwaukee and Milwaukee World Festival, Inc. the capital project is subject to the review and approval by the Board of Harbor Commissions, on behalf of the City of Milwaukee.
Summerfest 2017 will take place June 28 to July 2 and July 4 to July 9 from noon until midnight, and will be closed Monday, July 3. Since its debut in 1968, Summerfest has grown and evolved into what is now considered "The World's Largest Music Festival" and Milwaukee's cornerstone summer celebration. During the festival, more than 800 acts are featured, with more than 1,000 live performances on 11 stages, plus food, beverages, interactive activities and the city's best people-watching.
Born in Milwaukee but a product of Shorewood High School (go 'Hounds!) and Northwestern University (go 'Cats!), Jimmy never knew the schoolboy bliss of cheering for a winning football, basketball or baseball team. So he ditched being a fan in order to cover sports professionally - occasionally objectively, always passionately. He's lived in Chicago, New York and Dallas, but now resides again in his beloved Brew City and is an ardent attacker of the notorious Milwaukee Inferiority Complex.
After interning at print publications like Birds and Blooms (official motto: "America's #1 backyard birding and gardening magazine!"), Sports Illustrated (unofficial motto: "Subscribe and save up to 90% off the cover price!") and The Dallas Morning News (a newspaper!), Jimmy worked for web outlets like CBSSports.com, where he was a Packers beat reporter, and FOX Sports Wisconsin, where he managed digital content. He's a proponent and frequent user of em dashes, parenthetical asides, descriptive appositives and, really, anything that makes his sentences longer and more needlessly complex.
Jimmy appreciates references to late '90s Brewers and Bucks players and is the curator of the unofficial John Jaha Hall of Fame. He also enjoys running, biking and soccer, but isn't too annoying about them. He writes about sports - both mainstream and unconventional - and non-sports, including history, music, food, art and even golf (just kidding!), and welcomes reader suggestions for off-the-beaten-path story ideas.