Whether you voted for Donald Trump or Hillary Clinton, perhaps you celebrated your contribution to democracy with a taco or two.
Last night, from 5 to 11 p.m., Boone & Crockett, Burnhearts and Sugar Maple – all located in Bay View – rallied with Chicago's 5 Rabbit Cerveceria and hosted the spirited, tongue-in-cheek "#TacoTrucksOnEveryCorner."
The event was in response to a comment made by Marco Gutierrez, the founder of Latinos For Trump, who warned that if Mexican immigration to the U.S. continued the country would soon have "taco trucks on every corner." The comment stirred a backlash, started the hashtag #TacoTrucksOnEveryCorner and went viral quickly, hilariously and deliciously.
Despite that backlash, Donald Trump won the U.S. presidency last night – as most of the world is aware by now – losing the popular vote but overwhelmingly winning the electoral college as of this morning's tally.
"We were trying to make light of a very serious and passionate election," says John Revord, co-owner of Boone & Crockett.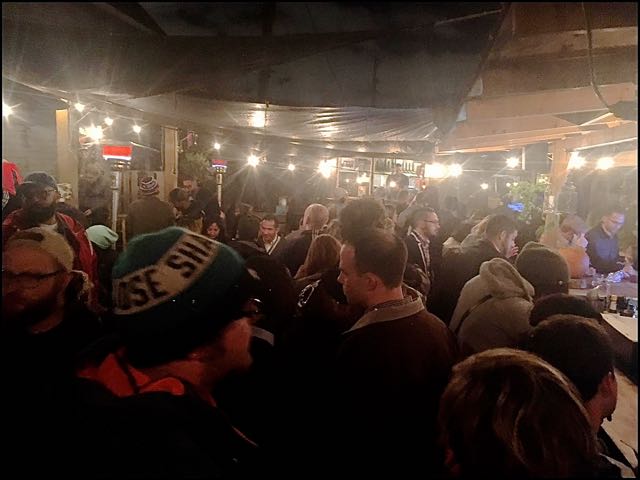 Ken Cheling, who represented 5 Rabbit at the event, was promoting a beer called "Chinga Tu Pelo," which he said in polite conversation means, "I highly disagree with your hair" (in not-so-polite speak it translates "F*ck your hair"). 5 Rabbit – which is the first Latin-themed craft brewery in the country – originally brewed Chinga Tu Pelo for a bar in Trump Tower Chicago.
"It's one of our fastest selling beers, and we made enough to cover not only Illinois but Wisconsin," says Cheling. "And if people could vote for the combination of beer and tacos, everyone – most everyone – would agree that's the true winner."
Last night, Boone served food from a taco truck on the patio that was a combined effort between DanDan, Vanguard and Goodkind. Gypsy Taco, which normally docks at Boone, parked in front of Burnhearts, and Sugar Maple hosted Iron Grate BBQ – which ran as Iron Grate Taco Co. for the evening.
Revord says he knew the event would attract almost entirely Clinton and third party supporters, but all were welcome. "Everyone is invited to come on down," he says.
All three of the locations were packed with supporters, and the lines in front of the taco trucks were longer than the lines at many of the polling stations. The people have spoken: Tacos for the win.
Molly Snyder grew up on Milwaukee's East Side and today, she lives in the Walker's Point neighborhood with her partner and two sons.
As a full time senior writer, editorial manager and self-described experience junkie, Molly has written thousands of articles about Milwaukee (and a few about New Orleans, Detroit, Indianapolis, Boston and various vacation spots in Wisconsin) that range in subject from where to get the best cup of coffee to an in-depth profile on the survivors of the iconic Norman apartment building that burned down in the '90s.
She also once got a colonic just to report on it, but that's enough on that.
Always told she had a "radio voice," Molly found herself as a regular contributor on FM102, 97WMYX and 1130WISN with her childhood radio favorite, Gene Mueller.
Molly's poetry, essays and articles appeared in many publications including USA Today, The Writer, The Sun Magazine and more. She has a collection of poetry, "Topless," and is slowly writing a memoir.
In 2009, Molly won a Milwaukee Press Club Award. She served as the Narrator / writer-in-residence at the Pfister Hotel from 2013-2014. She is also a story slam-winning storyteller who has performed with The Moth, Ex Fabula and Risk!
When she's not writing, interviewing or mom-ing, Molly teaches tarot card classes, gardens, sits in bars drinking Miller products and dreams of being in a punk band again.