Whether you voted for Donald Trump or Hillary Clinton, perhaps you celebrated your contribution to democracy with a taco or two.
Last night, from 5 to 11 p.m., Boone & Crockett, Burnhearts and Sugar Maple – all located in Bay View – rallied with Chicago's 5 Rabbit Cerveceria and hosted the spirited, tongue-in-cheek "#TacoTrucksOnEveryCorner."
The event was in response to a comment made by Marco Gutierrez, the founder of Latinos For Trump, who warned that if Mexican immigration to the U.S. continued the country would soon have "taco trucks on every corner." The comment stirred a backlash, started the hashtag #TacoTrucksOnEveryCorner and went viral quickly, hilariously and deliciously.
Despite that backlash, Donald Trump won the U.S. presidency last night – as most of the world is aware by now – losing the popular vote but overwhelmingly winning the electoral college as of this morning's tally.
"We were trying to make light of a very serious and passionate election," says John Revord, co-owner of Boone & Crockett.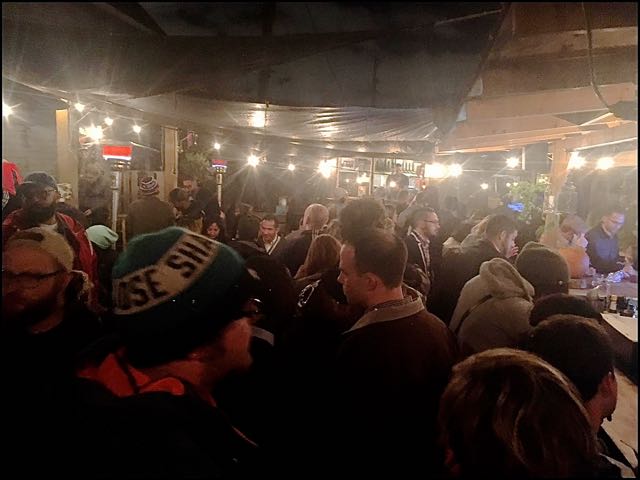 Ken Cheling, who represented 5 Rabbit at the event, was promoting a beer called "Chinga Tu Pelo," which he said in polite conversation means, "I highly disagree with your hair" (in not-so-polite speak it translates "F*ck your hair"). 5 Rabbit – which is the first Latin-themed craft brewery in the country – originally brewed Chinga Tu Pelo for a bar in Trump Tower Chicago.
"It's one of our fastest selling beers, and we made enough to cover not only Illinois but Wisconsin," says Cheling. "And if people could vote for the combination of beer and tacos, everyone – most everyone – would agree that's the true winner."
Last night, Boone served food from a taco truck on the patio that was a combined effort between DanDan, Vanguard and Goodkind. Gypsy Taco, which normally docks at Boone, parked in front of Burnhearts, and Sugar Maple hosted Iron Grate BBQ – which ran as Iron Grate Taco Co. for the evening.
Revord says he knew the event would attract almost entirely Clinton and third party supporters, but all were welcome. "Everyone is invited to come on down," he says.
All three of the locations were packed with supporters, and the lines in front of the taco trucks were longer than the lines at many of the polling stations. The people have spoken: Tacos for the win.

Molly Snyder started writing and publishing her work at the age 10, when her community newspaper printed her poem, "The Unicorn." Since then, she's expanded beyond the subject of mythical creatures and written in many different mediums but, nearest and dearest to her heart, thousands of articles for OnMilwaukee.

Molly is a regular contributor to FOX6 News and numerous radio stations as well as the co-host of "Dandelions: A Podcast For Women." She's received five Milwaukee Press Club Awards, served as the Pfister Narrator and is the Wisconsin State Fair's Celebrity Cream Puff Eating Champion of 2019.