Bobby Hamilton was born and lived in Jamaica for most of his life. In 2012, he moved to Milwaukee after briefly living in New York City because he found the people here to be friendly and it reminded him of home.
"I came to Milwaukee on vacation, and I fell in love with the place. The people were so nice and I thought it would be a good city to raise my daughter," says Hamilton.
Hamilton, who was born in Runaway Bay in Jamaica, worked in Kingston for 20 years as a police officer. When he moved to Milwaukee, he worked as a security supervisor for the Milwaukee County Transit System, but when the company went on strike, he decided he wanted to start his own business.
"I owned a computer store in Jamaica for awhile, and I liked owning my own business," he says. "I like talking with people and I have good customer service relations."
Hamilton, who lives near State Fair Park, saw people taking cabs to and from the Fair and decided he would like to provide a taxi service. And so, he bought a Dodge Caravan Minivan, decorated it with Jamaican flags and stickers, followed the necessary procedures to be a taxi service and the Reggae Cab was born.
"It's a luxury ride," says Hamilton. "We have wi-fi and people can select their own music."
Most of the time, however, people want to hear reggae and Hamilton says it's playing in his cab almost 100 percent of the time.
"People will tell me that when they hear Bob Marley in my taxi in the morning, they sometimes hear his positive words all day long," says Hamilton.
So far, Hamilton has been extremely busy on the road and says most of his business comes from seeing the website and number on his taxi or from word-of-mouth referrals. Sometimes customers misunderstand the concept and ask if they can smoke ganja in the cab.
"No, you cannot drink or smoke marijuana in my taxi," says Hamilton. "People often ask me if I have ever smoked it and I never have – I was a cop for 20 years. I have nothing against it, though. People are free to do what they want to do, just not in my cab."
Hamilton sees his job as more than a taxi service; rather, it's about sharing stories with people and making them feel happy. He says customers love to share tales with him about their travels to Jamaica or ask him about what his life was like living there.
"I really enjoy having conversations with people about Jamaica or whatever they want to talk about," says Hamilton. "I like to make people smile."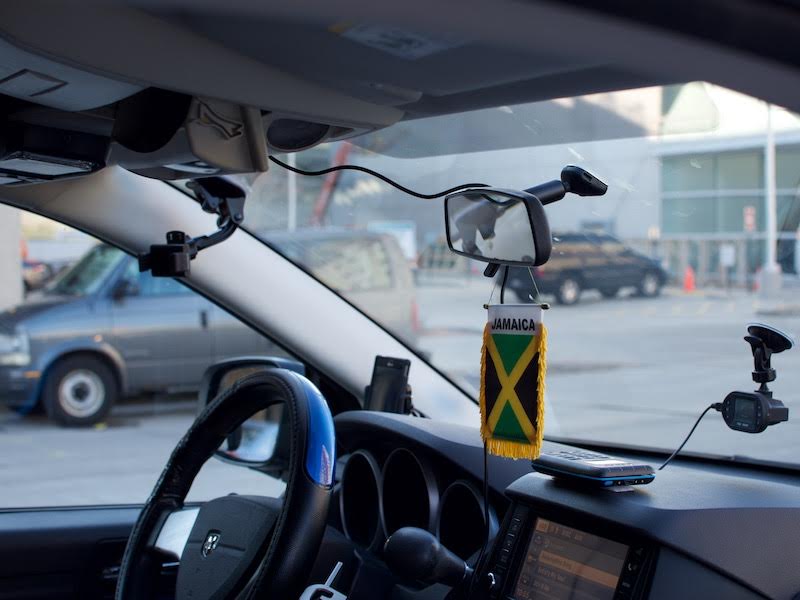 Molly Snyder grew up on Milwaukee's East Side and today, she lives in the Walker's Point neighborhood with her partner and two sons.
As a full time senior writer, editorial manager and self-described experience junkie, Molly has written thousands of articles about Milwaukee (and a few about New Orleans, Detroit, Indianapolis, Boston and various vacation spots in Wisconsin) that range in subject from where to get the best cup of coffee to an in-depth profile on the survivors of the iconic Norman apartment building that burned down in the '90s.
She also once got a colonic just to report on it, but that's enough on that.
Always told she had a "radio voice," Molly found herself as a regular contributor on FM102, 97WMYX and 1130WISN with her childhood radio favorite, Gene Mueller.
Molly's poetry, essays and articles appeared in many publications including USA Today, The Writer, The Sun Magazine and more. She has a collection of poetry, "Topless," and is slowly writing a memoir.
In 2009, Molly won a Milwaukee Press Club Award. She served as the Narrator / writer-in-residence at the Pfister Hotel from 2013-2014. She is also a story slam-winning storyteller who has performed with The Moth, Ex Fabula and Risk!
When she's not writing, interviewing or mom-ing, Molly teaches tarot card classes, gardens, sits in bars drinking Miller products and dreams of being in a punk band again.