Get ready to soak up more bar articles, imbibable stories and cocktailing content, brought to by Miller Lite. For more of our Bar stories click here!
The holiday decorations at The Bottle, 1753 S. Kinnickinnic Ave., are tasteful - not over the top - with lights and dozens of silver balls dangling from the ceiling.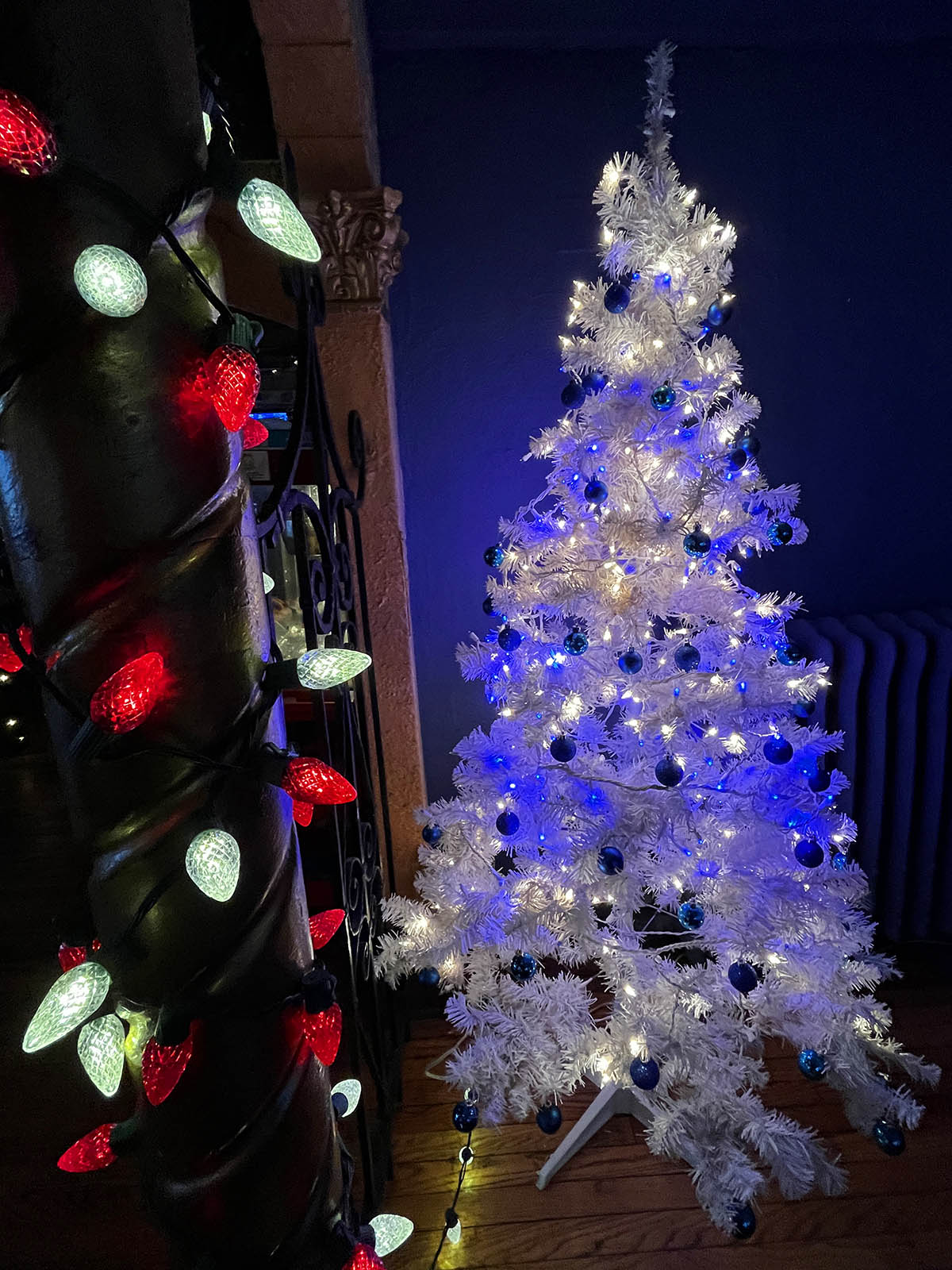 There is one tree, however, that has far too many ornaments.
"We do a tree that we dedicate to fallen (police) officers," says The Bottle owner Tony Wojtecki, of the sparkling white tree strung with lights and adorned with blue ornaments.
"I put an ornament on for every fallen officer. For 2022, I think it was 56," explains Wojtecki, who has owned the bar for nearly 20 years. "I've been doing that for probably a good eight years or so now.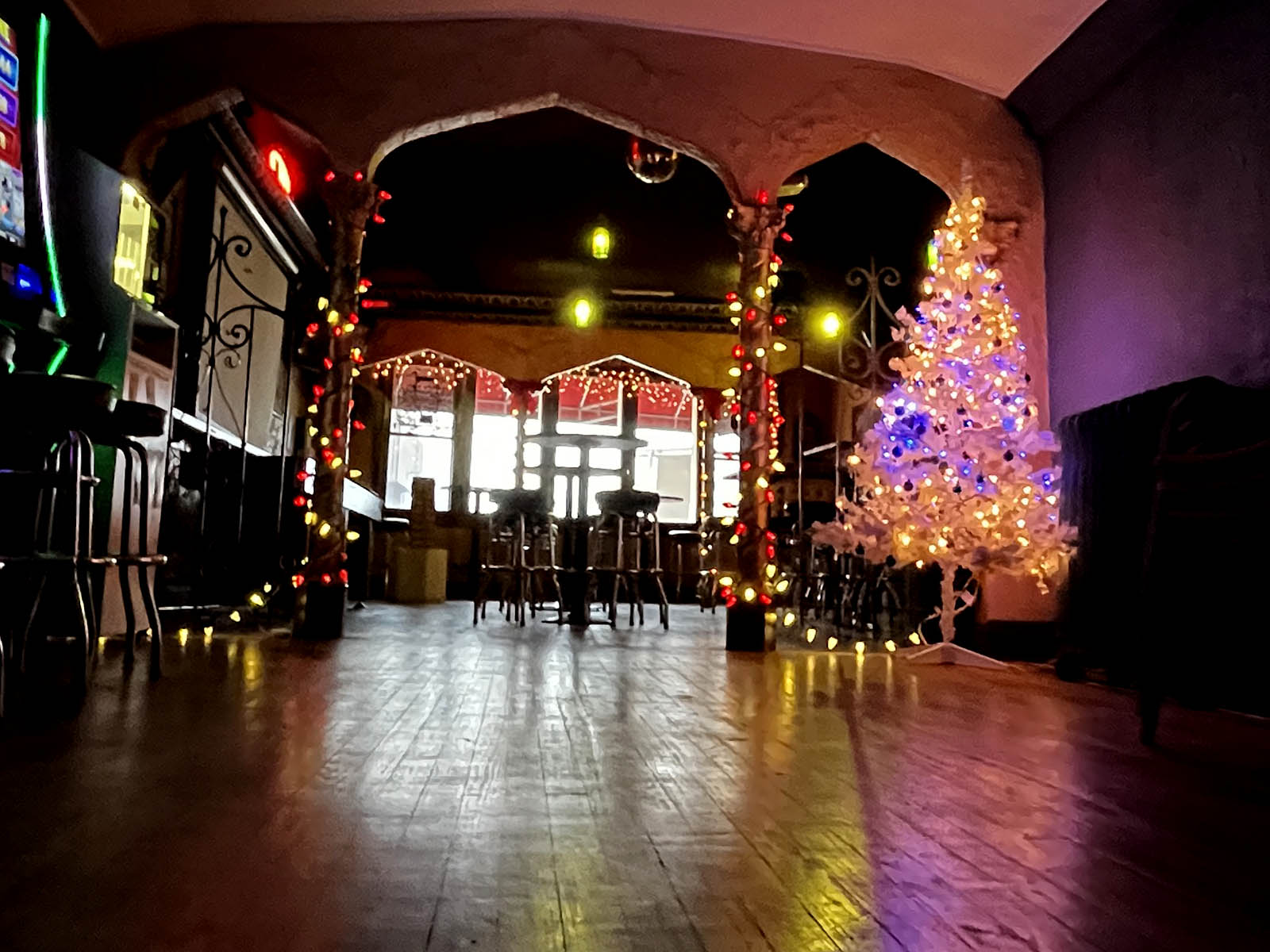 "My uncle was a sheriff, but a lot of my friends just turned to law enforcement, and I feel for these guys. They put their lives on the line every day and, unfortunately, one of my friends – (Matthew) Rittner ... got shot (and died in 2019). He was my bar manager's best friend.
"It's that time of the season – to memorialize, you know?"
There are a number of rooms in the bar and each is interesting in its own way, and all are decorated with vintage beer signs.
The tree, for example, is in the former hall, which has areas divided by tripartite arched openings that look almost Moorish, with columns and Corinthian capitals.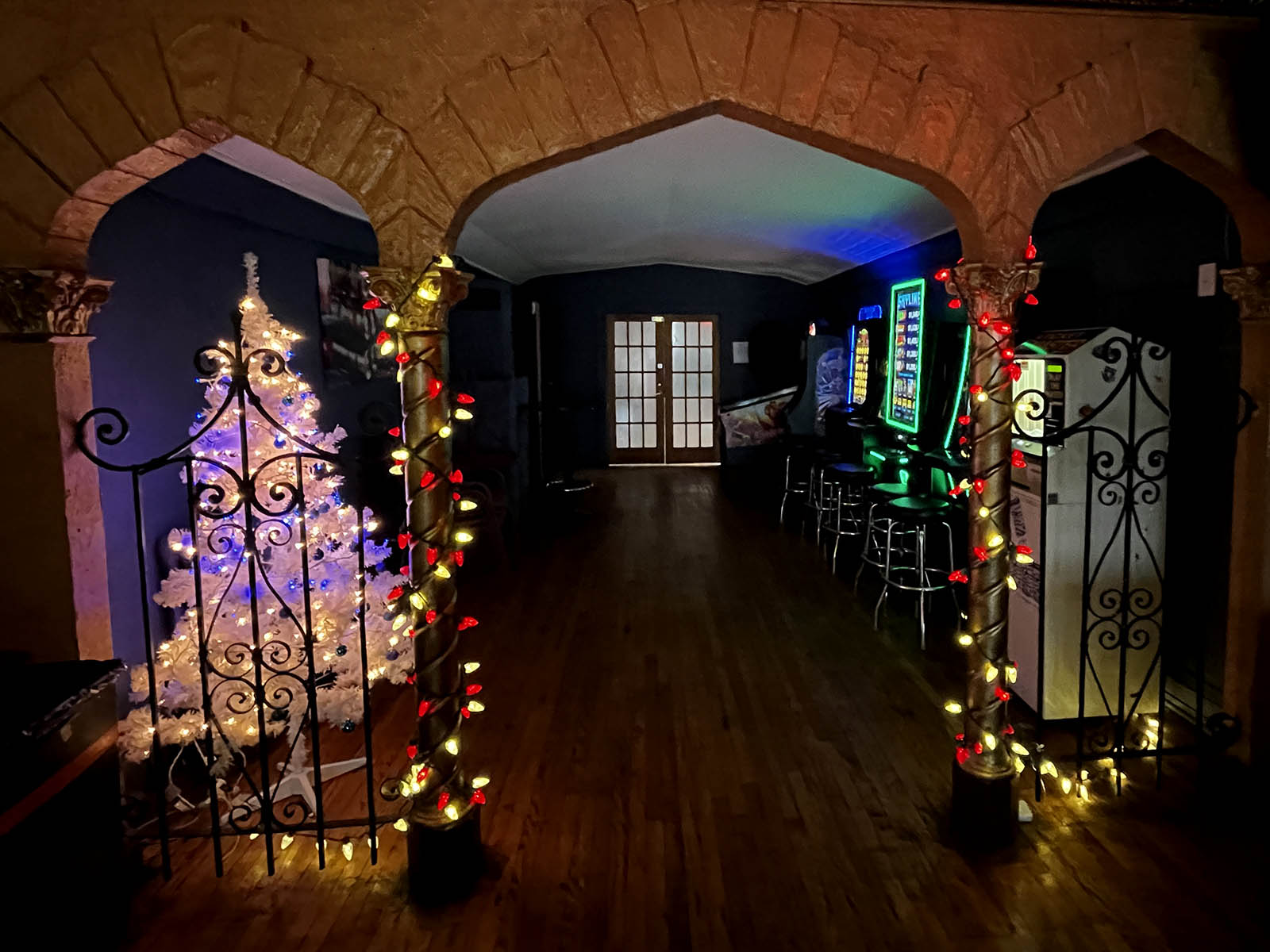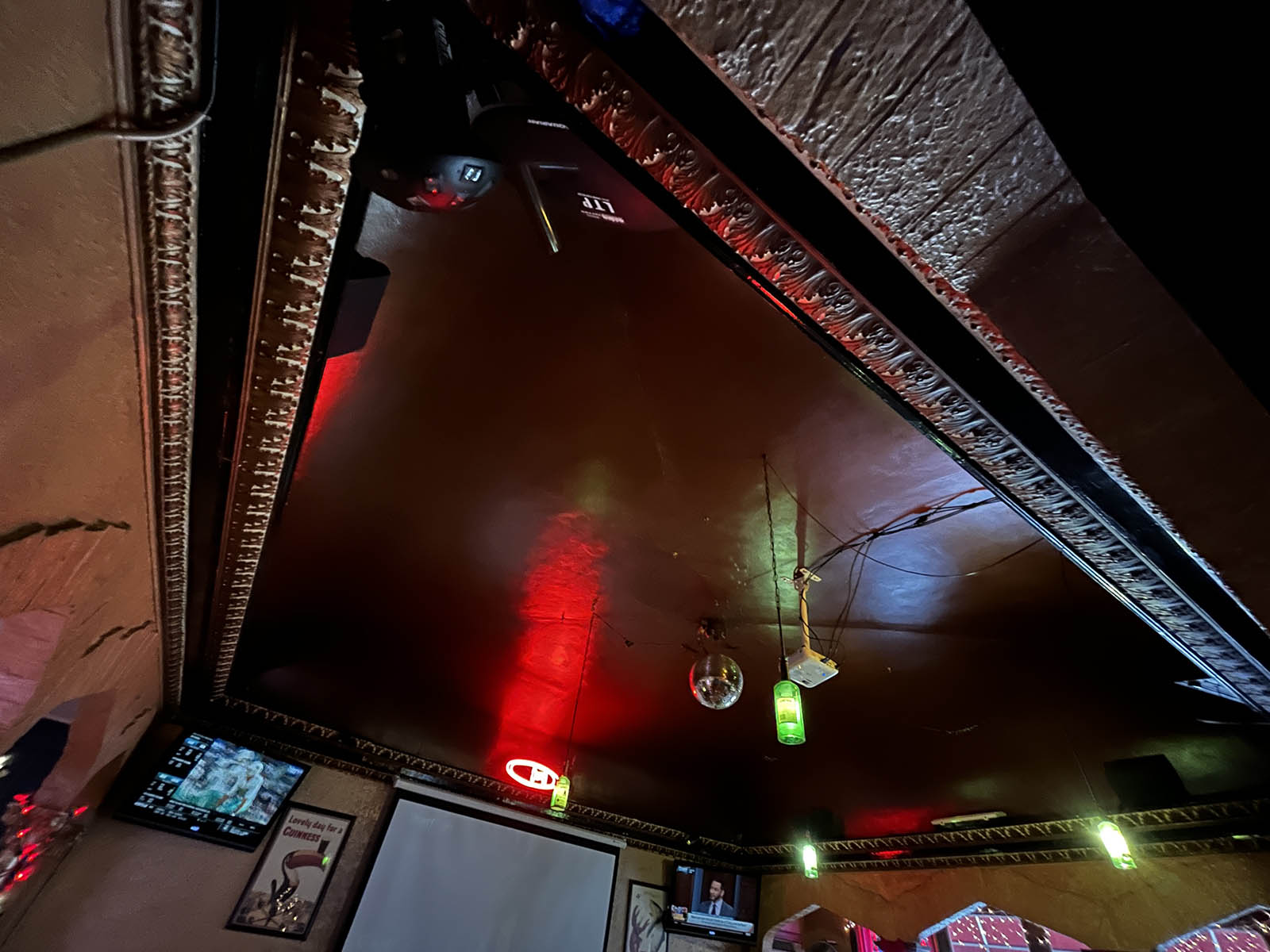 The central part of the space also has a recessed dome punctuated by a mirror ball that has been in place since the 1970s when the bar was occupied by an early disco.
Just behind this space is the former bowling alley, which looks wide enough to have had perhaps two lanes. A row of bowling pins that Wojtecki found in the bar when he arrived lines a window sill.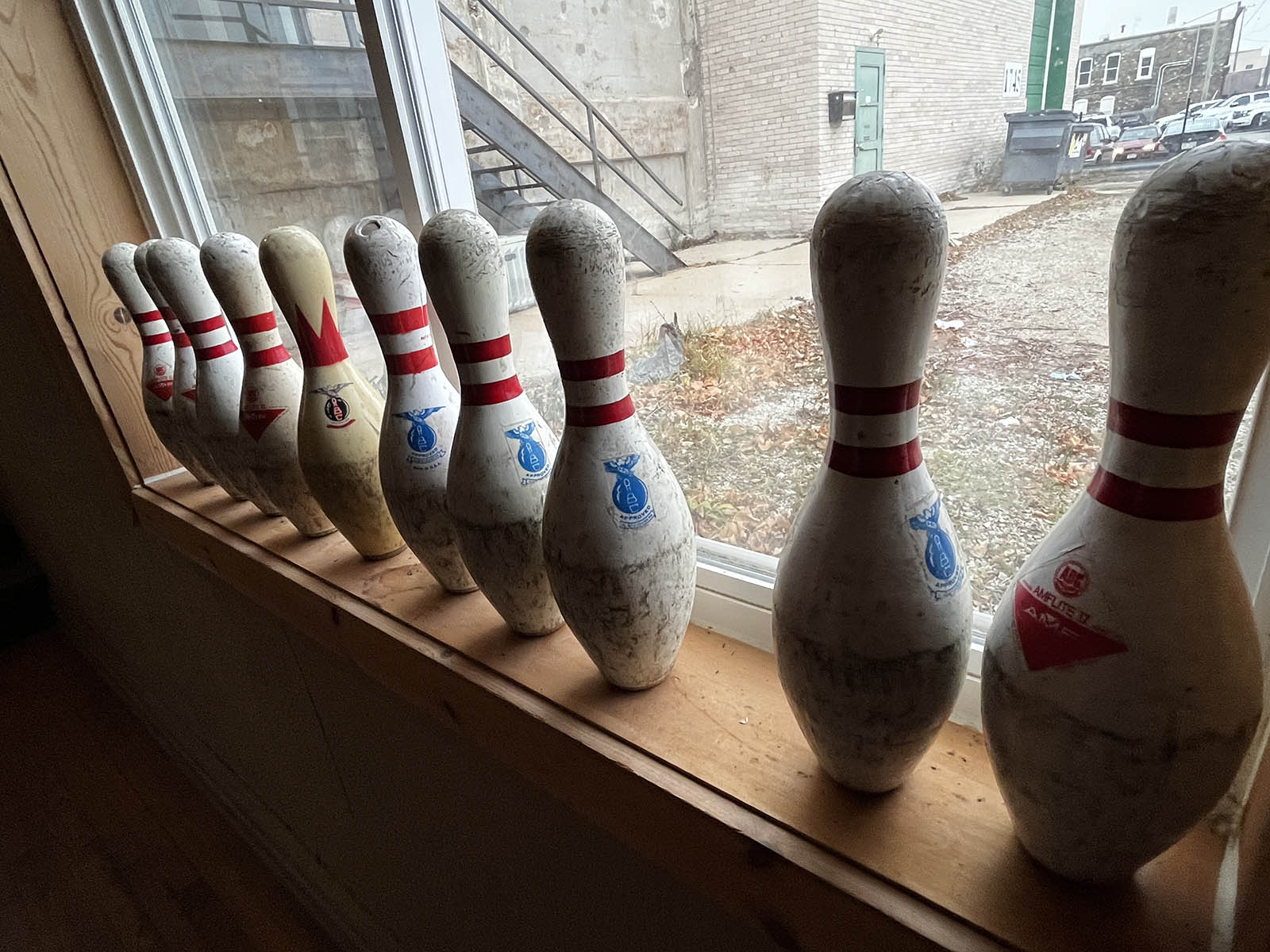 Though there's not bowling here anymore, Wojtecki says that he hosts an annual turkey bowl back here to help kick off the holiday season. He uses the vintage pins in that competition which involves bowling over the frozen bird.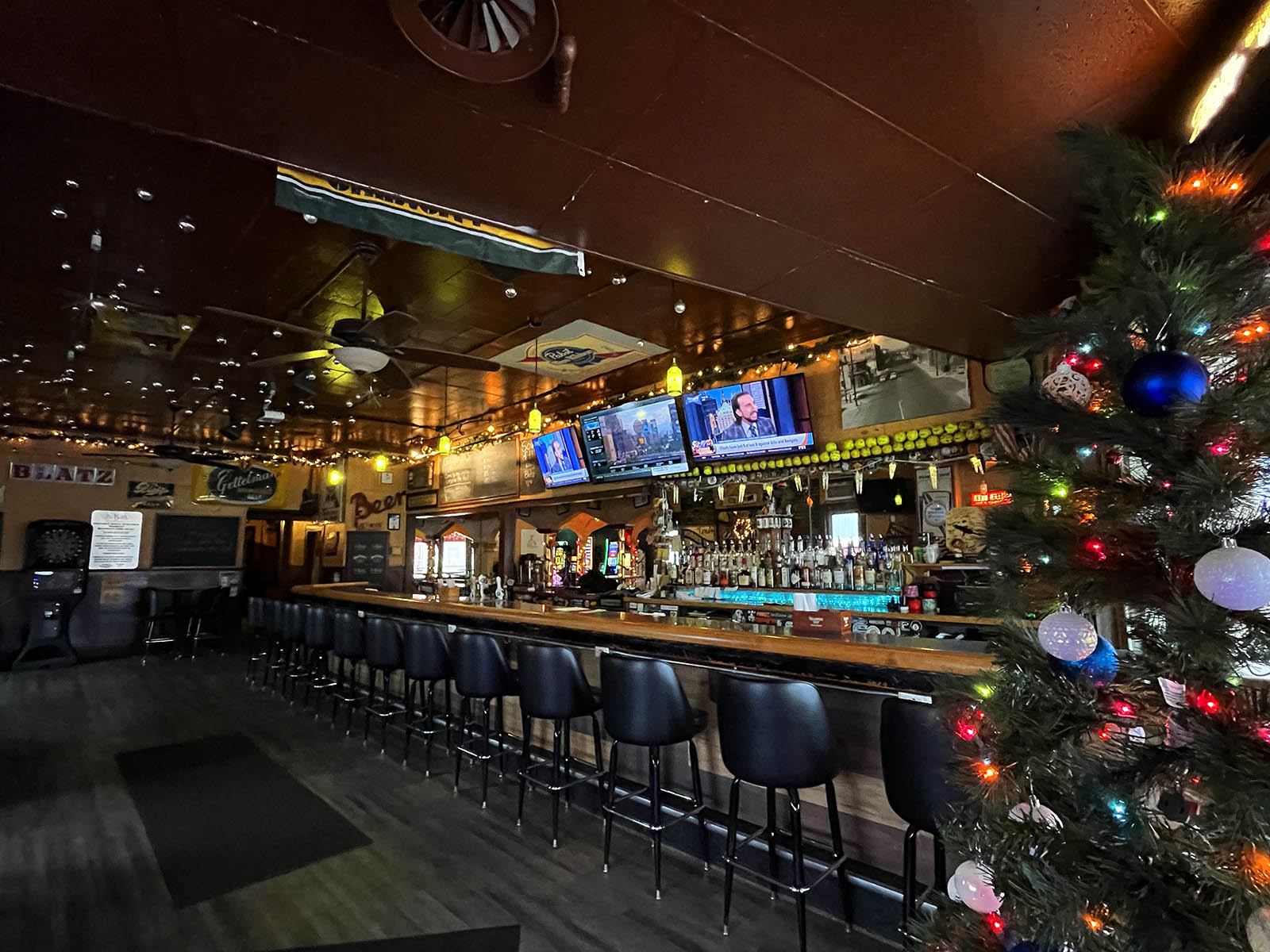 The main bar area is spacious, with the kind of high ceiling you'd expect in an old saloon. Dangling from it during the holidays are dozens of round silver ornaments.
"I don't know how many are up there, but I put them up with pushpins and when I take them down I count how many tacks I pull out," says Wojtecki.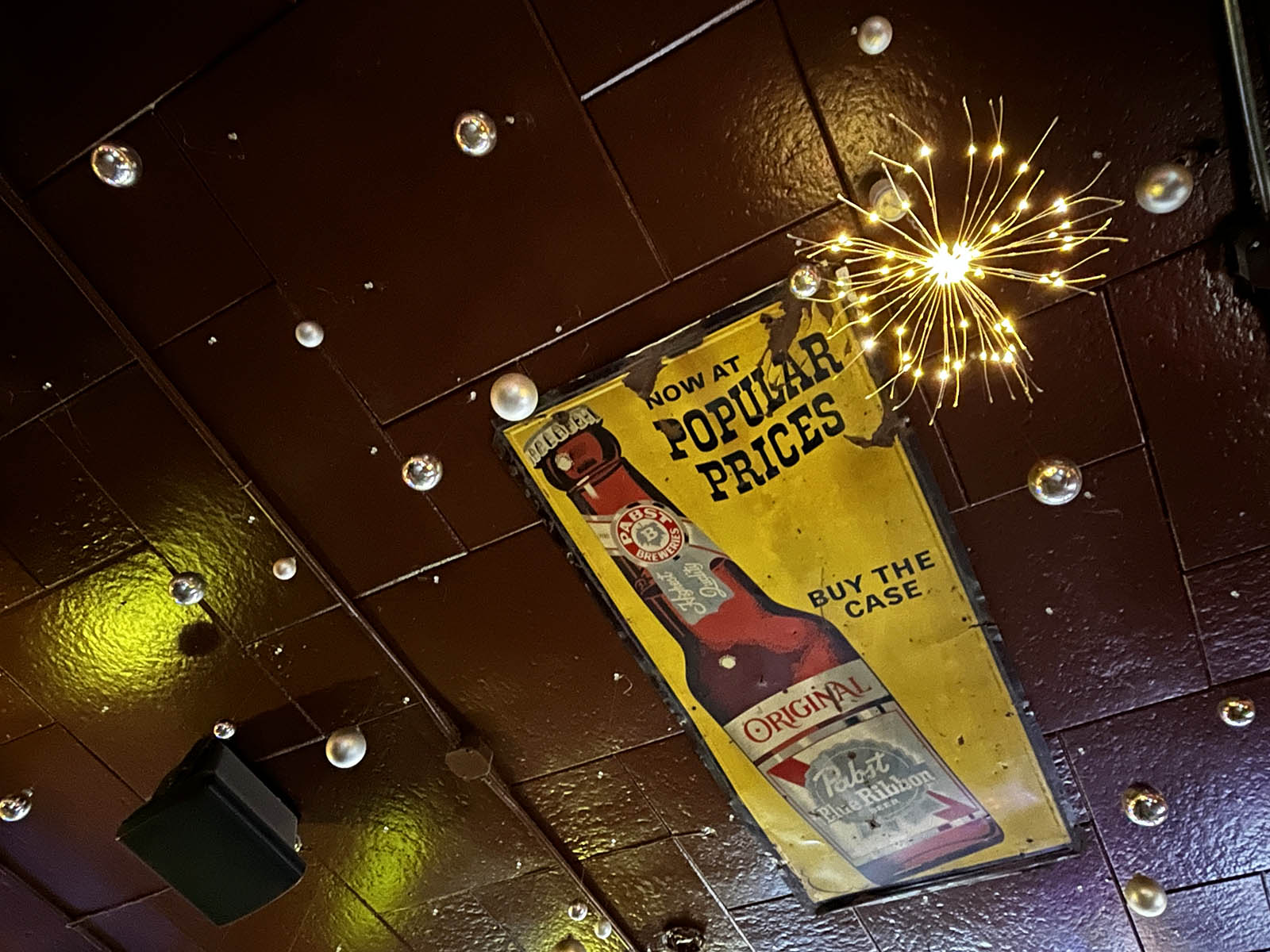 "Then I have this contest on Facebook. Whoever is the first to guess the right amount of pushpins gets a $50 bar tab or something like that. I get like 300 guesses. It's fun."
Wojtecki takes the ornaments down on Jan. 6, so check The Bottle's Facebook page around that time for details.
In back is a second bar that Wojtecki believes was outfitted in the 1960s. It has an elaborate beamed ceiling, more columns and capitals, an attached snug and, along the walls, bells for customers to summon a server.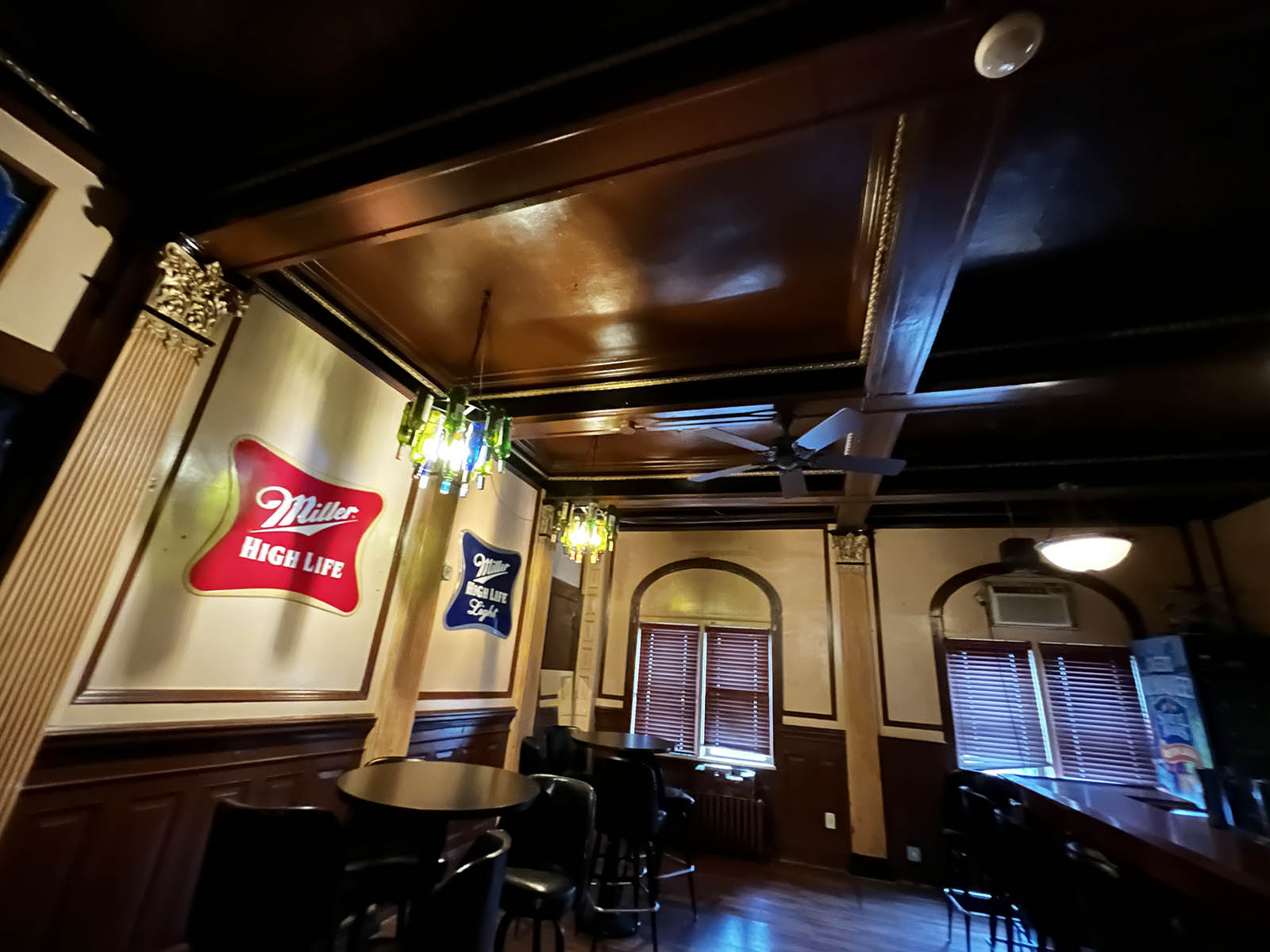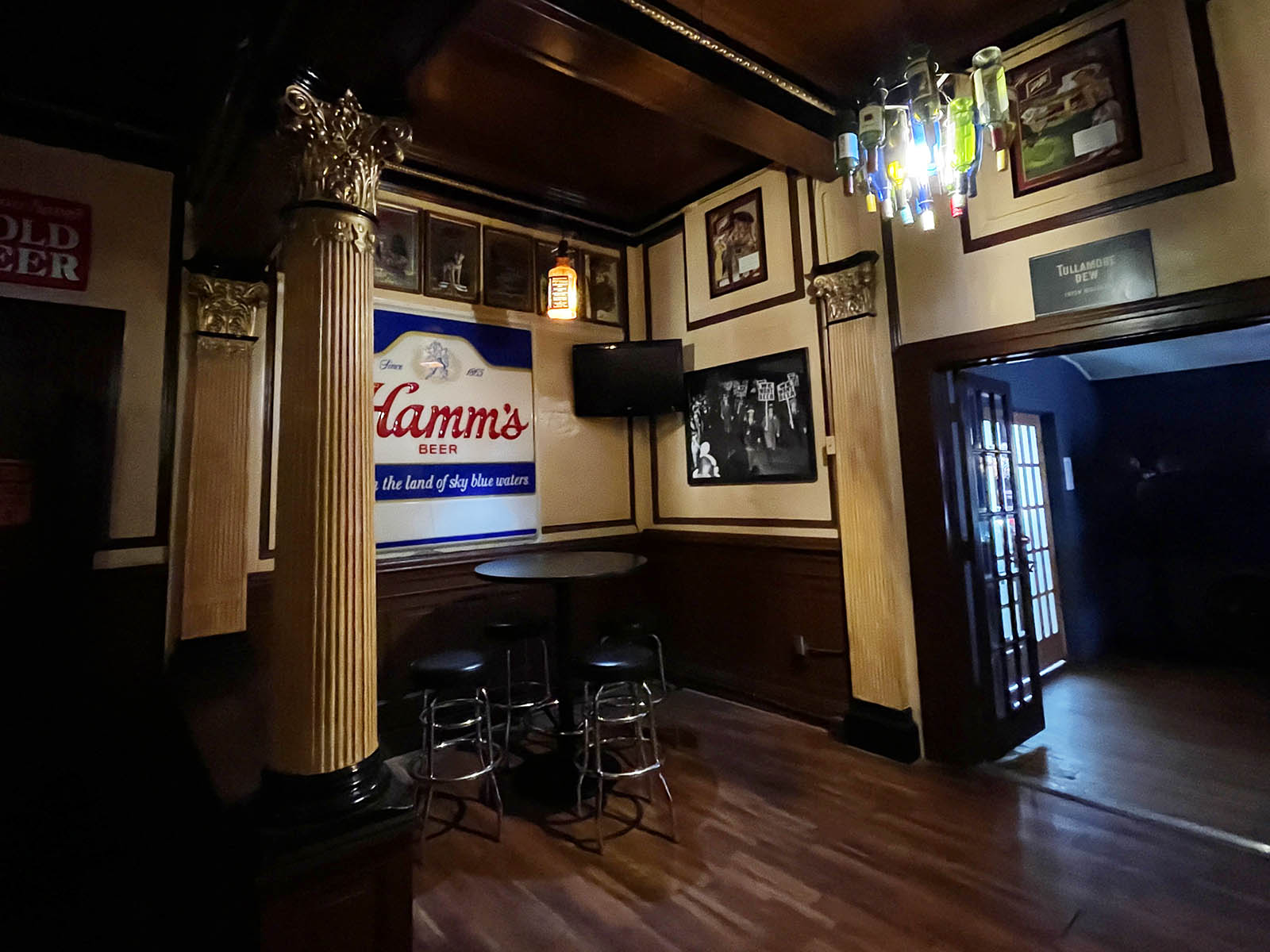 "This was the restaurant part," Wojtecki says, when I ask what he knows about the history of the place.
In the men's room, Wojtecki points out two interesting things uncovered during renovations that he's kept, adding little plaques to identify them.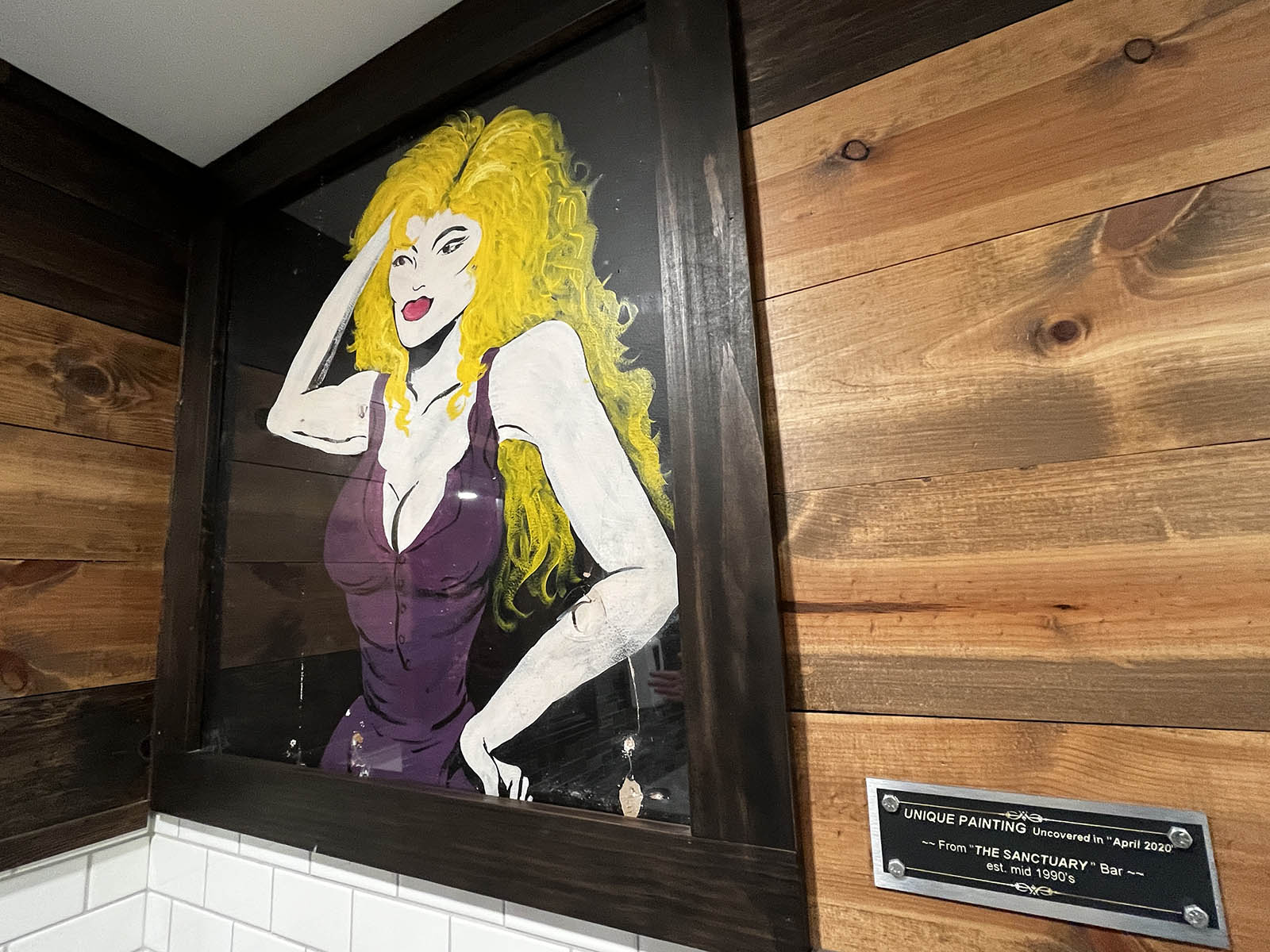 One is a painting that dates from when The Sanctuary goth bar occupied the space in the 1990s and the other is a signature in pencil, with a street address, and a 1934 date.
And then he tells me this story...
"I don't know how true this is, but what was told to me when I took over this place was the river was directly across the street before they rerouted it, and a ship captain π– who would go throughout the Great Lakes delivering goods or whatever – had his slip right across the street from this empty lot.
"When he parked his boat, he would hand out all the money to his deck hands, and they'd go into Bay View and to Walker's Point, and do all their hooting and hollering. And he thought, 'Well, what the hell am I doing here?' So he had this built, so he could give the deckhands money, they'd walk right across the street and come here and give it right back."
Wojtecki points out that there is a navigational star depicted in the terrazzo in the bar's entrance. But – because terrazzo didn't arrive in the U.S. until late in the 1890s and didn't really take off for another 25 years – that's unlikely to date as far back as the building's construction.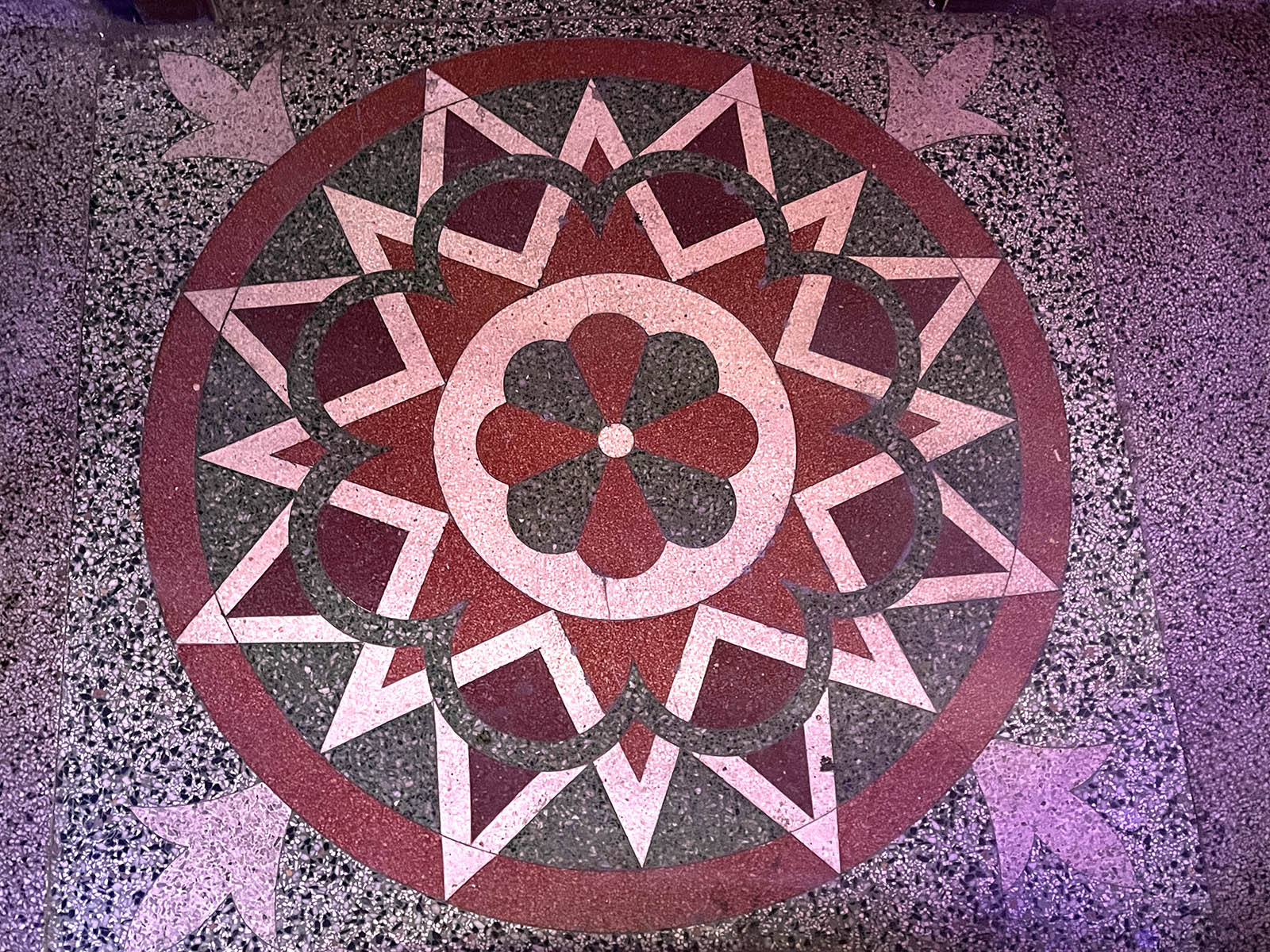 The story is a good one and could well be true, though – as is often the case with the best tales – I wasn't able to confirm it. What I did find was this...
The Bottle occupies a building that has been a tavern for well over a century.
The original building permit is no longer on file at the city, but according to the Wisconsin Historical Society, the structure dates to 1890 when it was erected by the Schlitz Brewing Co. as a tied house along a popular street connecting Milwaukee's near South Side to Bay View, which had been annexed to Milwaukee just three years earlier.
The saloon was occupied by Fred Jess, who had been born in Germany in 1852 and emigrated to America 20 years later. I couldn't find any references to Jess having sailed the Great Lakes.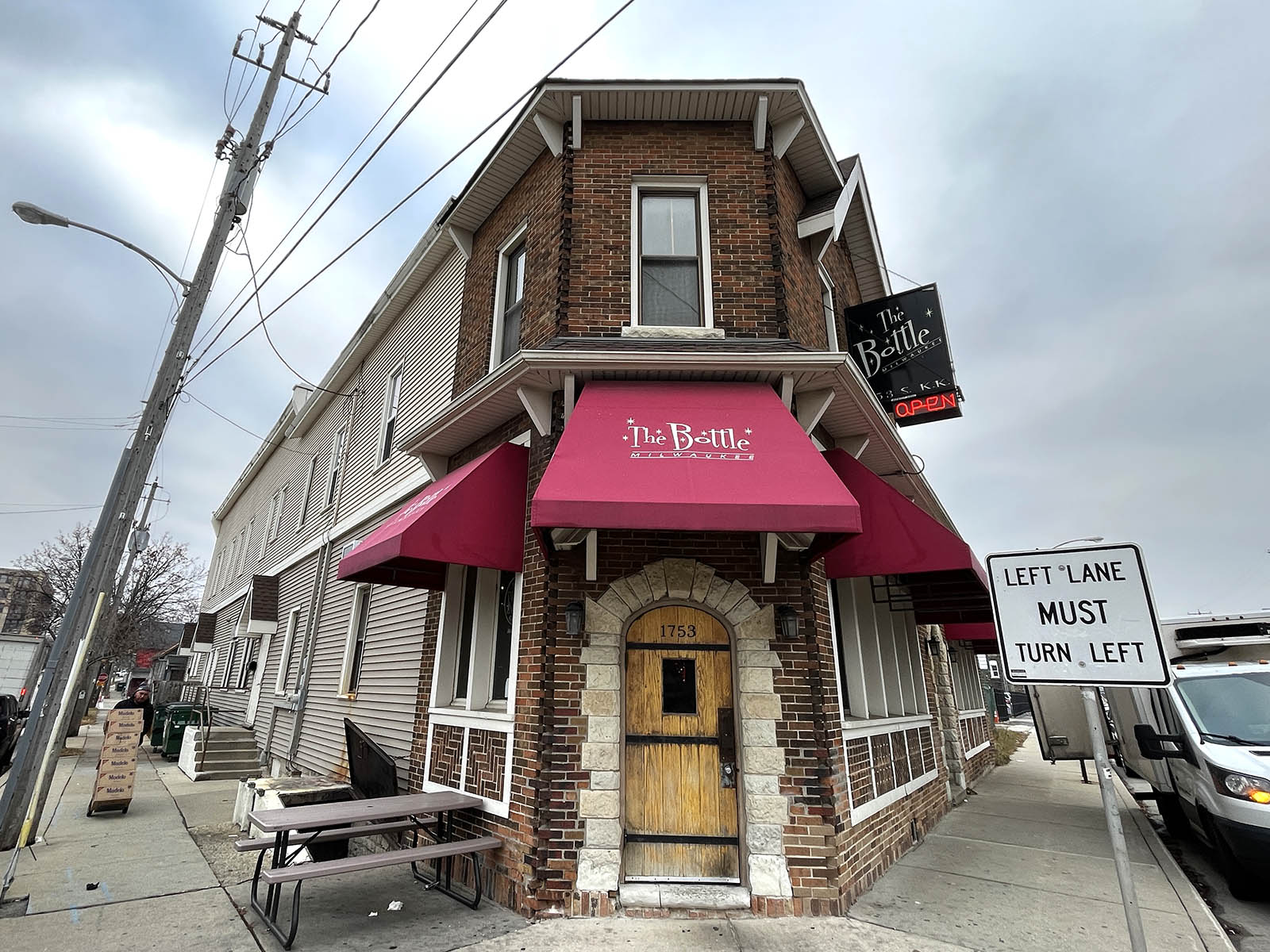 But newspapers suggest that Jess' tavern dates even further back than 1890, as multiple 1886 references show that Jess and his wife Augusta lived on the corner and that he hosted at least one high stakes wrestling match ("sporting men are cordially invited"), in the tavern hall.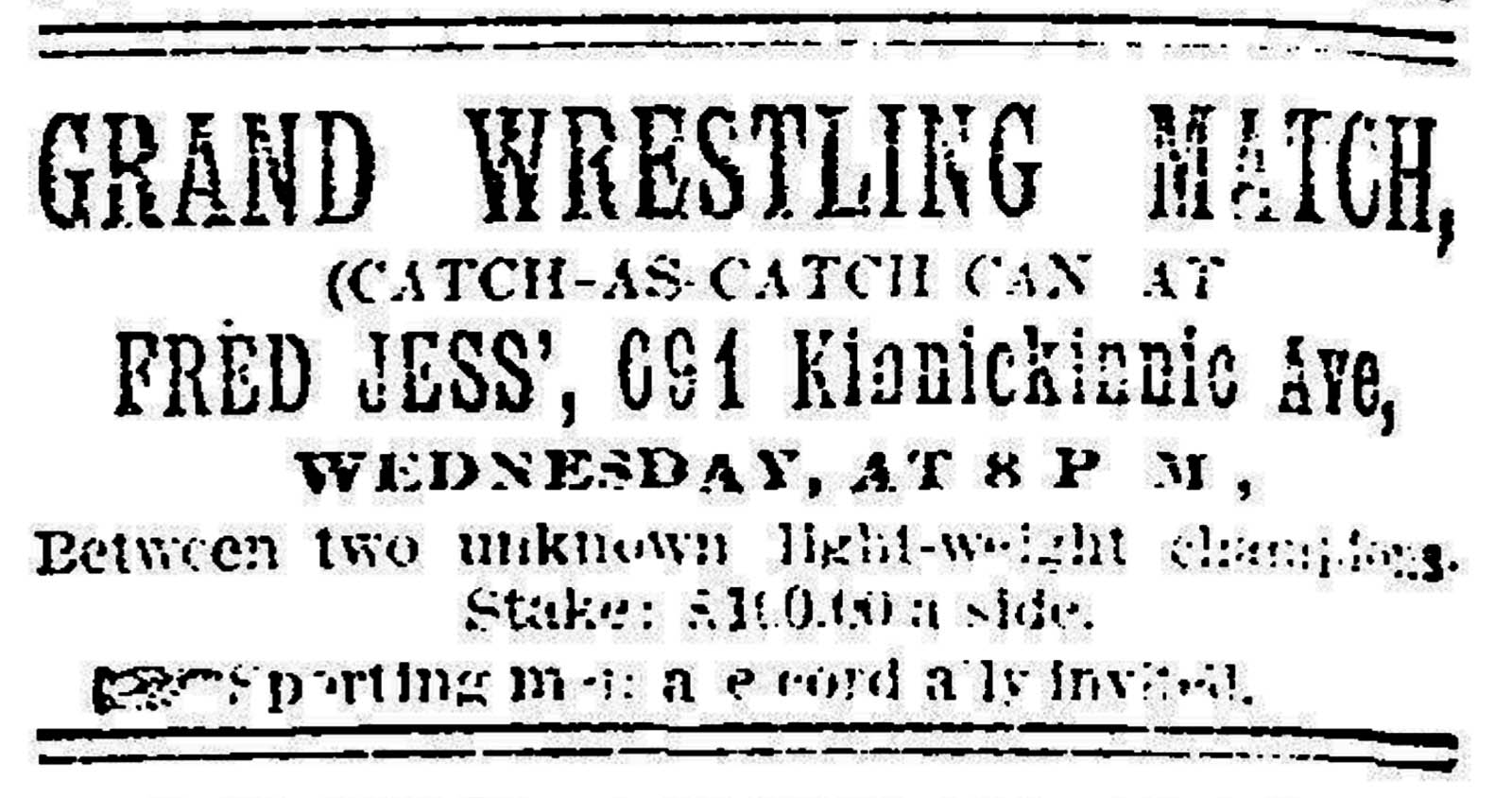 In 1887, the Twelfth Ward Citizens' Club held its February meeting at "Fred Jess hall, 691 Kinnickinnic Avenue."
Jess must've been a respected and/or popular figure in the neighborhood as he was nominated to run for 12 Ward alderman in 1890, though he declined the offer and did not stand for election. Jess would later, however, be elected to that office.
According to the 1894 Sanborn Fire Insurance map, the double-storefront building appears to have had its entire first floor occupied by a saloon, with part of the second floor given over to a hall, which was home to an Independent Order of Oddfellows lodge.
According to a Historic Preservation Commission report, the Kinnickinnic I.O.O.F. Lodge No. 131 got started in 1889, meeting at Jess' Hall until 1908. "A companion Rebekah Degree lodge, Almira Lodge No. 84, was established around 1893 and likewise met at Jessi Hall through 1908," the report adds.
Eintracht ("Harmony") Lodge No. 548 – of which Jess was an officer – was founded around 1891 and also met in the hall until its apparent demise around 1895, as did the Cream City Lodge No. 3198 of the Knights of Honor, from 1888 until 1894, along with labor unions such as Bench Molders / Iron Molders No. 121.
The remainder of the upper floor appears to have been residential, and most early newspaper references to the address say more about the residents than about the saloon.
In October 1890, read one such reference – a classified ad – a "Young man of 20 would like situation in wholesale store or large retail business as clerk; speaks and writes English and German or place as assistant in office."
One can't help but wonder if this was Jess' nephew, whose arrival in Milwaukee the previous January was deemed worthy of coverage by the Milwaukee Journal.
"A young man arrived from Sheboygan Falls yesterday," the paper wrote, "whose gigantic proportions will attract attention wherever he goes."
Meet Henry Week, deemed "probably" the tallest man in Wisconsin.
"Though scarcely 19 years old, he has attained a height of 6 feet 9 inches and he is still growing. He tips the scales at 228 pounds, although he is shapely and well proportioned. By trade a carpenter, he proposes to go to school in this city and educate himself to comply with the wishes of his uncle, Mr. Fred Jess, of Kinnickinnic Avenue."
It should be noted that in 1899 – according to the Milwaukee Journal – Jess himself tipped the scales at a whopping 410 pounds.
In 1900 Schlitz hired its favored architects, Kirchhoff & Rose, to design a $2,000 addition to the wood frame building, "to lower roof over bowling alley 5 1/2 feet and arrange that part of the building which is now used for a hall for bedrooms."
That allowed a small hotel to also operate from the building, which in 1908 got new exterior stairs and new $1,000 storefront.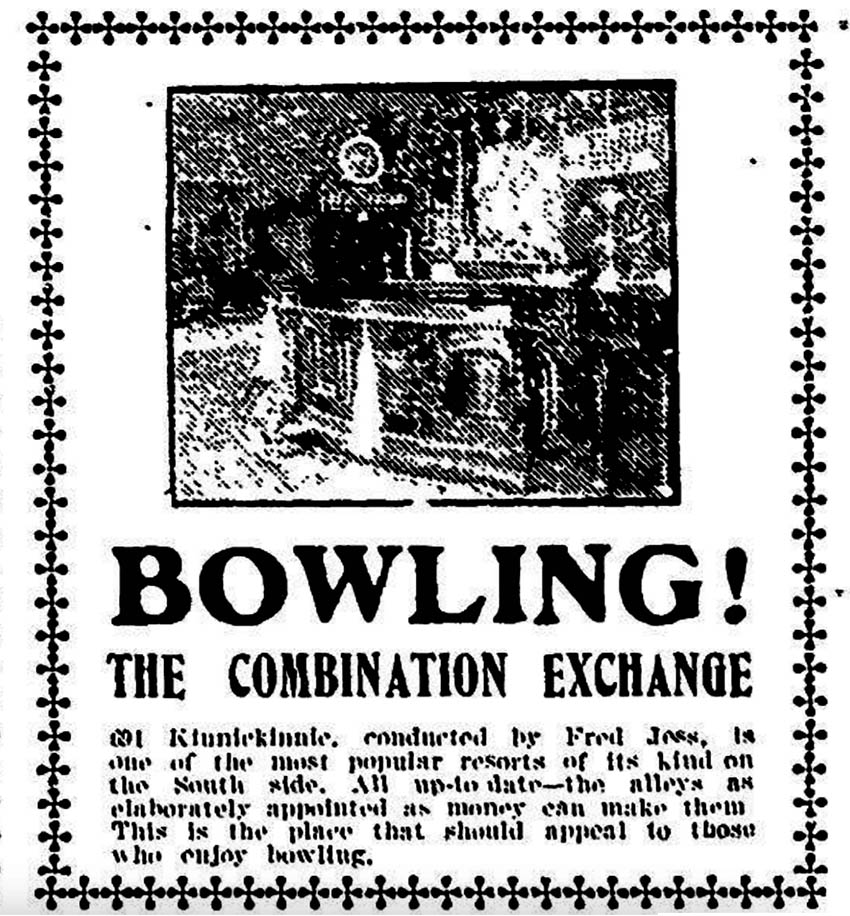 A 1904 ad refers to the bowling lanes as "The Combination Exchange, conducted by Fred Jess, is one of the most popular resorts of its kind on the South Side. All up to date – the alleys as elaborately appointed as money can make them."
A 1910 ad touts Jess' Alleys – perated by Jess under that lowered roof – as, "always a good place to bowl."
Jess died at the age of 71 on Sept. 28, 1923, while living on Marshall Street.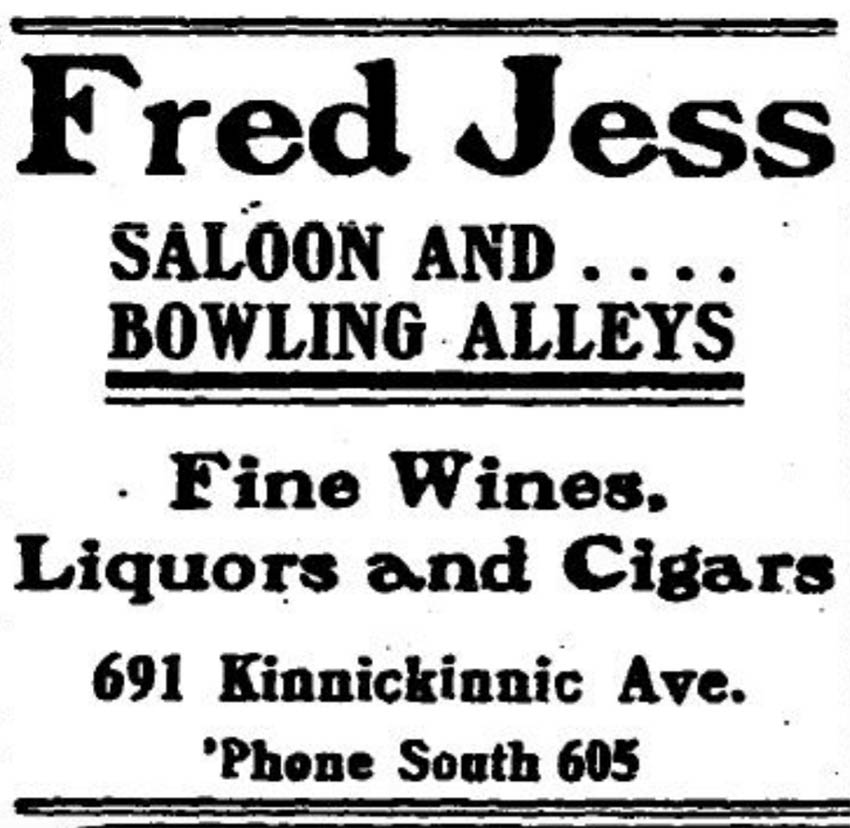 By the latter part of the 1920s, Lawrence Niemczynski was operating the place as a soft drink parlor, which was often code for a saloon attempting to fly under the feds' radar during Prohibition, which began in January 1920.
A 1952 obituary for Niemczynski suggests he had taken over the business around 1917, though this conflicts with a newspaper report of Jess seeking to renew his liquor license in 1919.
Though Repeal did not arrive until a year later, a December 1932 city permit notes that Niemczynski is the owner of a "first floor beer garden." He could do that before the 1933 repeal of Prohibition because Wisconsin had undone its own state laws enforcing Prohibition in 1928.
In 1933, the building is described as a tavern and bowling alley and in January 1934 a tavern and rooming house with one family (in an apartment behind the tavern), and a total of 24 people in 24 rooms and five toilet rooms.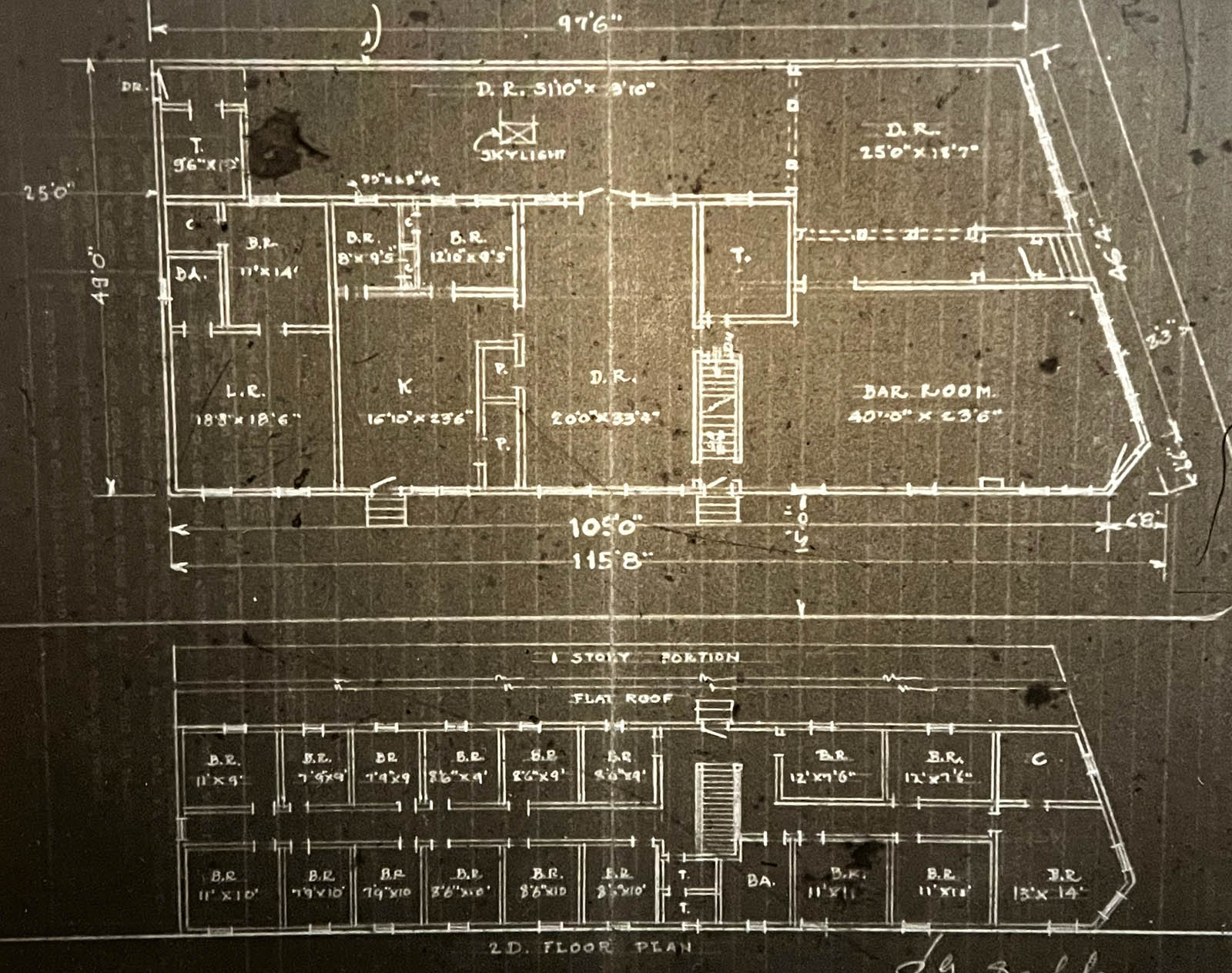 The SRO rooms on the second floor were mostly about 8x9 feet.
That same month, Niemczynski converted the bowling alleys to a beer garden and a dance floor and renamed the place Lawrence Gardens, where live music by the likes of Johnny Krofta's orchestra provided a soundtrack to dancing and dining on sandwiches, a Friday fish fry, chicken on Saturday and chop suey on Wednesdays and Fridays.
All lubricated by 5-cent Schlitz beer, which must've been a good deal even at that time.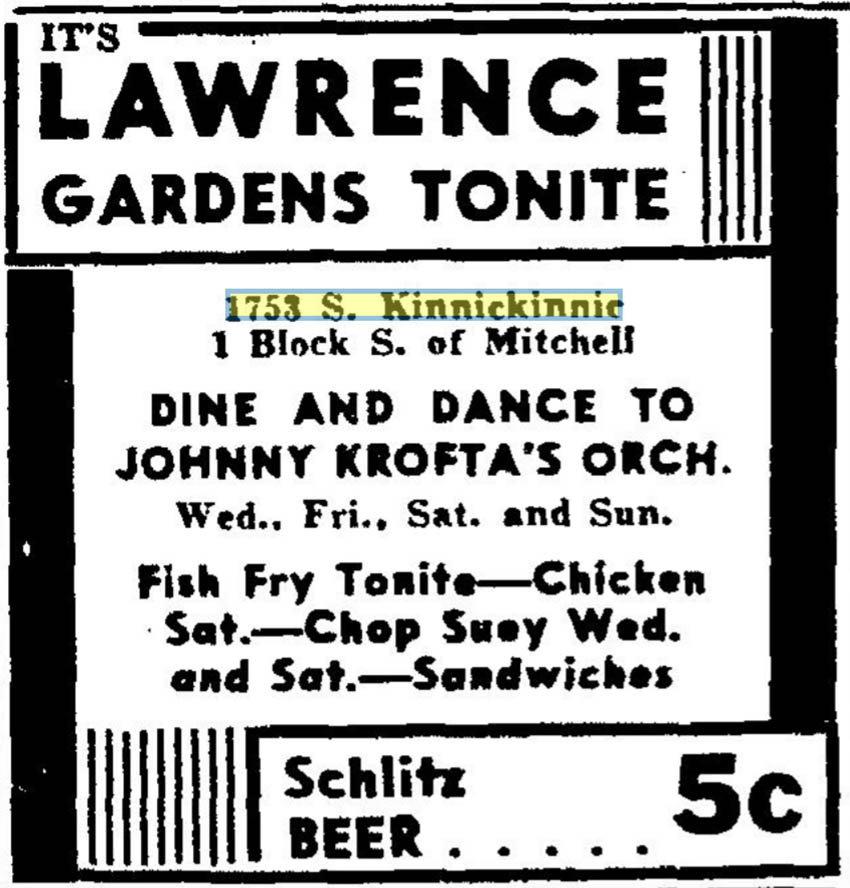 Though it was listed for sale in July 1938, Lawrence Gardens was still operating the following February, but its days were numbered, as Niemczynski retired in 1940.
Ruby Kolz and Leonard Mercurio were then the hosts at the Mercurio & Kolz Tavern, but they didn't stay long.
By May 1940, the venue was called Club Rolla Dine & Dance and you could hear Eddie Nova & His Playboys, Henry Johnson and His Hot Shots or Bert Bailey and His Orchestra (aka His Brown Buddies) while enjoying fish fry Friday, 1/2 chicken Saturrdays, and Italian spaghetti and ravioli served daily.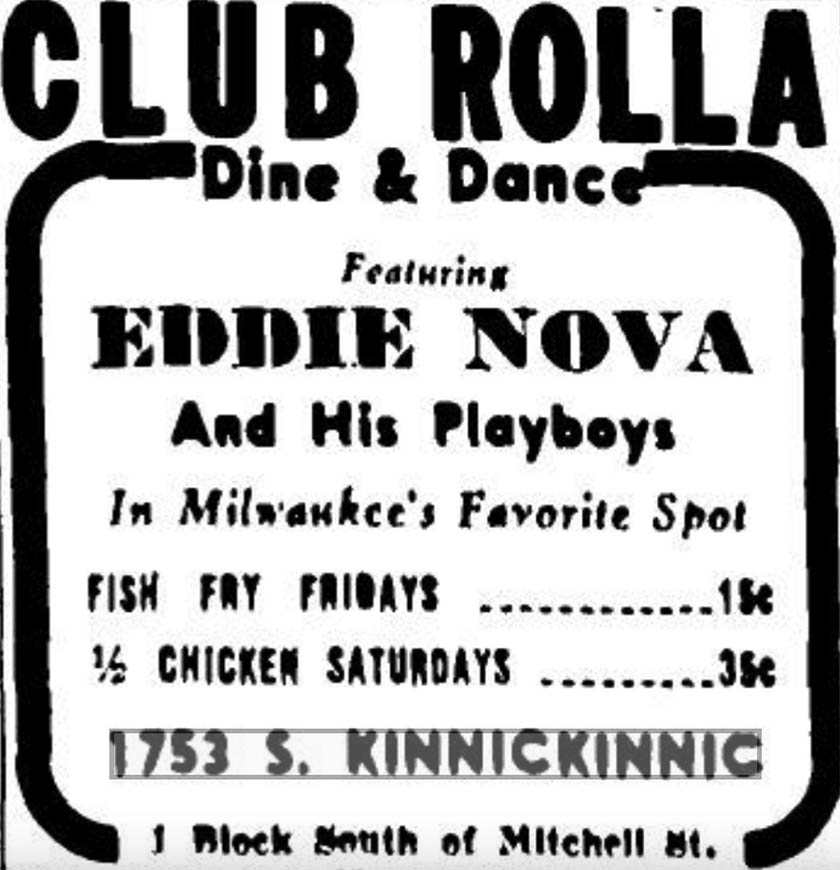 One ad boasted, "Open all night. Genuine Italian food served all night."
High Balls and Gin Bucks were 20 cents as were bottled Blatz, Schlitz, PBR and High Life. Tap beer was still just a nickel, and that half chicken? 35 cents, just like the spaghetti.
During the war, at least from 1942 until '44-'45, Frank Wiskowski operated the tavern, which was listed for sale in March 1944: "For one who wants big place and big business come and see."
Theodore and Joseph Saltzberg must've thought they wanted a big place, because obviously went to see. But they ran their Ted & Joe's Tavern there only briefly before Demetrios and Diana Spiliopoulos arrived by 1949 and opened the Double D tavern and hall.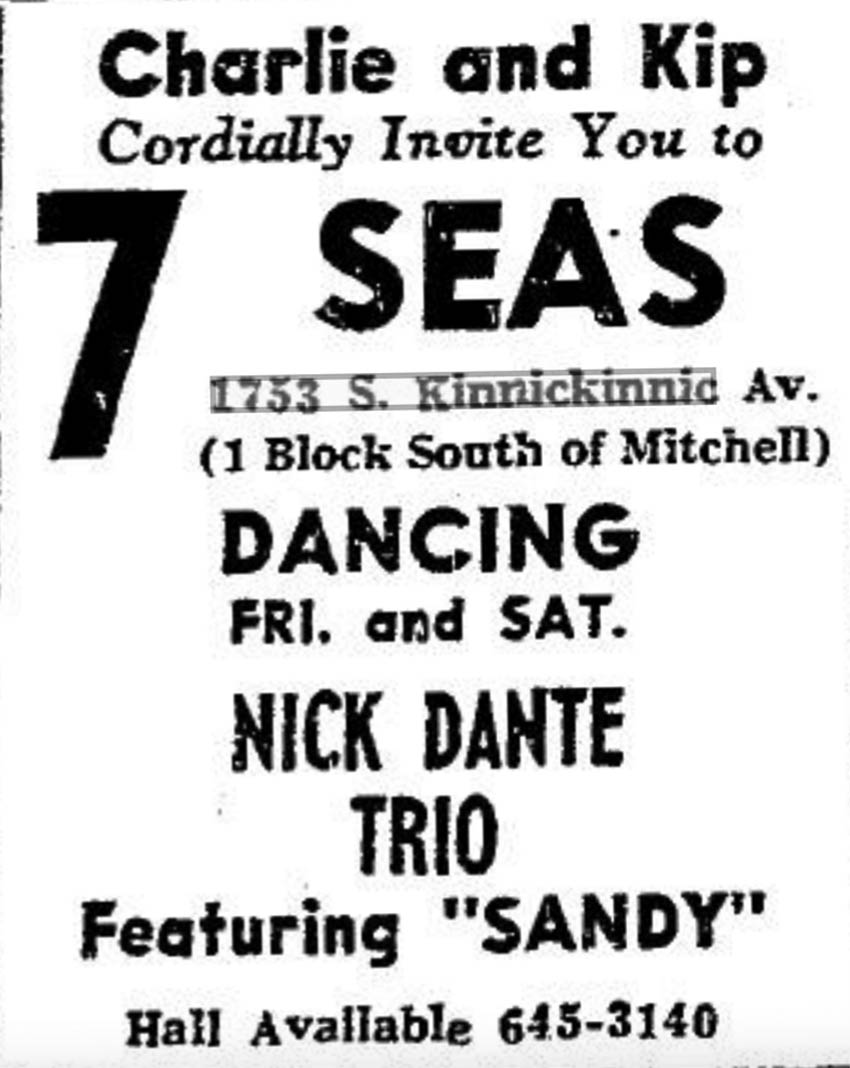 That June, Spiliopoulos converted the saloonkeeper's apartment into more rooms, expanding the rooming house portion of the business.
Interestingly, a city permit notes that Schlitz still owned the building in 1953, though the Spiliopoulos family apparently bought it by 1958.
That year, the venue made the papers as on Feb. 16, the Journal wrote, "A part of the old world was transplanted into Milwaukee Saturday night at a before Lenten festival at Double D tavern, 1753 S, Kinnickinnic Ave. Members of the Kavkas dancers, a Milwaukee group of folk dancers, performed Serbian, Greek, Hungarian and Russian dances."
Double D was still going in March 1963 when a fire had tragic consequences.
"A 53-year-old maintenance man (Alex Sobkowiak) died Friday night in his room over the Double D tap," wrote the Sentinel on March 30. "Firemen said careless smoking caused the blaze," which caused $5,500 in damage to the building and another $500 to contents.
Spiliopoulos soon moved on – selling the building to Joe Bousky – and Bill Behling operated Bill & Tillie's Bar there for a few years, beginning around 1964.
In early 1968, however, the place was Tillie's Tap, run by Tillie O'Gorman. (I wasn't able to piece together the relationship between Bill and Tillie. Perhaps a family member reading this can clarify it for us.)
By that June, however, Charles Thanos arrived to open Seven Seas Tavern, where the music and dancing continued in the hall with groups like the Nick Dante Trio performing. Rooms above were still for rent.
Seven Seas (aka Charlie and Kip Seven Seas) was replaced around 1977 by TJ's which gave way by '78 to Mike Murphy's Denny J's Disco, which ceded by 1980 to The Turning Point Tavern, which became MVPs by 1982, which was Castaways by 1985.
By now, the building had been purchased by Jim and Barbara Olinger and they leased the bar to Jeanette Robinson, who opened Jet's Place, where Gurnee female Elvis impersonator Stoney Jones made her Milwaukee debut in 1988. At that time, the Journal described Jet's as, "a women's bar."
When Jet's closed in 1991, it was replaced by 3B's Bar, which advertised drag shows and a Lesbian variety show, and by 1996 it was The Sanctuary, a goth bar that later moved to the former Kodric's Bar near 5th and National.
In 1999, the Olingers still owned by the building and they leased the tavern to Kevin Hahn, who opened Slammer's Tavern, aka Slammer's Sports Bar, which lasted a few years before closing and making way for Wojtecki to open The Bottle.
"Some friends of mine opened (the sports bar) and they were shorthanded," Wojtecki recalls. I was working at another bar and they asked me to come help them out, and I liked what they were doing here, and so I started working here more and more and more."
When his friends' lease was up, Wojtecki jumped at the chance to take it over and opened The Bottle.
"I like to say that we're probably one of the biggest corner bars in the city," says Wojtecki.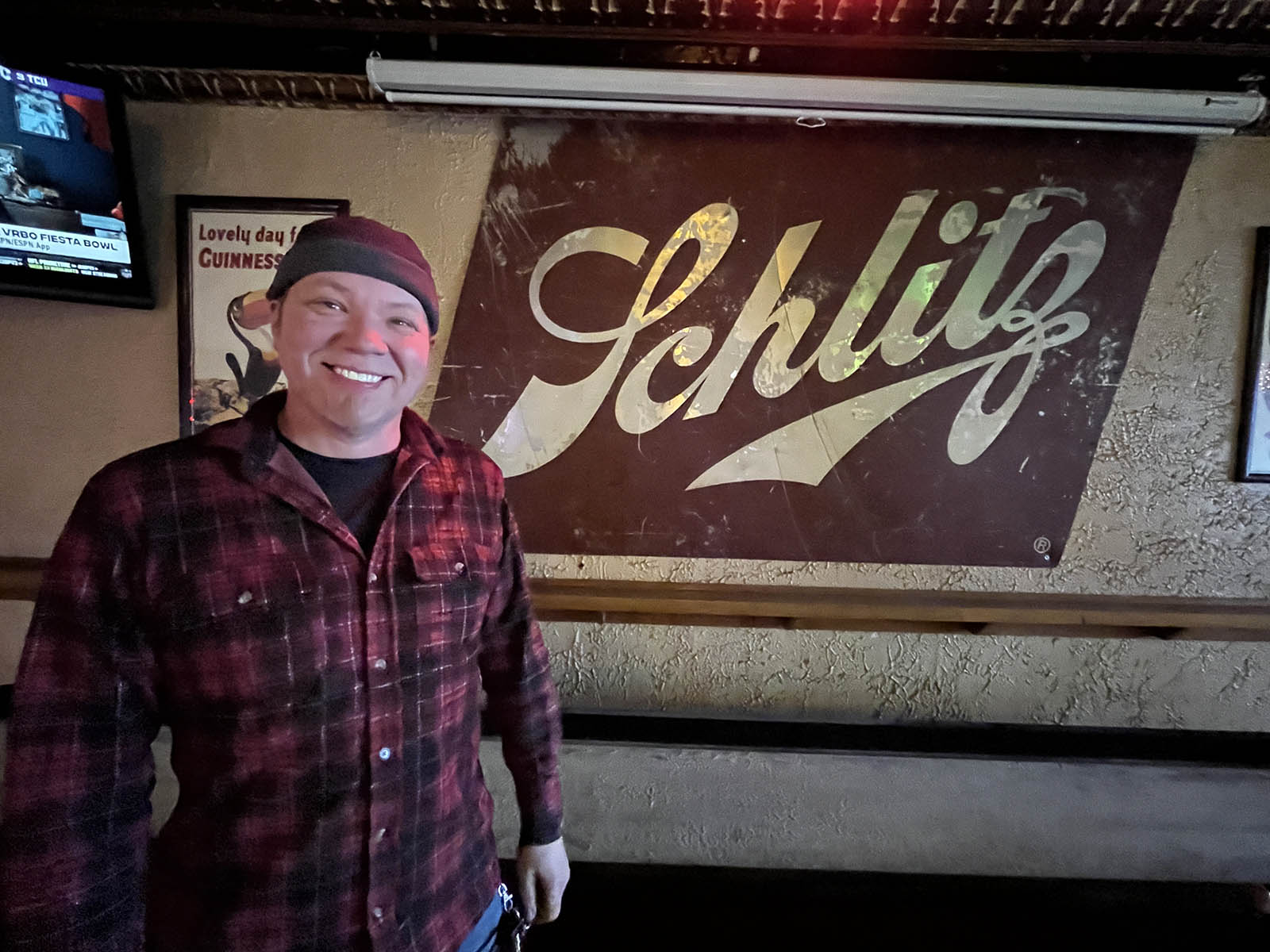 "We treat it like a corner bar. You know, shot and a beer. But we also can make some craft cocktails.
"It's a small business, so our customers are like our family. They've been coming in for years and years and years. It's always nice to see new people and create new regulars, too. We've always ran it just basically like a corner bar ...having fun and playing fun music and having singalongs and stuff like that."
Born in Brooklyn, N.Y., where he lived until he was 17, Bobby received his BA-Mass Communications from UWM in 1989 and has lived in Walker's Point, Bay View, Enderis Park, South Milwaukee and on the East Side.
He has published three non-fiction books in Italy – including one about an event in Milwaukee history, which was published in the U.S. in autumn 2010. Four more books, all about Milwaukee, have been published by The History Press.
With his most recent band, The Yell Leaders, Bobby released four LPs and had a songs featured in episodes of TV's "Party of Five" and "Dawson's Creek," and films in Japan, South America and the U.S. The Yell Leaders were named the best unsigned band in their region by VH-1 as part of its Rock Across America 1998 Tour. Most recently, the band contributed tracks to a UK vinyl/CD tribute to the Redskins and collaborated on a track with Italian novelist Enrico Remmert.
He's produced three installments of the "OMCD" series of local music compilations for OnMilwaukee.com and in 2007 produced a CD of Italian music and poetry.
In 2005, he was awarded the City of Asti's (Italy) Journalism Prize for his work focusing on that area. He has also won awards from the Milwaukee Press Club.
He can be heard weekly on 88Nine Radio Milwaukee talking about his "Urban Spelunking" series of stories.