If you're going to take the MECCA name, one of the city's most iconic venues and the home of some of Brew City sports' finest moments, and put it on a Milwaukee sports bar, it better be quite the sports bar. And that's what Deer District's done with its latest addition, The MECCA Sports Bar and Grill, unveiled to the media this afternoon before its grand opening on Friday, May 3.
Bucks President Peter Feigin introduced the new venue to reporters this afternoon, alongside team GM Jon Horst, executive chef Matt Kerley and Bucks great Jon McGlocklin.
"Five years ago, when our owners had the vision to think about a district, one of the things they wanted was to redefine retail entertainment, and you are standing in a place that really does that in an unbelievable way," Feigin said. "How do we recreate the arena experience that's right across the street is what we really wanted to do."
So how did they attempt to achieve that goal? Let's take a first look into the (for now) final piece of the long-gestating entertainment block.
The MECCA may not be as large as its literal arena namesake, but it's about as close as a sports bar and restaurant could probably get. Walking in, it feels like a big city bar; the massive two-floor space holds an impressive 750 people, spread across comfy booths, high-tops, tables, not one but two full-size bars (one for each level) and outdoor seating available on both floors.
The main bar will draw most of the attention, but the more you explore, the more seating you find, from the patio seating on the second floor – complete with an outstanding view of Fiserv Forum and the entertainment block plaza – to a little nook on the eastern side of the restaurant featuring bar-top tables and seating along with couches and high-tops.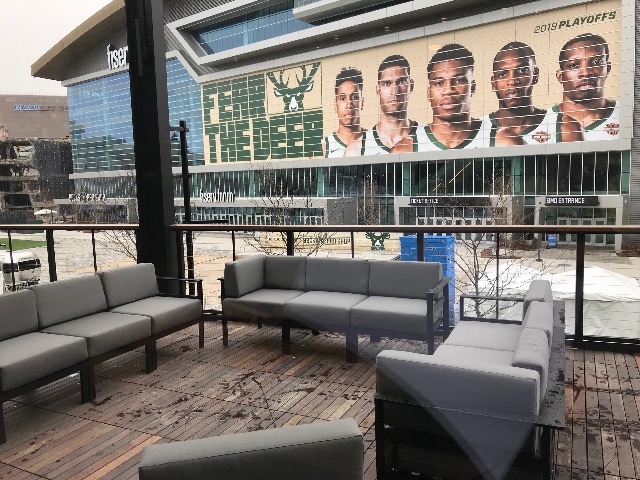 And no matter where you end up seating, there's at least one television – there are 64 televisions scattered evenly around the entire space – in range to take in the day's biggest sporting events, maybe even framed by a glorious Kareem Abdul-Jabbar hookshot from the glory days of the restaurant's namesake.
Of course, those TVs are just appetizers for The MECCA's main course of sports bar entertainment: the 38-foot high-definition TV that serves as the locale's centerpiece. It's certainly eye-grabbing, massive to a degree that photos can't even do it justice, as well as clear and viewable from just about every spot in the bar. The screen comes flanked with six additional televisions around its sides (merely 90 inches each), but the big screen – complete with an arena-level capable AV experience – will easily serve as the focal point of any night out to The MECCA Sports Bar and Grill.
The best spot to take it all in, according to Feigin? The booth found on the second floor, straight across from the massive television, which offers an ideal view of the featured game, the six spotlighted games on the side and the crowd gathered below in The MECCA's main bar space. Get ready to fight for that spot – but really, considering the more than 60 screens spread across the space, you'd have to work hard to miss anything happening in the big game.
While The MECCA certainly offers a feast for a sports fan's eyes, the menu crafted by former Hinterland chef Matt Kerley is there to make sure their stomaches don't go hungry either.
Along with standard soups and salads, the appetizer menu features a lineup of bar fare traditional and tricked-out, from chicken strips, pretzel bread, curds and mac 'n' cheese, to sticky pork ribs with a tangy cucumber salad and crispy shrimp garnished with spicy mayo, sesame seeds and green onion.
The star of the snacks and apps section, however, is the Cream City chimney stack nachos, which isn't just a fun name; the heaping pile of chips loaded with smoked barbecue chicken (or barbecue brisket for an extra $2), beans, onions, avocado cream, pico de gallo, barbecue sauce and cheese comes inside a grilling chimney starter. It's certainly eye-catching and undoubtedly belly-filling.
As for main courses, The MECCA offers a variety of burgers and sandwiches, ranging from its "cheeseburger cheeseburger" – aka a double cheeseburger – a blackened salmon sandwich, grilled cheese, a variation on the increasingly popular Impossible Burger and Nashville hot fried chicken. Of course, what self-respecting bar and grill wouldn't have a namesake burger, so there's the MECCA burger, featuring two succulent smashed beef brisket patties topped with garlic dijonnaise, pickled red onion, arugula and sharp cheddar. It's a *enter your own trite but deliciously accurate basketball metaphor here*.
The MECCA also features a house-style variation on its chicken wings, brined and deep fried with a garlic, rosemary and "MECCA" seasoning. It's an exceptionally flavorful combination, herbaceous and garlicky that made me personally annoyed that I had good enough manners to not hog the entire plate of samples. You're welcome, rest of the media assembled this afternoon. The wings can also come tossed in the house buffalo sauce or in an Asian barbecue.
The menu also offers four varieties of tacos – blackened salmon, smoked chicken, crispy shrimp or the Impossible taco – along with a handful of entrees, featuring a vegetable stir fry, steak frites, Alaskan salmon and classic fried chicken.
So that's the grill; now for the bar – which comes decorated by a cool "Game of Thrones"-esque backdrop of sports gear and equipment seemingly caught in volcanic rock or pitch black tar. (And, of course, the giant TV screen looming above it.) But the star of the bar is naturally the drinks, including a full list of craft beers on tap – including the MECCA Amber made by next-door neighbors, Good City Brewing – along with unique cocktails.
The MECCA is currently in the midst of a soft opening with limited dinner hours, but it will open to the public on Friday, May 3. On weekends, the bar and grill will be open 4 p.m. to 2 a.m., while Sunday through Thursday, the MECCA will open 4 p.m. to midnight. Lunch service, starting at 11 a.m. daily, will begin on Monday, May 13.
As much as it is a gigantic cliché to say that one has always had a passion for film, Matt Mueller has always had a passion for film. Whether it was bringing in the latest movie reviews for his first grade show-and-tell or writing film reviews for the St. Norbert College Times as a high school student, Matt is way too obsessed with movies for his own good.
When he's not writing about the latest blockbuster or talking much too glowingly about "Piranha 3D," Matt can probably be found watching literally any sport (minus cricket) or working at - get this - a local movie theater. Or watching a movie. Yeah, he's probably watching a movie.