Vulture Space, The Milwaukee Community Bicycle Project is looking for vendors for THE WAKE Bike Swap and Gold Sprints, the newest fundraising effort for their non-profit shop.
THE WAKE will be held at the Cooperage at 822 S. Water St., on Saturday, June 1 at 5 p.m.
The event is being billed as Milwaukee's largest bike swap and party with regional vendors selling secondhand and old stock bikes, parts and accessories. Vendors can pick up a table to sell their wares or add bikes for sale in the corral. Space is limited, so email Evan Pack soon for availability, pricing and other details.
The swap begins at 5 and wraps up before the Gold Sprints competition at 9:30 p.m. Gold Sprints are an unusual style of racing on what are essentially stationary bikes. It doesn't require a lot of leg power, but in order to win you must spin your pedals faster than your opponent. Whoever puts in more pedal strokes in the span of 10-15 seconds wins. Because each race is super abbreviated, they are accessible to just about anyone who wants to join in the competition, but it's still a challenge for all.
The evening will also offer entertainment through the night with drink and dining specials, DJ sets from Tile Ninja and CJ the DJ, and live music from El Wrongo. Plus, special attractions including live tattooing by Betsy Ebsen, and a puppy corral of adoptable doggies.
Public admission will be on a sliding scale of $5-$10.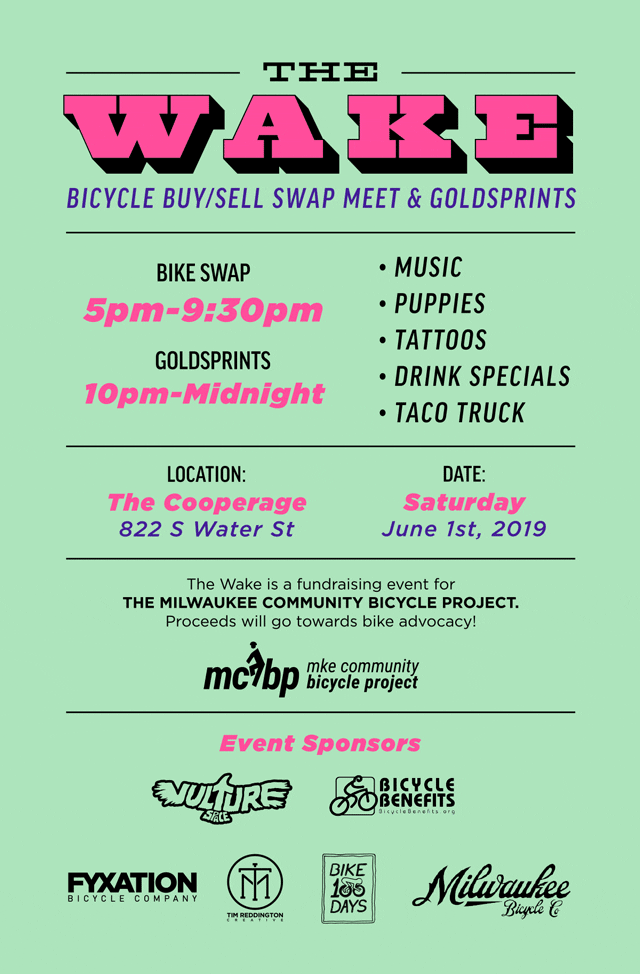 About Vulture Space
Vulture Space is a bicycle shop and recyclery located Downtown Milwaukee and provides a hands-on educational experience to learn how to fix and maintain bicycles.
Their mission is to educate and empower Milwaukee residents to see bicycles as transportation in order to build a sustainable community and healthy environment.
Tools are free to use and bikes, parts, and accessories available for a variety of budgets. All skill levels are welcome.
Jason McDowell grew up in central Iowa and moved to Milwaukee in 2000 to attend the Milwaukee Institute of Art and Design.
In 2006 he began working with OnMilwaukee as an advertising designer, but has since taken on a variety of rolls as the Creative Director, tackling all kinds of design problems, from digital to print, advertising to branding, icons to programming.
In 2016 he picked up the 414 Digital Star of the Year award.
Most other times he can be found racing bicycles, playing board games, or petting dogs.