The Soup Market and CNBC's "The Profit" probably had certain hopes when they teamed up for an episode in the reality TV show's fourth season.
The show – that features star Marcus Lemonis dropping into struggling businesses to provide advice and a partnership to help turn things around – maybe expected a nice feel-good story to go with the narrative of Lemonis, a Marquette grad, returning to Milwaukee. As for The Soup Market, the Milwaukee business likely hoped for good tips, a capital infusion and certainly, at least, some buzz. Of course, since it's reality TV, you'd assume extra-heightened drama would get tossed into the stew, but still hopefully end on a win-win for everyone.
According to last night's episode, it's safe to say things did not go according to plan – unless you're CNBC or its loyal viewers, which, in that case, you found a whole vat of simmering drama cooking up in the back of the local soup business.
The early parts of the episode played out familiarly for fans of the show – or any similar restaurant rehab program. The star sees a lot of things he doesn't like (bad presentation, poor chain of command, a product that could improve). The small business owner – Soup Market owner Dave Jurena, in last night's case – reluctantly scoffs and harrumphs at the idea of change. The two tiff for a bit – probably just before a commercial break or two – but then assumably reconnect and see eye-to-eye in about 47 minutes time to help the company before rolling the credits. It's all swell television.
Last night's episode, however, never really managed to get to that chummy seeing eye-to-eye happy resolution part.
Things boiled over rather quickly as the show gradually introduced Grace Ladewig into the proceedings. At first, she was described as a good friend who simply had a falling out with Jurena, but as the episode went along, it turns out she was The Soup Market's director of operations – as well as the co-founder of Grace Magnolia Luxury Brownies with Jurena – who was told to stay invisible for the show and was predictably not pleased about being pushed to the side. Apparently Jurena also once had feelings for Ladewig, feelings he told his wife about, causing additional tensions.
Those predictable tensions even more predictably did not improve when she was apparently then fired by The Soup Market shortly after the redesigns. She also revealed to Lemonis that she'd previously put in an Equal Employment Opportunity Commission (EEOC) complaint for sexual harassment concerning Jurena, adding yet another tension to what was otherwise being portrayed as a totally calm, jovial and utterly problem-free business arrangement.
The cherry bomb on top of the episode's flaming clown car and dynamite sundae finally arrived when Lemonis, visiting a location to confront Jurena about Grace yet again, discovered many of his changes were ditched, too.
And with that, the two decided to part ways, leaving viewers talking about The Soup Market – and not likely in the way anyone had hoped.
Funny how the show ended with an unsuccessful business man telling a successful business man he had bad ideas. #TheProfit @marcuslemonis — Jake Schwab (@Cob746) September 7, 2016
A worse idea? Going on The Profit and showing you don't have a clue how to treat people or run a business.#TheProfit https://t.co/emSgAWY3TM — Amber Lutz (@blkbored) September 7, 2016
👀 #TheProfit and @Soupguys owner is so childish, Grace doesn't want you, bro & now @marcuslemonis doesn't either! Drama much? #badbusiness — Vanessa (@getthickfitv) September 7, 2016
Wow, Dave at @Soupguys was a schmuck. @marcuslemonis store design was amazing! Good luck to @IncaLady with the EEOC claim. #TheProfit — Mike Flacy (@mikeflacy) September 7, 2016
Wonder where @marcuslemonis is @cath_brighton ? Looks like he made us some soup! #TheProfit But I bet pic.twitter.com/2tFX4S7sXb — Dana Lea Bennett (@DanaLeaB1) September 7, 2016
.Dave got his wife and side chick working together.. #THEPROFIT @marcuslemonis #heaintfooolingme pic.twitter.com/p6rLLxMi9e — Alexis Thompson (@lexiwilltell) September 7, 2016
Not an optimal viral marketing situation! Intriguingly, this is what The Soup Market's Facebook page currently looks like the morning after.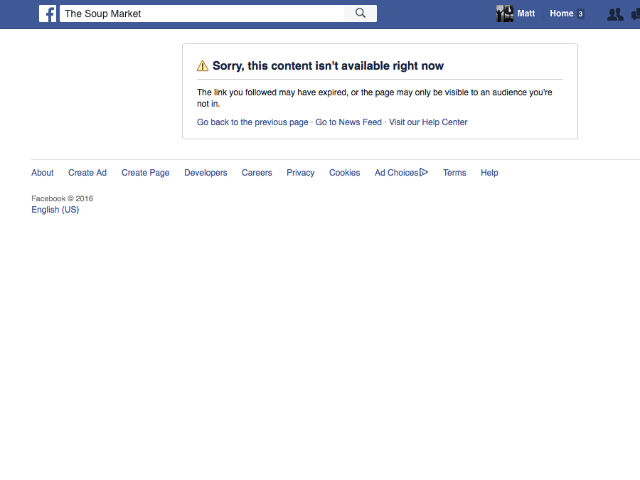 Not great either! We reached out to Jurena for a comment, but have yet to receive a response. In the meantime, at least Marcus Lemonis seems still to be a Milwaukee fan despite the business – and personal – snafus detailed last night.
Thank you #Milwaukee @MarquetteU for all you have done for me #TheProfit — Marcus Lemonis (@marcuslemonis) September 7, 2016
Hopefully any of his future potential MKE business efforts go a little better. Judging by last night's episode, that won't be difficult.
As much as it is a gigantic cliché to say that one has always had a passion for film, Matt Mueller has always had a passion for film. Whether it was bringing in the latest movie reviews for his first grade show-and-tell or writing film reviews for the St. Norbert College Times as a high school student, Matt is way too obsessed with movies for his own good.
When he's not writing about the latest blockbuster or talking much too glowingly about "Piranha 3D," Matt can probably be found watching literally any sport (minus cricket) or working at - get this - a local movie theater. Or watching a movie. Yeah, he's probably watching a movie.