It's risky to write a Francisco Rodriguez farewell tribute when there's a chance he'll return yet again, but since the Brewers are in full rebuild mode, we feel relatively safe saying he's thrown his last pitch for Milwaukee.
Rodriguez was traded on Wednesday for minor-league infielder Javier Betancourt and a player to be named later from the Tigers. It was the third time the Brewers have traded the veteran reliever. Three strikes, er, trades, and he's probably out of Milwaukee for good.
Therefore, we wanted to offer this K-Rod remembrance, a closing commemoration for the Venezuelan who just couldn't stay away from Brew City.
Most of the time, closers come on in the ninth inning to record three outs, secure the save and get their team the win. When Rodriquez took the mound though, as Brewers fans that have been diagnosed with high blood pressure because of him can attest, it always felt like those three outs took at least four batters.
So with that in mind, here are the four (or maybe five) things we'll miss most about K-Rod:
Mesmerizing on the mound
For a decade, Rodriguez was an imposing late-inning presence out of the bullpen. With a high-90s fastball, striking sport goggles and untouchable stuff (he set Major League Baseball's single-season record with 62 saves in 2008), K-Rod was overpowering and intimidating. But by the time he came to Milwaukee, acquired from the New York Mets in a 2011 deal, he was a much different pitcher, less invincible, with a fastball in the low-90s and an initial role as a setup man.
While he was no longer a commanding presence on the mound, he was still just as captivating. He'd ditched the goggles, but only because he'd broken them in a fit of anger. He still had his trademark, herky-jerky throwing motion wherein he seemed to uncork his entire body and hurl it around the infield. And he still did the primal screams and wild celebratory gesticulations after getting a big out.
While his hot-bloodedness sometimes got him in trouble – opposing batters occasionally complained about the on-field antics, and off the field, there was a domestic violence incident in 2012 – it also made him impossible to ignore, especially in the ninth inning of a close ballgame.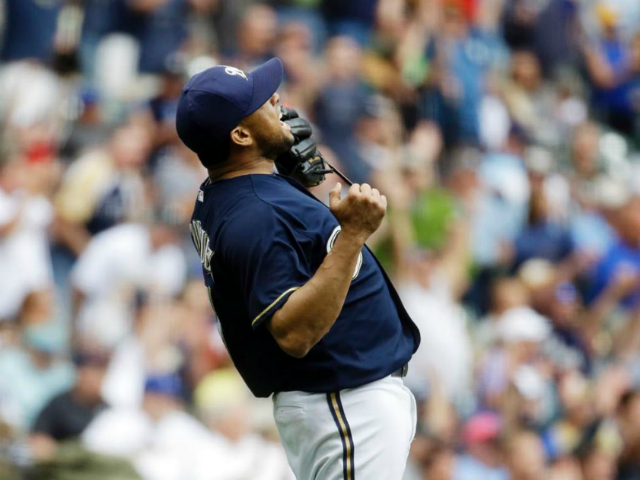 (Photo: Brewers.com)
Relationship with Milwaukee
When the Brewers traded for Rodriguez in 2011, he was very vocal about his displeasure. At the time, he said he was "extremely disappointed" and expressed his unhappiness about being a setup man to then-Milwaukee closer John Axford. Following a playoff run in 2011, both relievers had poor 2012 seasons, and after Rodriguez was arrested on suspicion of domestic violence, he became a free agent.
Unwanted by other teams, Rodriguez in 2013 signed a minor-league contract with the Brewers and then was brilliant in his second Milwaukee go-round, posting a 1.09 ERA and recording his milestone 300th career save. Before the deadline during another losing season, the Brewers traded him to the Orioles. Rodriguez's local tune had clearly changed by then, as he said, "I'm extremely sad. I definitely did not want to leave the organization." And after struggling in Baltimore, Rodriguez returned to Milwaukee, signing another one-year contract in the offseason. In 2014, he was named the closer and chosen as an All-Star.
Last season, he signed a two-year deal with the Brewers, technically his fifth stint with the club. He was an All-Star again and said he'd "found a home" in Milwaukee, calling the original Mets trade "the best thing that ever happened to me." He also said he'd be disappointed if he got traded away. Then he was traded. Sorry, K-Rod. It wasn't you. But it also wasn't us. It was just complicated.
(Photo: David Bernacchi)
Trade value
And speaking of trades, we've got to thank Rodriguez for doing his best to boost the Brewers' farm system.
In the 2011 Mets trade, the Brewers acquired K-Rod in exchange for minor-leaguers Adrian Rosario and Danny Herrera. In the 2013 Orioles trade, the Brewers got third baseman Nick Delmonico, at the time Baltimore's fifth-ranked prospect who immediately took that spot in Milwaukee's minor-league rankings as well. And on Wednesday, the Brewers acquired Betancourt and a player to be named from the Tigers.
So how do those trades look now? Well, Rosario is out of baseball entirely, and Herrera is playing in an independent league, so Milwaukee definitely won that deal. The Brewers would've won the Orioles trade, too, because Rodriguez struggled and Delmonico was supposed to be quite good. Unfortunately, personal issues affected Delmonico's play and standing, and he's no longer part of the organization. As for Betancourt, he was rated Detroit's No. 11 prospect and has the potential to be a major-league second baseman.
(Photo: David Bernacchi)
The cactus
During spring training in 2014, while the Brewers participated in the aptly named Cactus League, Rodriguez stepped barefoot on an actual cactus in Arizona. He experienced a great deal of pain, missed about a week of action and endured the ribbing of teammates, reporters and fans. Even after the regular season had started, Rodriguez said he was still pulling cactus spare spines out of his left foot.
Though K-Rod lands on his left foot and, as mentioned above, lands with a good deal of lurching force, the injury didn't seem to affect his performance that season. Rodriguez posted a 3.04 ERA and 0.99 WHIP with 44 saves in his All-Star 2014 campaign.
But oh, that horrible, hilarious, infamous and ultimately inconsequential cactus. It's also worth mentioning that, during spring training in Arizona the year before, general manager Doug Melvin was stung by a scorpion – so maybe we just don't go down there anymore, OK?
(Photo: Brewers.com)
Bonus thing
Often, Rodriguez faced five batters in his outings because he'd put two runners on before getting the three outs. So here's a fifth thing, a bonus.
K-Rod always made it interesting. Whether he was giving you a heart attack or make you pump your fist and shout with him, he was never boring. One 2011 playoff appearance, in the crucial Game 5 of the National League Divisional Series against the Arizona Diamondbacks, epitomizes, to me, the terribly concerning but thrillingly clutch way Rodriguez pitched.
With a 2-1 lead in the eighth inning, he struck out two batters but also walked a couple and allowed a hit to load the bases with two outs. In the ultimate high-stakes situation, he induced a ground ball to get out of the inning, let out a huge yell and helped the Brewers advance to the NLCS for the first time in almost 30 years.
We'll miss you K-Rod.
Born in Milwaukee but a product of Shorewood High School (go 'Hounds!) and Northwestern University (go 'Cats!), Jimmy never knew the schoolboy bliss of cheering for a winning football, basketball or baseball team. So he ditched being a fan in order to cover sports professionally - occasionally objectively, always passionately. He's lived in Chicago, New York and Dallas, but now resides again in his beloved Brew City and is an ardent attacker of the notorious Milwaukee Inferiority Complex.
After interning at print publications like Birds and Blooms (official motto: "America's #1 backyard birding and gardening magazine!"), Sports Illustrated (unofficial motto: "Subscribe and save up to 90% off the cover price!") and The Dallas Morning News (a newspaper!), Jimmy worked for web outlets like CBSSports.com, where he was a Packers beat reporter, and FOX Sports Wisconsin, where he managed digital content. He's a proponent and frequent user of em dashes, parenthetical asides, descriptive appositives and, really, anything that makes his sentences longer and more needlessly complex.
Jimmy appreciates references to late '90s Brewers and Bucks players and is the curator of the unofficial John Jaha Hall of Fame. He also enjoys running, biking and soccer, but isn't too annoying about them. He writes about sports - both mainstream and unconventional - and non-sports, including history, music, food, art and even golf (just kidding!), and welcomes reader suggestions for off-the-beaten-path story ideas.